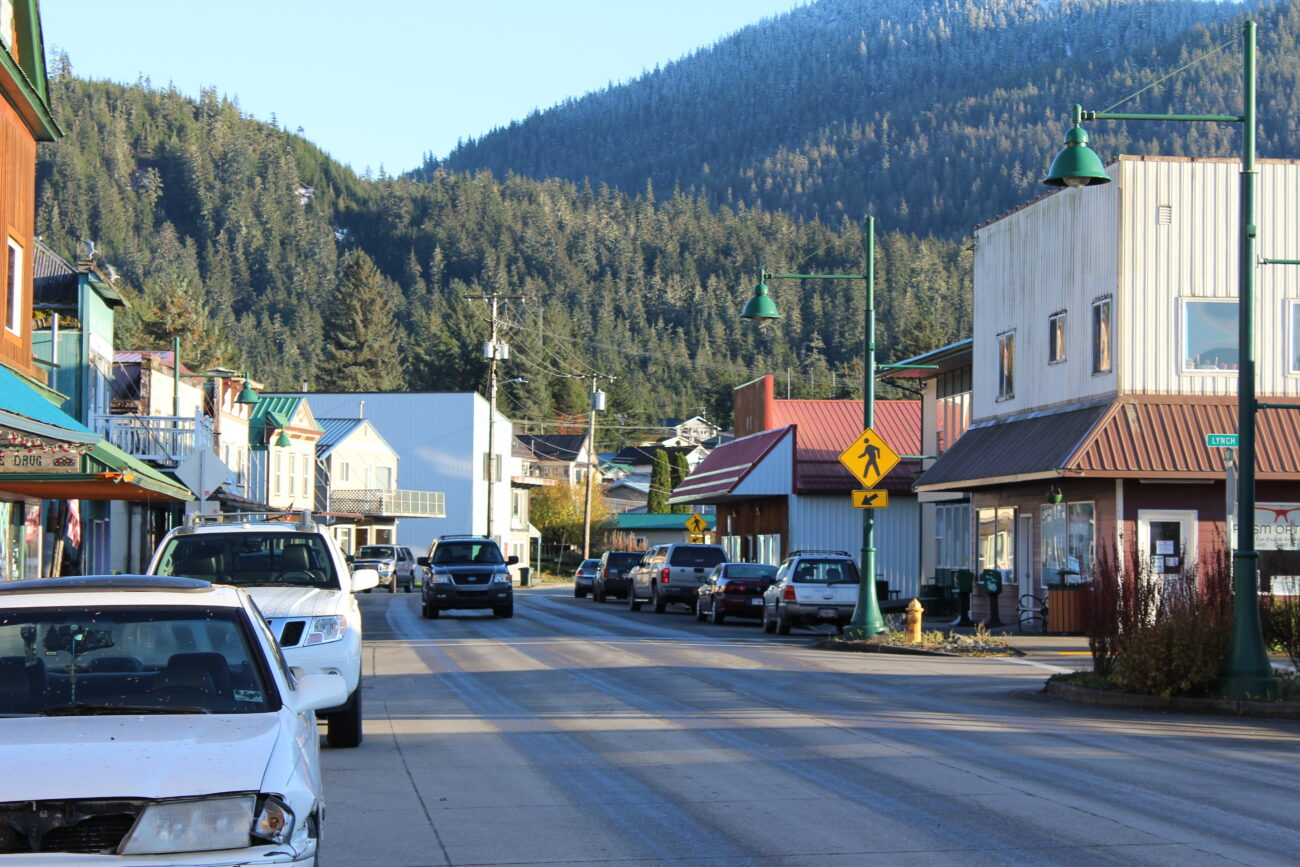 Wrangell now has a mandate requiring people to cover their faces in indoor, public spaces. The decision on Thursday coincided with a rare statement made directly to Alaskans by Governor Dunleavy via cell phone alert.
Wrangell's assembly had pushed back consideration of a mask ordinance until next month. But Governor Mike Dunleavy's activation of a statewide emergency cell phone alert warning Alaskans of rapidly rising COVID-19 numbers spurred local officials to react. Wrangell Mayor Steve Prysunka said it was a wake-up call.
"Those of us who have been watching the governor and looking at his cues… something has him spooked," Prysunka explained Thursday evening.
A potential mask mandate has been controversial in Wrangell, generating a lot of debate and even reports of online threats against local officials.
At a hastily called special meeting, three community members spoke against perceived government overreach. One spoke in favor of more restrictions. And one said she had mixed feelings: Wrangell hairdresser Jenni Jackson said the fear of more closures is wearing her down.
"My business cannot sustain another shutdown," Jackson lamented at the meeting. "I will be out of business. Period. End of story. I've had my salon for seven years. A lot of blood, sweat, tears, laughter and good times are in that building, and I hope many more are to come. But if a shutdown happens, it's over." 
Assembly member Julie Decker said back in the spring, she'd opposed local measures that went beyond state recommendations. But she said Thursday evening the situation is different now; it's worse.
"I think that's really important for people to understand; we're trying to keep the schools and businesses open by preventing spread in our community that we know is happening all around us," Decker said.
She was among the five-member majority to pass the ordinance on Thursday. In addition to mandating face covering, the ordinance also recommends limiting gatherings to fewer than 20 people, reduced restaurant capacity and strict quarantine and testing measures after travel outside of Wrangell. 
Hours earlier, Wrangell's City Manager Lisa Von Bargen ordered the borough's public buildings — including city hall and recreation centers — closed to the public until December 7.
David Powell and Terry Courson were the assembly members who opposed the mandate.

Courson explained his position: "I just think it's not the right time to be doing this. I understand you have an emergency situation that was presented by the governor. But the fact that the governor won't mandate kind of leads me to believe that maybe he doesn't feel it's warranted, either."
Mayor Prysunka argued that Wrangell shouldn't take its cues from the governor's office. In fact, he was critical of Gov. Dunleavy for not showing stronger leadership as Alaska's cases rise. 
"He has not been bold in his actions at all during this time," Prysunka said, "and he's passed it off to small municipal governments, and city administrators and EOCs, to basically man up and deal with this situation. It is just beyond unfair. Because if Gov. Dunleavy goes forward and says, 'This is the mandate I'm putting in place, this is the best thing for our state,' he doesn't have to go shop at City Market with somebody who's really angry with him. He doesn't have to face down the local person at the Post Office. All these people [on the EOC and in borough government] have to do that, and it is just categorically unfair."
Along with Wrangell's public buildings being sealed, events and movies — including the planned community market at the Nolan Center this coming weekend — have been cancelled. Wrangell's public library will offer curbside service.
So far, Wrangell schools are unaffected by added restrictions. Wrangell Public Schools announced on social media Thursday evening that students would be welcome in the classroom on Friday (November 13). But it said updates would be forthcoming as the district receives more information from local and state leaders.
Wrangell joins other Alaska cities like Juneau, Anchorage and Dillingham which require masks indoors. Ketchikan and Petersburg's city councils had floated mandates, later scrapping the proposals.
The island community of Wrangell has had 21 confirmed coronavirus cases. All but one have reportedly recovered.
Wrangell's mandate has the force of law. Violators can be fined $25.
Get in touch with KSTK at news@kstk.org or (907) 874-2345.