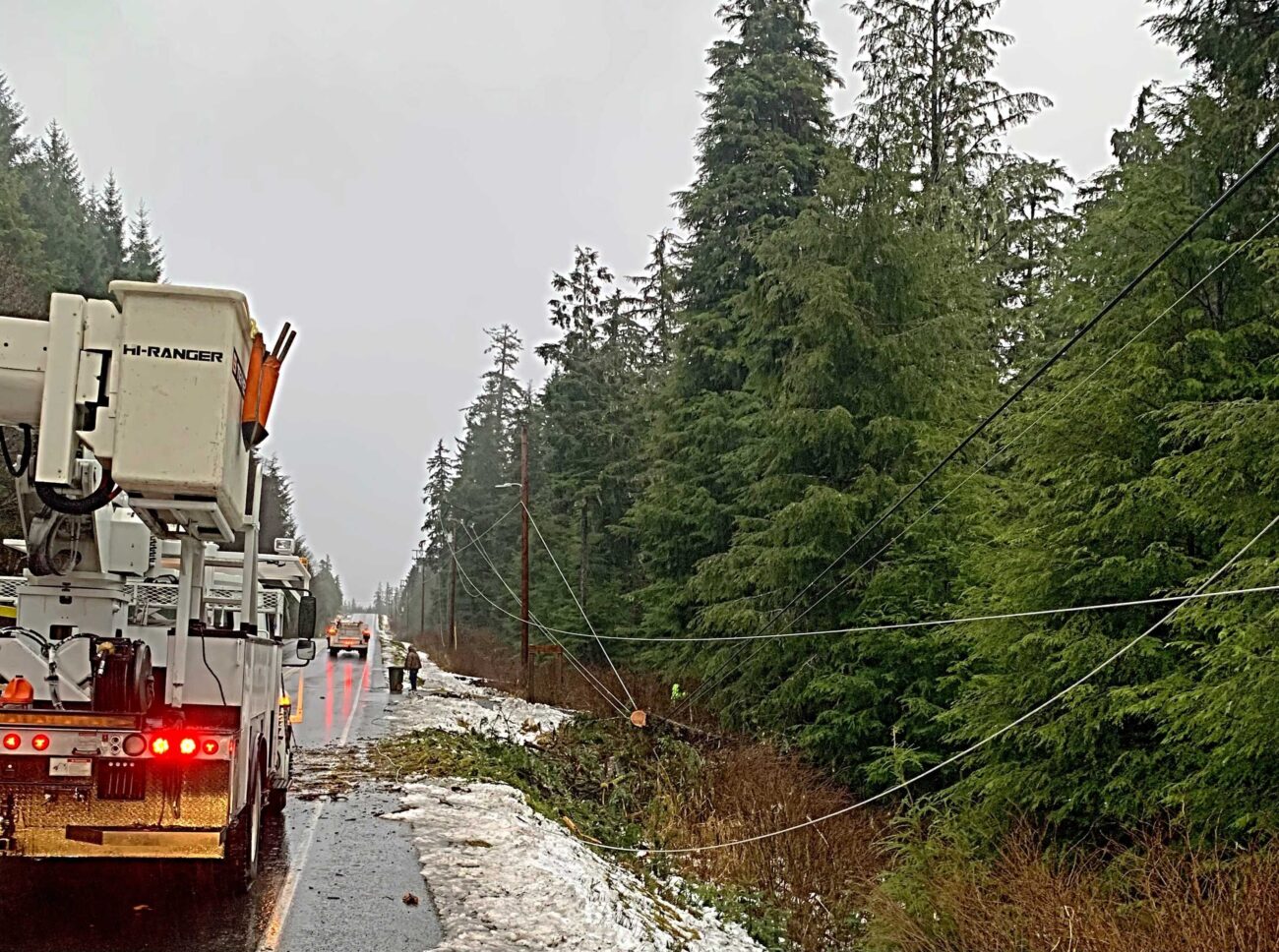 Wrangell's public tree-lighting ceremony has been canceled this weekend. That's because Wrangell utility crews are busy working to restore power — again — to a stretch of Zimovia Highway, affecting around 70 homes, due to heavy winds.
Officials said a storm late yesterday afternoon caused damage to multiple areas of power lines along the highway.
That included near the 8-mile bluffs. About a quarter of a mile of power line was taken down in the area. Repairs were too dangerous to attempt overnight, so the crew waited until first light to begin repairs there.
That's according to Wrangell Municipal Light & Power Superintendent Rod Rhoades. He said as of mid-morning this morning, crews had restored cross-arms on the damaged power poles, and were beginning to re-hang wires.
Power is out from 9-mile Zimovia Highway to the end of the road. Some houses out the road have been without electricity since around 4 p.m. yesterday.
Rhoades said this morning that power was on from 6-mile all the way back into town. And as of 12:23 p.m., Rhoades said power was restored from 6-mile to 9-mile.
Falling trees have knocked out power lines, poles, and transformers throughout the island multiple times since stormy conditions began on Monday.
Electric crews have been swamped with outages and repairs this week. The electric department usually runs the downtown tree-lighting ceremony.
As such, the Wrangell Chamber of Commerce announced this morning that the tree lighting, which was scheduled for this coming Friday, December 4 will not take place. Downtown businesses will still be open late for Midnight Madness shopping.
Get in touch with KSTK at news@kstk.org or (907) 874-2345.