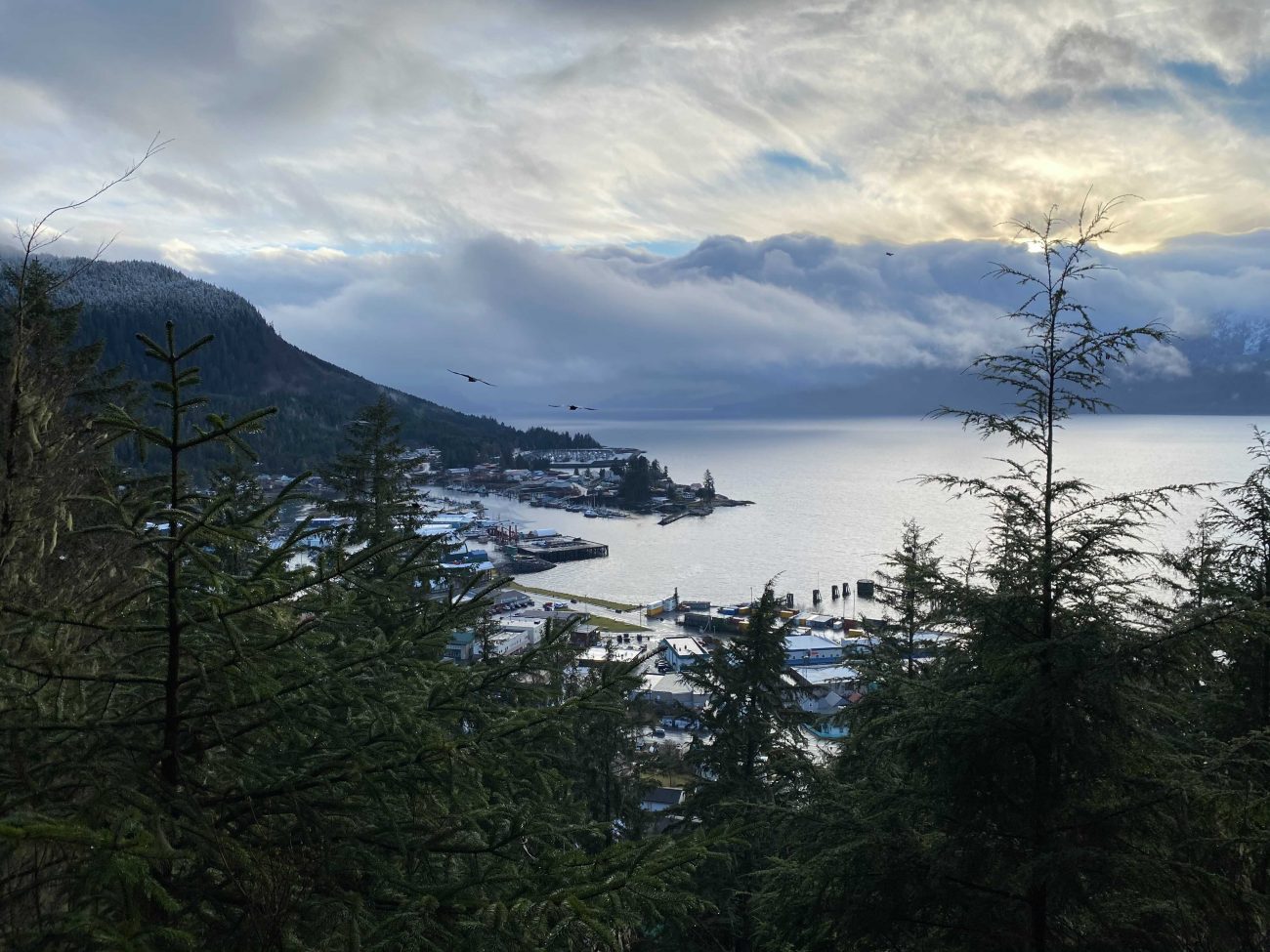 If we're to scrabble for a theme in Wrangell this year, it might be water.
The year began with a cold snap, and struggles keeping the pipes from freezing up. As the year wraps up, we're having trouble reporting state water quality standards and having continuing issues with a high level of disinfection byproducts flowing from the tap.
Water, like ferry cuts leaving seasonal workers stranded… pre-pandemic. Wrangell's winter ferry schedule is virtually nonexistent, which local businesses say has a profound impact on their bottom line. Wrangell's Mayor Steve Prysunka and City Manager Lisa Von Bargen say that leaves them feeling like Wrangell is a second class community.
Von Bargen: "At some point, you start feeling like a second class community."
Prysunka: "We're starting wonder what we've done to get them upset."
Von Bargen: "Right."
Prysunka: "We… Are we not doing something right? Is there something in our water? Like, let's get this sorted out, folks."
Von Bargen: "If we were conspiracy minded…"
Prysunka: "Which we sort of are but not really…"
Speaking of cuts, this was the first year Wrangell didn't have its own Fish & Game office. The governor vetoed requests to return the ADF&G office, and an Office of Children's Services case worker as well.
Water: the lack of a cruise season, abysmal salmon returns, ups and downs bringing fishermen to Wrangell, and only one operating fish processing plant.
There is, of course, the COVID-19 pandemic. Wrangell's first positive case of COVID-19 was announced in early June. Wrangell tried to place additional COVID restrictions on travelers, only to be shut down at the state level.
Moving later into the year, Wrangell's 4th of July was a more muted affair than the usual week-long festivities, with an extended parade route and fireworks.
Tragedy struck in late July, as two siblings, and Wrangell High School graduates, were killed in a car wreck on Mitkof Island while on a break from their fishing season. The community came together, pouring out support for the Decker family, and committing to finish Wrangell's Mariner's Memorial in honor of the two siblings.
At the schools, Wrangell managed in-person classes after a week's delay, even expanding the elementary school schedule to full-day. The high school's principal left suddenly in the spring, the superintendent resigned in the fall, after a controversial school supply shopping trip.
Here in the end of the year, stormy weather meant blackouts on the island, as Wrangell batted the idea of a mask mandate back and forth throughout the fall, ultimately passing an ordinance that lasted for three weeks.
This is, of course, a snippet of the news in Wrangell in 2020. But much of that wasn't good. What about the good stuff? Any good parts to the water theme?
Well. How about Kurt Brodersen, of Meyers Chuck, who survived his boat sinking and was rescued in a terrible storm by a daring coast guard crew?
 "When I got about halfway across Union Bay, I saw this red light in the sky. And I remember thinking, I wonder what those guys are doing out in these miserable conditions. After a while, I realized they were looking for me," Brodersen related.
Wrangell's Christmas boat parade floated on with three sparkling boats braving the waves this winter.
Our first doses of COVID vaccine arrived on the water, via float plane.
Wrangell came together in tragedy. Neighbors showed up to save a man's life as his trailer burned down. We showed up to vote, with a more than 50% turnout in the General Election for the first time in over a decade. When storms meant a cancelled tree-lighting, anonymous artists put together an iconic replacement made of sticks and safety cones, fondly remembered as "The Grinch Tree."
"I definitely got a little chuckle out of it, especially after I saw somebody comment underneath that: 'Well, pretty much sums up 2020,' and I thought 'Yup, that sounds about right,'" said Tom Wetor, Wrangell's Public Works Director.
Wrangell was recognized, statewide and nationally, as our assistant wrestling coach won a national award, and our Parks & Rec director was honored on the state level. And Wrangell's citizens of the year, named in February, the town's two recognizable photographers, Vince Balansag and Rich Einert, have continued to document life around town, pandemic or no. And there's the news that Wrangell's weekly newspaper will have a new — and an old — owner: Larry Persily, who's taking over the Sentinel once again after selling it back in the 1980s.
2020 has been an odd, tough year. Wrangell feels the sting of the pandemic, and an economically disastrous year. But we've also come together, finding joy in the silly things and sending 2020 out with a bang.
Get in touch with KSTK at news@kstk.org or (907) 874-2345.