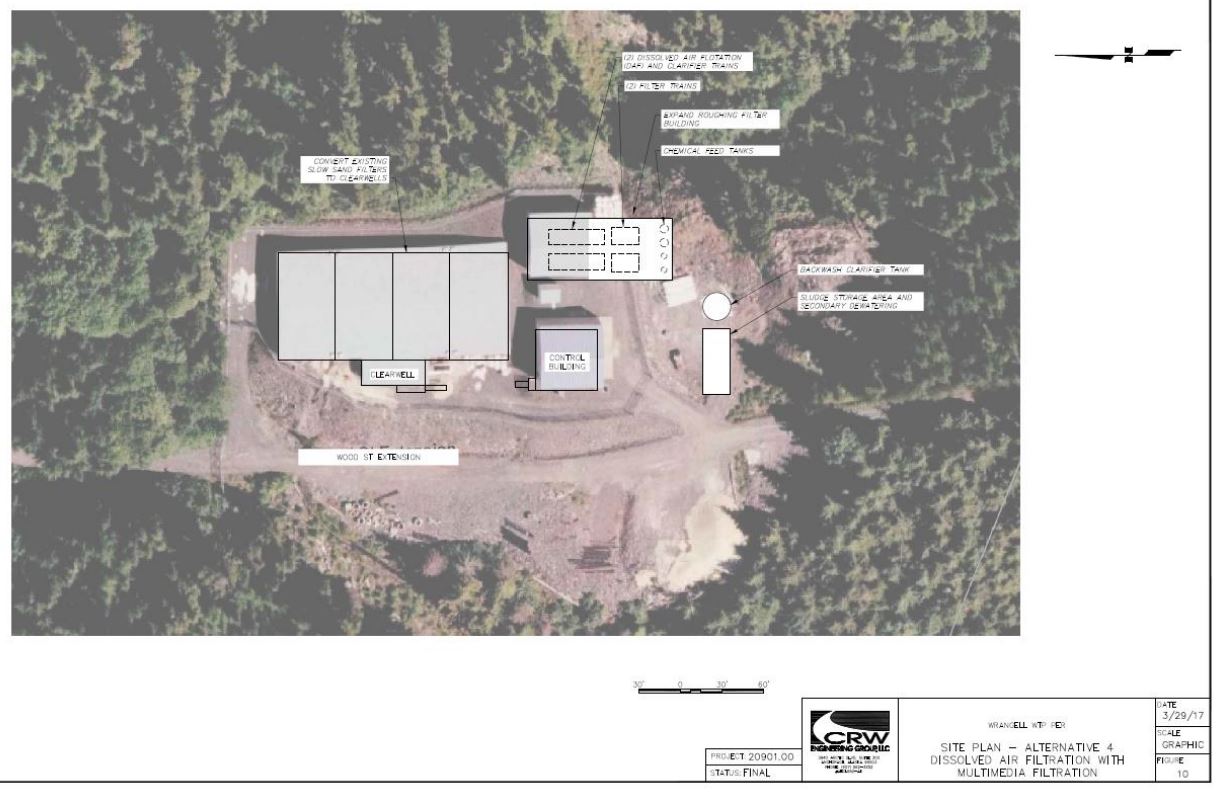 This article is part of a series. Read part one here. Read part two here. Read part three here.
Wrangell's city-run water system is in shambles. It fails to properly filter water and additives used to clean that water can pose long-term health risks. 
In this fourth part of a multi-part series on Wrangell's Water Woes, KSTK looks at some of the city's proposed solutions. 
Wrangell's problems with its water system are complicated. Wrangell Mayor Steve Prysunka compares its challenges to a mythical monster.
"It's a multi-headed Hydra," Prysunka says, "and you've got to choose which snake you're going to cut off."
He adds that he doesn't know if the way the assembly is currently trying to address the problem is the best for the community: "It's just tough, the assembly at the time [in 2018] chose to go with the new plant. So that's the course of action that we're locked into." 
The problems with the water system have been known for decades. But those who work on the issue in the day to day can point to a breaking point: the summer in 2016. That's when Wrangell ran out short of potable water. Restrictions were put on the fish plants, one of the largest employers –and during peak production — recalls water plant operator Wayne McHolland.  
"That was pretty much the straw that broke the camel's back, I guess," McHolland says. "And [it] pushed everybody into a different direction. It was a bad thing at that time, but it was a really good thing."
After two years and a pilot study, the Wrangell Assembly approved a plan for a new $9 millon plant. That was about three years ago but there's been little movement since.
We've already covered in this series why the existing plant, built in 1999, isn't up to the job. A series of fatal design flaws with its filters means at some steps of the process, water can actually come out dirtier than before it came in.
The solution currently being considered is what's known as a dissolved air flotation plant. McHolland says it works by using a chemical reaction to make organic matter in the water clump together. Little bubbles of air are streamed through the water, floating the balled-up gunk to the top, where it's skimmed off. 
The last step in the process is filtration, which is much more customizable than our current sand filtration system. McHolland continues: "Basically, if it's done right, it probably get most if not all the organics that were left over from the DAF process itself, which would make for a nearly pure water going into storage and then into the system."  
He says that would be a step up from the quality of water going into storage and out the community from Wrangell's plant nowadays.
McHolland adds: "Everybody else has one of these things [a DAF plant] is just tickled pink on it."
But they're also expensive.
"It's always about $1. No matter what it is, it's always about the dollar," McHolland says.
The preliminary engineering report for the proposed DAF plant estimated it would cost $13 million. A more basic design was floated to get the job done for $9 million. 
Unfortunately, there's not a solid answer to why a replacement plant has taken so long. Previous public works directors say there's a hole of information before the water crisis in 2016.
But ultimately, the decisions rest with the elected assembly members. McHolland says there's been a lot of turnover both on the assembly and among city professionals.
"We rotate through an assembly every couple of years. So we start fresh with one or two or more [assembly members]. I've been here for a while. We 20 years in December. And in 20 years, I think I'm now on my fifth Public Works supervisor, my fourth city manager."
He adds he thinks it's part of the struggle of addressing the city's water problems: "It's just hard to stay focused with that kind of turnover."
The city hasn't been ignoring the problem, though.
Public works has done studies, plunged and analyzed the sand in the filters, considered rebuilding and reworking parts of the system… but each of the fixes have been temporary.
At a recent borough assembly meeting, Wrangell's public works director Tom Wetor assured the assembly he was working on stop gap measures to deal with elevated byproducts in the water. These are what cause Wrangell's tap water to fail state drinking water standards.
"We have talked with our operators, and I've talked with previous director about the pros and cons of some of these options," Wetor explained. Public Works has consulted far and wide about the issue of disinfection byproducts in recent months.  
He explained his conclusions so far: "Ozone injection and flushing systems seem to be our most feasible options due to cost and our ease of implementing those systems, depending on a timeline for a new water treatment plant."
Ozone injection would prolong the contact of ozone with Wrangell's water, cleaning it more effectively. And a flushing system would get old water out of the pipes, but waste a lot. Those options will be further discussed by city administration and the assembly in the coming weeks and months.
Meanwhile, Wrangell's assembly hasn't committed to spending money on a new plant. The city is negotiating with DOWL, an engineering firm with offices in Juneau, over possibly starting work next year.
Wetor acknowledges that the city's $9 million cost estimate is from nearly three years ago.
"A lot of time has passed between now and then," he acknowledges, adding that he hopes the city can make a new plant work with the original cost projection. 
Wrangell's Mayor Steve Prysunka says tight budget or no, the island shouldn't have to deal with another 20 years of water woes. He doesn't want to cut corners.
"I am concerned that we may have wound up with the plant that we have due to value engineering in the past and I don't want to value engineer ourselves into ongoing issues for the future generations of Wrangellites that have to deal with the water situation," Prysunka explains.
As of now, the water situation is one that combines reservoirs full of sediment, leaky pipes, a faulty plant design that's underbuilt for Wrangell's water demand and disinfectants that can lead to health problems for the very young and very old.
Just this week, the city awarded a contract to a Ketchikan-based contractor for more than $500,000 dollars worth of water main replacements around town, and various other water projects are top priorities for state funding in the coming year.
KSTK will continue to follow the city's progress in addressing the problem.
Get in touch with KSTK at news@kstk.org or (907) 874-2345.