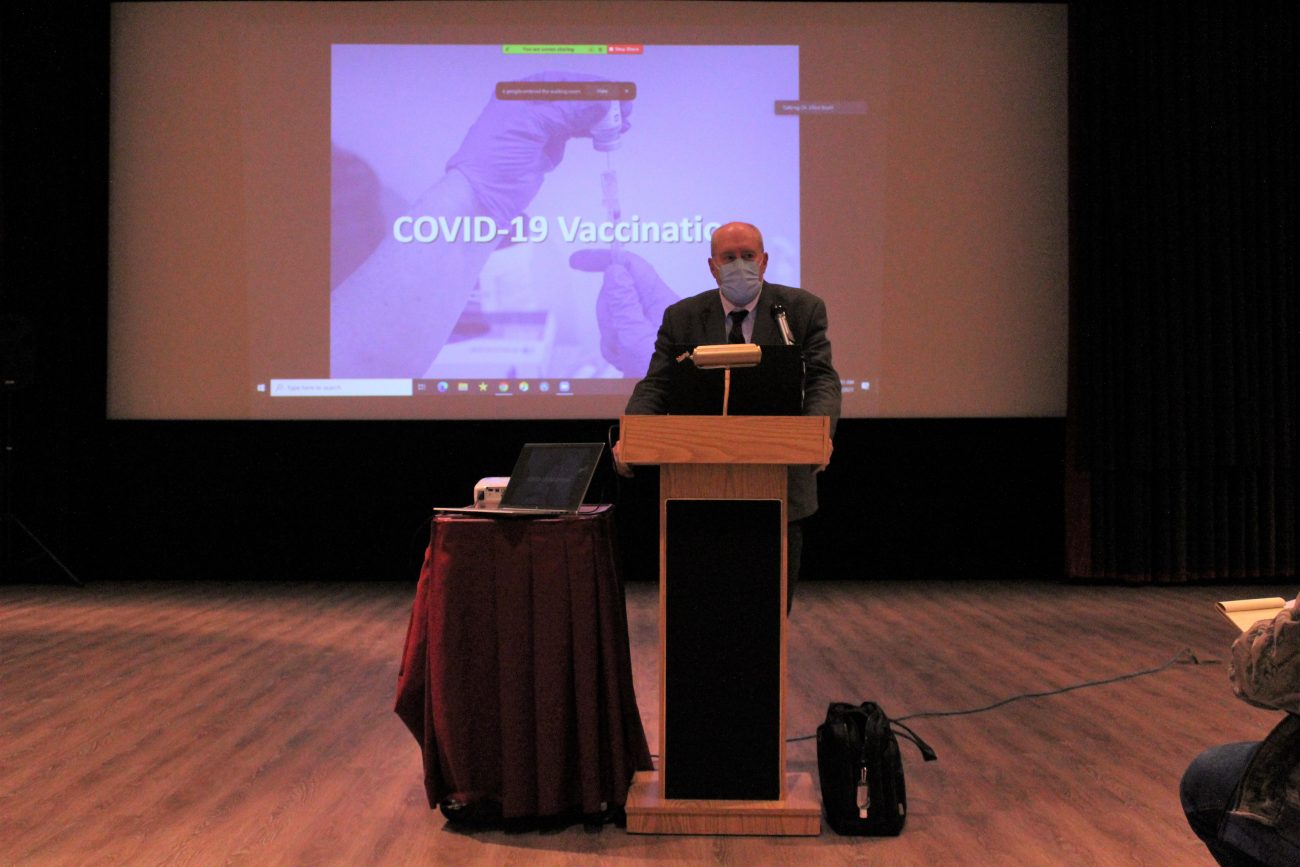 A full audio of the presentation can be found at the bottom of this article.
The chief medical officer of the Southeast Alaska Regional Health Consortium has a clear message for adults in Wrangell: Get vaccinated. But some Wrangellites still have doubts about the COVID-19 vaccine.
Dr. Elliot Bruhl says he sees community COVID-19 vaccinations in fairly simple terms: "The vaccine is very safe. And it's very effective. And it's the right thing to do, not only for your family, but also for your community."
He's both the senior vice president of SEARHC and its chief medical officer. He acknowledges that people have questions about the vaccines, which were developed in record time.
"They wonder, 'Oh, maybe somebody skipped steps in developing it because it happened so quickly.' But really, nothing could be farther from the truth," he said.
On an invitation from Wrangell's tribe, Bruhl delivered a presentation Thursday morning, explaining the ins and outs of vaccinations and answered questions.
One community member who had questions was Josh Nuckols, who asked the physician whether vaccinated people can still spread the virus: "If I get this vaccine, I will not pass on or carry COVID-19 at all, right? Is that what you're saying?"
Bruhl answered: "The answer is, no. This is not a this is not a binary thing."
Others expressed outright skepticism about the vaccine's safety. Mike Lockabey had a few questions, including whether the coronavirus vaccine could have an ill effect on women's reproductive health.
Bruhl explained that so far that's not been an issue: "There are millions of women who have contracted COVID-19, all around the world. And there are many hundreds of 1000s of those women who have been pregnant. And there's not been an observed effect on their ability to complete their pregnancy."
Lockabey later remarked he appreciated Bruhl's willingness to engage with doubters like him. But he's still not convinced.
"He did a good job," Lockabey said. But: "He didn't do a good enough job to change my mind."
Not absolutely everyone will need to be vaccinated to protect the community. But Bruhl said the majority will.
"Our goal is to get over 70% in all of our communities," Bruhl explained. "We're making strong progress in that direction," he added, noting that at the current rate, that could be achieved late this summer.
Wrangell's clinic manager Carly Allen says progress is being made, reporting that SEARHC has administered more than 1,000 doses in the community so far.
As of Thursday morning, 326 Wrangellites have received both doses of the COVID vaccine, and 354 others have had one dose. That's around a quarter of Wrangell's population that's begun the vaccination process.
SEARHC is able to vaccinate widely because as a tribal health organization, it receives a separate allotment from the Indian Health Service. That's allowed more flexibility in who gets access to the vaccine.
Bruhl says that's been welcome among SEARHC's patients: "They've been thrilled. And well they should be. I mean, it's something that protects them from really becoming deathly ill."
A full audio of Bruhl's presentation on COVID-19 vaccines is below:
Get in touch with KSTK at news@kstk.org or (907) 874-2345.