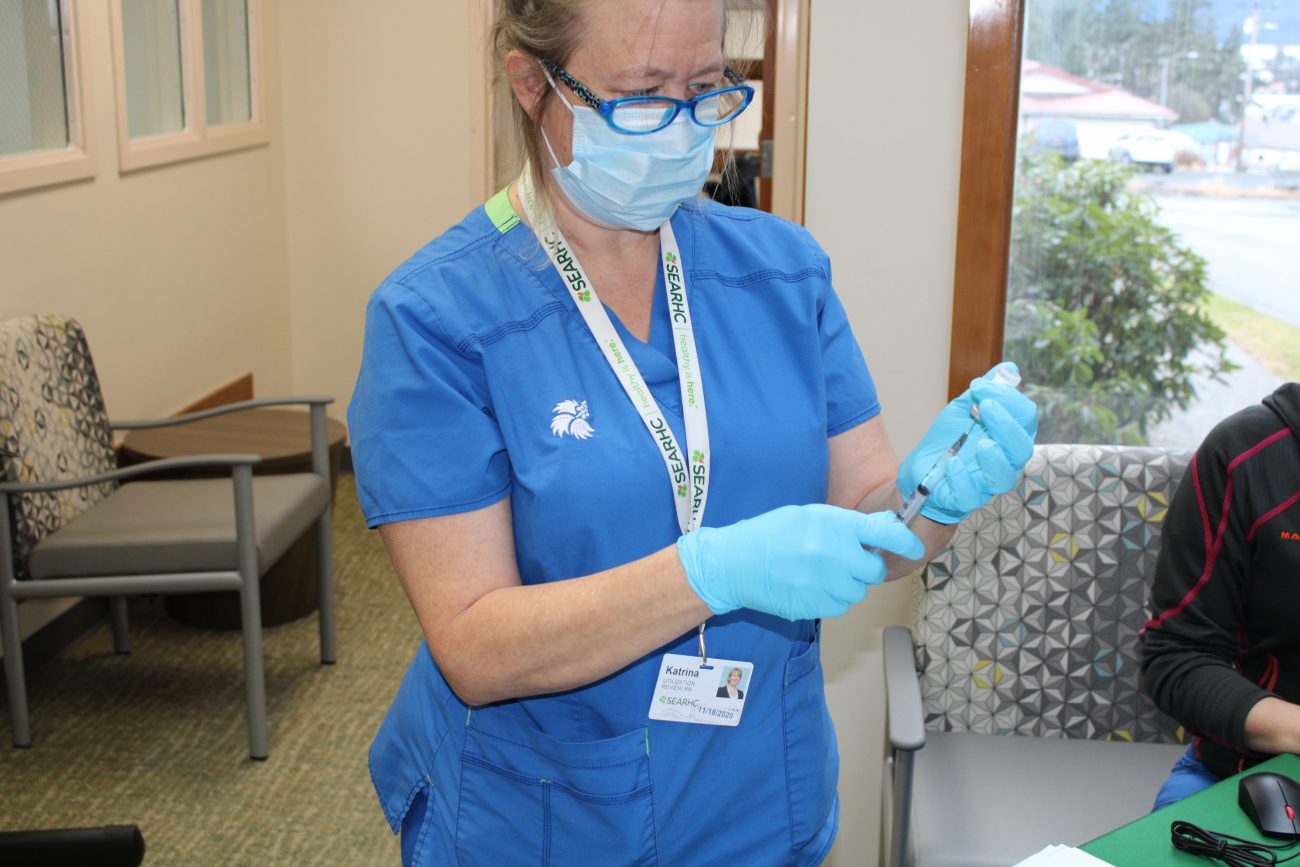 This post has been updated to clarify that possible grant amounts in other Southeast communities will be apportioned by borough.
Wrangell is hoping to secure its share of more than $37 million of federal money available for COVID-19 testing and vaccines in Alaska. It's part of a statewide grant program to offer direct assistance to communities of every size.
Wrangell borough manager Lisa Von Bargen explained her office doesn't have a fully fleshed-out plan. But added that the assembly should put in for the money now, as they're eligible for about $125,000.
"We will be working with community partners on [the details], since SEARHC is the one that's been handling the vaccinations here in town," she said. "But we have an opportunity to capture $125,000, and the deadline is the 15th, so we needed to get this in front of the assembly."
The federal funds will be disbursed through the state Department of Health and Social Services.
The money is apportioned based on population. Larger communities like Juneau can qualify for almost $1.7 million. Southeast's second-largest borough, the Ketchikan Gateway Borough, will receive around three-quarters of a million dollars.
Wrangell's neighbor Petersburg, with a slightly higher population than Wrangell's, is eligible for just over $175,000.
Sitka's mid-size borough population translates to a possible grant of just under half a million dollars, and the Haines Borough could receive almost $150,000.
While exact details of how Wrangell might use its share of the funds haven't been hammered out, Borough manager Von Bargen's staff and Wrangell's emergency officials have ideas for new or expanded COVID programs.
Fire captain and EOC member Dorianne Sprehe says high-risk groups could be targeted: "That could be our elders, who maybe aren't making their way up to SEARHC, it could be people coming in visitors coming in at our harbors and don't have access to get to the airport," Sprehe explained.
And Wrangell isn't the only community that would be served. The hamlet of Meyers Chuck, about 50 miles south of Wrangell, has limited services for the handful of year-round residents.
"We recognize there aren't very many [people] out there," Sprehe said. "But if we can assist them in getting in — if there's any kind of delay for those guys to get into SEARHC to get either vaccinations or get tested, or whatever it may be, we can assist them with that as well."
The grant specifies that a tenth of the funds should be reserved for people who have trouble accessing medical care. Sprehe suggested that for Wrangell, that could translate into a mobile testing program to reach residents who have trouble getting themselves screened.
Applications are expected to be processed by the end of the month.
Get in touch with KSTK at news@kstk.org or (907) 874-2345.