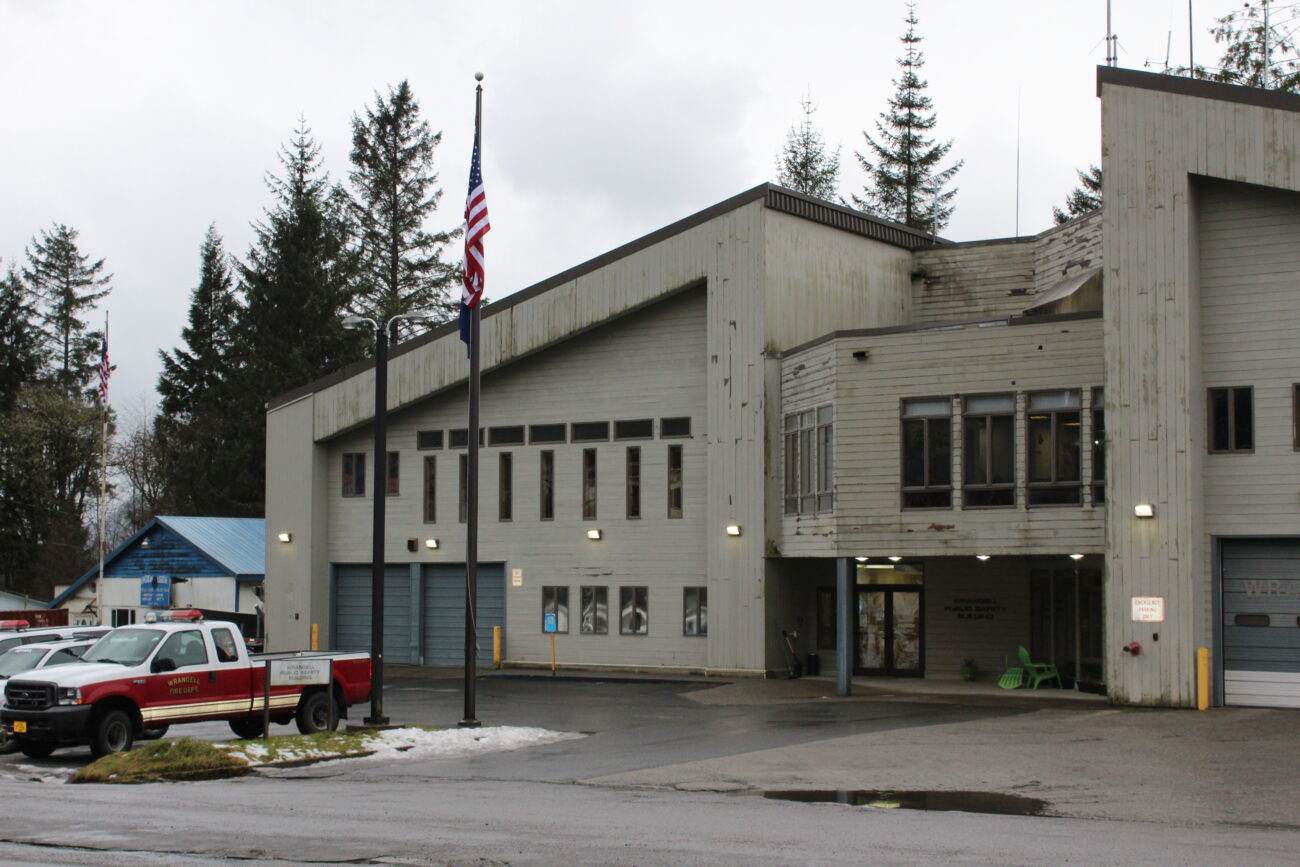 This article has an updated headline.
One of Wrangell's most prominent public buildings is becoming an increasing hazard for the people who work there. The Public Safety Building — which houses first responders, the courthouse and DMV — has suffered from deferred maintenance for most of its 34 years. Engineers warn that these issues can't be put off much longer, and the fixes could come at a big cost for local taxpayers.
Wrangell's public safety building isn't safe. That's the professional opinion of Anchorage-based engineer David Boggs.
"Right now, [the building] would not pass a fire alarm inspection," Boggs told Wrangell's Assembly on Thursday. He's part of a team of engineers and architects that recently assessed the grey, two-story building on Zimovia Highway.
Capital facilities director Amber Al-Haddad said at the meeting that this isn't a new problem. The fire alarm system was flagged about three years ago.
"But it got dropped off [the list of capital projects priorities] the last couple years while we were trying to decide what to do with this building," she added.
The failing fire alarm isn't the Public Safety Building's only challenge — not even close. Rotten wooden beams were discovered at least 20 years ago. The west side is still decaying today, structural engineer Brian Nielsen said during the March 11 meeting.
"The rot is very extensive," Nielsen said, "To the point where you could put a screwdriver right through the floor beams, all the way all the way through them."
In fact, a shoring wall had to be put up last year to keep the side and roof of the building from collapsing and spilling debris into the court offices and out onto the back parking lot.
Then there's the ventilation system. Mechanical engineer Bart Semmler says that's also not up to code: "The building's control system is an antiquated pneumatic system and many — if not all — of the pieces and parts are essentially failed."
The public safety building was engineered and built in 1987. Juneau architect Sean Boily says a lot of buildings from that period are sub-standard.
"And it's unfortunate that so much money was invested in technology that wasn't that great, but it's kind of something that we run into in most older public buildings in Alaska," Boily added.
So if the building's structure, wiring, airflow, heating and cooling systems are all either malfunctioning or on their way out, what can the city do to save the building that houses Wrangell's police and fire departments, local jail, DMV, courthouse, customs office and even the public shooting range?
Basic repairs to preserve the original building are projected to cost around $13 million. And that wouldn't address the building's issues in the long run.
An entirely new public safety building — either where the current building stands, or on the old hospital site — would cost around $30 million, the engineers said.
Capital facilities director Amber Al-Haddad explained that Wrangell's local government can't afford to make the repairs all at once.
"We don't have the luxury of doing that for a number of reasons with this project," she said. "Number one being the variety of occupants that we have, the number of occupants that we have, and the complexity of the building systems that are shared between all of these occupancies. Also, at this point, we likely don't have the funding to secure a one phase project."
Wrangell's city leaders say the solutions will likely have to be done in phases.
"The urgency of the need here, I think, kind of narrows our decision space," said assembly member Bob Dalrymple. "It's pretty severe conditions in that building, and I think that really limits the time that we have to deal with stuff. And to me, that would mean that we would focus more on moving forward as fast as we can, rather than spending a lot of time trying to come up with the perfect solution in all aspects. I don't know if we would ever have enough time."
Assembly member Anne Morrison agreed the repairs are far overdue, adding that it's better addressed sooner rather than later: "I know, we're on the horns of a dilemma," she said, "But at least we're on the horns."
The fact remains, money is tight.
Repairs to the current building — the favored option — will still present a big cost for Wrangell taxpayers, even at the most conservative project cost estimates, says Borough Manager Lisa Von Bargen.
"If we had to fund the entire project [at $9.5 million] ourselves and do a GO bond for this project, it would require the equivalent of a four mill property tax increase for this community."
Four mills means a property owner with a house assessed at $200,000 could expect to see a tax hike of about $800 a year, if the city couldn't secure outside funding and if the project came in below $9.5 million — which it's not projected to.
Any effort to borrow the funds through a bond measure would have to be approved by local voters.
First things first, Von Bargen says her office administration is working to get the building's fire alarm system fixed.
Get in touch with KSTK at news@kstk.org or (907) 874-2345.