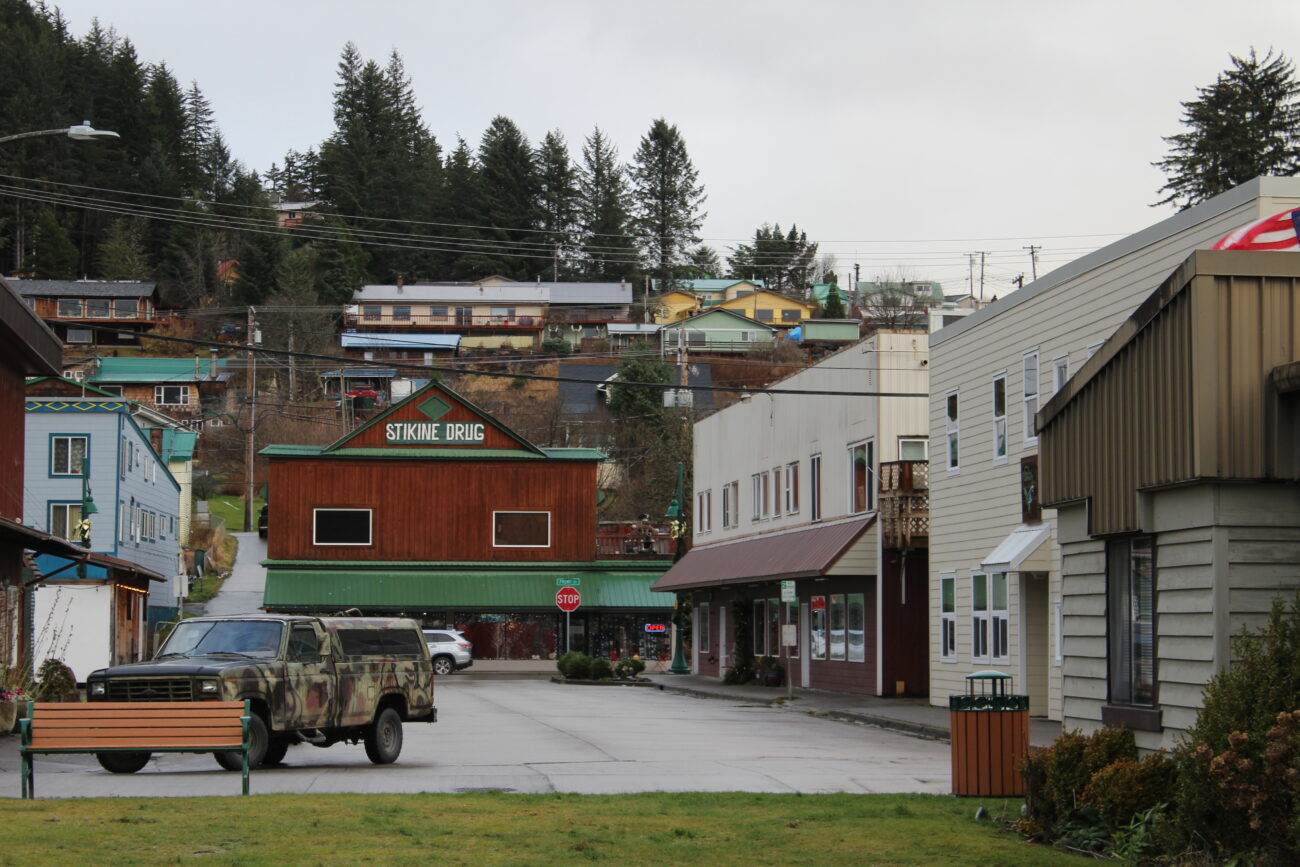 According to permit filings obtained through the Freedom of Information Act, Alaska Crossings, a major employer in Wrangell, is looking to move some or all of its operations to Sitka. That leaves business owners concerned about the loss of the wilderness-based behavioral health program that's been anchored to Wrangell for more than 20 years.
Alaska Crossings is a program for at-risk teens that takes them on guided wilderness expeditions around central Southeast Alaska. For weeks at a time, small groups of kids and guides hike, paddle and camp to build confidence and learn real-life skills.
That program has been based out of Wrangell since it was founded 20 years ago in 2001.
In 2017, it was taken over by Southeast Alaska Regional Health Consortium (SEARHC), the tribal health organization that also owns and operates the town's hospital, pharmacy, behavioral health services, and dental clinic.
SEARHC is based in Sitka. Dr. Elliot Bruhl, a senior executive, told KSTK during a February visit to town that there's been no decision as to whether Crossings will leave.
"I don't think that I don't think that that's something that is determined or a decision that's been made," Bruhl said. "I think everything that we're doing right now very strongly demonstrates our commitment to the community [of Wrangell]."
Records obtained by KSTK under the Freedom of Information Act show Alaska Crossings has filed an application with the U.S. Forest Service to run about a fifth of its operations out of the Sitka Ranger District as early as this year. The same document outlines the program's exploratory plan to move the entire operation to Sitka in 2022.
It's something that's been talked about, at least informally, for months now. Wrangell is a small, close-knit town. And the loss of the seasonal guides and groups of kids would be immediately felt, says Jake Hale. He manages one of the island's two supermarkets which has sizeable accounts with the program.
"They are actually a very large, important part of our business in the summer," said Hale, adding: "And if they were to move, that would have a serious impact on us."
Of course, there are other accounts and customers. But Crossings is something the grocery store has come to count on during the summer.
"I call them one of our golden childs because they always pay their bills. They're consistent. It always hurts if you end up losing a customer like that," Hale said.
Wrangell's tribe — the Wrangell Cooperative Association — has spoken out against a possible move, citing economic loss as well as its long-standing relationships with the immersive wilderness program for at-risk youth.
To be clear, Alaska Crossings has not publicly announced plans to move any of its wilderness expeditions to Sitka for the coming season.
The Alaska Crossings office hasn't answered questions on the subject. And the Forest Service told KSTK this month it hasn't begun to analyze SEARHC's permit application for the Sitka Ranger District.
Bruhl, speaking last February, says the Sitka-based health organization is looking at its options. He noted it already runs Raven's Way, a 12-bed treatment center that also uses wilderness-based therapy for young people.
"The vast majority of Crossings activity is going to be in Wrangell," Bruhl said. "We have other adolescent service programs at SEARHC, in Sitka, and we're interested in seeing what's the possibility of doing Crossings-type behavioral service delivery in Sitka. I don't know if it's going to be possible. But we're going to be exploring that this summer."
He added that there are no set plans for a move: "I think, unfortunately, some people feel threatened by that exploration, but really nothing has changed in terms of our commitment to our patients and to having the Crossings program this summer."
But SEARHC has also not ruled out a move in the future. An examination of Forest Service documents obtained through records requests point to uncertainty about its plans.
Early last year, Crossings submitted proposals to the Forest Service for a semi-permanent base camp site in the Wrangell Ranger District, large enough to accommodate two dozen people at a time.
Also last year, Crossings received authorization for running expeditions in the Petersburg Ranger District over the next decade.
These documents would seem to point to a more permanent plan for the Crossings program in Wrangell. SEARHC representatives have not addressed questions about these activities.
What's clear is that the tribal health organization is keeping its options open: Forest Service internal emails from last December also showed that the Crossings program had requested authorizations to run three expeditions in Sitka — and had indicated to the agency that the program could move entirely to Sitka as early as 2022. That's despite public statements that downplay that possibility.
Crossings' formal proposal for guiding in the Sitka Ranger District was filed five days later.
With the status of permits for Crossings to operate in the Sitka area still up in the air, the program appears to be simultaneously trying to plan for two futures: one in Wrangell, one in Sitka.
That uncertainty isn't a comfortable place to be for Wrangell merchants who have traditionally outfitted the 50-odd guides that come to town each season. Recent equipment lists for Crossings field guides recommend — for example — purchasing Xtratuf boots and other gear locally.
Bryan Ottesen owns a local hardware store that bears his family's name. The tarps and other outdoor equipment Crossings purchases help his business, he says, but he's also more broadly concerned about what could happen in town if the program pulled out.
"It's just that many more jobs that are going to walk off, basically," Ottesen said.
After a year lull because of the pandemic, the 2021 season is set to start next week. Crossings' office confirmed that between 40 and 50 guides will be living and working out of Wrangell for the season, which runs through the fall.
Get in touch with KSTK at news@kstk.org or (907) 874-2345.