With summer on the horizon, Wrangell's Parks & Recreation department organized a two-day downtown cleanup event last weekend. Organizers say they saw the event not only as a way to make downtown sparkle, but also as a way to bring people together after a dark year.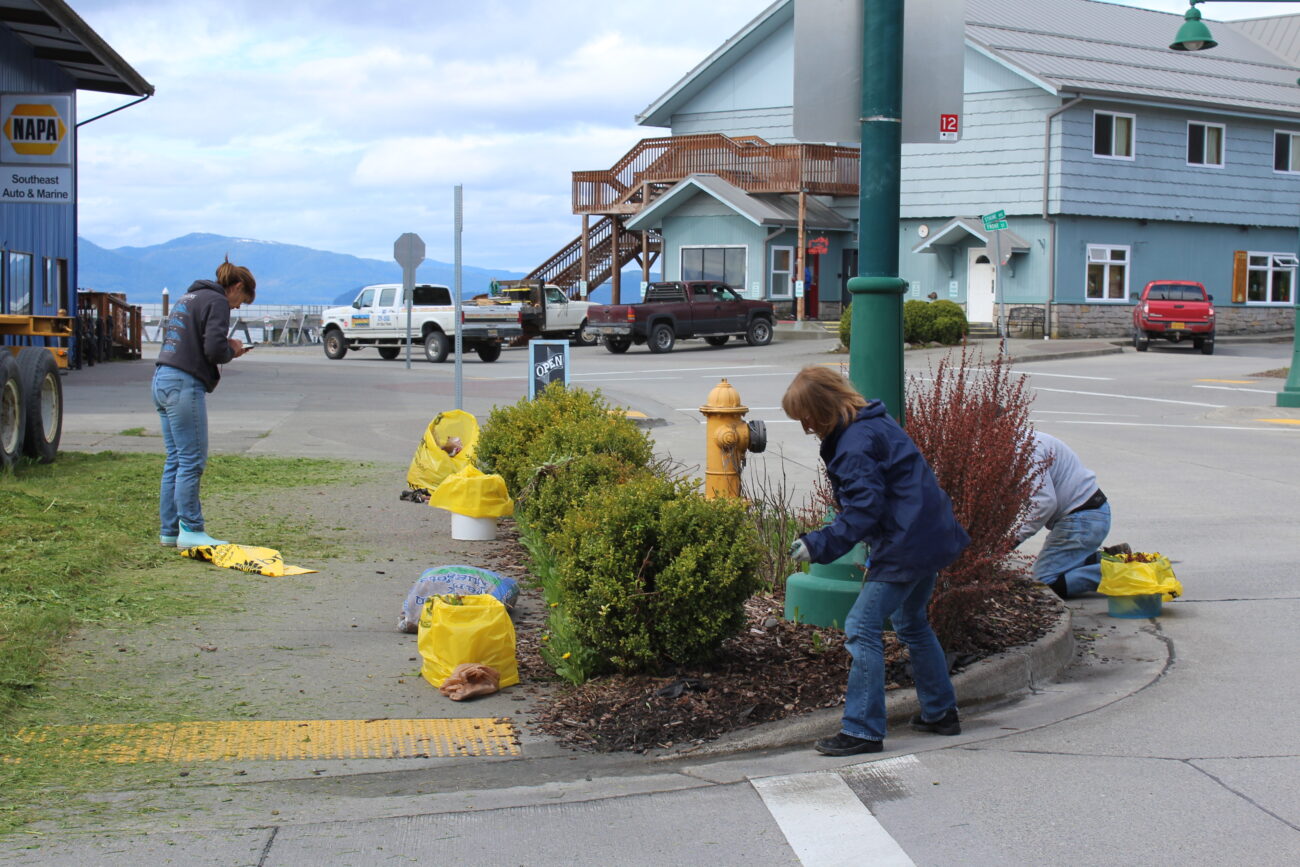 At the mouth of the smooth curve from Wrangell's City Dock onto the main street of town, a few volunteers are crouched in a garden bed, shears and trowels in hand. 
"We did that one, maybe an hour and a half," says Janet Strom, gesturing to a garden bed about a block away. She wears jeans, Xtratuf booties and a grey sweatshirt. "And we just started [this one] and the dandelions love this place. So it's gonna take a while."
Strom used to be Wrangell's Public Health nurse but she's been retired for almost a decade. Last year, she says she, her husband and some friends did little cleanup projects around town.
"Just did it because it needed it," she explains.
But last weekend (May 7-8), she added 60-odd Wrangellites to her crew for a community outdoor work event, organized by the Parks & Rec department. The main goal was to spruce up the downtown corridor in anticipation of the coming summer season. 
Wrangell's Parks & Rec Director Kate Thomas says 2020 was tough, with poor salmon runs, a contentious political climate and the start of the pandemic. People in town were feeling disjointed and disconnected.
"I think it's really important that we find ways to come together," Thomas says. "And even though we won't see a lot of tourism this summer, we'll see quite a bit still, I believe, and the residents and the businesses deserve to feel good about downtown. It's a place for folks to convene and enjoy each other. And we figured, well, we might as well clean up a little bit and spruce up the garden beds and the streets and sidewalks and all the things so folks feel, you know, some sense of community pride."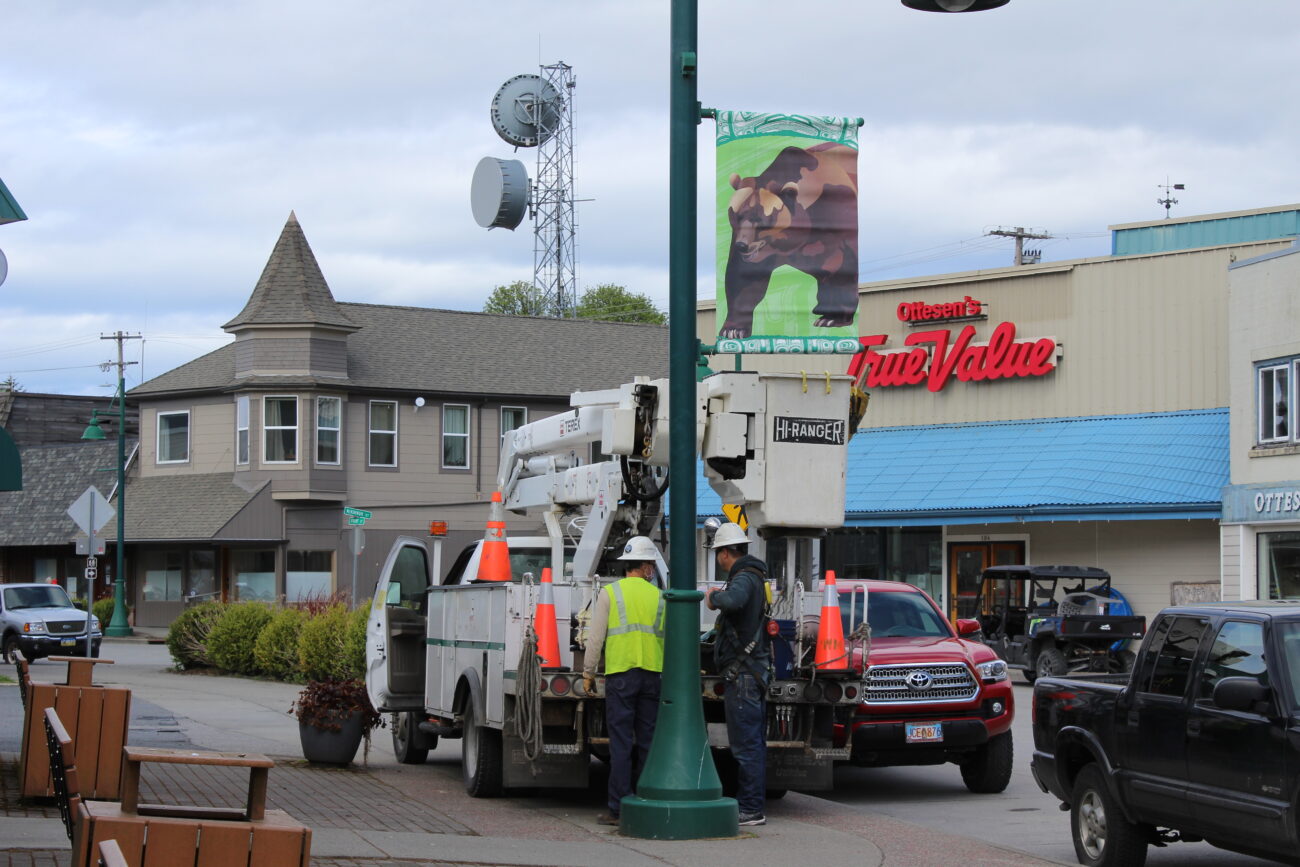 Volunteers weeded, replanted, and spread new bark chips in downtown flower beds. Others helped weed whack, rake and sweep sidewalks and park areas. 
Public Works crews fired up the street sweeper and put up new signs leading from City Dock to the Mount Dewey trailhead, where legend has it John Muir himself spent the night. The electric department hung banners on light posts around town.
Kids joined in too: Third, fourth and fifth graders from Evergreen Elementary school joined the Chief of Police and SEARHC health educators to collect thousands of cigarette butts from the downtown corridor.
Thomas says she sees service as a fundamental American principle, and that doesn't change whether you're in a town of 2,500 like Wrangell or a metropolitan area like Seattle: "Playgrounds are built by volunteers, gardens, recycling programs, all of it. And so just because we're a small community doesn't mean that we don't need that as well. Or that because we're a small community, that's why we need [volunteers] — it's all over America."
Thomas adds that giving the downtown area a little makeover is nice in and of itself, but keeping community areas clean serves another important function: a sort of peer pressure.
"When folks come to an area and there's trash and dog waste and cigarette butts and broken glass in certain areas, if you accidentally drop something out of your pocket when you're walking through, and you look around and you see all those things, you don't feel as bad if you leave it behind," Thomas explains. "And so I think the better we can keep our green spaces, the better others will keep them when they're there as well."
Janet Strom says it's hard, without community effort, to feel like community cleanups are a battle worth fighting. 
"It's a very pretty little town," Strom says with a smile. "But you know, people get weary. There's not a lot of volunteers."
But Thomas, the city parks director, says she's excited about the potential for more ongoing community engagement in keeping downtown clean and cute: "I'm eager to see more cooperative efforts come together because if every person contributed four to five hours at the beginning of the spring, every year, everything would look so good. So good. And I think we're well on our way to building a culture like that."
And she says she anticipates there will be more community spruce-up events this year and in the future.
"Year after year, these are maintenance-oriented tasks so that they're cyclical that come back, it's not like a one and done sort of deal," she says.
Thomas also adds that the Parks & Rec department is hoping to start a sponsorship program for the garden beds downtown, where Wrangellites could donate time or money to keep up one of the 14 Front Street plots. 
Get in touch with KSTK at news@kstk.org or (907) 874-2345.