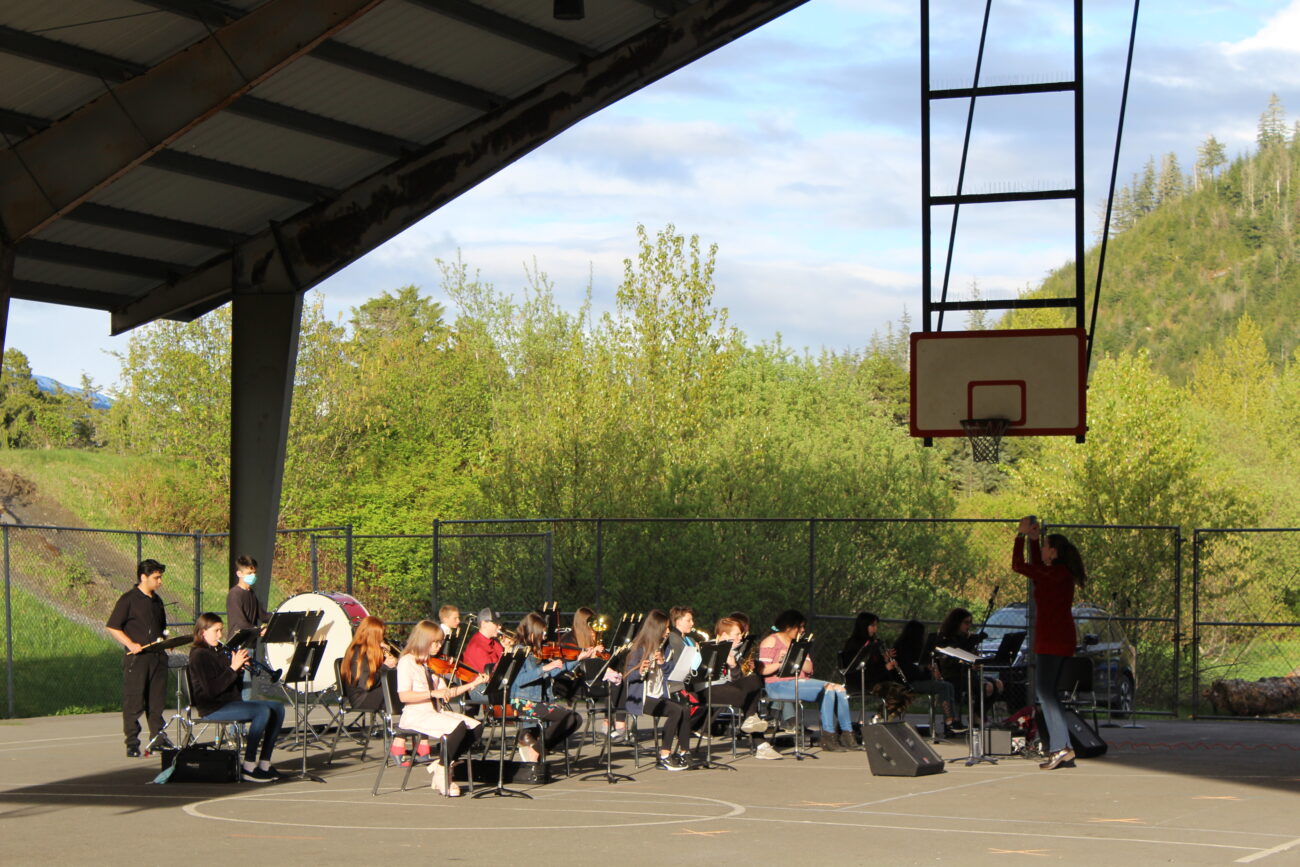 Wrangell's middle and high school music groups recently held their first performance in almost a year and a half.
Music teacher Tasha Morse stands in front of three rows of middle schoolers — about 20 in all. They're sporting a variety of instruments, from a chest-height red and white bass drum to violins to trombones to a mellophone. She turns to face the masked onlookers.
"What you have just witnessed is the very first note that our entire band has played together as a band at all," Morse says. "That's the first time they played together this entire year."
Unlike most school concerts, this performance took place in the open air — under the soaring roof of the elementary school's covered outdoor basketball court. 
Stikine Middle School's mitigation plan has kept the kids in pods, which means the band spent the year practicing the same music in three completely separate classroom groups. 
"It was different, not practicing ever," says sixth-grader Jackson Carney. He holds down one corner of the middle school's percussion ensemble, playing the snare and bass drums.  "And I will say, I messed up a couple times, but oh well."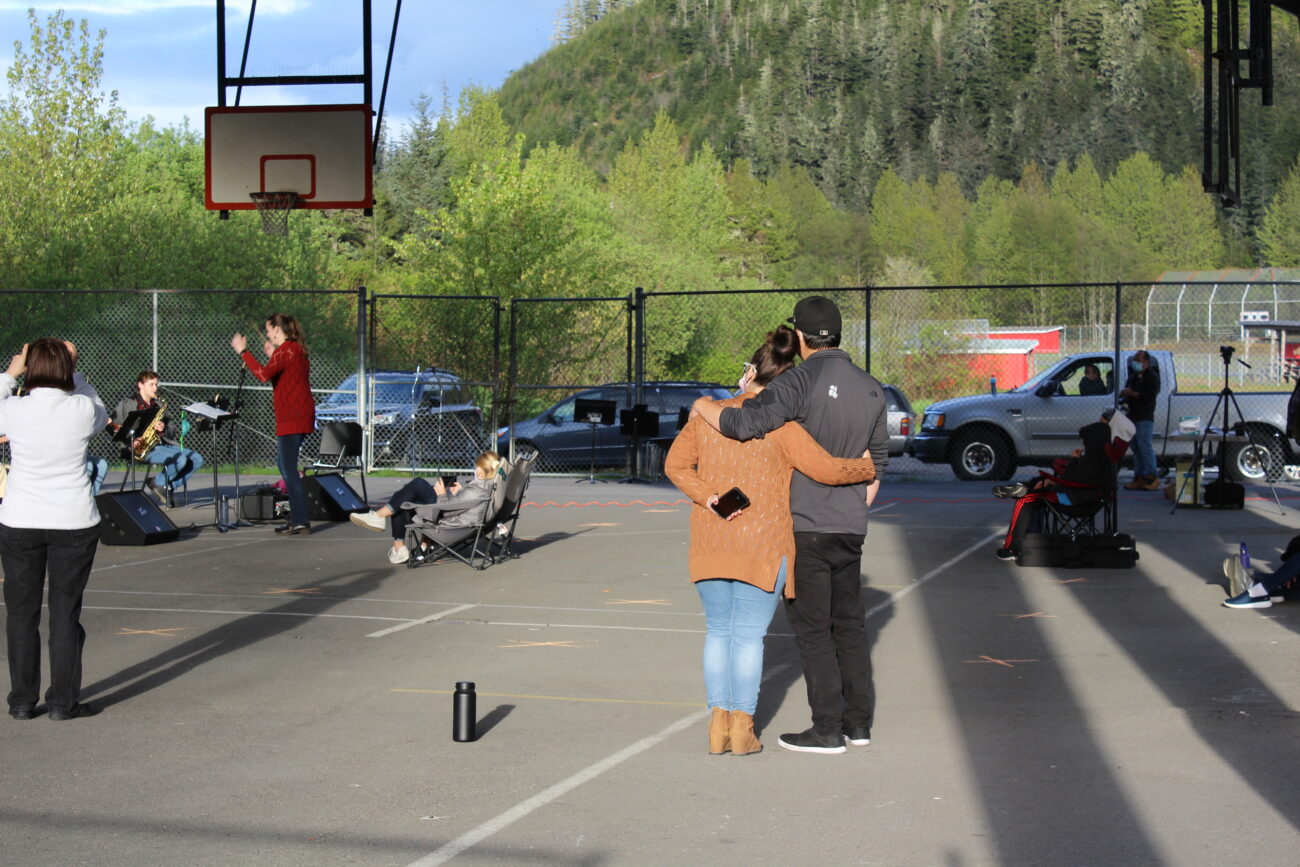 Sixth-grader Natalia Ashton says she's played the violin for about half of her life. This was the first year she got to play strings with the band. 
"I definitely did not expect it to be outside," Ashton says. "But I don't need a mask to play, so it wasn't that different playing without a mask. But it was definitely a new experience."
Other students have needed masks to play.
"We play with masks that have special flaps, and then they cover their entire instrument," explains music teacher Tasha Morse. "And I can't see their fingers and they're constantly like, 'Ah,' they call it their sarong, 'My sarong is stuck in my horn, hold on,' or like they're trying to pull up a page, but they have to pull their hand out of this bag and then put it back in. It's just been ridiculous."
But these precautions have largely kept COVID-19 out of Wrangell's classrooms. Students have attended school in-person for all but about two weeks of the school year, when minor outbreaks prompted shutdowns. 
With the middle school's first — and last — group performance of the year finished, Morse swept around, sanitizing seats and music stands for the second performance: the high school band. After their performance, Morse sang with the two members of Wrangell High School's choir.
Wrangell's Emergency Operations Center and the Parks & Rec department signed off on the concerts for the two bands and school choir. But only two family members were allowed at a time under the awning to fan out and watch the students perform. Others had to lurk outside the fence, or pull up in cars outside the enclosure.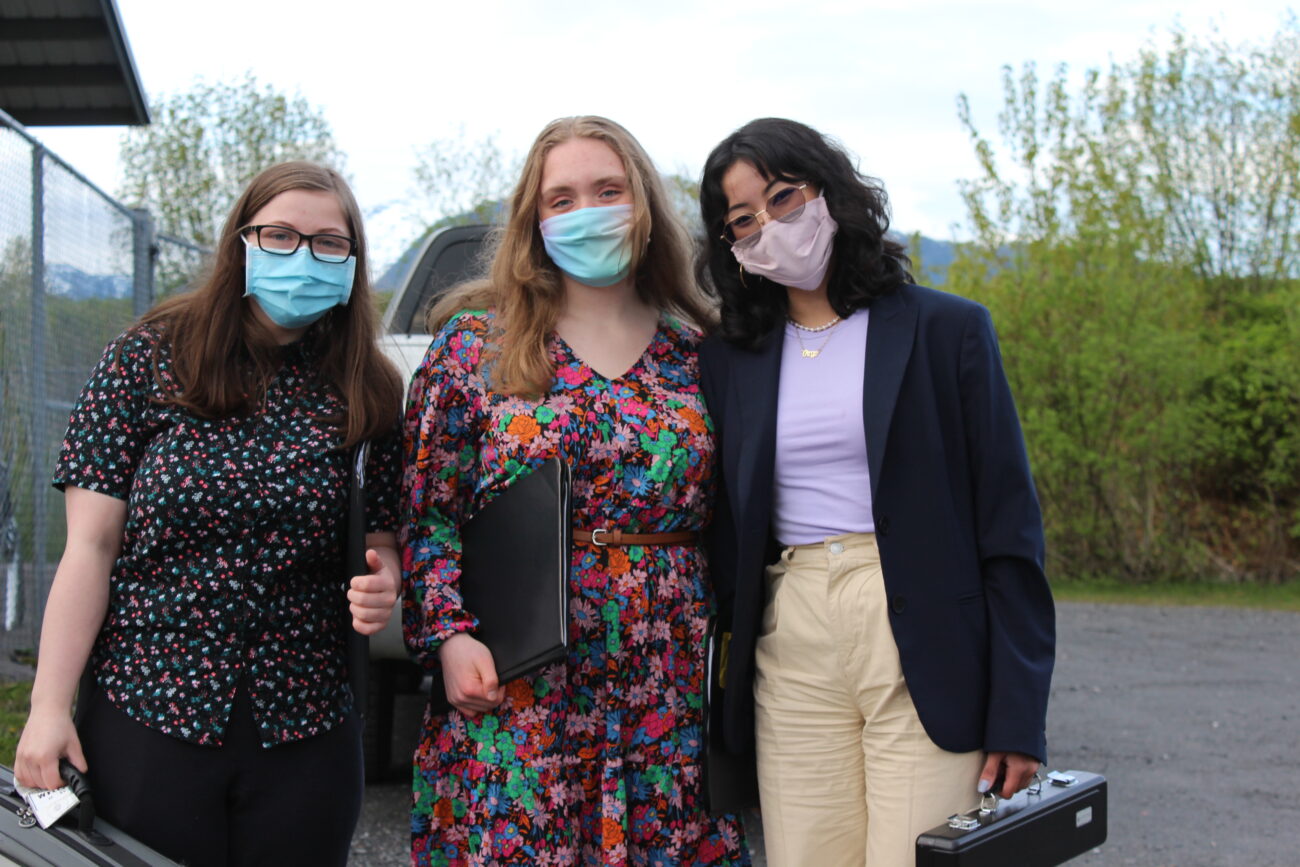 Morse says it was a welcome opportunity to have family and friends to play for: "Playing music for people is why we play music. We don't play music just to keep it to ourselves. So this was really nice, I think was very refreshing after over a year of not playing for people."
She's not anticipating such a long break next year. And Jackson Carney, the middle school percussionist, is already looking forward to his seventh-grade stint in band.
"I'm really excited for next year," Carney said after the performance. "I hope I can do some other percussion instruments besides the bass drum and snare drum, I hope to try just other ones."
High school senior Jade Balansag plays both the trombone and flute. She says she hopes Wrangell's schools will continue to support arts education for students after she graduates, even if it takes getting creative and holding more chilly outdoor concerts.
"It's really like a large portion of the school that plays band," Balansag says. "We have a pretty significantly large band for all the circumstances. And there are a lot of students here who are really passionate about arts and music. You know, they need all the support they can get."
For now, the keystone of the district's arts department is Morse; she teaches music at all three schools and high school art classes.
"I'm just proud of the kids," Morse said. "They've worked really hard this year. It shows in their performance, how much they really enjoy it. And that's why I do this — it warms my heart because it warms theirs."
With the school year wrapping up at the end of the month, there aren't more concerts on the schedule. Wrangellites will have to wait until next school year to hear the dulcet tones of the middle and high school bands and choir.
Full performances of Wrangell's middle and high school bands and high school choir spring outdoor concerts can be streamed on the Wrangell Public Schools YouTube Channel. 
Get in touch with KSTK at news@kstk.org or (907) 874-2345.