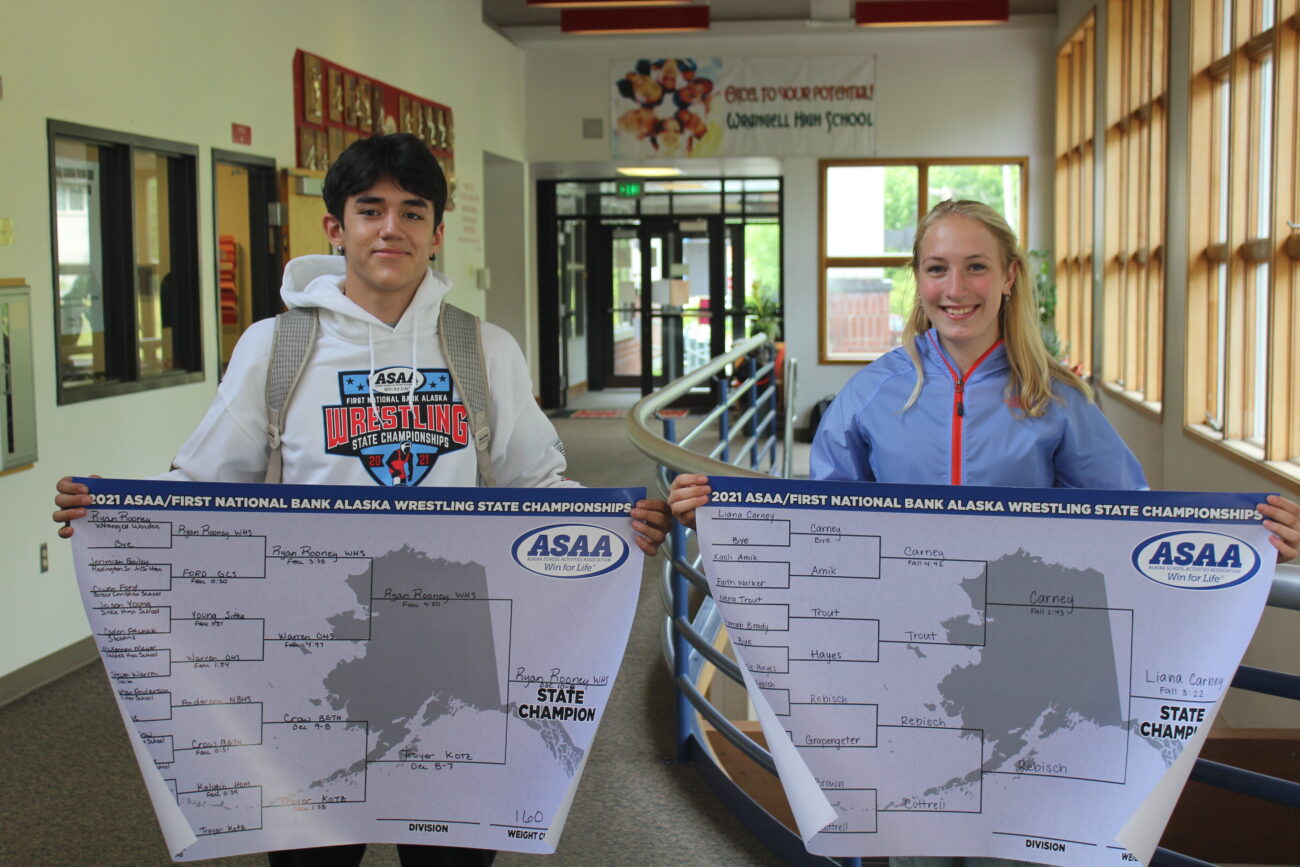 Wrangell High School's "Wolfpack" wrestling team had a strong showing at the Alaska State Wrestling Championships at the end of May — including two first-place finishes. KSTK caught up with a few of the team members and coaches. 
You've heard the saying: "Always the bridesmaid, never the bride."
How about: "Always a finalist, never the champion"?
Wrangell junior Ryan Rooney had made the state wrestling finals every year of high school so far… but never clinched a title. So this year, he entered the season with a new strategy.
"In past years, I've been just cutting weight and dogging and down to get down to a way that was better for me to wrestle at," Rooney explained. "And this year, I just decided to just try and bulk up the weight that I was at. It seemed to work out better for me this year, because I mean, I've been in the finals, this is the third time now. And I finally won it this year."
Rooney — who wrestled at 160 pounds — only lost one match during the season, and it wasn't the championship round.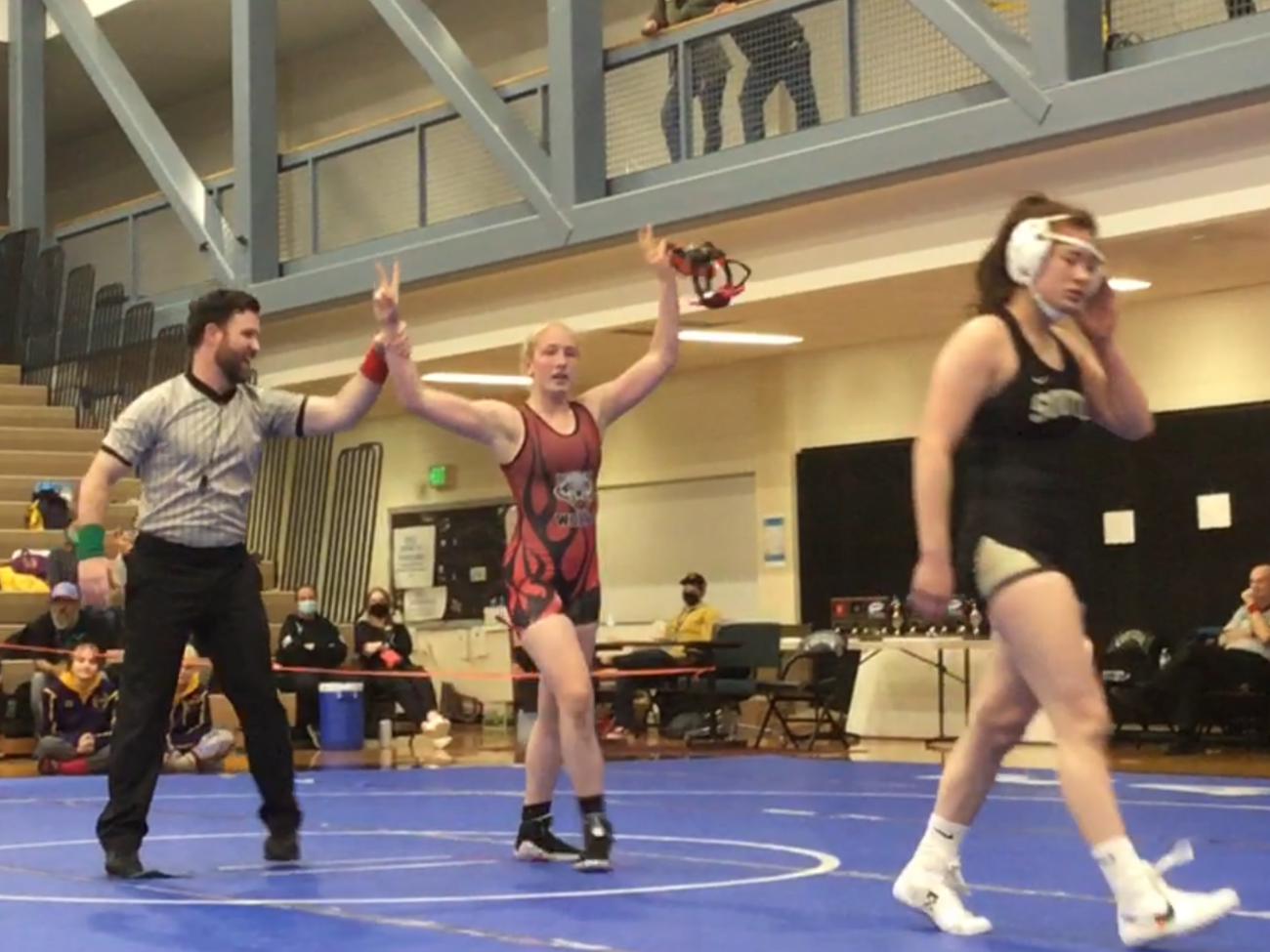 "It was probably the hardest match — my finals match. Ever — I'd probably say I've ever had. I've usually, you know, everyone says, 'Wow, I've never seen him out of energy before.' Because I was in like, end of the third. I was crawling back to the middle. And I was just done. And as I just knew that I had to get these points, because I was down one. And the rest is history," Rooney said.
It's Wrangell's first individual state boys' title since 2008. 
Fellow junior Liana Carney took home her second state title, this year in the girls' 135-pound weight class. She says she's proud of her accomplishment, but adds it was made sweeter because Rooney won too. 
"We've been there so many times, it was finally time for both of us to win," Carney said.
Wrangell sent 10 wrestlers to state this year, and six of them placed.
In addition to the first place finishes from Carney and Rooney, Randy Churchill (152 pounds) and Rowen Weiderspohn (189) took home 4th place finishes.
Jake Eastaugh (215) placed 5th, and Mia Wiederspohn (160) placed 6th.
Assistant Coach Jack Carney also says three other wrestlers lost in the so-called "blood round" — the match before placing in the top six.
And Wrangell's team was the highest-scoring team from Region V, which covers Southeast Alaska. School sports are subdivided based on population, and Wrangell falls in the 2A category along with high-schoolers from places like Craig and Glennallen.
Wrangell girls took first among 2A schools, and the boys took third. That translates to 10th overall for the girls and 9th for the boys among the 31 teams that attended the state tournament.
Sophomore Randy Churchill says for him, the start of the season was rough — still trying to recover from an injury sustained at a tournament in Haines last year: "So that tournament wasn't so good. But after that, I kind of got back into the groove of everything."
Coach Carney says Churchill's 4th-place finish in the 152-pound weight class came against especially tough competition. 
"He beat a senior from the state championship team, Glennallen," Carney tells of Churchill's journey to his 4th place finish. "He beat kids that he probably shouldn't have beat. He was throwing moves in — super-advanced moves — that he had never done before."
For junior Jake Eastaugh, though, Coach Carney says the wrestling season ended in heartbreak.
"[Eastaugh] was ranked number one going into the tournament and ran into the guy that was ranked second early," Carney related. "And he had the kid on his back, the kid was flat, flat for about 30 seconds, but he didn't get the pin. Then he got caught in a move."
Eastaugh still got 5th in the 215-pound class. He says he has big plans for his senior season.
"I didn't get — I didn't place what I wanted at state, but it is what it is. I've gone next year, I hope," Eastaugh says.
The season had plenty of other bumps as well. Coach Carney says wrestlers and coaches had to quarantine at a critical point in the season, after competing in a wrestling tournament in Ketchikan that sent COVID cases back to five of the seven Southeast communities that attended — including Wrangell. 
"We usually were focused on being our best selves, regions and then state especially, but this time, we had a big week and a half gap" Coach Carney explains. "And then we had to think about grades on top of that. So we weren't as in shape as we probably have been in years past."
Wrangell's wrestlers came into the state tournament with a strong season already behind them. The team placed 2nd at regionals, with six wrestlers winning their weight classes. Both Ryan Rooney and Liana Carney were named the region's outstanding wrestlers by a coaches' vote.
In a normal year, Alaska's high school wrestling season would have wrapped up around the winter holidays. Head coach Jef Rooney says there's a silver lining to this year's delay of state wrestling competitions — less downtime before the summer's national tournaments.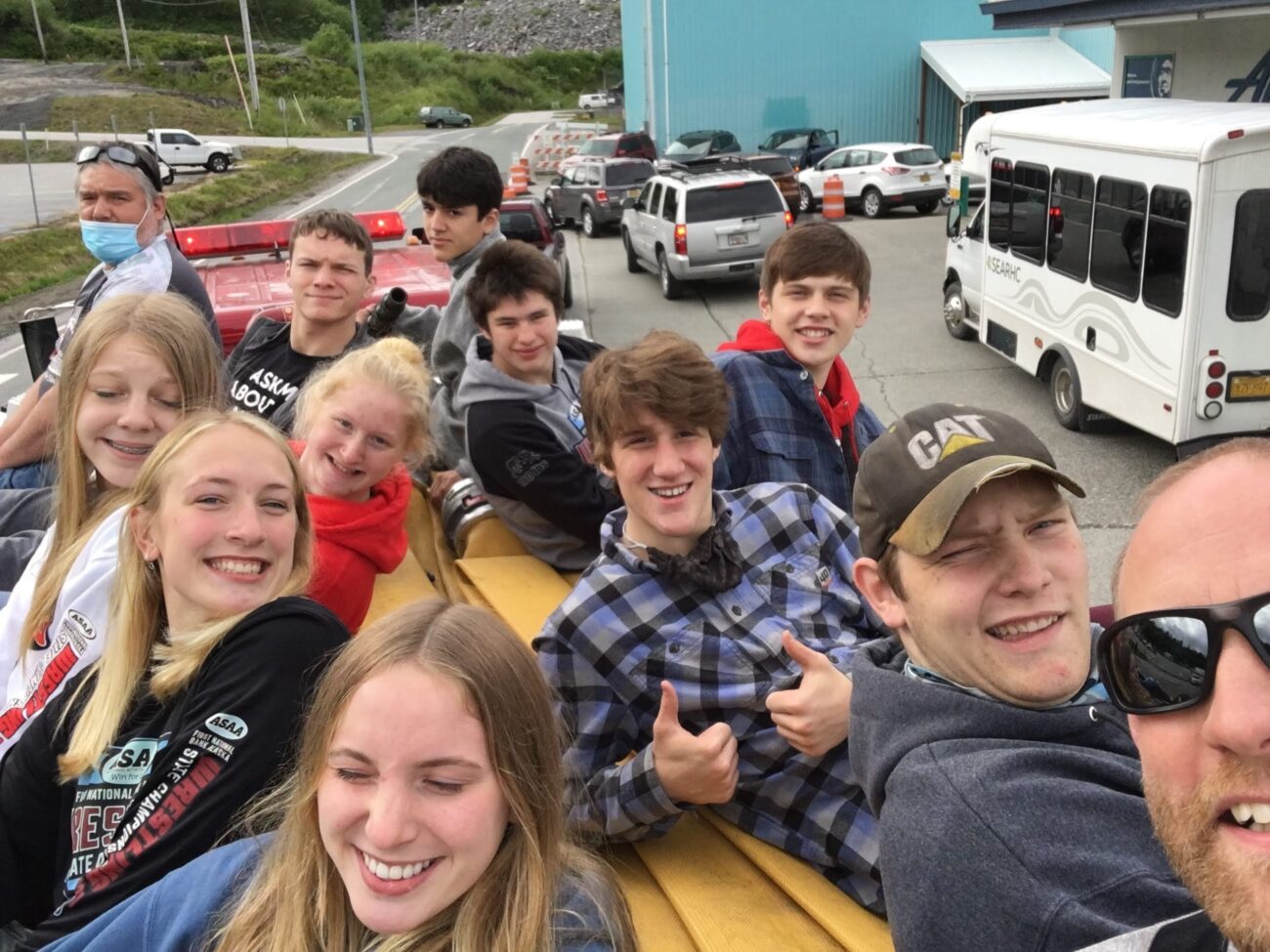 "So that's going to be an exciting endeavor, something that we haven't witnessed in decades that I'm aware of," Coach Rooney added.
Beyond tournaments, titles and funky schedules, though, Coach Carney says the team is just that… a team. Many of them have been training and wrestling together for years. 
When they're out around the state, Carney says of the team: "We're checking out historical sites, glaciers, we're going to lakes, doing hikes. We've got stumps that we take pictures at every year. I've got pictures of these guys on the same stump since they were in sixth grade. We're definitely a team, you know, and it's more than just winning matches."
Winning matches is a plus, though. Three team members will head to the Western States Championships in Provo, Utah later this month, and the 2021 National Tournament will take place in mid-July in Fargo, North Dakota. Wrestlers hoping to make the team will attend the Team Alaska training camp in the weeks before. 
Other state tournament highlights: 
Wrangell's girls took home the state sportsmanship award.
Rowen Wiederspohn had the most pins in the least time in the boys' tournament: four pins in 6:59.
And Randy Churchill had the same number of pins in the second shortest time: four pins in 8:23.
In terms of pins, the girls took 7th with seven pins in 19:47. And the boys took 4th with 13 pins in 29:57.
Get in touch with KSTK at news@kstk.org or (907) 874-2345.