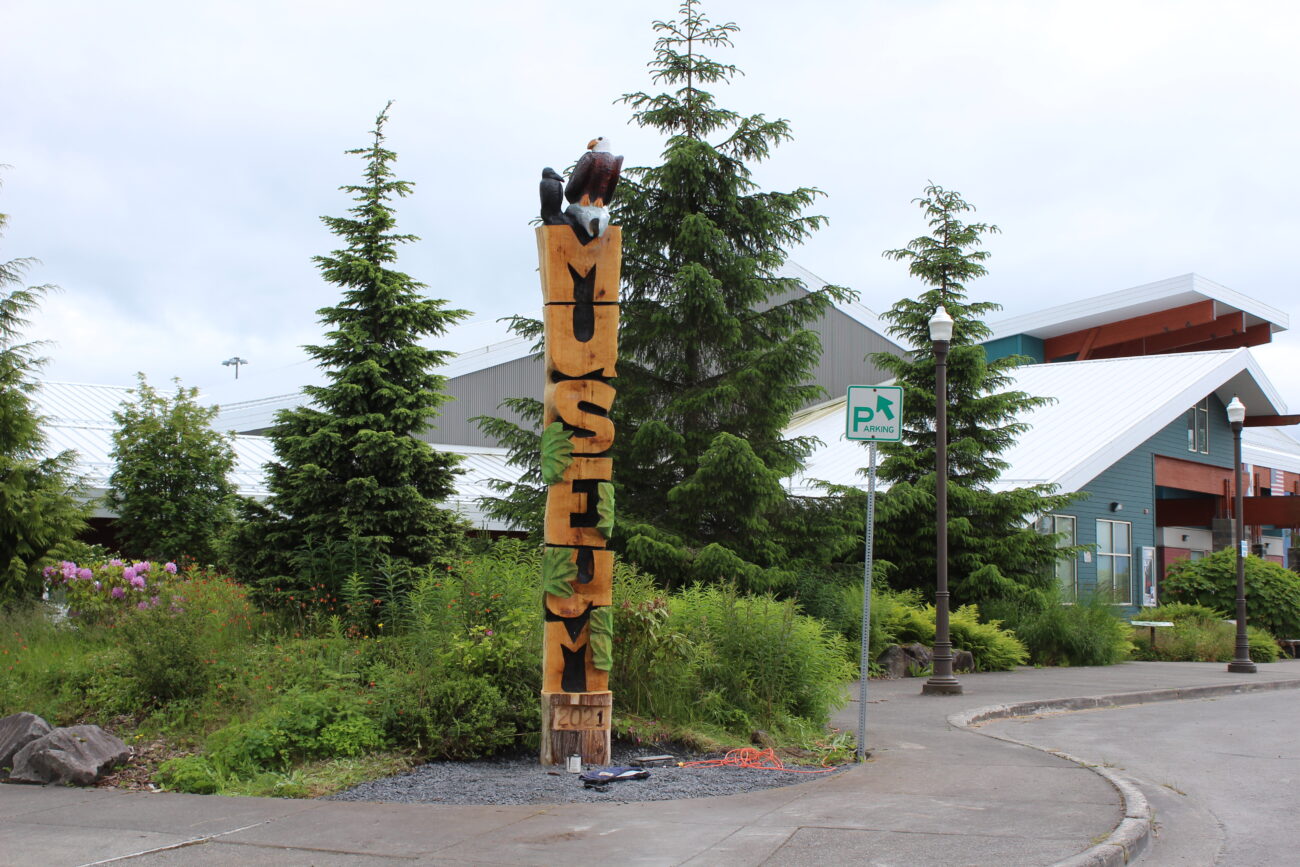 Wrangell's Nolan Center serves many functions. It houses the movie theater and gift shop, as well as the Wrangell Museum. But that might not be obvious to visitors walking down Front Street. So, a Wrangell carver teamed up with the center to make a cedar log into a sign advertising the museum.
Sitting next to the water, Wrangell's Nolan Center is a striking building. Tall, angular, teal with burnt orange trim and sloping white roofs.
But the sign that advertises what's inside the building — "Museum, Visitors' and Civic Center" — is covered by a bush. Plus, the lettering is pretty small.
Director Cyni Crary says that's posed a problem.
"I noticed that many, many, many of the tourists do not know that we're a museum," Crary says. "There's not really proper signage. And so I've wanted to have this sign that was on the corner over here that was huge, that people can really see."
That dream became a reality. On Tuesday, the new, carved log sign was lifted — with help from Wrangell's electrical crew — from where it had lain horizontally on pallets and was placed in its permanent spot at the corner of Campbell Drive and Brueger Street.
"They just dug out this corner and had the big boom truck they use for telephone poles and picked it up and put it in," said Denny Leak, who carved the log, about the process of setting up the new sign.
It's is a 16-foot log, planted on its narrower end. At the top sit a carved and painted raven, and an eagle with a silver salmon in its talons. The letters M-U-S-E-U-M sit stacked, one on top of the other. A few leaves of Devil's Club frame the lower letters. Leak is happy the leaves are recognizable: "I keep asking people: 'Does this look like Devil's Club?'"
Leak started the carving from a raw cedar log donated by the Wrangell Cooperative Association, Wrangell's tribal government.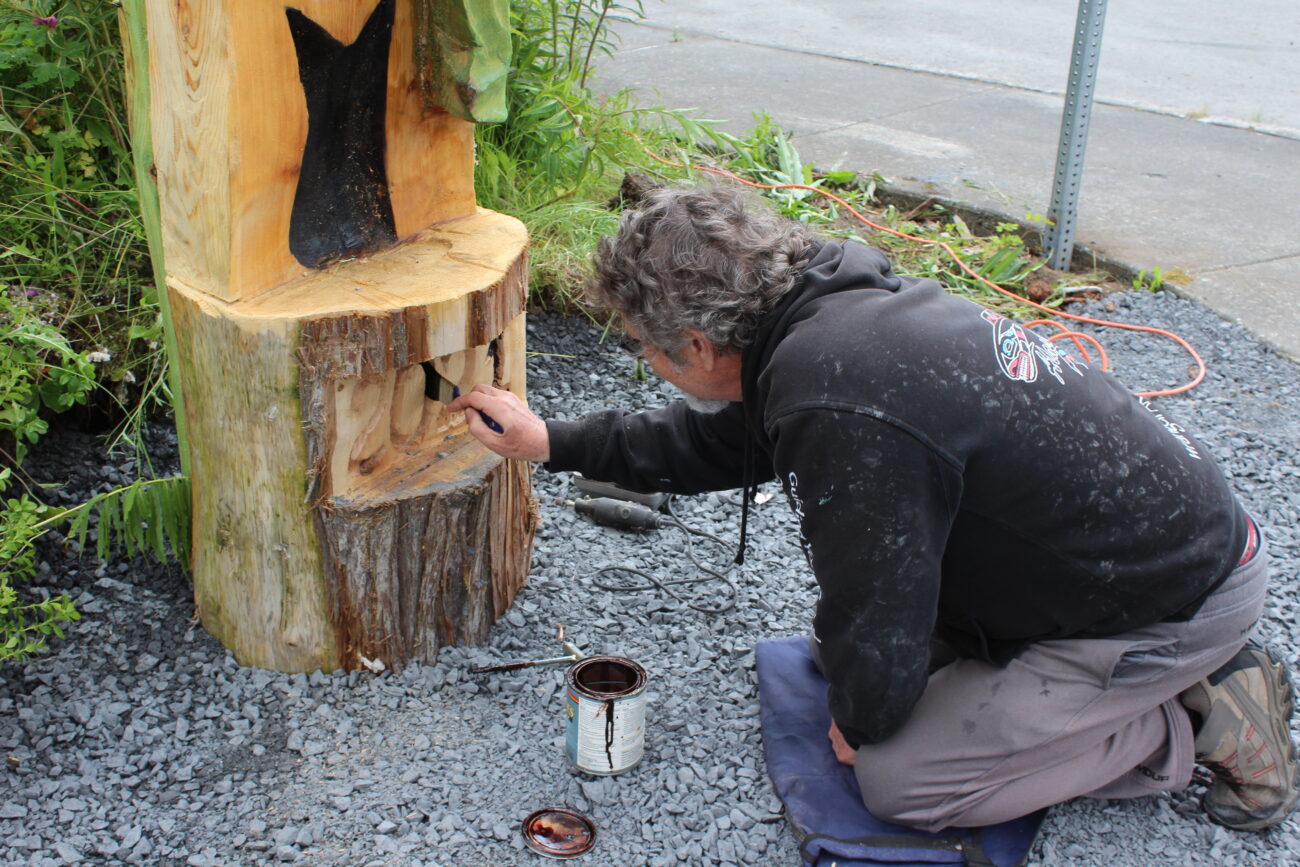 "The chunk of cedar that they gave us, we put the wide end at the top, which is a little unusual," he says, gesturing to the top of the sign. "But I wanted the width to get a big M, and then the eagle and the raven, and there's the fish up there. And I thought it would kind of discourage the real eagles from sitting on the top and pooping."
The look sort of evokes a traditional Tlingit totem pole, but it isn't a totem. It's not representing the ancestral heritage of Wrangell's Tlingit community, it's just a beautiful, upright museum sign carved from wood.
Leak says he's been doing this type of carving for eight or nine years. It all started at his dad's cabin in Colorado, when the insurance company asked them to remove a few trees that posed a fire danger.
"We were cutting them up just for firewood, and my wife actually said, 'You ought to make one of those chainsaw bears, like Willie has in his yard,'" Leak explains. Willie has the neighboring cabin. "And I said, Well, that sounds fun. And so I went over to Willie's yard, and I got his bear and I brought it over and I put it on a picnic table. And I found a piece of wood that was slightly larger, and I got the chainsaw and just started experimenting around."
He continued practicing carving after that: "I made a few bears. And I tried doing a carving like Van Gogh's self-portrait. There's an interesting face that he has that's so gorgeous. I tried to do that, which was really humorous, and it came out very ugly."
He's carved a few school mascots, including one for Rae C. Stedman Elementary school in Petersburg, and two for Juneau schools: Mendenhall River Community School and Riverbend Elementary.
Riverbend's mascot is Beatrice the Beaver, "So I did a four-foot tall beaver with a pencil, you know, that's four feet tall," Leak says.
In 2017, Leak also helped replicate part of one of the Wrangell Cooperative Association's totems that had split apart.
Leak says he volunteered to take on the new Wrangell Museum sign project after talking to Crary, the Nolan Center's director.
"She'd had this image of, you know, the great big tower," Leak says. "And so, here it is."
The whole process took about a month, starting on the log with a chainsaw and working down to finer tools.
"We've got to step back and look at the eagle here," Leak says, walking across the road so the top of the sign is more visible. While he was working on the top portion of the sign, he says he found a spot of decay. "I kind of already started on the eagle, but then I found out the eagle couldn't stand up straight, because I had to cut out the wood. And so it's kind of a little diorama now, because you see the raven's up there. And he's kind of crowded in next to the eagle's fish, and the eagle is — see he's [saying] 'What are you doing?' So that was kind of the hiccup of the deal. Hopefully it makes a little scene."
Leak walks back and kneels down at the base of the sign, where he's carved "2021." Picking up a can of stain to fill in the numbers, he says: "Let's hope 2021 is a better year for us all."
With the date at the bottom stained, and the sign itself firmly planted, the only thing left to do is cover the carving in a waterproof finish. Weather permitting.
Get in touch with KSTK at news@kstk.org or (907) 874-2345.