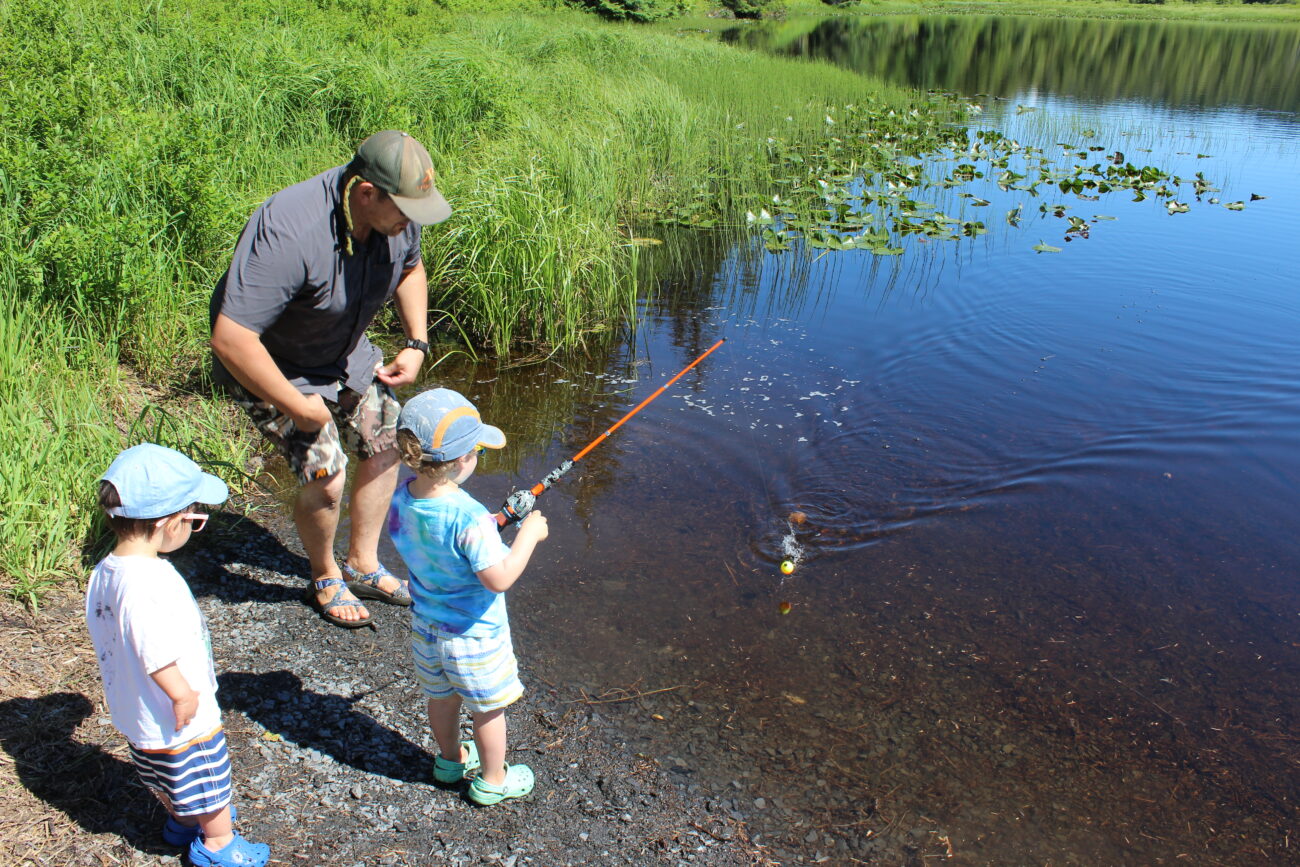 Wrangell's annual Family Fishing Day made its return this year after the COVID-19 pandemic forced organizers to cancel last year's event.
It's a bright and sunny Saturday at Pat's Lake, about 11 miles south of Wrangell. Two tiny boys — both wearing sunglasses, baseball caps, brightly colored swim shorts, and blue Crocs sandals — throw rocks into the water. 
Three-and-a-half-year-old River Padilla and one-and-a-half-year-old Corvid Delabrue wait for River's dad to prepare a miniature orange fishing rod. 
"It's so awkward to cast this little thing," says Jeremy Padilla, side-arming the little rod.
"It's all in the wrist," responds Joe Delabrue, laughing.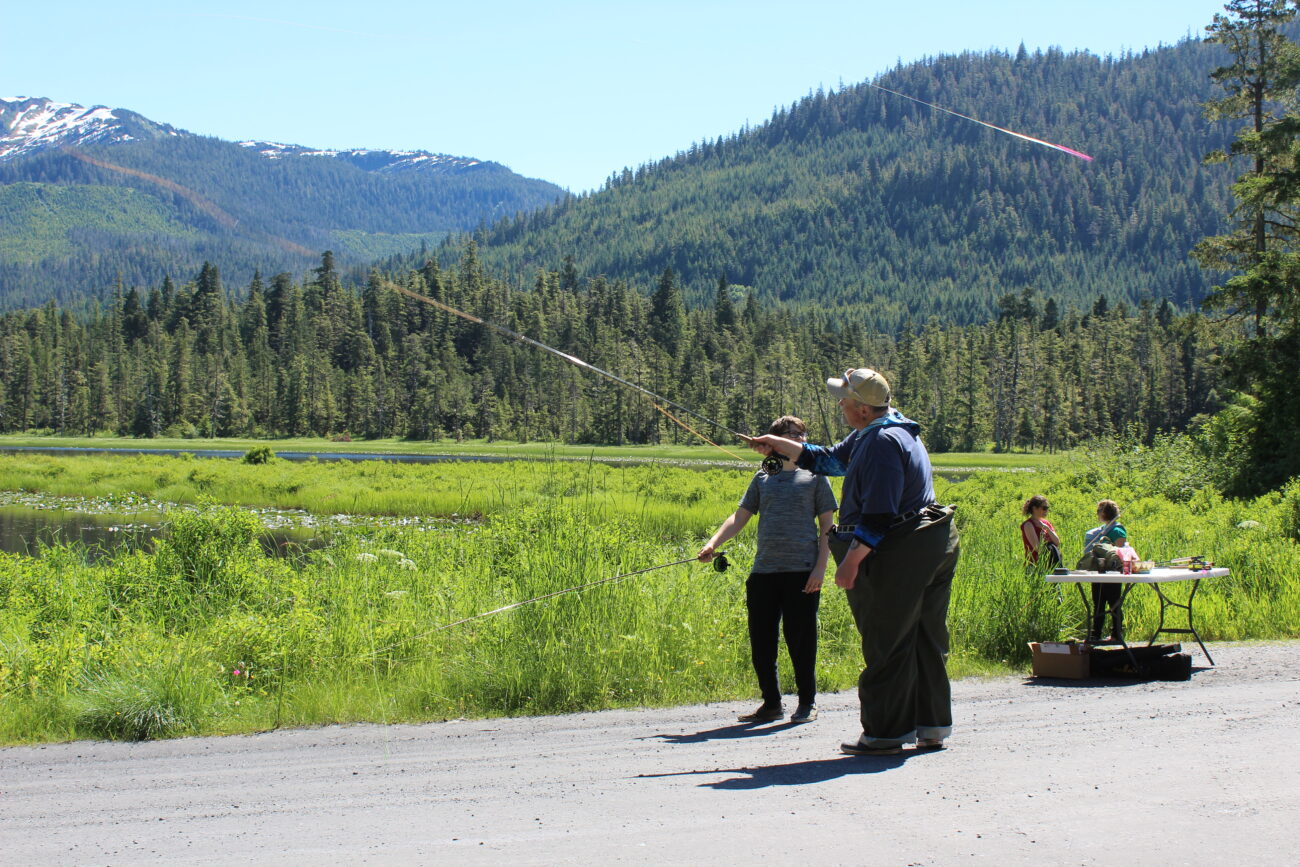 Almost immediately, the float bobs. But the unseen little fish has stolen the bait, without getting hooked.
A few recasts, and River catches a small silver fish. It's about six inches… It could be a hooligan. His dad rubs it gently to get it moving again, and throws it back.
"I want to catch another one," states River, watching the little fish swim away.
Wrangell's family fishing day is off to a strong start.
Across the gravel road, a trio of tents welcome newcomers to the event. Shirley Wimberley sits in one camp chair with a foot propped up in another, trying to get consent forms from parents and signups from kids. They're giving out prizes every half hour, she says.
"It's a nice day. It's a beautiful day. But a perfect day for this event is actually when it is partly cloudy," Wimberley explains. When it's nice out, it seems like half of Wrangell heads upriver.
Wimberley says she's been involved with the Pat's Lake event since it started about a decade ago: "Originally, it was the Boy Scouts and the Stikine Sportsmen's Association and Fish & Game, and we did it for several years. And then the Boy Scout troop kind of faded away. But I just kept helping."
Now, Family Fishing Day is run by the Wrangell Ranger District office of the U.S. Forest Service with help from the Stikine Sportsmen Association, and the local tribe's Indian General Assistance Program.
Organizer Corree Delabrue also works as an interpretive ranger for the Forest Service.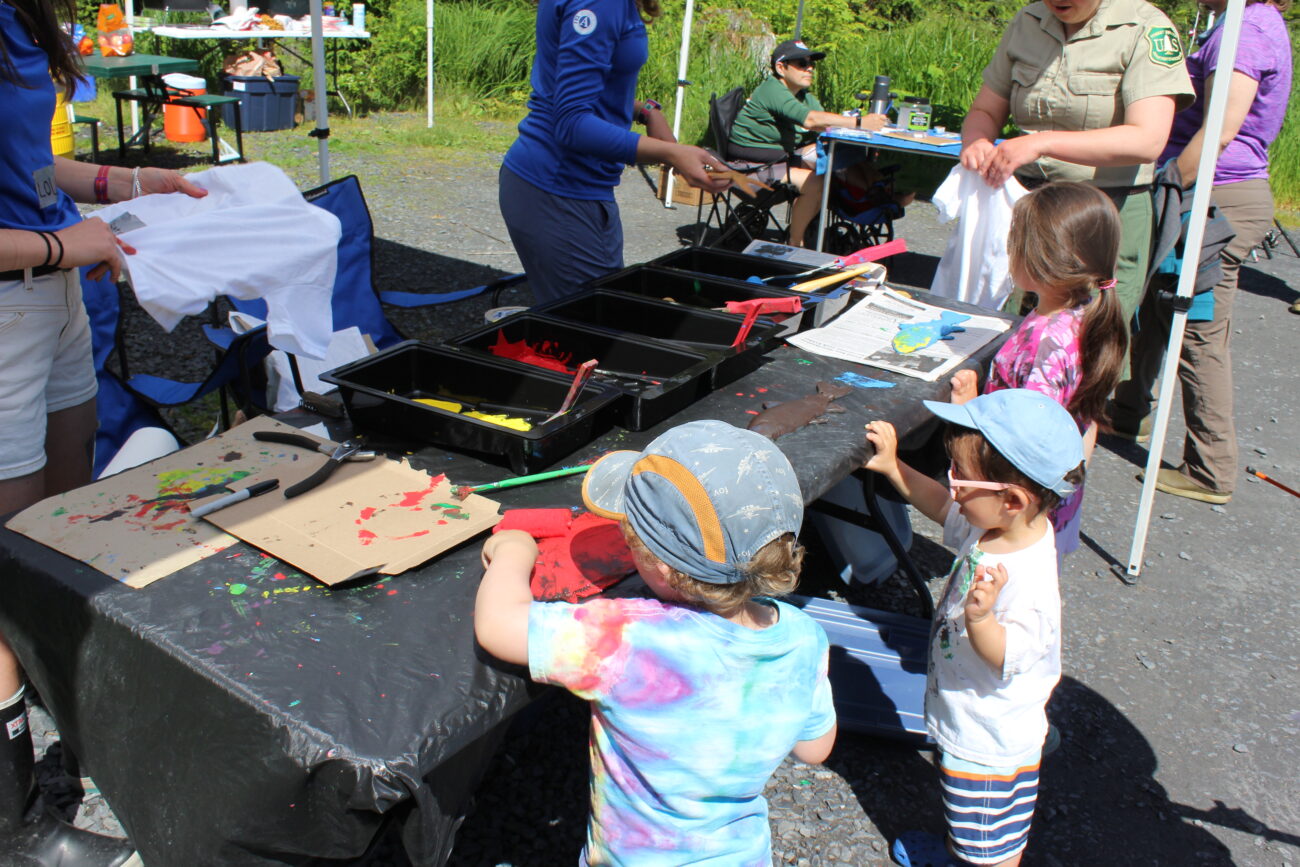 "I had been working with them, I think doing that T-shirt station was my original contribution, but I didn't want to see fishing day kind of peter out. So it was like 'We could take it over!'" says Delabrue.
She gestures to one of the nearby tents. Next to Wimberley, a few blue-shirted Student Conservation Association interns stand in front of trays of paint. Lola Picayo holds up a brown rubber casting of a sole.
"Do you want to make this fish?" she asks.
"Oh, yeah," responds River Padilla excitedly.
It's another fish-themed activity.
"We're making fish shirts for all the children who want them, which so far has been three of them, which is very exciting," Picayo says.
Forest Service employees and local tackle shop volunteers are also on hand to teach fly and reel casting. And there's lunch: hot dogs, chips, regular picnic fare.
Back at the sloping gravel boat launch, middle-schooler Jake Schmidt says he just arrived from California. He's here to visit his grandpa and came straight to family fishing day. 
"My favorite thing to do here is fishing," Schmidt says, adding that he usually fishes off the docks around town. Here at the Pat's Lake boat launch, he isn't having much luck: "A big one just stole my bait right over there," he says, pointing to a patch of lily pads.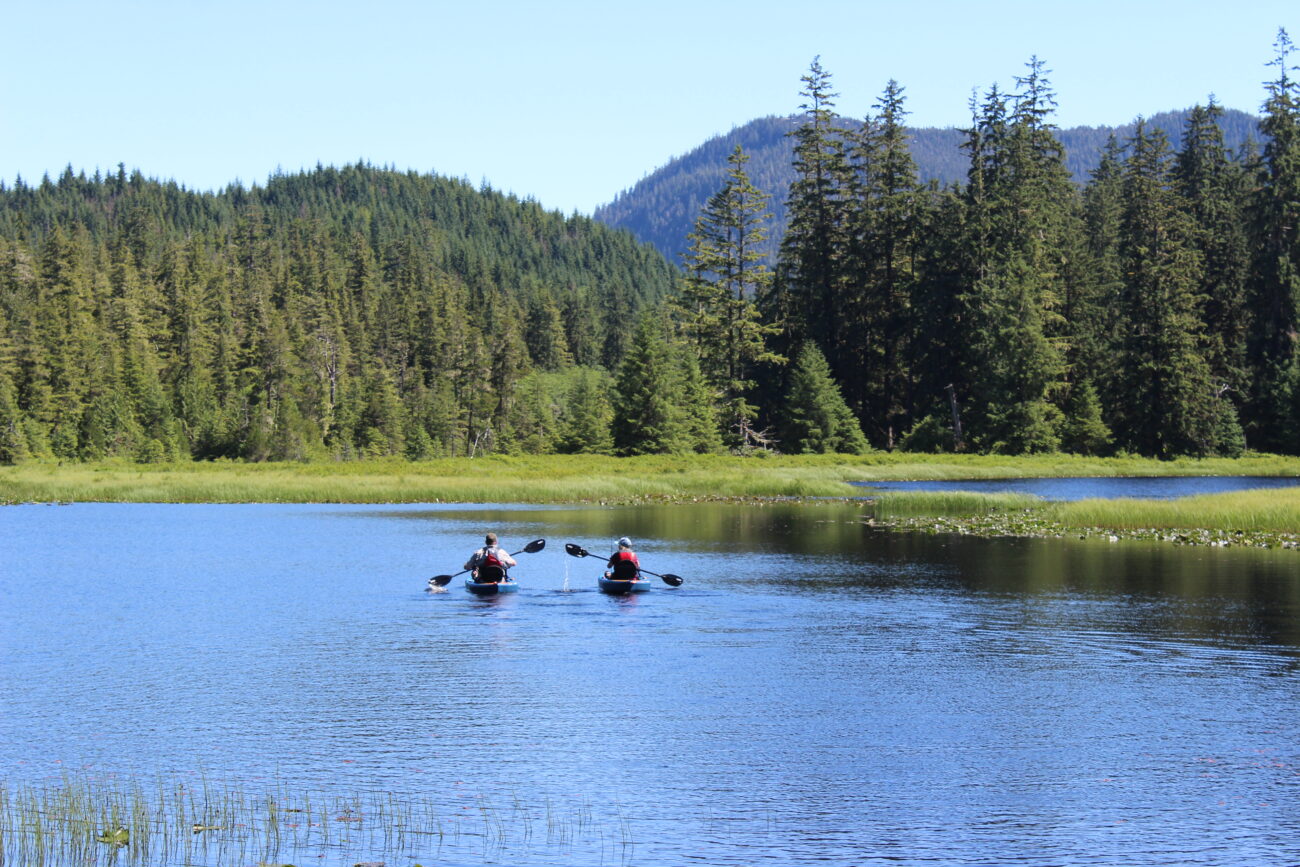 Middle-schooler Peter Houser comes clomping back through the grass towards the boat launch.
"I'm completely soaked," Houser says, groaning. "I fell in a hole."
He's also been given the slip by a wiley fish: "I caught a little fish over there but he got off."
Delabrue says about 30 kids showed up to fish around the lake. That's about average, which is impressive considering the Family Fishing Day was competing with stunning weather that drew many families up the Stikine River to enjoy the sun.
Get in touch with KSTK at news@kstk.org or (907) 874-2345.