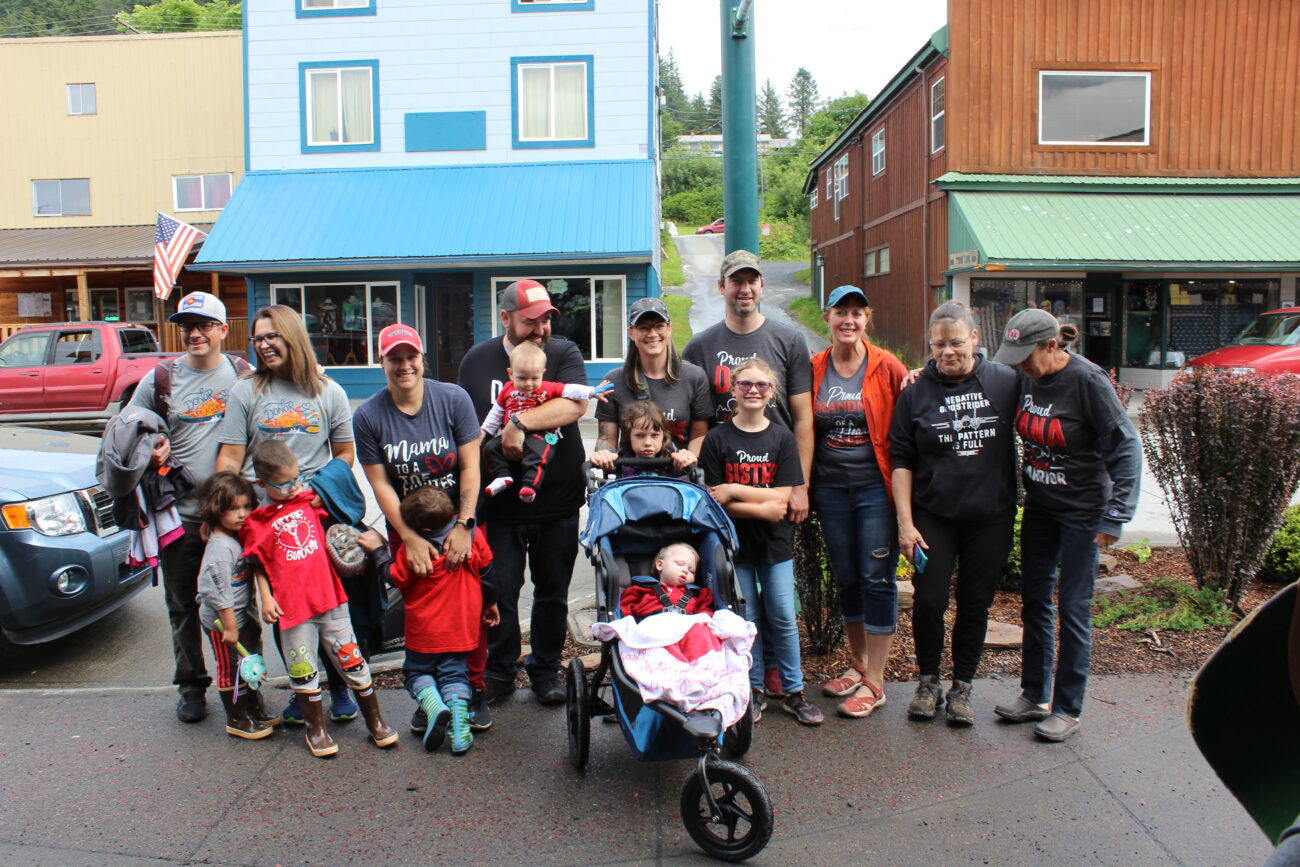 This article has been updated to include other Wrangell companies that donated charters to ferry Petersburg residents to Wrangell and back for the event.
Every 15 minutes, a kid in the U.S. is born with a heart defect. When two families from Wrangell and Petersburg found out their sons — born less than a year apart — had the same congenital heart defect, they teamed up to support each other and raise funds for research.
At Wrangell's downtown pavilion on Sunday (July 18), there were heartbeats everywhere. People have heartbeats, of course, but many were also wearing them across their chests.
Heartbeat graphics and t-shirts read "Proud Mom of a heart warrior." "Dad to a fighter." "Proud Nana / Grandma / Sister / Brother of a heart warrior." There was a heartbeat blanket in a stroller.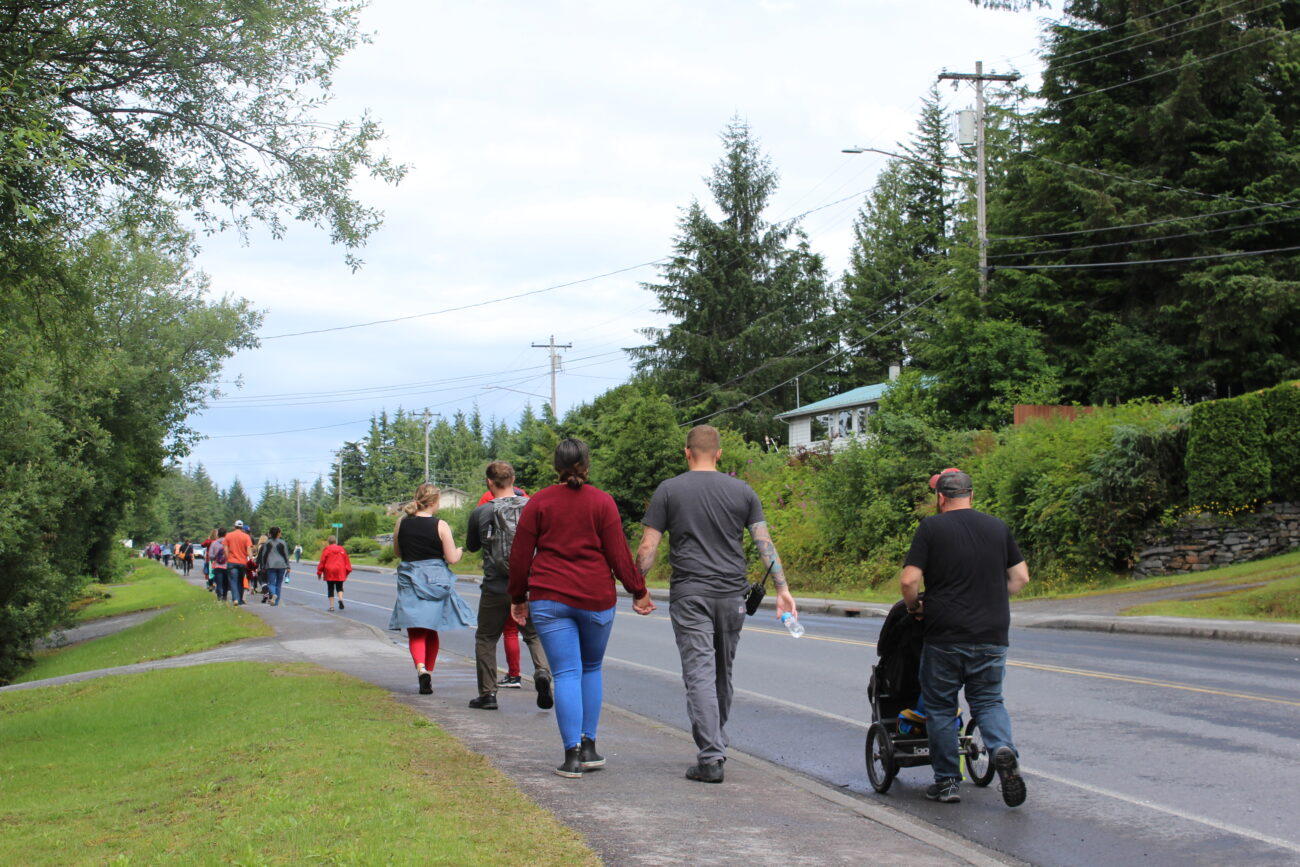 "To celebrate these strong, resilient heart warriors means the world to us," said Petersburg resident Tim Shumway to the assembled crowd. He's the father of one of the heart warriors in question: his eight-month-old son Owen. "Frankly, just a few generations ago, we wouldn't be celebrating with you all today. So it's important for us to remember that this progress hasn't happened in a vacuum. Without funding, research and innovation don't happen. And without individuals like all of you here today, the funding doesn't happen. So, in a way, all of you here today are making an investment in the lives and futures of these three precious heart warrior boys, and we can't thank you enough for that."
Seventeen-month-old Jaxon Buness of Wrangell was another heart warrior honored at the first joint Petersburg and Wrangell Congenital Heart Walk. He and Owen were joined by Liam Maddox, who just received a new donor heart.
Both Jaxon and Owen have what's called Tetralogy of Fallot, a congenital heart defect that's made up of four different heart issues. In their short lives so far, Jaxon has had two heart surgeries, and Owen has had one.
In addition to the Heart Walk, businesses and artists from the area donated jewelry, excursions, and other items for a silent auction, raising money for the Children's Heart Foundation, which focuses on congenital heart defect research.
Wrangell businesses Summit Charters, Alaska Waters, Alaska Vistas, and Muddy Water Adventures donated time, boats and crew to ferry Petersburg community members from Banana Point to Wrangell so they could join in on the celebration and fundraiser.
Walking along the route through Wrangell's downtown, Shumway says as a teacher at Petersburg High School, it warms his heart to see the complete lack of competition between the sometimes-rival communities: "At something like this, you don't feel like there's a rivalry. It feels like, you know, there's one big community."
His wife Ruby Shumway and Jaxon's mom Shawna Buness organized the event. Buness says that as members of neighboring small communities, she and Shumway had been Facebook friends for a while.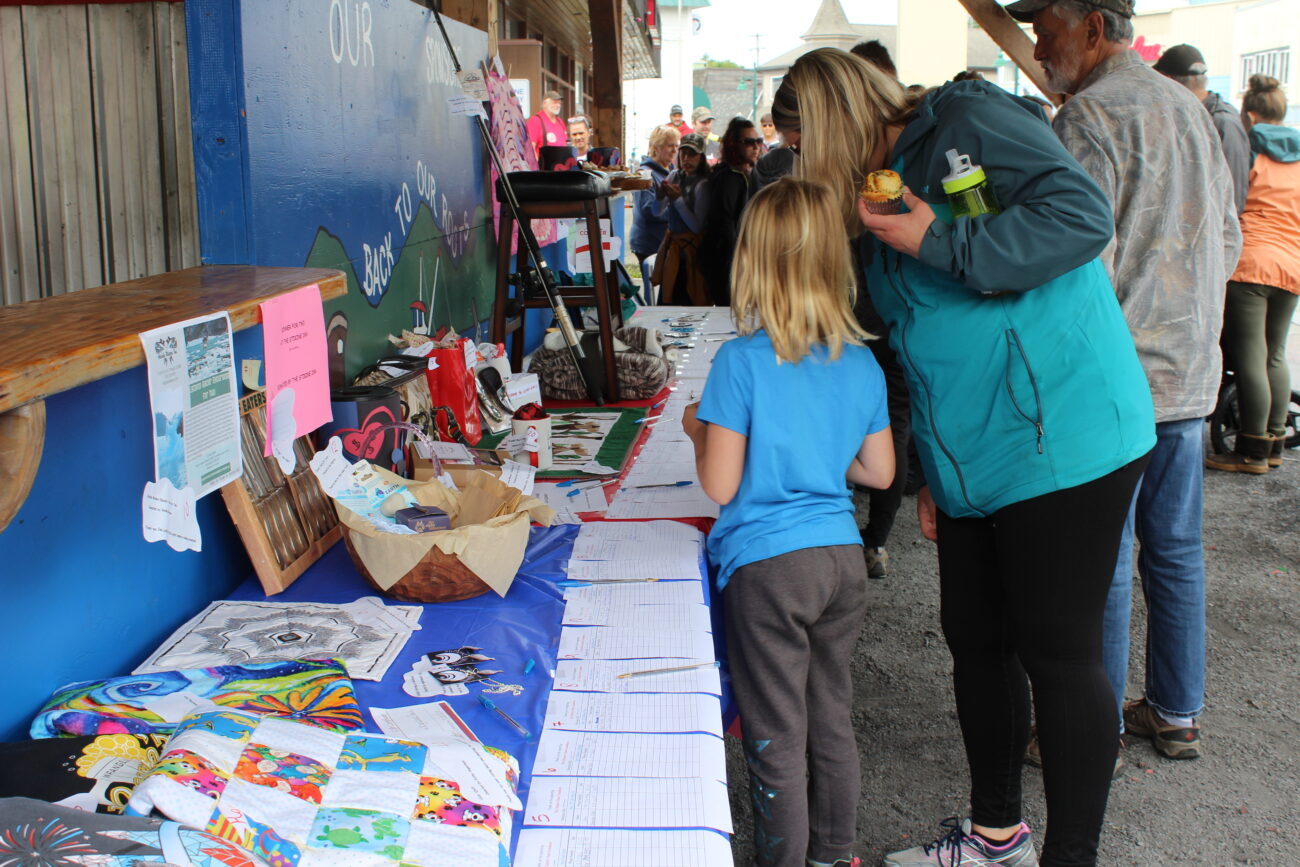 "She found out that her son had the same heart condition," Buness explained. "And so she reached out to me, and we kind of bonded over that. And both of our sons have heart surgeries [since then] and are just being their little warrior selves."
Tim Shumway says the support of Wrangell's Buness family has been invaluable.
"It was just this shock and we didn't even know how to process [Owen's diagnosis] because we didn't know anything about it," Shumway said. "But then we found out — I mean, we had heard about Shawna and Jordan and Jaxon but reaching out to them and it was a huge help for us, because they were going through it six months ahead of us. All the things that we went through, they went through six months ahead of us and could kind of provide that guidance and help and support."
And, he says, as Owen babbles in his arms, it's exciting to finally be able to celebrate the Southeast Alaska boys who made it through heart surgeries in the last year.
"We got back from the hospital after his surgery, it's the most triumphant moment of our lives, and there's no one there because of COVID," Shumway explained. "No one to greet us, no one to meet us, and we felt like there should be a ticker-tape parade and so it feels so good to finally kind of have that — that we can celebrate these boys, and the support we've gotten from the communities."
Both Owen and Jaxon will need more surgeries later in life. Shawna Buness says they hope that after Jaxon's two surgeries, he'll be able to wait until he's 10 before needing another one. By that time, who knows what will be possible: "Because of fundraisers like this, technology is progressing so quickly, that by the time he needs that surgery, who knows how they're even gonna be able to do it because we can't even imagine how quickly they progress with technology," Buness says.
Although Wrangell and Petersburg's joint Heart Walk is over, having raised almost $8,800, the fundraiser for the Children's Heart Foundation is still open. Visit that link to contribute to the Wrangell – Petersburg campaign.
Get in touch with KSTK at news@kstk.org or (907) 874-2345.