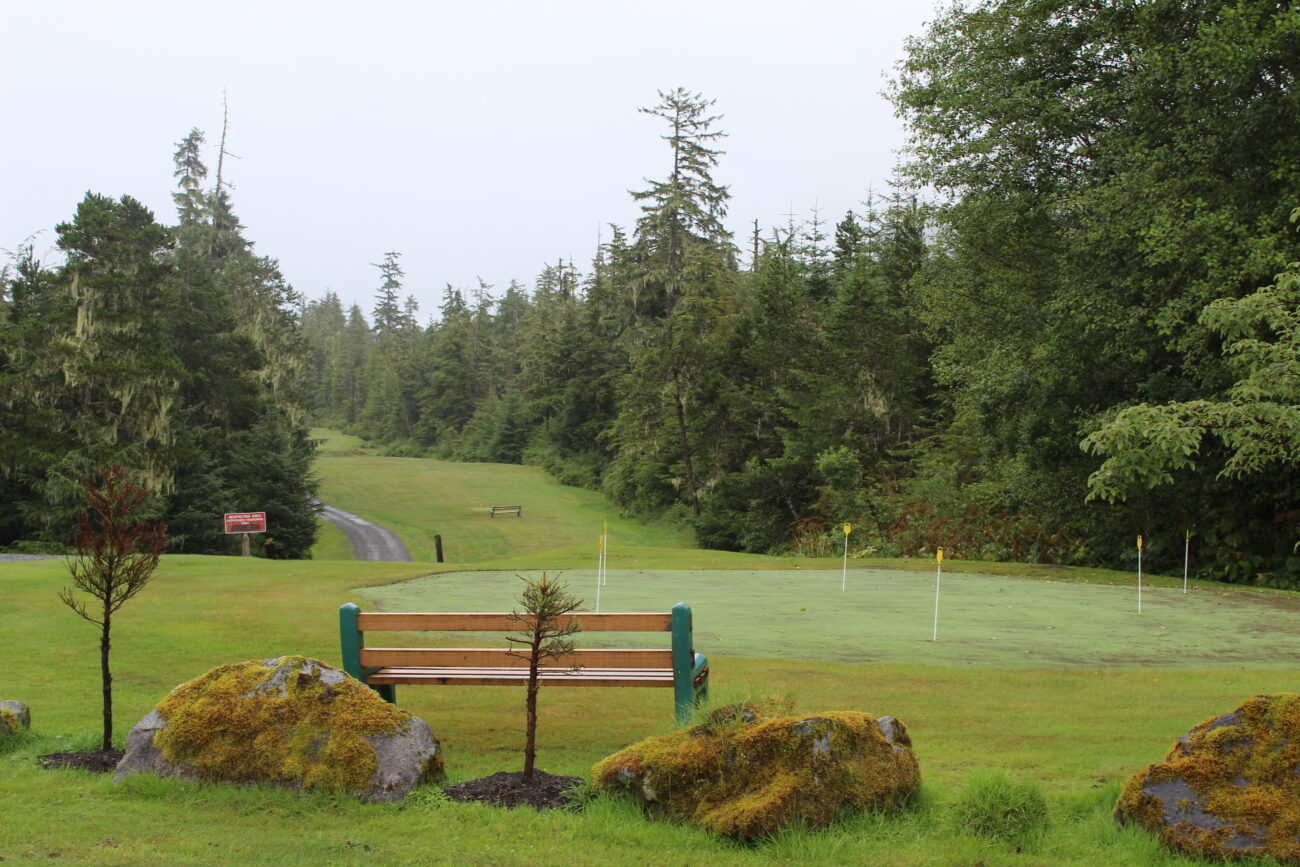 For people living in Southeast Alaska's smaller communities, medical costs can add up fast — especially when travel is involved. But a Wrangell nonprofit is trying to help. 
Each year, the WMC Foundation holds a golf tournament to raise money. And the centerpiece of the post-tournament lunch?
"We requested a boob cake… It's always been a boob cake."
But the foundation does more than raise money to fight breast cancer. The busty dessert is a carryover from its original focus. Now, as board member Olinda White explains, that's shifted to helping people fighting cancer with their medical bills. 
"That can be hotels, taxis, airfare, ferry, any of the above," she adds.
Diana Nore started volunteering with the organization while working as a nurse at Wrangell's community hospital. She says her work at the hospital prompted her to join the WMC board: "I've had a lot of dealings with people who have had cancer and so I have a lot of love and empathy towards their plight and how much those incidental costs end up being."
WMC's cancer care assistance program has been a success in supporting southern Southeast towns with populations of less than 5,000 people for the past 15 years, says WMC Foundation board member Janet Buness.
"Since the Cancer Care Assistance program began," Buness says, "We've had 160 requests for assistance from people. And we've put out more than $117,000."
The application for reimbursement from the WMC Foundation for cancer care-related costs is just one page, up to $1,200 per person each year. 
Patty Gilbert is a Wrangell borough assembly member and WMC Foundation board member. She says the foundation started in connection with Wrangell's former community hospital: "All the board members are closely related to our former Community Hospital. Either they're personally related to the hospital, or have worked in the hospital."
That sense of community is important to the foundation. And it doesn't just fund cancer care reimbursements. The WMC Foundation also holds other fundraisers for local scholarships for students, which provide two students each year with up to $4,000 over their four years of university. 
One of the main ways the WMC Foundation raises money for cancer care assistance, though, is its annual golf tournament. It's coming up this weekend (Aug 7-8).
Board member Chris Ellis says Saturday is a women's tournament, with a few twists.
"It is fun, and it will be frolic. And it's designed so that it will welcome people who don't play golf. The real tournament is Sunday. So if you want to play your real golf game, that's Sunday, but Saturday is for fun," Ellis says.
Gilbert says she expects this year's rally to be more whacky than ever: "Last year, of course, we canceled because of COVID. But we thought, good gravy, we need a golf pro to kind of design the course. And we always call it fun and frolic. Well, after Chris got through with it, I think it's more like fright and frustration," she jokes, "Because it's going to be an obstacle course that these women are going to have to try muster through."
But the point is to do it together and have fun raising money to help fellow Southeast residents.
"We don't care if you have four people on your team, two people or seven people. The objective is just to have fun," Gilbert says.
When the tournament last ran in 2019, it raised over $7,000 for the foundation. This year, the board has set a goal of $10,000.
In addition to Saturday's rally and Sunday's more traditional golf tournament, there will be a silent auction, door prizes, homemade breakfasts and lunches, and of course, its breast cancer awareness boob cake.
Tickets are available online or at the golf course Saturday and Sunday, August 7 and 8. Tickets per person for the Saturday rally are $40 and $25 for the Sunday tournament. 
Get in touch with KSTK at news@kstk.org or (907) 874-2345.