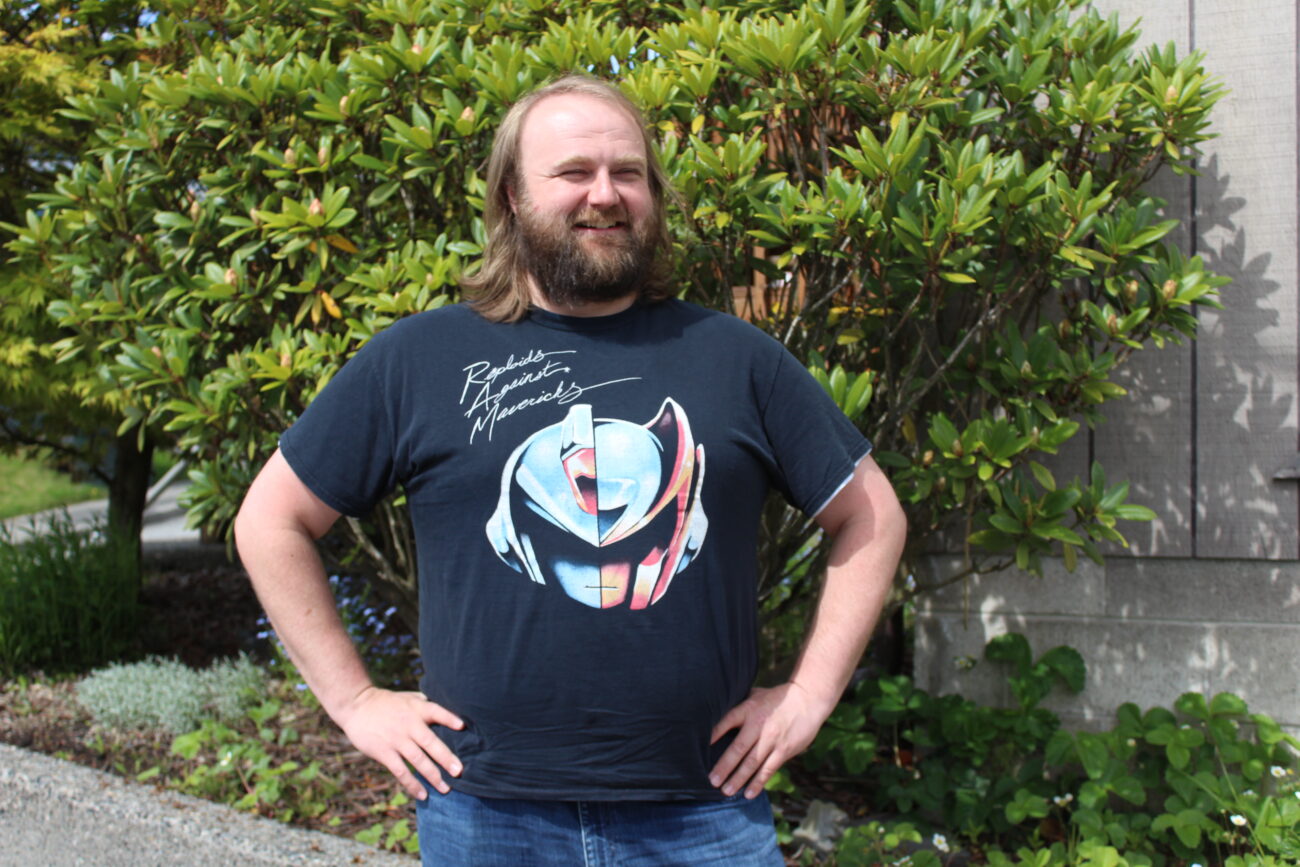 Southeast Alaska's mountains and waterways serve as a background for all sorts of industries. For Wrangell born-and-raised sci-fi and fantasy author Max Florschutz, they served as inspiration for a writing career.
Growing up on an island meant a lot of time to explore, for Max Florschutz, who now lives in Provo, Utah. He says those in Wrangell who knew him growing up know he has quite the imagination. It's exciting, he says, to come full circle and see his work back in his hometown. He was here visiting family in early June.
"I went to the library, and I signed the copies [of my books] that they had," Florschutz said, "Because to me, it was like, I grew up going to the Wrangell Public Library, I got book after book after book, then going in there and having one of my books be a book that somebody else can go on there and get it's like: 'Alright, I have contributed to the cycle. Other people can experience this as well.' And that was really cool."
Florschutz says he always sort of thought he would write a couple of books.
"I didn't expect I would write eight or nine," he added.
His path to being an author wasn't totally linear. Florschutz says that for a time, he wanted to develop storylines for video games. But that didn't pan out: "I did give it a decent shot. That's a tough industry to get into. It's tricky."
After graduating in 2011 from Brigham Young University's campus in Hawaii, he says he started fiddling around with writing fiction.
"And I handed one of [the stories] to a friend. And he said, 'Man, this is really good. I would pay money for this.' I'm like, 'Woah, really?' And so that got me thinking. Actually, a lot of people were like, 'Yeah, I'd pay money for this.' I was like, 'Well, let's find out.' Turns out people would, they were right."
Florschutz says he enjoys presenting uncommon ideas through the free-form medium of science fiction and fantasy.
"Good luck getting most kids to pick up a book that is about financials," he jokes. His most recent book "Axtara – Banking and Finance," is about a dragon who runs her own bank. "You can present something to people that they wouldn't pick up in a regular book. But you can still explore ideas and concepts that then make them think, and that are actually applicable to the real world."
Over the course of writing seven books, he says he's grown, especially in the art of creating a mystery.
"That first book I give it now… it currently sits in the three stars category," he says. "I tell people: 'That was my first. it's rough.' I look back now and the misdirection is just easy to spot."
And as he's grown as a writer, he says he's received more and more positive feedback. Most of the time. He recalls a one-star review: "That said, basically, in essence, 'There's just so much plot and character development, I just want action, blegh.' I've got that one-star review. And then even better, I've got a two-star review from somebody who's like, 'There's just too much action. I want more plot and character developments.' Put those two in a room and make them fight… you can't please everybody."
Florschutz also has run a writing blog called "Being a Better Writer" since 2013. There, he updates fans on his writing progress and posts tips on writing science fiction and fantasy.
"One thing I always tell people is, if you're going to write something, always do the research." Sometimes, curiosity itself can be research, he adds. "The more open you are to looking at different aspects of the world, you know, documentaries, you're about icebreakers or penguins, whatever. The more ideas you'll have buzzing around in your head, and the more they can collide together and the more can come out of it."
Florschutz's current project is the final installment of an epic trilogy about the quest of an unlikely trio to bring a missing computer programmer back to planet Earth.
"I can easily say it's the most stressful project I've worked on yet," Florschutz says. "Because not only is it a big book, and there's all this stuff going on, but it's the finale of a trilogy. So it has to live up to the two books before it, one of which is easily one of my best sellers. Very popular. And so it has to answer all the questions that they didn't answer, you know, it's got to tie everything up. And so it's just been a huge project. It's also been, it's really cool."
That third book, Starforge, is complete and weighs in at just over 500,000 words. It's currently awaiting editing. In the meantime, Florschutz says he'll work on other projects, like another book of short stories. 
"I even wrote a few short stories about Alaska actually, in one of my collections, mostly because people kept asking about them," he laughs.
But even Florschutz's Alaska brings with it an air of magic — ghosts, superhuman mind strength, creatures lurking under the kitchen stove. Then again, who could argue there isn't a little magic in the land of the midnight sun?
Get in touch with KSTK at news@kstk.org or (907) 874-2345.