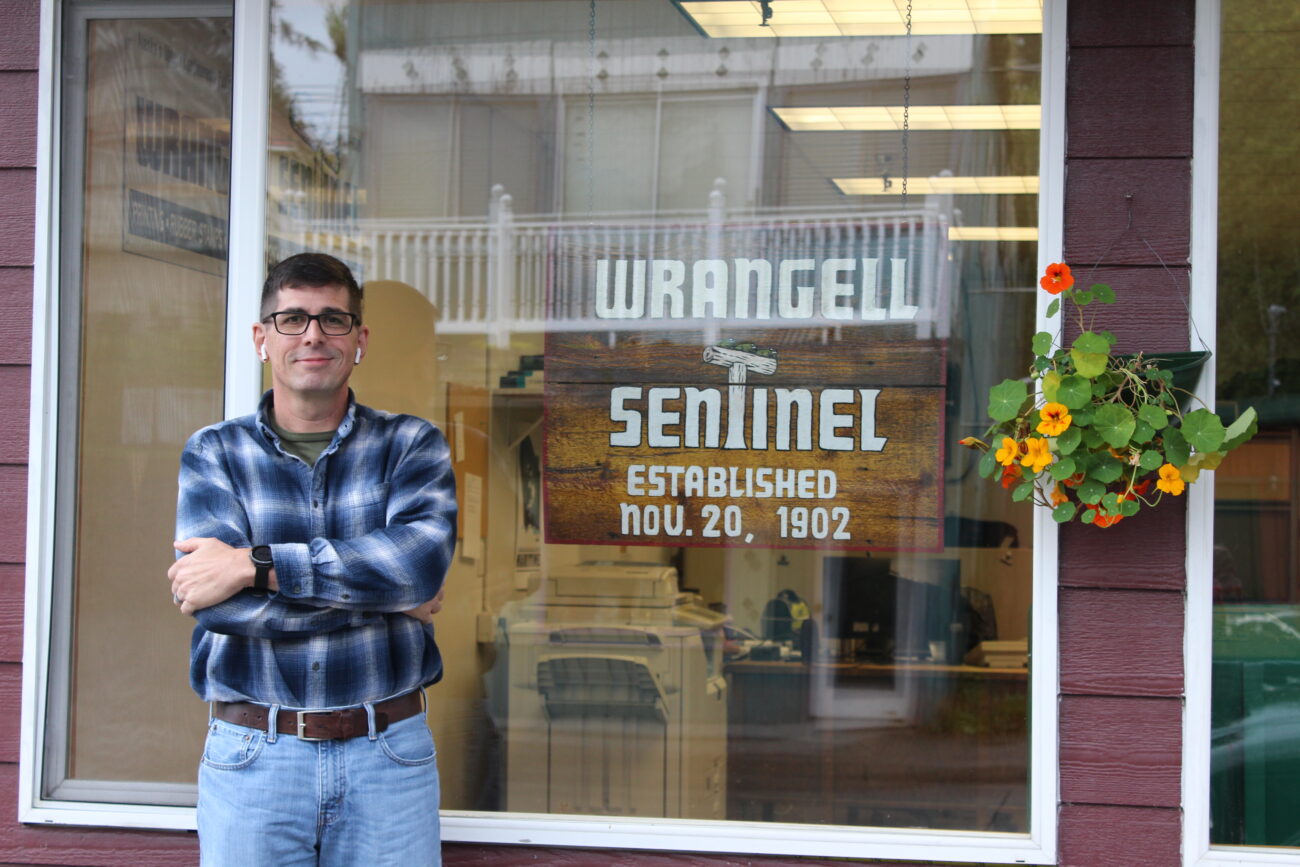 The Wrangell Sentinel is bringing on a new staffer to take over the weekly production of Alaska's oldest continuously published paper.
For three years, red-bearded Caleb Vierkant was the public face of the Wrangell Sentinel. The 20-something Texan was often spotted around town with a camera, wearing a Hawaiian-print shirt and walking his friendly mutt, Sky. Now, both man and dog have made their way back to Texas. Vierkant says he was traveling light on his way back down South.
"I came here with — if I'm remembering right — four suitcases and the dog, and I'm also leaving with four suitcases and a dog," Vierkant said a few days before leaving. He laughed, and added another thing he's leaving with: "A pair of Xtratufs."
He says he doesn't know when he'll wear those Tufs in Texas. But he says he was ready for a new chapter: "I was already starting to feel like it was time for me to move on. Try something new. And then Larry told me that he was bringing in a new reporter. And so things just kind of lined up at the same time by happy coincidence."
Vierkant says he doesn't quite know what's next. He's been sending his resumes far and wide, but so far, isn't getting any bites.
"It's usually 'Thank you for your application. You're very qualified, but we decided to either hire internally or go with a different candidate,' which is very polite code for 'We're not willing to wait for you to move from an island in Alaska,'" he says.
Vierkant says he'll miss pretty much everything about living on "The Rock," from the people to the proximity to the Tongass National Forest to the abundance of seafood.
What he won't miss though?
"Eight dollars a gallon for milk. That's not fair," he says with a laugh.
Vierkant adds he's proud to say that he wasn't just the Sentinel reporter for a while, but that he was a part of the community for a while too: "I'm proudest of the fact that at least to my knowledge, nobody is happy to see me leave. I think I did a pretty good job being a reporter and a member of this community. I feel like you know, I did that balancing that pretty well of, you know, being an objective reporter and also someone who wants to see this community succeed and get along with my neighbors. So yeah, I think I think I pulled that off pretty well."
Vierkant's red Hawaiian-print shirt now hangs on a deer mount in Nic's Place pizza restaurant, a testament to his three-year legacy.
"I hope everybody gives the new reporter at the Wrangell Sentinel a chance," Vierkant says, "And that they keep reading and supporting their local paper."
That new writer hails from Lodi — like in the CCR song. Marc Lutz arrived last month on the ferry with his wife, four cats, a U-Haul and a new four-wheel drive.
"I had a Prius," Lutz says, "And I traded that in for a Chevy Traverse only because Prius really wasn't gonna cut it up here plus I had a bunch of stuff to haul."
Although tall, dark-haired, bespectacled Lutz was based in Lodi, since 2018, he'd worked as the editor of the Calaveras Enterprise, in the Sierra foothills between Yosemite and Lake Tahoe. It was a 45-minute drive each way. He says he much prefers commuting within Wrangell, where his commute is a five-minute walk to downtown, weather permitting.
While it wasn't on an island, Lutz says he did have a small-town upbringing.
"Very rural," Lutz says. "The type to play in the streets and on the railroad tracks and all that stuff."
Lutz has worked a vast swath of newspaper jobs, from ad design to lifestyle editor to general assignment reporter, but he got his start in the business as a cartoonist: "I started drawing when I was nine, and said I was going to be a cartoonist when I grew up. That's what I became, and got into the newspaper business by way of doing that."
After years in the newspaper business in California, and with his three kids — Lela, Nathan, and Natalie — grown, Lutz says he and his wife of 20 years Melinda were looking for a change. After visiting Wrangell this summer and discussing details with the Sentinel's owner and publisher Larry Persily, Lutz says he'd fallen in love with Wrangell and was ready to move here.
He says he's excited to learn about aspects of Wrangell life he doesn't know much about, like the fishing industry. Eventually, his goal is to design the week's paper from inside the Wrangell office rather than rely on out-of-town page designers.
"Right now I'm still kind of integrating and working on stories and things like that," Lutz says, "So I haven't started actually producing the pages. That'll come within a few weeks. But when that happens, then I'll probably make my own little touches to it and you know, kind of, you'll start to see me through the pages."
At some point, he says, that might even mean local cartoons.
"There's plenty around here that could inspire… who knows what," he says with a laugh.
And there's plenty of exciting life to be lived and reported on a little Alaska island: "I always think back to the quote from Jaws, that it's only an island if you look at it from the water."
When he's not out tracking down stories, Marc Lutz will be in the Sentinel's newsroom at 205 Front Street.
Get in touch with KSTK at news@kstk.org or (907) 874-2345.