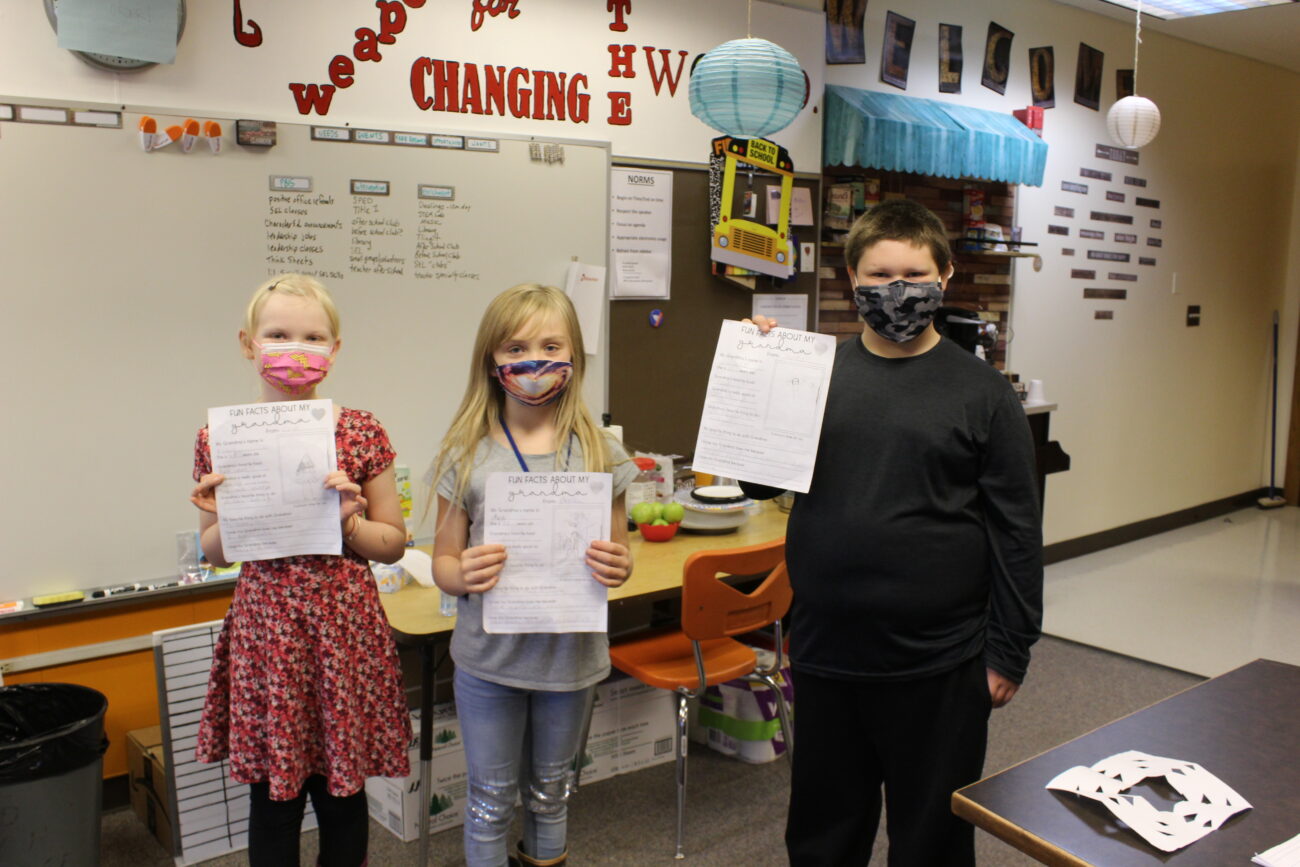 Last Sunday (September 12) was Grandparents Day, and Wrangell's Evergreen Elementary School celebrated by asking students to do interviews and reports on their grandparents or an elder in their lives.
Wrangell has a long history of celebrating Grandparents Day, says elementary school assistant principal and lead teacher Jenn Miller-Yancey.
"At Evergreen — for as long as I can remember, and it's my 30th year — we've always celebrated Grandparents Day. It got a little bit more formal over time; the second and third graders would go to the museum and we would tour the museum together and then do an interview," Miller-Yancey says. "When COVID happened, we just kept trying to find new ways to do everything. Grandparents Day was one of them. I think it got away from us last year. This year, we sent home interviews, and we're going to hopefully have a special surprise coming out for the community with those [interviews] next week, maybe the week after. Then a teacher came up with this idea to share it with the radio."
She adds: "We just value our grandparents, especially in Wrangell. Wrangell has got the most amazing set of grandparents. A lot of families have been here for generations and generations, and even if you move to the community and your family's not here, somebody will adopt you like a grandparent, even if you're not looking. Wrangell is a very, very special place for grandparents. And we just love them, we appreciate them, and we just want to say Happy Grandparents Day to everybody."
KSTK will be publishing audio clips of Evergreen Elementary School students talking about their grandparents throughout the week.
KINDERGARTENERS: Lilly Morse, Everly Cook, Darius Yoder, Lily Edens and Millie Howe.
SECOND-GRADERS: Ayla Daugherty, Jude Johnson, Sophie Andrews and Dima Aleksieva.
THIRD-GRADERS: Jonah Hurst, Annika Gillen and Violet Allen.
FIFTH-GRADERS: Lynnea Harrison, Delilah Clark, Jimmy Jabusch, Arabella Nore, and McKenzie Smalley.
Get in touch with KSTK at news@kstk.org or (907) 874-2345.