This article has been updated with an interview with Von Bargen and details of her resignation letter.
Wrangell's borough manager says she's leaving her post in less than a month to return to her hometown of Valdez.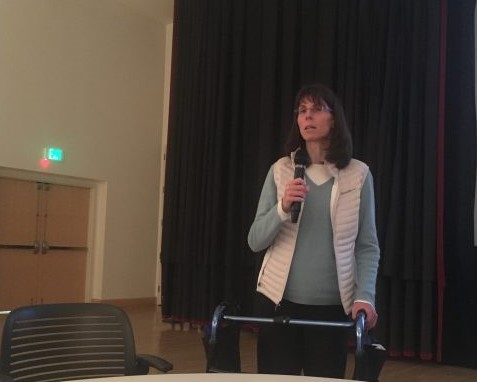 Lisa Von Bargen submitted a letter of resignation to the borough assembly on Tuesday. She says the workload of managing the borough meant she was working seven days a week, with very few breaks.
"There have been a couple of things that have happened recently in my life that have made me take stock of the fact that I need to be paying a little bit more attention to my family, specifically the needs of my mom," Von Bargen said in an interview Thursday morning.
She says she hopes that stepping away from the position will allow her to focus more on family, and recharge. But she'll miss working for Wrangell.
"It's been my privilege, my absolute privilege to make my home here in Wrangell," she said, "And I'm hopeful that maybe there's another opportunity for me to be able to serve the community in the future. I'm heartbroken that I'm having to leave, but I need to take this time to address some family issues and get those taken care of and start the next chapter of my life."
Wrangell Mayor Steve Prysunka says the assembly will miss working with Von Bargen, who has been on the job since 2017.
"She's been a fantastic city manager and it's going to be difficult to replace her," Prysunka says, "But city managers come and city managers go and you've got to just back up and punt and move forward."
Prysunka says the assembly will be starting the search for a new manager.
"We're going to be going far and wide looking for a new candidate," Prysunka said Wednesday afternoon, "So our plan is that as people apply, if they're appropriate, we will be bringing them up for interviews immediately."
He says the assembly is working on a transition plan as a successor will likely not be found before her last day which is slated to be October 29. The goal, he says, is the least disruptive transition they can manage.
"We have 30 days that Lisa is remaining to help us transition," Prysunka explained, adding: "There will be an interim manager, if we require, brought in to cover at the end of the 30 days. There's interim managers that you can hire through the Alaska Municipal League."
That's the group that represents local governments in Alaska.
Von Bargen came to Wrangell from Valdez, where she previously worked as that city's community and economic development director.
She had been apparently seeking employment elsewhere for about a year. According to a newspaper in northern Minnesota, Von Bargen was one of four finalists for a city manager job in St. Anthony, a community of about 8,000 people. She was not hired, the paper reported in January.
Wrangell's borough assembly will hold a work session at 5 p.m. Friday, October 1 to finalize a job posting for the Borough Manager position.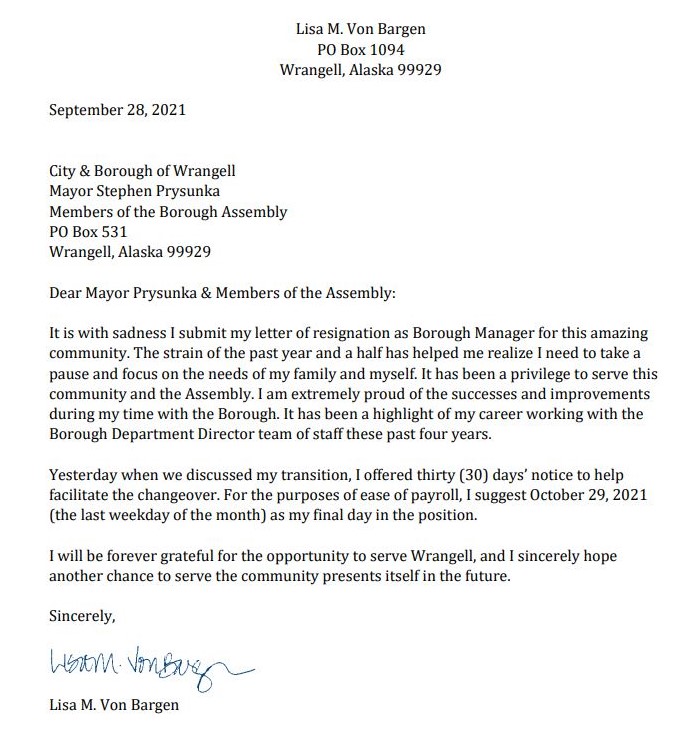 Get in touch with KSTK at news@kstk.org or (907) 874-2345.