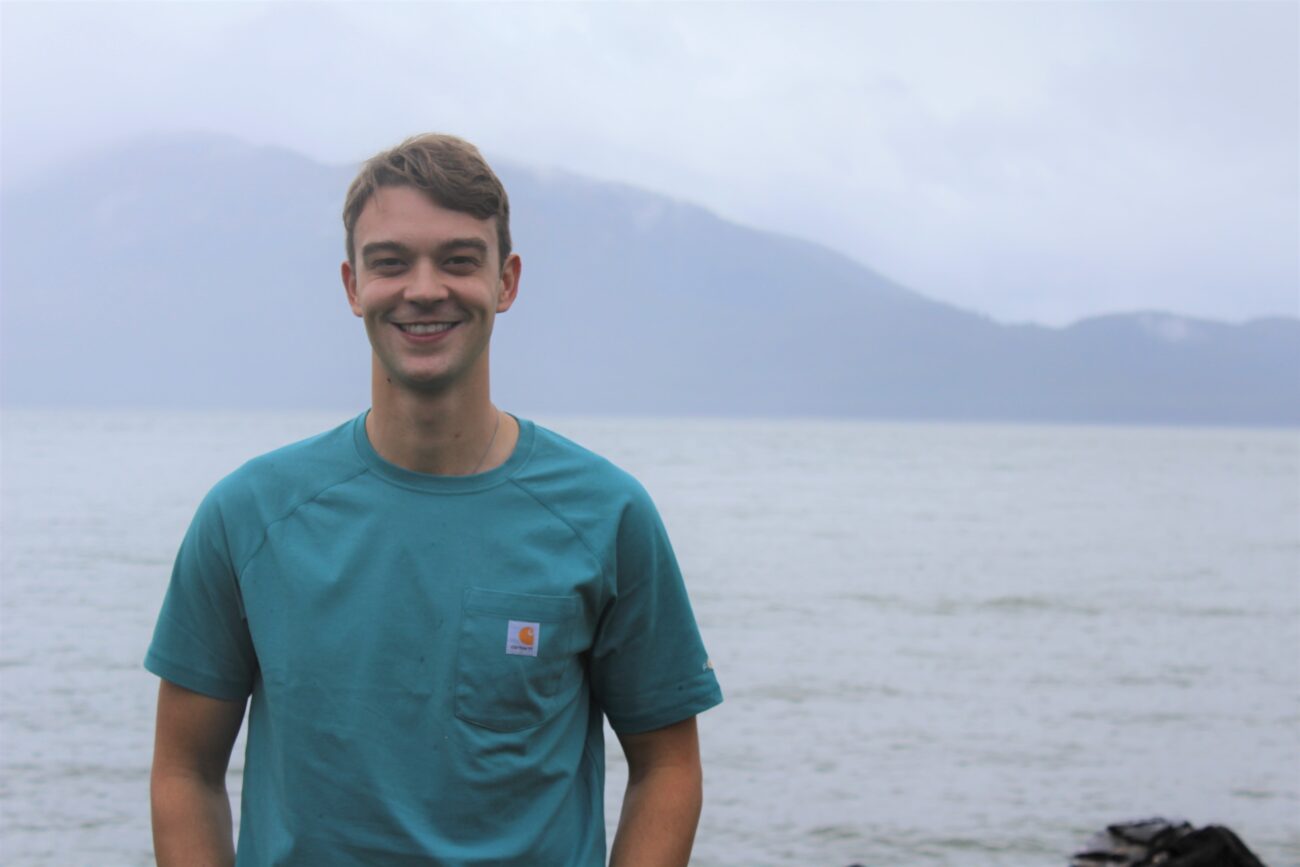 At one of his first public meetings with the borough assembly, Wrangell's new finance director made an announcement that shocked the assembly: Wrangell has around $24 million more in the bank than previously thought.
The new director says he wants to help demystify the borough's finances.
Wrangell hired a new finance director in September. And already, he's making waves.
"Everybody wants to talk about this surprise $35 million I found, right?" says Mason Villarma, Wrangell's new finance director. He moved here from Port Orchard, Washington. He says in his first days on the job, he did some digging to see what was on the books. "Well, I just called up all of our lending institutions, all of our financial institutions and investment managers and talked to them and said, 'Okay, give me some background on this account balance. What, what were these funds initially earmarked for? Are they earmarked, even?'"
He went bank statement by bank statement, then compiled a spreadsheet of the community's holdings: et voila, the borough actually has about $35 million in total savings.
"I like accounting," Villarma says. "It's very therapeutic in a weird way, because it always works out. Maybe that's why I didn't really like English, because there wasn't a definitive answer, and there's a lot of gray area in those subjects. But finance should be very black and white. And if it's not, then there's something going on."
He didn't find anything missing. Quite the opposite: there was about $24 million more than the assembly seemed to be aware of. It wasn't actually a surprise — audits are public — but it does bring up some serious concerns about Wrangell's financial structure. For one, a lot of the money is sitting in accounts that are earning very little interest. When you factor in inflation, he says, the community is actually losing money.
And the fact that Wrangell's assembly was surprised by the number doesn't point to good communication between the finance department and the assembly in previous years. As Wrangell's new finance director, he hopes to change that.
"Now that the cat's out of the bag, like, 'Hey, we have, you know, $24 million that's making no gains at all,' we're heading in the right direction," Villarma says. "[Now] we can kind of reinvent the wheel."
Villarma says the most important part of his job — besides balancing Wrangell's books — is to bring up-to-date and accurate financial data to the assembly so they can make informed decisions. Plus, he says a better-informed assembly will also benefit the people of Wrangell.
"The citizens deserve to know too," he adds. "I mean, it's the money that they've put towards the city so it shouldn't be a game where we kind of hide what the city has, because they're the guys paying into it."
Villarma says he sees Wrangell's finances as having three main challenges: "a three-headed monster."
The first is the borough's accounting structure itself.
"It's kind of this mounting mass of funds and accounts," Villarma says. "There's been a creation of funds and accounts for no specific reason over the last five years, and a lot of those were never inactivated. It's kind of like a hoarder style of accounting, they just have so many accounts, it's this web, it's really hard to comprehend."
Villarma says one of his first priorities is to close out Wrangell's FY21 audit — which has dragged on for around 15 months — and then work on consolidating the web.
Second, is the lack of a long-term investment plan.
"I think that speaks to the lack of transparency over the last decade," Villarma says. It's where the tens of millions of dollars sitting in low-interest accounts come in, but investment is about more than just moving funds into a portfolio, he adds: "We have 10,000 acres as a borough. That's an opportunity to do things, whether that's carbon emission credits, or timber cruises and all that sorts of things. So there's a lot of exciting opportunities there."
And the third head of the three-headed monster is the department structure.
"When we have a little stress on our system, it kind of collapses," Villarma says. "The bottom kind of falls out because not too many people know what the other person's job is."
Villarma says he admires Petersburg's finance department, where the director can give clear fund balances to department heads every day, so that capital projects can be planned out years in advance.
"We will get there," he says, "I guarantee it. We have the tools to do it. It's just going to take a little time."
Although new to living here, Villarma has ties to Wrangell.
"My dad's side of the family is from Wrangell," he says. "I have two grandparents here, both 90 years old and married for 67 years. So I have really great roots here. I got my aunt and uncle Craig and Margaret."
He's also fished in Wrangell ever since he was in junior high: crabbing, working on a tender and seining: "You know, leave on the last day of school and come back for the first day of school."
Villarma grew up in Port Orchard, Washington, and he says he developed a passion for finance as a kid, watching his dad — a commercial fisherman — trade stocks.
" I grew up watching CNBC, every single day — channel 33, watching Mad Money, Jim Cramer, all that stuff. And I just got in the habit of being involved in talking about investments and securities," he says. "It's super exciting to me, and I guess I'm a bit of a nerd for it. I started trading stocks when I was like, 16."
Villarma ran track and cross country for Gonzaga.
"I don't run as much anymore," he says with a laugh, "But [I'm] still trying to get back to it. Maybe coach the cross country team here or something like that."
After graduating, he worked first as an intern and then as an associate at one of the "Big Four" accounting firms: KPMG. Coming from the breakneck world of corporate accounting, Wrangell is a change of pace, he says.
"One thing I'll say is this job — you don't know what tomorrow is gonna bring," Villarma says. "You have different people walking in your office talking about, you know, budget adjustments and these new projects that they want to pursue. And so that's really exciting."
Villarma says he hopes he can be a "turning point" for the city's finance department.
"Obviously I won't be able to do it all by myself," he says, "But I'm just really, really grateful for the people that have been supportive and I'm very optimistic for the future."
Villarma is spending the rest of this week shadowing Juneau's finance department, where he hopes to get some ideas for how to restructure Wrangell. On October 12, he'll hold a work session with the borough assembly to review the borough's financial situation.
Get in touch with KSTK at news@kstk.org or (907) 874-2345.