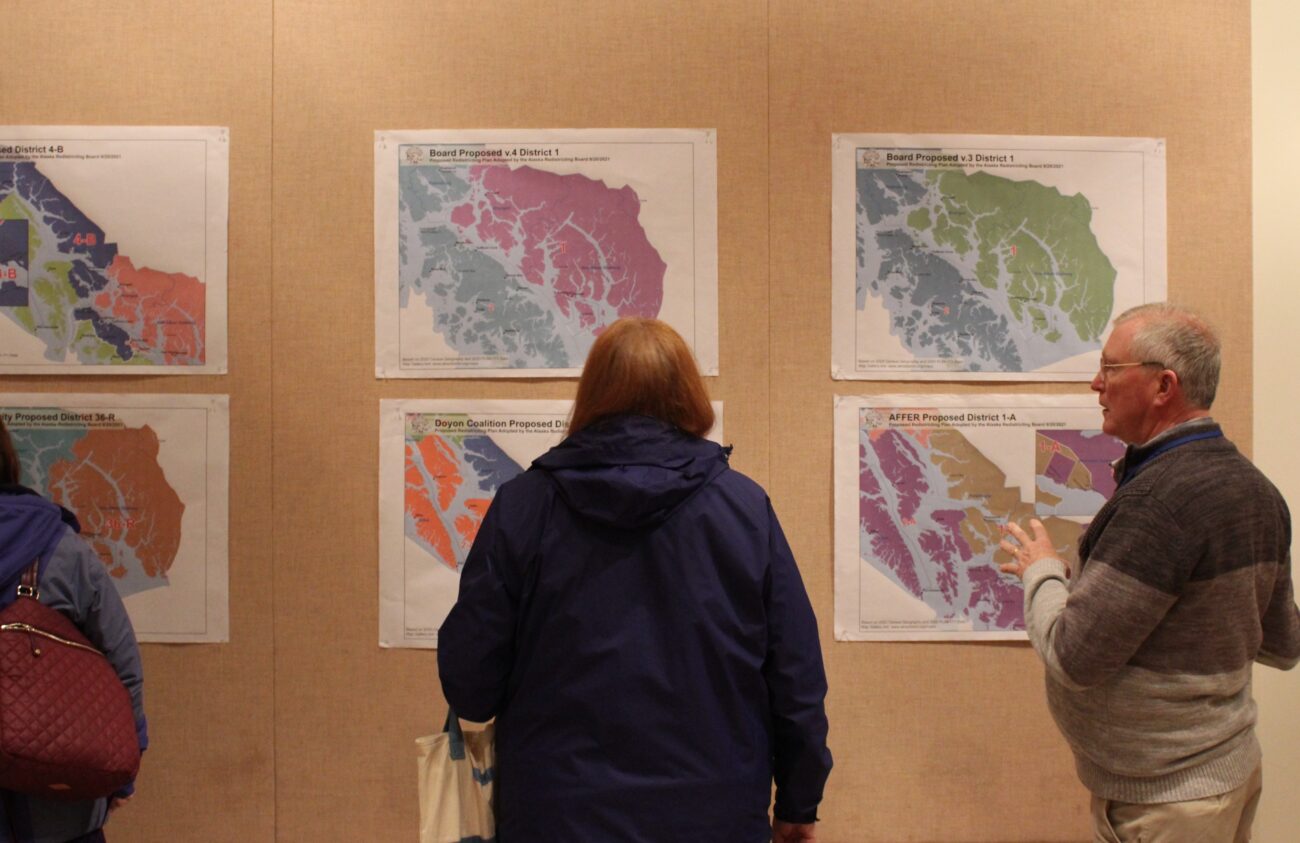 Alaska's redistricting board is making its way around the state in its once-per-decade bid to get communities' input into the maps that will determine state house and senate representation. Wrangell has much to consider.
It may be a surprise, but Wrangell Assembly members Patty Gilbert and Anne Morrison — both registered Republicans — don't want to be in a state house district with their closest neighbor community, Petersburg. At a public redistricting meeting earlier this month, they stood over tables of colorful maps of Southeast Alaska, pointing to different maps in turn.
"We know what we don't like," says Patty Gilbert. "I don't like this one that goes all the way up to Sitka."
"We don't like this one either," says Anne Morrison. She points to another map: "This one I kind of like."
"I kind of like what the board did with their version," Gilbert adds.
Morrison continues: "Not this one, because it puts us in with Petersburg, alone."
Despite close relations and a friendly high school sports rivalry, Gilbert and Morrison say they feel that being in a new legislative district with Petersburg and no other large communities would put Wrangell on the wrong foot.
"We lose state offices to Petersburg whenever there's a budget cut," Gilbert explains. "We're too close in population, and we're too close in location. So the competition increases."
Morrison continues the thought: "We lost our Office of Children's services, Fish & Game, public health nurse… When the budget gets tight, and they want to cut, they cut us."
Three members of the five-member Alaska Redistricting Board came to Wrangell earlier this month (October 7). It's supposed to be a nonpartisan process, with two board members appointed by the governor, one by the Speaker of the House, one by the Senate president, and one by the chief justice of the Alaska Supreme Court.
That board is tasked with dividing Alaska's population — determined by the 2020 census — into roughly equal legislative districts. Drafts of proposed maps were developed in the first 30 days of a 90-day process. Now, they're in the second two-thirds, flying the maps around the state to gather local feedback.
The redistricting board came to Wrangell with six proposed maps, all splitting up the state in slightly different ways.
Board member Bethany Marcum — who was appointed Gov. Dunleavy — explained that community feedback is important, since the effects of redistricting are long-reaching.
"It is a 10-year play," Marcum explains, "And so you're going to have these effects for the next 10 years, right? Whatever is going to change is not gonna be a one-time thing, it's gonna be an effect for the next 10 years.
Board member Nicole Borromeo — who was appointed by the former House speaker Bryce Edgmon — said hearing from communities has given her perspective that she didn't have when drawing the initial proposed boundaries. In Southeast Alaska, for example, she says she's heard of many communities that feel connected to specific other communities, and not the region of Southeast as a whole.
"When we were in Haines," Borromeo says, "One of the residents said, 'Why can't we just be in a district with Skagway?' I said, 'Well, you're 15,000 Alaskans short to have just a Haines and Skagway district,' but they felt very strongly that their issues were just very unique to those two communities, and while they could appreciate the regional issues as well, they were very bent on their specific ones.
There are many regional questions. How should Juneau be divided, since it only has enough population for 1.75 seats?
And on the local level, Borromeo asks: "Should Wrangell be paired with Ketchikan as we've suggested at the board level, which would reunite the Prince of Wales communities, or should we consider kind of keeping things as they are, which is most similar to the Senate Minority plan in which Ketchikan would maintain a lot of the POW communities? Wrangell would be with Petersburg and Sitka, and you'd have those, you know, three big anchor communities in District Two."
Gilbert and Morrison didn't leave official written or testimonial feedback at the redistricting open house. But at its meeting a week later, (October 12) Wrangell's borough assembly generally agreed with Gilbert and Morrison's initial assessment — a sentiment also shared by the borough manager, Lisa Von Bargen, who explained the options to the assembly.
"It sounds like the folks in Ketchikan said there's a huge tie to Wrangell, especially with people coming up to do boat work and maintenance here in the community, as well as the fishing fleet," Von Bargen told the assembly. "Interestingly enough, Petersburg also said their preferred is the one where they are with Wrangell. And we did express, although we love Petersburg, we are very concerned about being lumped in with them because of the centralization of services that's already happening. And if we're in a district with them, how that might increase to some degree."
Wrangell's mayor encouraged the assembly and Wrangell public to provide as much public comment as possible to the redistricting board, so they have a clear picture of what Wrangell's government and citizens prefer.
The six proposed legislative maps can be viewed at the redistricting board's website: https://www.akredistrict.org/.
Comments can be emailed to testimony@akredistrict.org. The redistricting board is working against a November 10 deadline to unveil its final plan.
Get in touch with KSTK at news@kstk.org or (907) 874-2345.