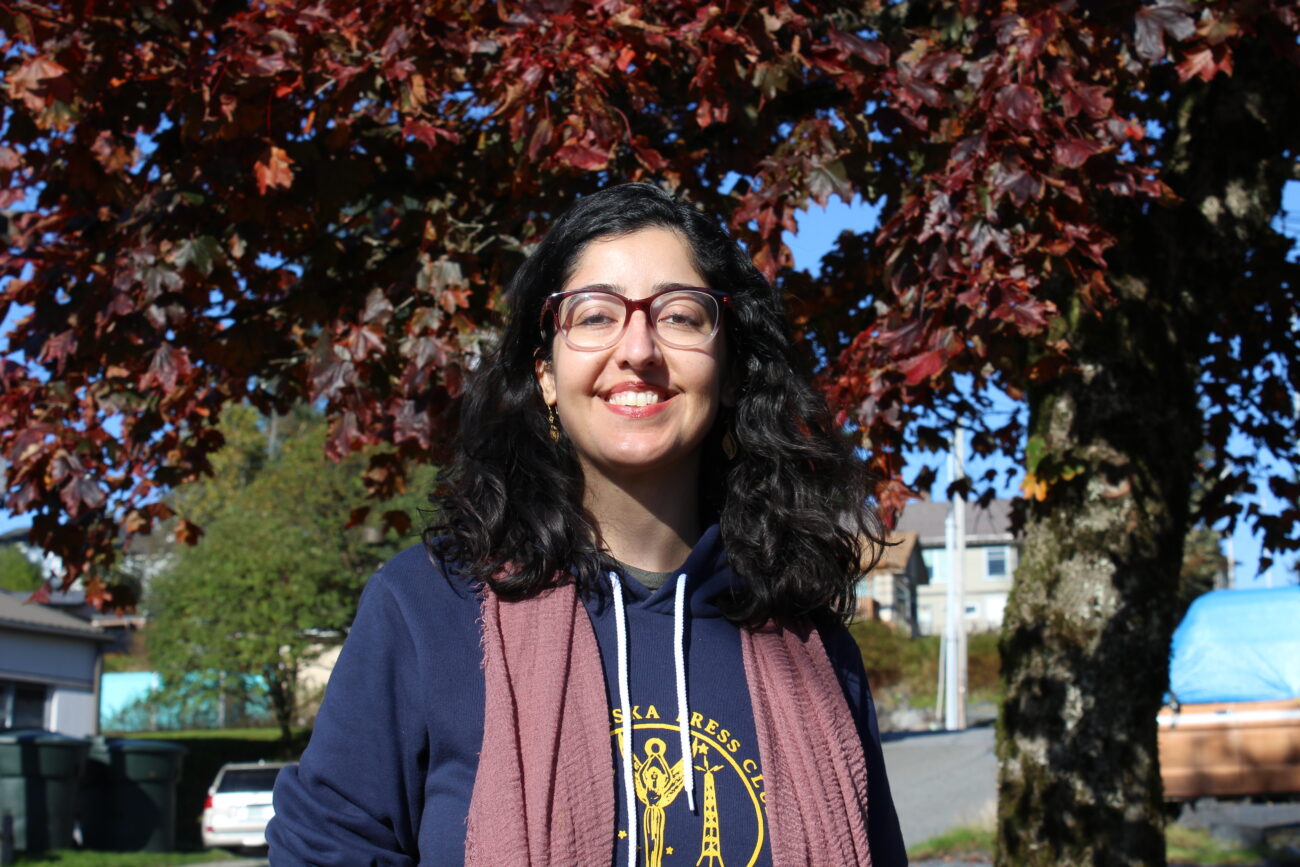 A month after bringing on a new editor, Wrangell's weekly newspaper has brought on another new reporter. This isn't her first time arriving in an Alaska community to report, sight unseen.
Although she's lived in Alaska before, Sarah Aslam says she didn't come to Wrangell in mid-September looking like a local.
"When I came here I was rocking the overdressed tourist look," Aslam says with a laugh. "I had these polyester fur-lined boots that I was traipsing around town in, scheduling interviews and I kept noticing the second look at the shoes and I thought, 'Yeah, definitely, the tourist vibe is strong in this one.'"
Aslam first moved to Alaska in 2013, for a newspaper internship with the Seward Journal. She says she saw a posting that said: "Seeking adventurous intern," so she did some Googling, and found an Alaska Public Radio Network interview with the editor.
"After I listened to her interview, and the way she talked about starting the newspaper — she started the newspaper at an age that most people would not consider starting a new venture and she ran a bookstore, she had this newspaper tucked away in a corner of her bookstore, and she was publishing neck and neck with other town newspapers. At that point, there were like three newspapers in Seward. And I thought I need to meet this lady and I want to work for her after listening to that radio interview. That is what led me to apply for that position," Aslam says. "We spoke, and she hired me over the phone."
She wrote again for the Journal in 2016, and the same year, worked for KTUU-TV in Anchorage.
"I just fell in love with this small-town America, and small-town Alaska, which is like its own snow globe," she adds.
After growing up in Takoma Park, Maryland, just outside of Washington D.C., Aslam graduated from the University of Central Florida with a concentration in print journalism. But she didn't find herself blazing the path of print.
"Somehow I kept getting into these television newsroom jobs," Aslam says. She comes to Wrangell from Orlando, Florida, where she was working as an associate producer at a television station: "I was running teleprompter, I was writing voiceover scripts, taking sound bites, occasionally making beat calls to law enforcement agencies on the overnight shift. So I'd wake up at two in the morning, get to work at 3 a.m. and write and then run prompter from 4:30 in the morning until 10 a.m. — for five and a half hours a day."
While planning a trip to Anchorage to visit friends earlier this year, Aslam says she saw a Twitter thread that piqued her interest.
"I saw this multi-tweet ode to the Wrangell Sentinel that a reporter named Rashah McChesney had posted about the new publisher, Larry Persily," Aslam says. "Part of me said 'Don't do it. Don't do it.' But I did it. I emailed Larry Persily."
She says she meant to write a five-sentence email, but ended up writing an epic about what she calls her "love affair" with the state and how she feels called back to the north. Persily, the Wrangell Sentinel's owner and publisher since early this year, set up an interview while she was in Anchorage.
"That conversation, those 20 minutes, I felt more — I don't even know how to describe it. All the skills that I've gained over the past decade, I felt them being called upon in that conversation," Aslam says. Persily asked if she wanted to come to Wrangell for a visit. "I thought about it, I thought maybe I might. But the last time I accepted a job in Alaska, I was hired over the phone. So I thought 'Let me continue that tradition.'"
Aslam says writing for the Sentinel brings her back to what she originally wanted to be a journalist for: "Which was write stories and tell stories about people's lives that took longer to say than a 30-second voiceover."
Aslam says she was originally drawn to journalism after hours spent as a child at the public library.
"From that love of reading and wanting to know about people's stories, it just seemed like a natural fit to choose a career that dovetailed with my storytelling abilities," she says.
She adds she's excited about covering stories that can only come from life in a small town. She's experienced plenty already: "Buying eggs with a post-it note with your name and a smiley face on it, or having the grocery store call you and let you know directly what your rewards code is. That's never happened to me before. Just today I bought a crockpot from someone off of the Buy-Sell-Trade Facebook group and she left it on the back of her car outside of the IGA and I just went up to her car in the parking lot and just plucked the crockpot off the back of her truck and walked it up the hill to my house."
Aslam says it's most important to her to be a mirror for the community's thoughts and issues, and she's especially worried about getting things wrong in a close-knit place like Wrangell. Not that she plans to need to issue corrections.
"I just want people to like me," Aslam says with a smile, and adds with a laugh: "But also not dislike me if I write something they don't like if it's still accurate."
Unless she's out around town reporting, Aslam works from the Wrangell Sentinel's office at 205 Front Street. She says she's ditched the faux-fur boots, for now.
This story has been updated to correct details of Aslam's employment history & the nature of her initial interview with the Wrangell Sentinel.
Get in touch with KSTK at news@kstk.org or (907) 874-2345.