Alaska Day is October 18, and Wrangell's third-graders would usually head down to the Island of Faith Lutheran church to perform for the elders' luncheon. With the COVID-19 pandemic ongoing, they had to find another way to sing for the community.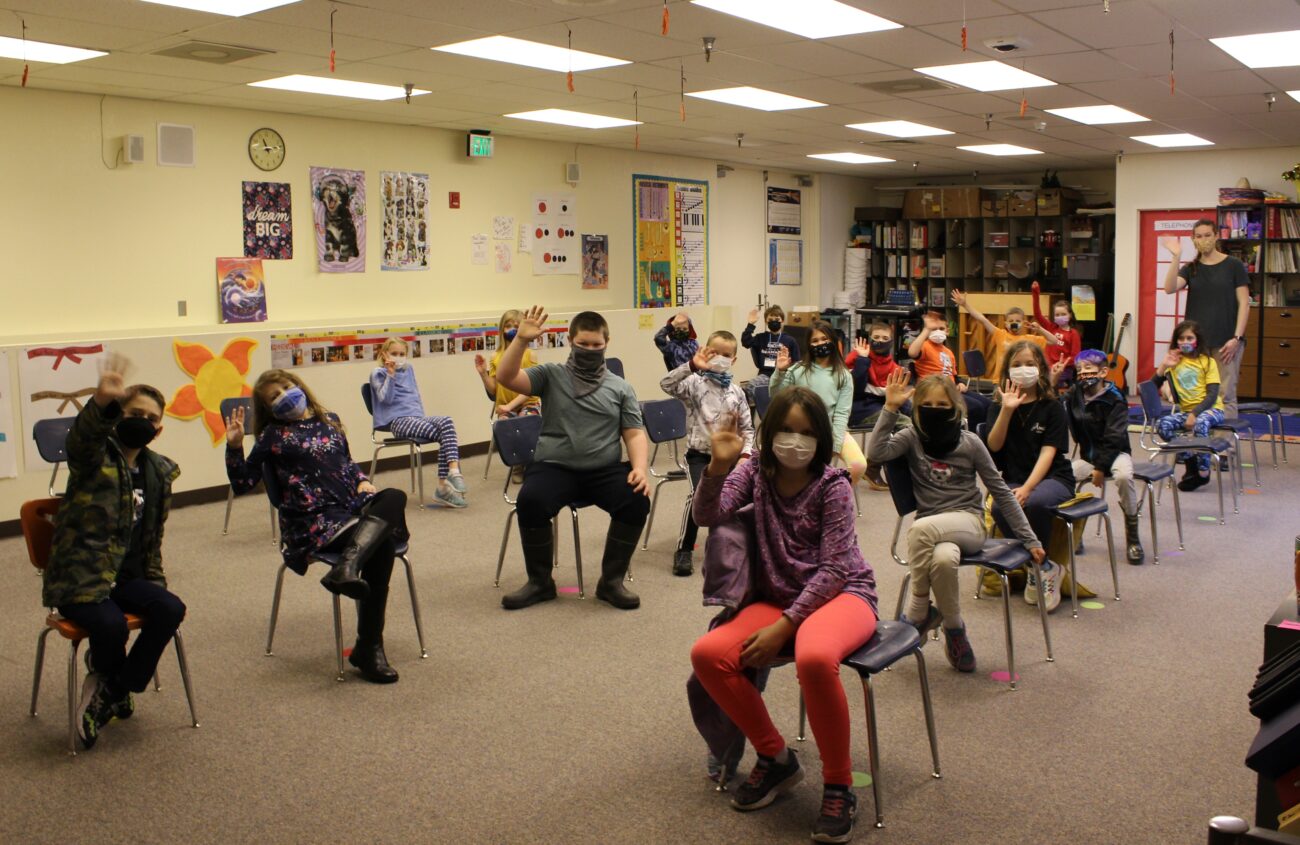 Evergreen Elementary School's third-grade students sit in three rows on dark blue plastic chairs, spaced three feet apart. They're singing with their masks on, in keeping with the school district's mitigation plan. Music teacher Tasha Morse plays the ukulele. 
Morse switches out the ukulele for a guitar. It's time for a local celebration: The Wrangell Song.
The Wrangell song was written by Karen Morse, a former music teacher and Morse's mother-in-law.
"It's been a while [since the song was written]," Morse says. "At least 20 years ago, with third-graders back when she was the music teacher here.
It's a Wrangell tradition that the third-graders perform at the annual Island of Faith Lutheran Church elders' luncheon.
"In a non-pandemic year, we would travel down there, we would sing our songs, we would stand on their little stage and would perform for our elders," Morse explains. "It's usually just a really good, happy moment, and it's a good time to perform. But obviously, the pandemic is happening, I don't think that they're doing their luncheon, and we just wanted to continue to spread the Alaska Day joy" — by performing for the local radio station's lone news reporter, wielding a shotgun microphone.
With the songs finished, Morse stands in front of the class.
"How does it feel to perform for somebody you guys?" she asks.
"Good!" chorus the students.
The last time these third-graders performed for an audience, they were in kindergarten. 
"That breaks my heart," Morse tells the class.
Even an audience of one is a big deal. 
"I'm so glad that we're able to perform for at least one person and then in turn the whole entire island, that's so cool guys."
LISTEN TO THE RADIO VERSION OF THIS STORY BELOW:
Get in touch with KSTK at news@kstk.org or (907) 874-2345.