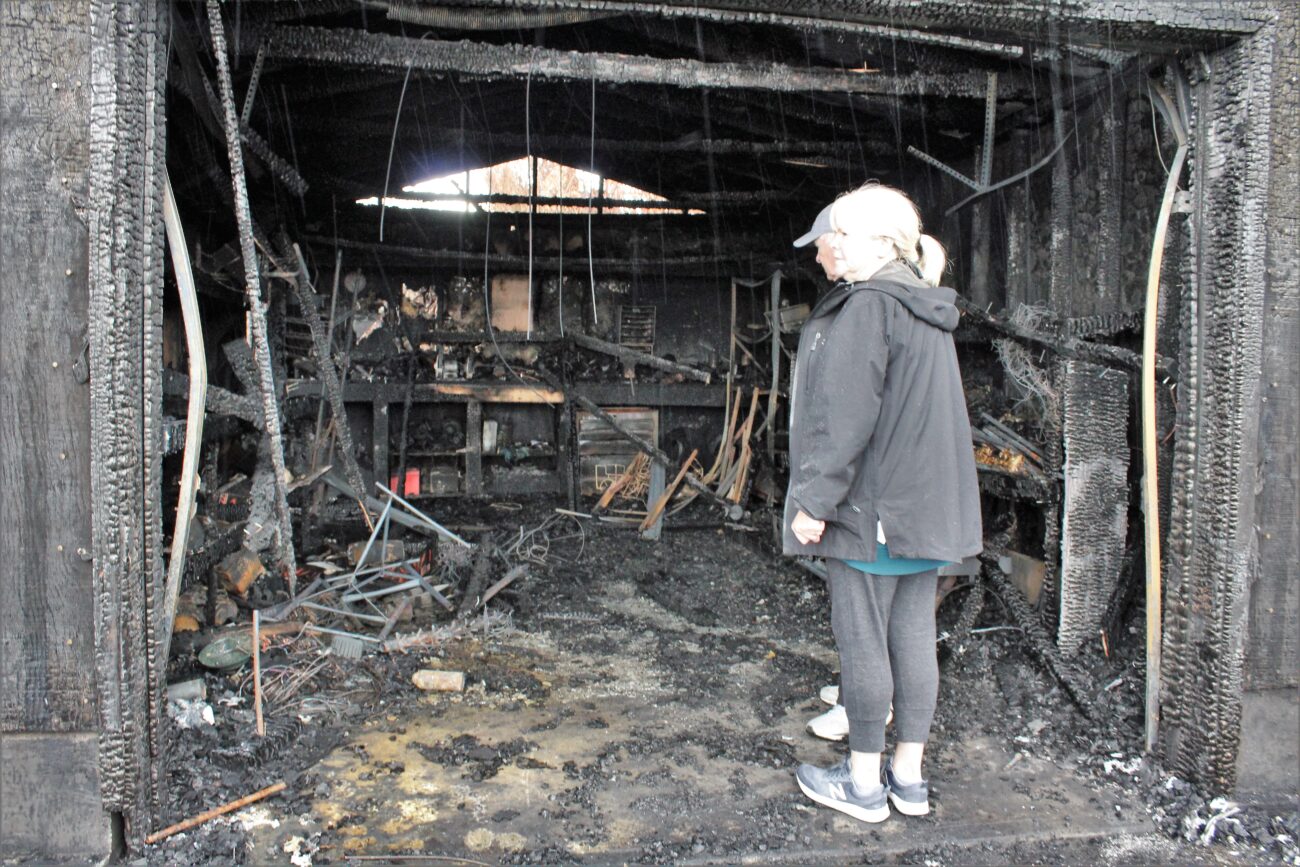 For more than a decade, one Wrangell couple has turned their garage into a haunted house. But that all went up in smoke the week before Halloween.
October 23 was the day of Wrangell's community pumpkin patch, with fair games and pumpkin selection in a closed-off downtown street. On Ocean View Drive, at the point of the peninsula that insulates Reliance Harbor from the Zimovia Strait, Jeff and Kay Jabusch were working on their haunted garage. It's a longstanding tradition.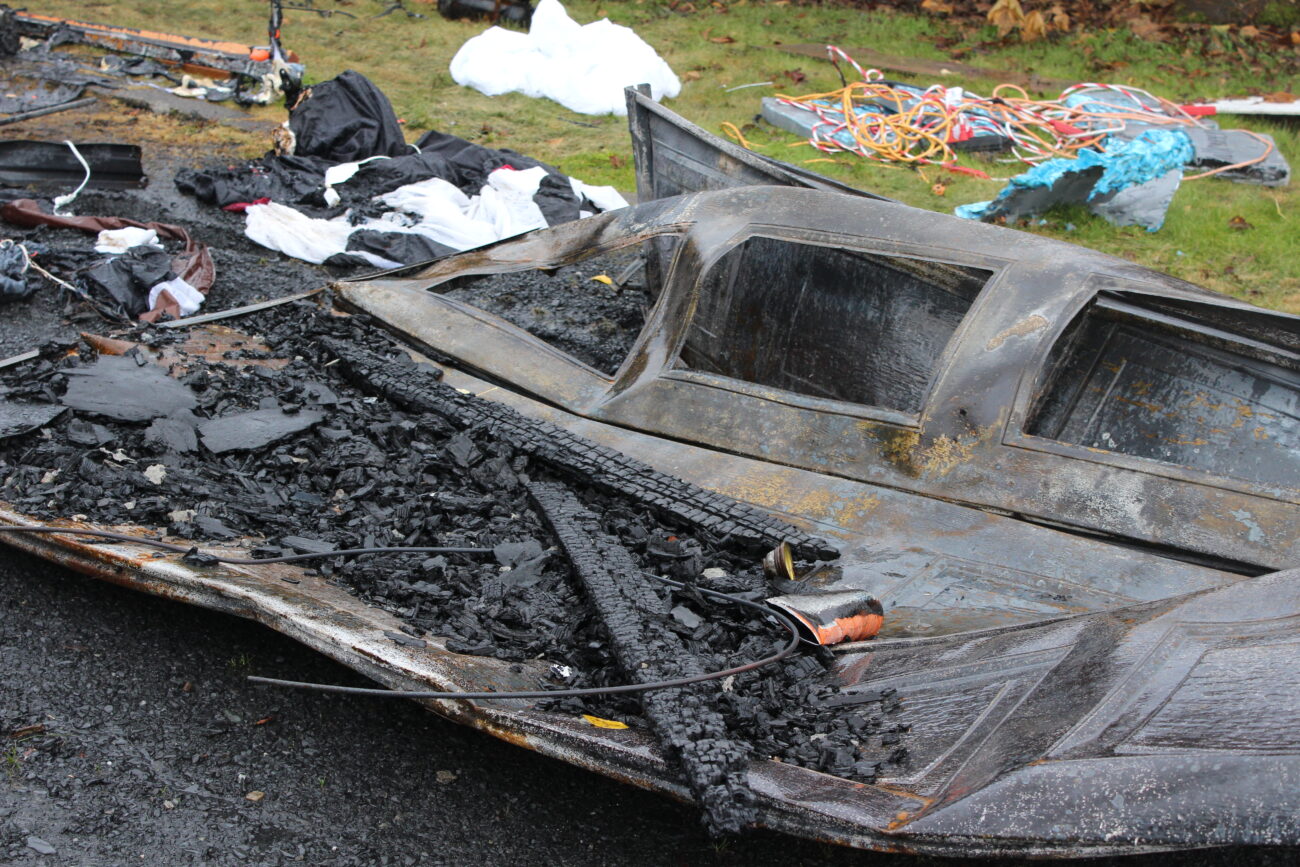 "On Halloween, what we do is we roll up the garage door which is right here," Jeff says, gesturing to a twisted sheet of metal. "And then we decorate the inside of the garage, and make it look kind of a dungeon look. We have that paper that you can buy that you can put on the walls, and then we have all kinds of props in there."
Kay continues: "We just keep adding things every single year. And I know we've done it down here [at the garage] for at least 10 or 12 years. Because we used to do stuff up by the front door, but we always got concerned about little kids falling down the stairs."
Jeff Jabusch retired in 2017 after working for decades in a variety of Wrangell municipal positions, including as borough finance director and city manager. Kay Jabusch spent more than 30 years as Wrangell's head librarian.
This year, they had expanded the haunted garage out onto their sloping driveway. Conduit arches covered in black plastic and fake spiderwebs, lit by orange lights, led into the standalone garage, which was decorated like a dungeon. Giant Halloween-themed blowups flanked the entrance — a red-eyed skull, a witch's hand and a cemetery gate.
"We'd been working on it for days –," Jeff says.
"For days," Kay agrees.
Jeff continues: "We'd just got done with it at about 11 o'clock. And about 11:30, we ran into town. Normally when we leave, we pull all the plugs out and turn everything off. We kind of got in a hurry, and we wanted to get to the post office before they closed at noon on Saturday, and so we just, you know, ran into town. Did a stop at the grocery store and the sirens went off."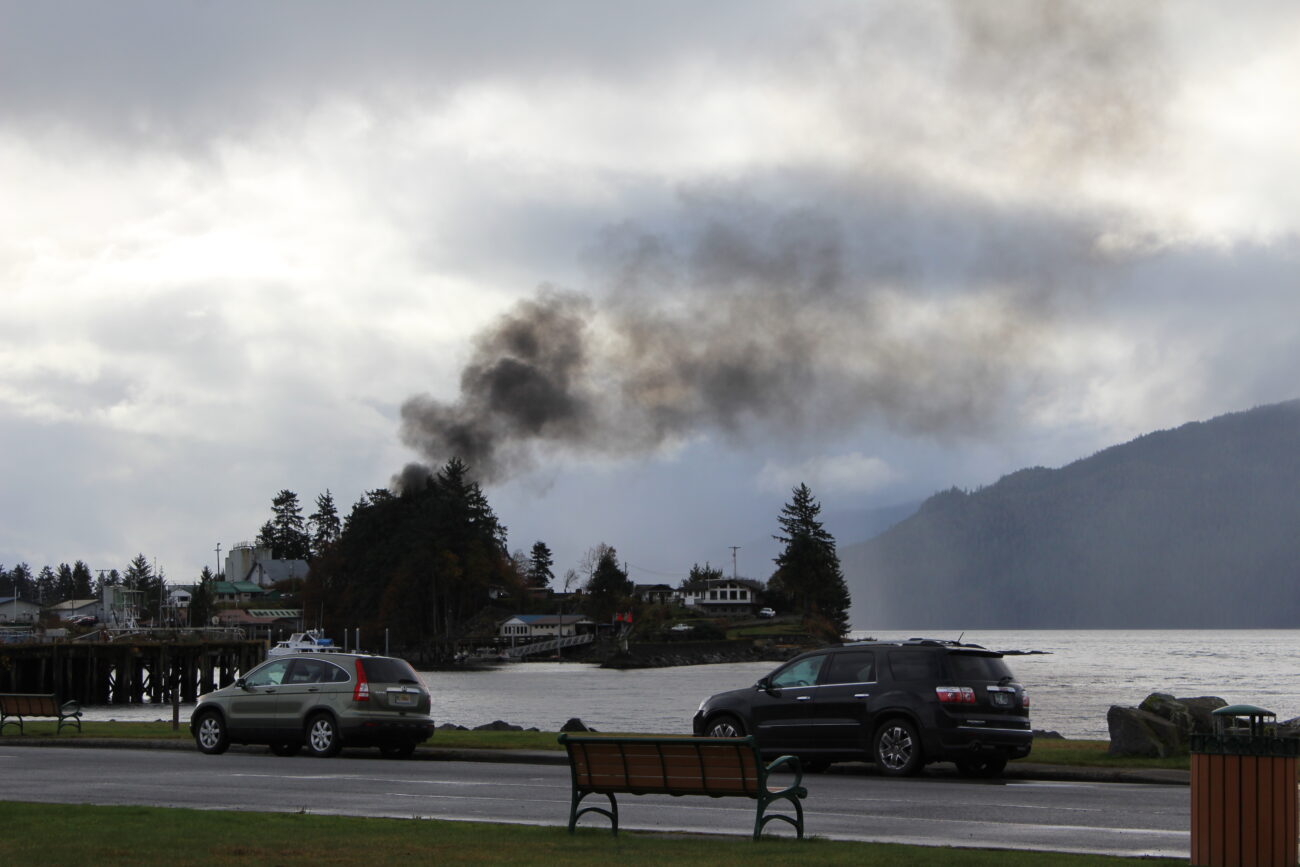 Only an hour after the Jabusches finished setting up, the garage was on fire.
"We were on the other side of town and we could see the black smoke," Kay says.
KSTK: "Did you think it was your place?"
"Well," she says, "We knew it was our neighborhood. By the time we got over here, the fire trucks were already right here with the hoses."
Jeff says the quick work of Wrangell's volunteer fire department saved their house.
"They started spraying on the house to keep it cooled down," he says, "Which was good because there was a lot of heat on that and then you could see it starting to buckle up there."
Kay adds the fire chief told them he had to stand across the road from the garage because it was so hot.
Jeff gestures to a warped basketball hoop: "On my basketball hoop there the backboard melted. And I said, 'Well, that doesn't matter because all my shots are swishes, anyway," he says with a laugh.
The garage was a total loss.
"What we didn't use it for was a car, we had so much stuff in there," Jeff says. Tools, gardening equipment, holiday decorations, and a motor part they were storing for their son were completely destroyed. So little survived that it all fits in the back of Kay's car.
Walking in the driveway, Kay gestures to a twisted lump on the ground. "There's his drill," she says.
Jeff bends closer.
"It's kind of glued to the whole thing," he says, "it was sitting on one of those Costco black and yellow totes. Yeah, that was a tote."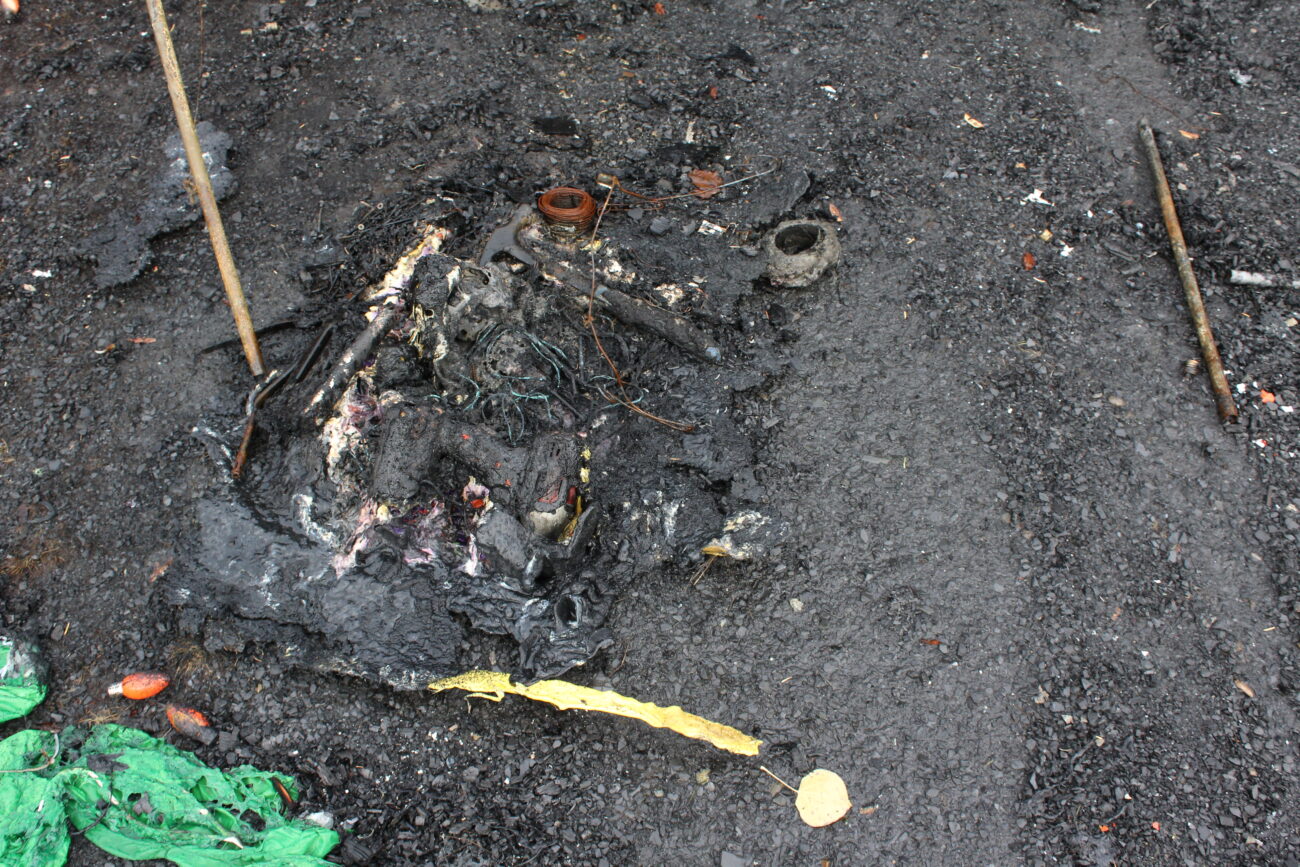 Every surface is charred and black.
"Saturday, that night, I was trying to go to sleep," Jeff says, "And they told me — I called the insurance company and they said, 'Well, you've got to itemize everything that you lost.' Well, I couldn't go to sleep. I said, 'Okay, I had 10 screwdrivers, I had these safety glasses, I had a drill…"
It's a long list of tools and decorations.
They're not sure what caused the fire. There were propane tanks nearby, which probably made it burn hotter and faster.
Jeff jokes that maybe some of their neighbors on the peninsula were trying to usurp the title of 'Best Halloween Decorations on the Block.'
It's been an adjustment, Kay says.
"You don't realize until you need something — you forget that actually there was a fire," she explains. "On Sunday, the day after, I was going to take the garbage out and put it in the garbage can by the garage. And I picked it up and I thought 'You can't do that. The garbage can is a pile of plastic, melted on the ground.'"
One Halloween blow-up — a green and black spider — was connected to a different circuit and wasn't burned. They think it still works. Kay's least favorite decoration also escaped unscathed.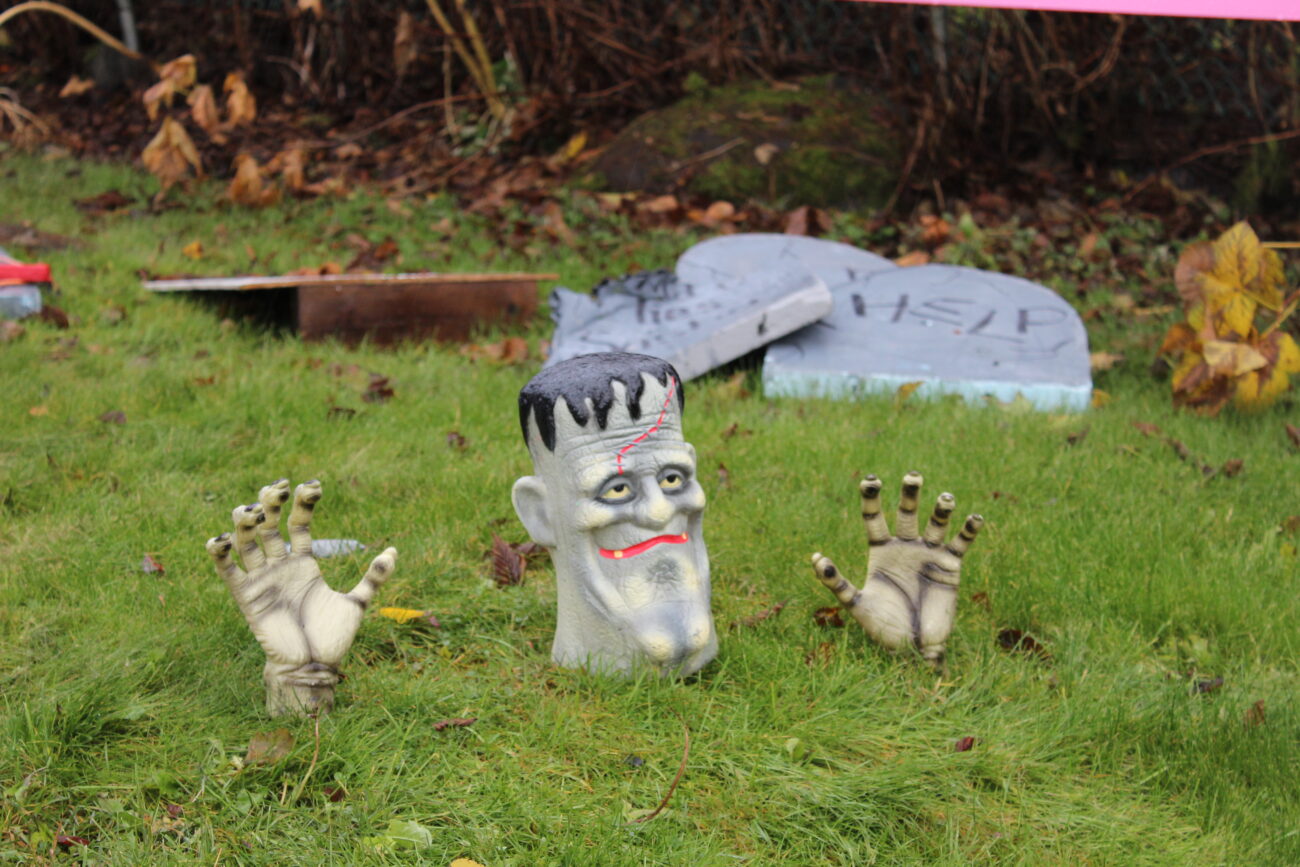 "Of all the decorations — this Frankenstein that's in the yard there. He's the only one that survived," she says. "I always liked him the least. I mean, it's like, 'No, do we have to put him out? You know?'"
Jeff says he's determined to wear the mask he bought and pass out candy. The candy survived the fire — it was up in the house.
Kay agreed: "So I thought 'Well, we'll get a couple of our folding camping chairs and put them out down at the bottom of the hill here.' Well, no, those were in the garage. So we'll find some other chairs and giveaway candy on Sunday."
Despite losing so many possessions, the Jabusches say they're feeling upbeat. They've had more offers of help than they know what to do with.
"You know," Jeff says, "My wife and I — we've got so many great things going on in our life. All our kids and grandkids are doing good and healthy. Our house didn't burn down. It's just a bump in the road and it all can be fixed and replaced for the most part. We'll just move on and go through the process and get ready for next year."
They say they want to continue on with their haunted garage, once the ash settles.
"Stuff like that around town just makes your community a little better," Jeff says.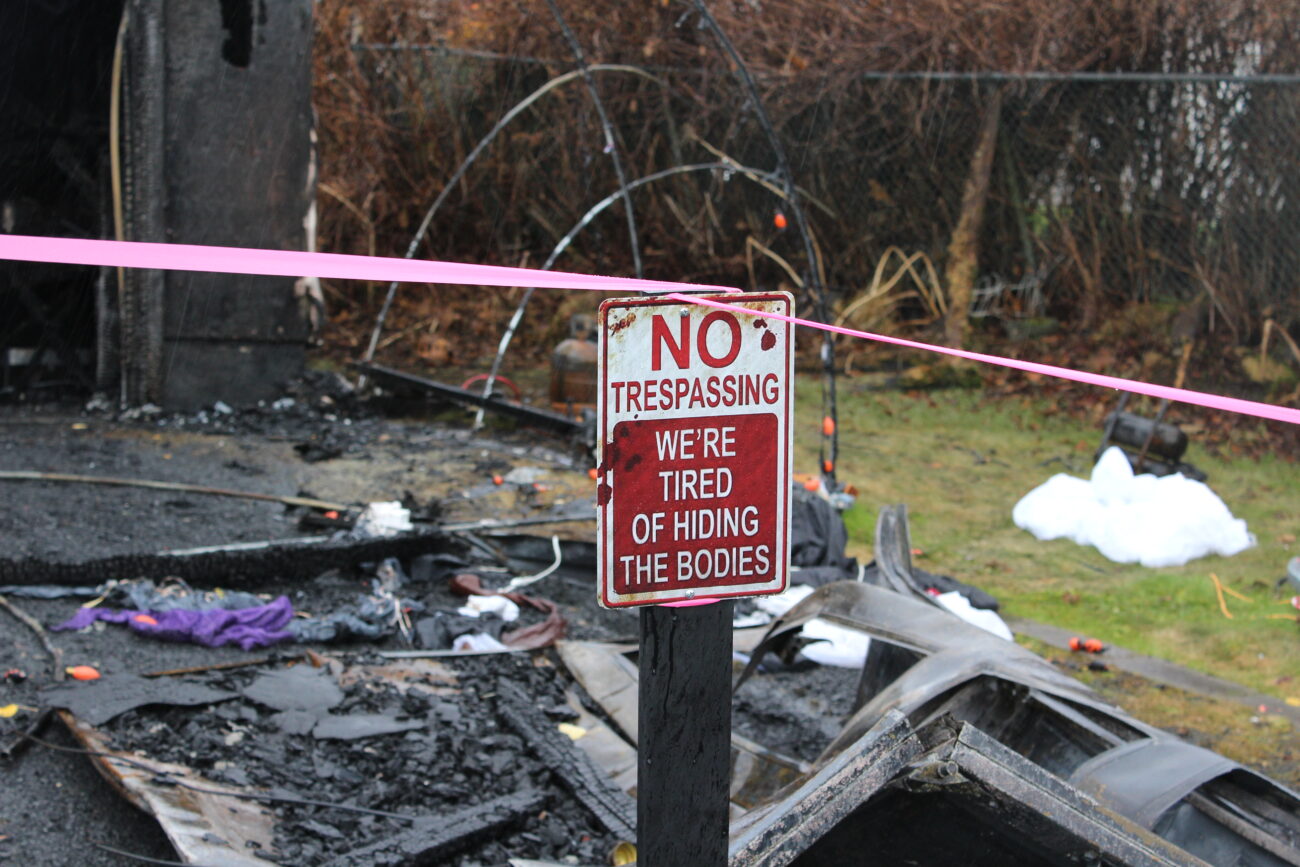 Get in touch with KSTK at news@kstk.org or (907) 874-2345.