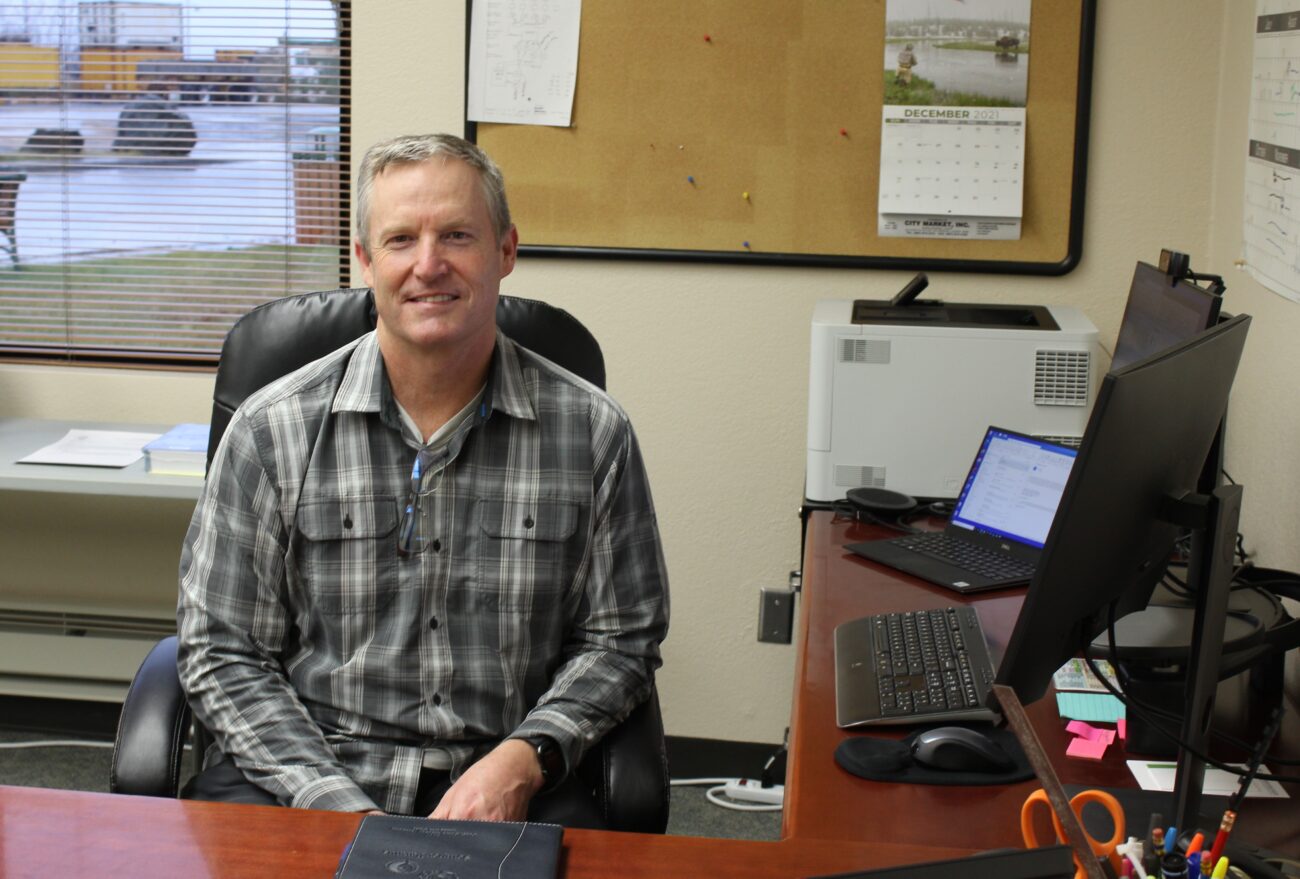 The Wrangell interim borough manager's three-month term started at the beginning of the month. He says his main goal is to help focus efforts on a few of Wrangell's most pressing municipal projects.
While new to the position of borough manager, Jeff Good isn't new to Wrangell itself — his wife is from Wrangell, and he first visited the island with her in the late 1990s.
"Since then, I've been back to Wrangell pretty much every summer for the Fourth of July, or some other time during the summer to spend time with friends and family here," Good explains.
He grew up in New Mexico, and started his career in the U.S. Coast Guard just out of high school, attending the Coast Guard Academy in New London, Connecticut.
Good says he didn't go to the academy intending to become a civil engineer. He initially thought he'd study ocean engineering and marine science. But after attending a job fair, he changed his mind. Good majored in civil engineering in his undergrad, and got his master's in civil engineering at the University of Illinois and a master's of engineering management from Duke in North Carolina.
In 1997, he was stationed in Juneau, where he met his wife Christy. He says he started out in the design side of engineering.
"As I progressed in my career, it kind of led back over into the public works side: facility management," he explains. "I really enjoyed facility management, I enjoyed being able to work with customers, and then part of it too is you're there and you get to see the projects all the way from start to completion. I really enjoyed that part of it, and the interaction with everyone as well when you're actually the facility engineer."
Good is a licensed professional engineer and facilities engineer in the state of Alaska. He retired from the Coast Guard last year, and moved to Wrangell with his family. Plenty of factors went into the decision, he says, but Wrangell's amenities were a draw.
"For someone who likes golf, and Wrangell as a golf course, that's definitely an attraction for me," he says with a laugh: "And that was one of the factors coming back to Wrangell is 'Alright, which Southeast towns have golf courses?'"
Even before the position of interim borough manager opened up, Good says he was keeping tabs on projects around town, so nothing's been too big of a surprise in his first couple of weeks on the job: "Over the past year, being an engineer, I've been kind of tracking [the projects,] and those types of things typically catch my eye, so I don't know if there are any big surprises."
Good says the focus is simple: "Obviously, a couple of things that we're working on and continue to work on is the water treatment plant, and then the public safety building. So those two things, looking get a little bit more into depth into those and what those issues are."
Other than the focus on those two pivotal community projects — the water treatment plant and public safety building — Good says his goal is to help city staff narrow down the focus on design efforts for projects around town.
"That can be challenging," Good admits, continuing: "The assembly really decides that; they're the ones who make the decisions on what that focus is, but [my job is] working with the assembly, and then also working with the staff to help clarify, so that if I don't get the full-time position, that person coming in has a little bit more focus on what to look at."
Good applied for both the interim and regular borough manager jobs, and says he's interested in staying on if he's hired for the long-term job.
Reading the job description for the position, Good says he felt it would be a good fit, considering his experience. Being the commanding officer of a Coast Guard base is actually pretty similar to running a city, he says.
"I mean, other than it being a municipality and dealing with city code, it's a little bit different there, but [it has] a lot of the same responsibilities that I had as a commanding officer in Kodiak," Good says. "We had a water treatment plant, a wastewater treatment plant, had ports and harbors, we had a recreational department, which was for us called our Morale, Welfare, and Recreation, we had a golf course."
Looking further into the future, Good says he thinks Wrangell really needs to continue working towards a well-flushed-out plan for maintaining the city's infrastructure.
"It's a hard step to go from corrective maintenance to preventive maintenance, especially when there's a lot of issues," Good says. "When you're responding to everything, it's hard to do preventive maintenance, to get that focus on preventive maintenance, and then trying to build out that schedule. It's a lot of effort and going to take a long time to get there, but [I hope to] at least start taking those first steps to go in that direction."
As interim borough manager, Good says he hopes to be able to maintain continuity as the Wrangell Assembly searches for a new manager, and get staff members the information they need to do their jobs.
"I don't view myself as leading, it's more just working with everyone in collaborating and then making sure they have the tools they need to continue doing what they do," he says.
Good will serve for three months as Wrangell's interim borough manager. His contract stipulates a base salary of $9,000 per month: equivalent to about $108,000 annually. But it's a temporary position and does not include benefits. The city is still taking applications for the position of Wrangell borough manager, and hasn't set a deadline for applications for that position.
Get in touch with KSTK at news@kstk.org or (907) 874-2345.