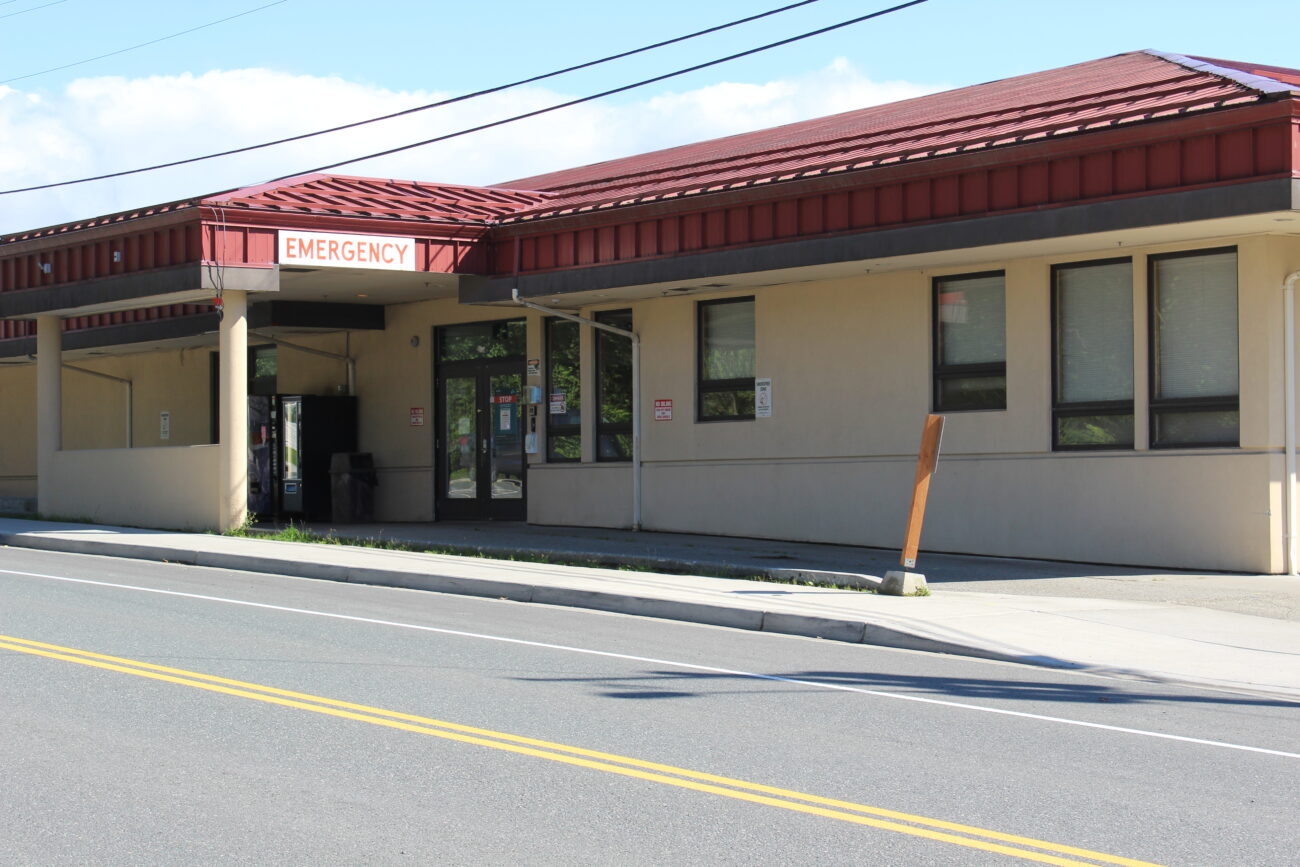 When the Southeast's tribal health organization built Wrangell's new hospital, elected officials were left with a question: What to do with the old city-owned hospital building? It's not as simple as scrapping the facility. And at least one firm has stepped forward with interest in it.
The old, red and beige community hospital on Bennett Street sits mostly empty, nowadays, except for storing medical equipment loaned out by Hospice of Wrangell.
In mid-September, the borough administration received a proposal: a Florida-based addiction recovery center is interested in "acquiring and operating" the former Wrangell Medical Center as a substance abuse treatment facility. 
Casey Odell used to live in Wrangell and work for Alaska Island Community Services, which was taken over by the Southeast Alaska Regional Health Consortium (SEARHC) in 2017. Odell is now working with Regard Recovery, a chain of substance abuse treatment centers that's looking to expand to Alaska. She told the assembly on November 9 that she recently became aware through friends and acquaintances of the vacant hospital.
"And really, it would be an ideal location for what Regard Recovery is proposing starting in Alaska," Odell told the assembly. "We're looking at building a detox, residential, partial hospitalization program (PHP) and intensive outpatient program (IPO) recovery hub."
Statewide demand for substance abuse treatment has risen throughout the pandemic. At the end of last year, KTOO Public Media reported that nearly 150 people were on waitlists for residential treatment for drugs or alcohol use statewide.
"This could bring a new economy, new commerce, new jobs," Odell continued. "And it would be really exciting, for me anyway, if Wrangell would be interested in becoming known as a leader in the substance recovery efforts for Alaska. I'm sure most of you in the room would attest to the fact that, as an industry, we're falling short of addressing the need for substance abuse treatment and recovery in Alaska."
In the months since SEARHC moved operations from the old facility to the newly-built hospital just over a mile away, Wrangell's assembly has batted around a number of ideas for what to do with the old hospital.
One was to tear it down, but that was projected to cost at least a million dollars.
The assembly also discussed using it to replace the community's Public Safety Building, which has its own issues. The Public Safety Building houses Wrangell's police station, volunteer fire department, DMV, courthouse and jail.
That means that any discussion about the old hospital building also ties into the ongoing effort to repair or replace the public safety building as well.
A cost estimate from the Anchorage-based engineering firm AMC a year ago says renovating the public safety building would come at a price of around $15 million. Costs have increased since then.
Assembly member Jim DeBord was especially concerned at the November 9 meeting about funding for the public safety building repairs.
"Before we spend hundreds of thousands or another half a million dollars on 'What are we going to do,' we need to figure out where the money is going to come from, what our funding source is," DeBord said.
But interim borough manager Jeff Good pointed out that waiting for clarity won't make the bill any smaller.
"The longer we wait on a project, it's going to continue to get worse — the building is going to get worse because there's significant exterior deficiencies with that building," Good said, "And it's just going to continue to degrade over time."
Good added that ties into the deep need Wrangell has for a long-term capital improvement plan. Twenty years out, the community would know when air circulation systems or electrical wiring might need to be replaced.
"If we're maintaining the exterior structure of the building, so maintaining the roof, maintaining the siding and replacing it whenever it's supposed to be replaced and you're doing that, I mean, it's really indefinite how long the buildings last," Good explained, "Because if you're doing that, you maintain the structure, you're going to be good."
Capital facilities director Amber Al-Haddad said that although the assembly has been approaching the project as a one-shot goal, it doesn't have to all happen at once.
"There's a lot of that project that is making upgrades to the finishes, interior finishes, which could wait," Al-Haddad said. "What is critical to do with that building now is repair the structure that is failing in really significant ways. And then consider some of the life-safety systems that may be replaced there and also the heating and air system. Those are the critical pieces of that building to keep it operable."
Ultimately, Wrangell's assembly asked the administration to investigate possible funding sources for the Public Safety Building project, leaning towards a renovation of the current building, which is more affordable than a new build. It also asked the borough manager and economic development director to keep working with Regard Recovery to set up meetings about the old Wrangell Medical Center.
Wrangell's city staff reported Wednesday (November 17) that Odell had visited Wrangell briefly to talk about the next steps for a possible addiction recovery center in Wrangell at the former hospital, but that no other meeting with Regard Recovery has been scheduled.
If a transfer were to happen, the process would include an assessment of the value of the old hospital. Wrangell municipal code says the borough cannot sell a property assessed at more than $1 million without first putting the question to voters.
Get in touch with KSTK at news@kstk.org or (907) 874-2345.