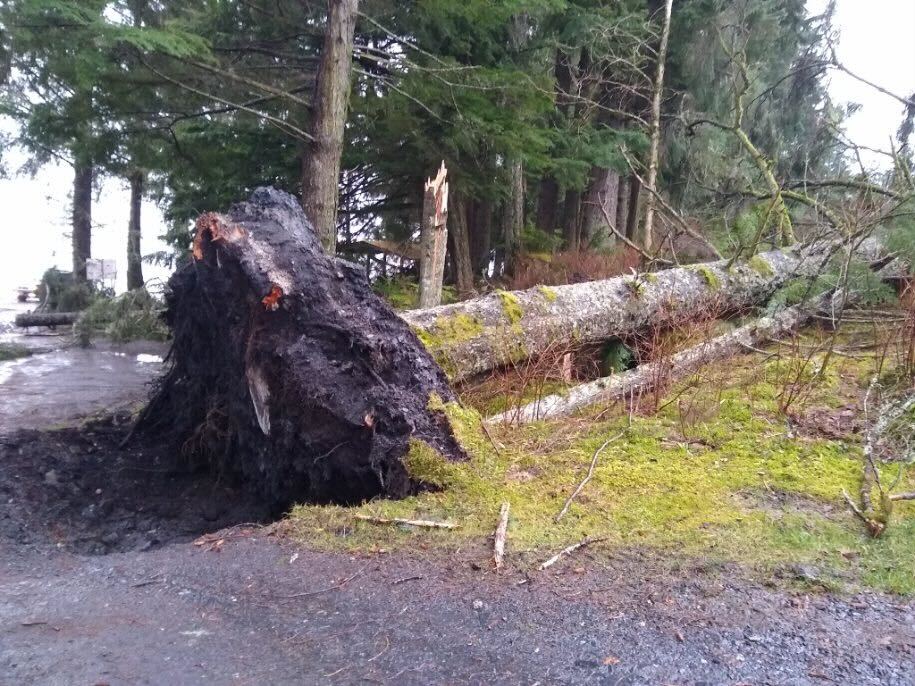 This is a developing situation. This article was posted at 11:55 a.m., and reflects the situation then. KSTK will do our best to post updates as we have them.
Wrangell Municipal Light & Power estimates about 90 of its utility customers remain without power after a sudden windstorm Tuesday felled trees and snapped power poles.
Wrangell Municipal Light & Power told KSTK this morning that power was restored to all of town, but last night's storm caused a problem with the Southeast Alaska Power Agency's hydroelectric transmission line entering Wrangell from the strait at 5-mile, Zimovia Highway. The storm also snapped the tops off of three of SEAPA's power poles near Wrangell's City Park, causing power outages in Petersburg as well.
SEAPA CEO Trey Acteson told KSTK Wednesday morning that the power agency's line crew flew out of Anchorage last night, and local operations manager Clay Hammer confirmed that the crew arrived on this morning's jet. SEAPA crews are now on-site at City Park, along with Public Works and Light & Power crews.  * As of 12:45 Wednesday, City officials report that Wrangell's high voltage power lines require special equipment that must be flown in to town for this repair. This means electric power from Heritage Harbor to the end of the line on Zimovia Highway is not expected to be restored until tomorrow, Thursday.
Wrangell borough clerk Kim Lane told KSTK that the City Park area remains the focus for city crews as well, to clear brush and assist with restoring power where they can. 
Crews were able to clear one lane of Zimovia Highway at about 9 p.m. last night. The city requests that people stay away from the City Park area unless travel is essential.
Lane added that power is anticipated to be restored this evening, barring further complications.
Anyone wanting to report a downed powerline is asked to call the Wrangell Police Department at 907-874-3304. Police officers are also coordinating delivery of emergency generators to people still without power who rely on oxygen pumps.
Wrangell residents out the road have expressed worries about a power outage extending past Wednesday. Some residents do not have wood stoves, others rely on electricity-powered medical equipment, and some fear for freezers full of meat and fish that could thaw if the power is not restored.
Alaska Marine Lines in Wrangell has offered to loan fridge or freezer space in their vans to anyone worried about their frozen or refrigerated food spoiling. AML asks that food be boxed or toted up and labeled with a name and phone number. They can be reached at 907-874-3314.
Cell phone and internet service from at least two providers were down Tuesday evening, although most cell service returned around 9:30 p.m. Tuesday. Wrangell's DMV is closed until the internet service is restored, according to the Wrangell Police Department.
An automated message on GCI's helpline Wednesday morning stated that GCI technicians are working to repair an internet outage in Wrangell and Petersburg. It did not provide a timeline for repairs.
As of Wednesday morning, Public Works is also working to assess the situation at sewer pump stations out the road, as well as clean up trees that have fallen and identify others that could be at risk of falling and damaging more powerlines before tonight's expected snow.
The National Weather Service in Juneau told KSTK Wednesday morning that a low front is expected to pass north of Wrangell midday. Winds are predicted to shift from the southeast to southwest around noon bringing increased wind speeds of 15-25 mph, with gusts up to 40 mph — what the service calls "strong winds."
The strongest winds are expected between noon and 3:00 p.m. when the direction shifts from southeast to southwest.
Winds are supposed to settle in the evening, and one to four inches of snow are expected overnight, with snow showers tomorrow and Friday.
Get in touch with KSTK at news@kstk.org or (907) 874-2345.
*This article updated at 12:45 to add the most current information.