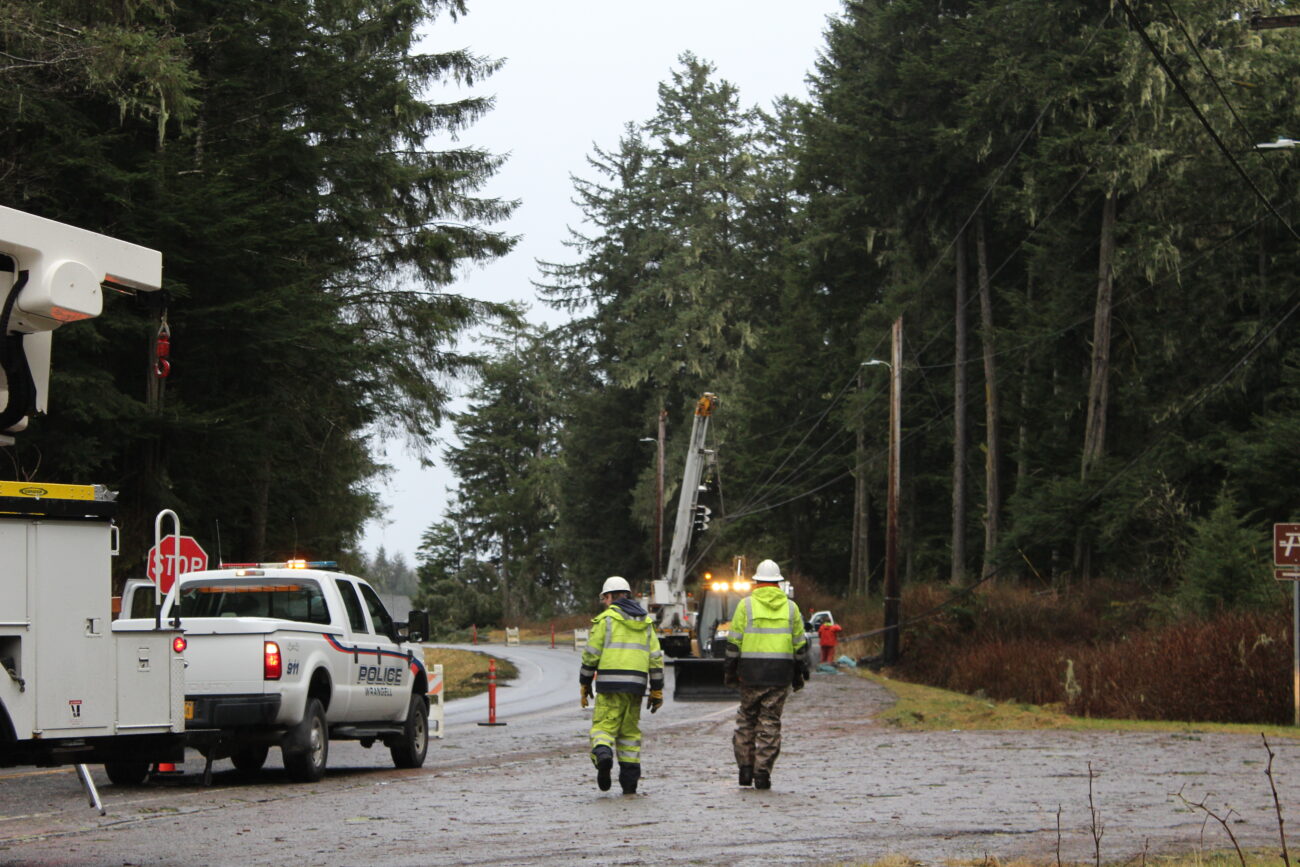 This is a developing story. The information is current as of 4:40 p.m. on December 1. KSTK will post updates and note those updates as we receive them.
Update 4:42 p.m.: WMC's phone lines are back up!
The City and Borough of Wrangell is offering shelter space to people affected by a Tuesday (November 30) storm that felled trees and severely damaged power lines. The hardest-hit area has been on Zimovia Highway from about Mile 1.5 to the end of the road, which has been without electricity since Tuesday afternoon.
The city says temporary shelter will be provided at the Nolan Center for the duration of the outage. To request temporary shelter from the City and Borough of Wrangell, contact the Fire Captain Dorianne Sprehe at 907-305-0764.
Showers will also be open at the Parks & Rec Center until 7:30 p.m. Wednesday (December 1), free of charge, for anyone who needs to clean up.
Wrangell Municipal Light & Power told KSTK Wednesday morning that power was restored to all of town, but Tuesday's storm caused a problem with the Southeast Alaska Power Agency's hydroelectric transmission line entering Wrangell from the strait at 5-mile, Zimovia Highway. The storm also snapped the tops off of three of SEAPA's power poles near Wrangell's City Park, causing power outages in Petersburg on Tuesday as well.
As of Wednesday evening, Wrangell Island remains on backup diesel generator power.
Borough clerk Kim Lane told reporters Wednesday afternoon that the high voltage lines at City Park require special equipment for repairs, which had to be flown in. While the equipment arrived in Wrangell Wednesday afternoon, power will not be restored to the approximately 90 households living between Heritage Harbor and the end of the road until at least Thursday — Lane estimated late Thursday afternoon or evening.
As of Wednesday evening, only one lane of Zimovia Highway is open to traffic. The city is asking people to stay away from the area, except for essential travel.
Some Wrangell residents out the road had expressed worries about a power outage extending later into the week. Some residents rely on electricity for home heating and do not have wood stoves, others rely on electricity-powered medical equipment, and some fear that freezers offline for extended time could cause meat and fish to thaw and spoil.
Alaska Marine Lines in Wrangell has offered to loan fridge or freezer space in their vans to anyone worried about their perishables or food stores. AML asks that food be boxed or toted up and labeled with a name and phone number. AML can be reached at 907-874-3314.
Harbor Light Church on Zimovia Highway has also offered a place to warm up, showers and coffee to anyone without power needing to clean up or get warm. Call 907-305-4673 to get in touch with Harbor Light.
This week's storm has also led the Wrangell Chamber of Commerce to postpone its "Midnight Madness" celebration and holiday tree-lighting ceremony scheduled for this weekend. That's to allow crews and vendors to focus on cleanup efforts after Tuesday's storm. The same Light & Power crew responding to outage emergencies around the island usually decorates the downtown tree with lights and ornaments, made by Evergreen Elementary School students.
Crews were able to clear the main, Wood Street entrance to the Wrangell Medical Center Wednesday, after fallen trees damaged power lines in the area and blocked the road. Wood Street will be briefly closed again on Thursday (December 2), when people visiting the hospital will need to take the back entrance, located on Pine Street across from the American Legion.
A phone line was cut near Alpine Mini Mart on Wednesday, which cut off incoming calls to the medical center for a period of time. It was repaired early Wednesday evening. Anyone needing to call the WMC can call 907-874-7000.
As of Wednesday evening, GCI was still in the process of restoring internet service to parts of Wrangell Island.
This is the second year in a row that Wrangell's tree-lighting celebration has been postponed due to storm damage and power outages. Last year, that postponement led to an anonymous holiday tree installation — lovingly called the Grinch Tree — in the outdoor pot usually used to secure the trunk of the tree.
The Chamber of Commerce has not set a date for a rescheduled tree-lighting and Midnight Madness festival. The community market at the Nolan Center that was scheduled for Friday evening has also been postponed. It will be rescheduled for the same evening as Midnight Madness and the tree-lighting.
Get in touch with KSTK at news@kstk.org or (907) 874-2345.