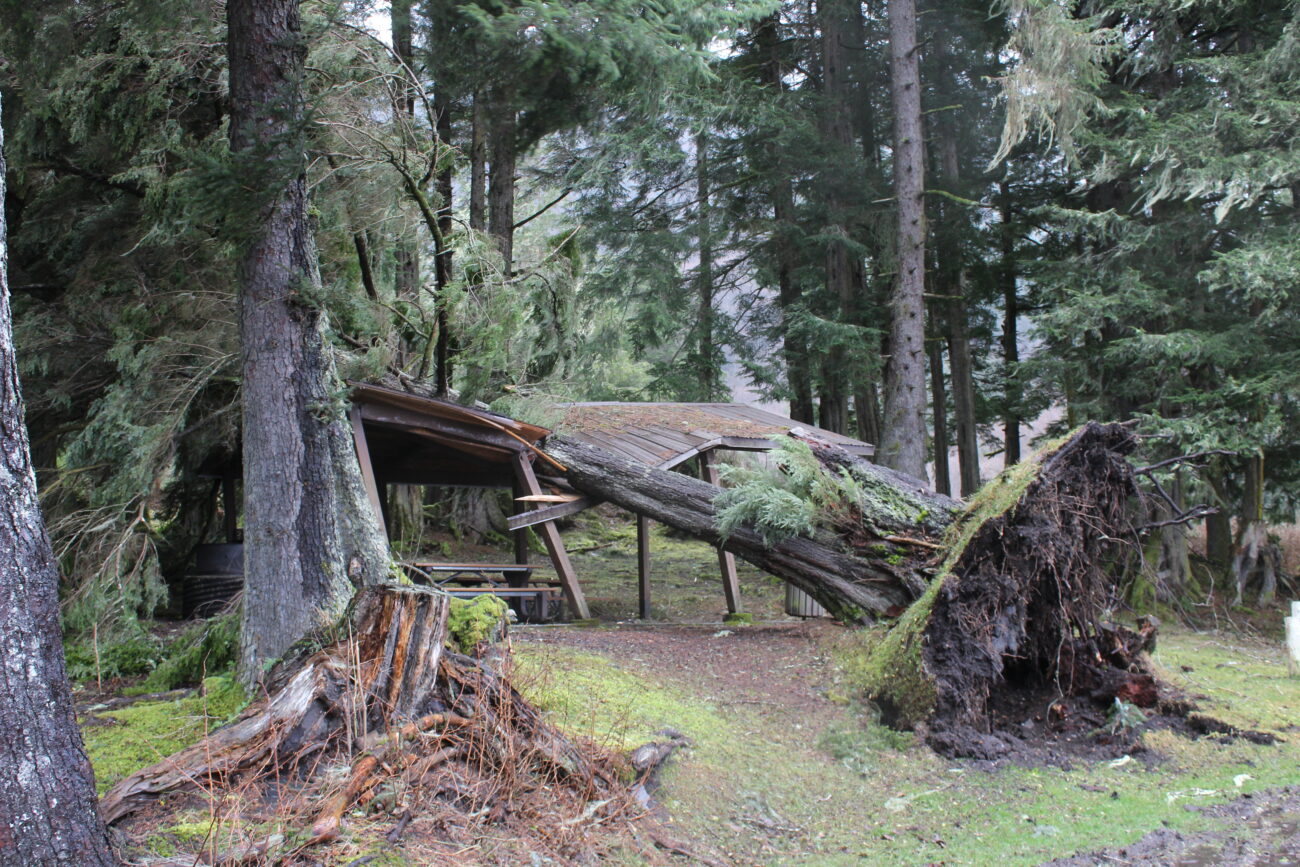 Wrangell residents are being asked to report property damage from Tuesday's destructive windstorm storm (November 30) that knocked down trees and left some areas of the island in the dark, without power, for nearly two days.
Wrangell borough clerk Kim Lane says individuals are asked to submit reports and photos of damage to City Hall to help the local government assess the extent of repairs needed in the community.
"We are looking at declaring a state of emergency," Lane told KSTK Friday, "And that is one of the requirements in doing that. So at this point, that is all we're asking, just so that we can get an inventory of what kind of damage has been sustained throughout the community that we're not aware of."
Reports and photos can be submitted in-person at City Hall, or by emailing the city clerk at clerk@wrangell.com. Call City Hall with questions or for more information at 907-874-2381.
Wrangell's City Park sustained serious damage during Tuesday's windstorm, with multiple downed or hazardous trees and crushed or battered structures. The city closed the park Friday morning out of safety concerns, and to allow Parks & Rec crews to assess the damage. People are asked not to enter the area – even on foot.
Lane added that city crews were able to restore power to the last Wrangell residences without power on Thursday evening. They've still got some work to do by the Wrangell Cooperative Association building, where lines are still down, which will be Friday's focus for the line crew, Lane said.
In light of the storm damage and cleanup, Wrangell's Chamber of Commerce postponed the community's holiday tree-lighting ceremony for a week. The "Midnight Madness" celebration is now slated to be held next Saturday, December 11. The evening community market at the Nolan Center has also been moved, and will run from 4 to 9 p.m.
Get in touch with KSTK at news@kstk.org or (907) 874-2345.