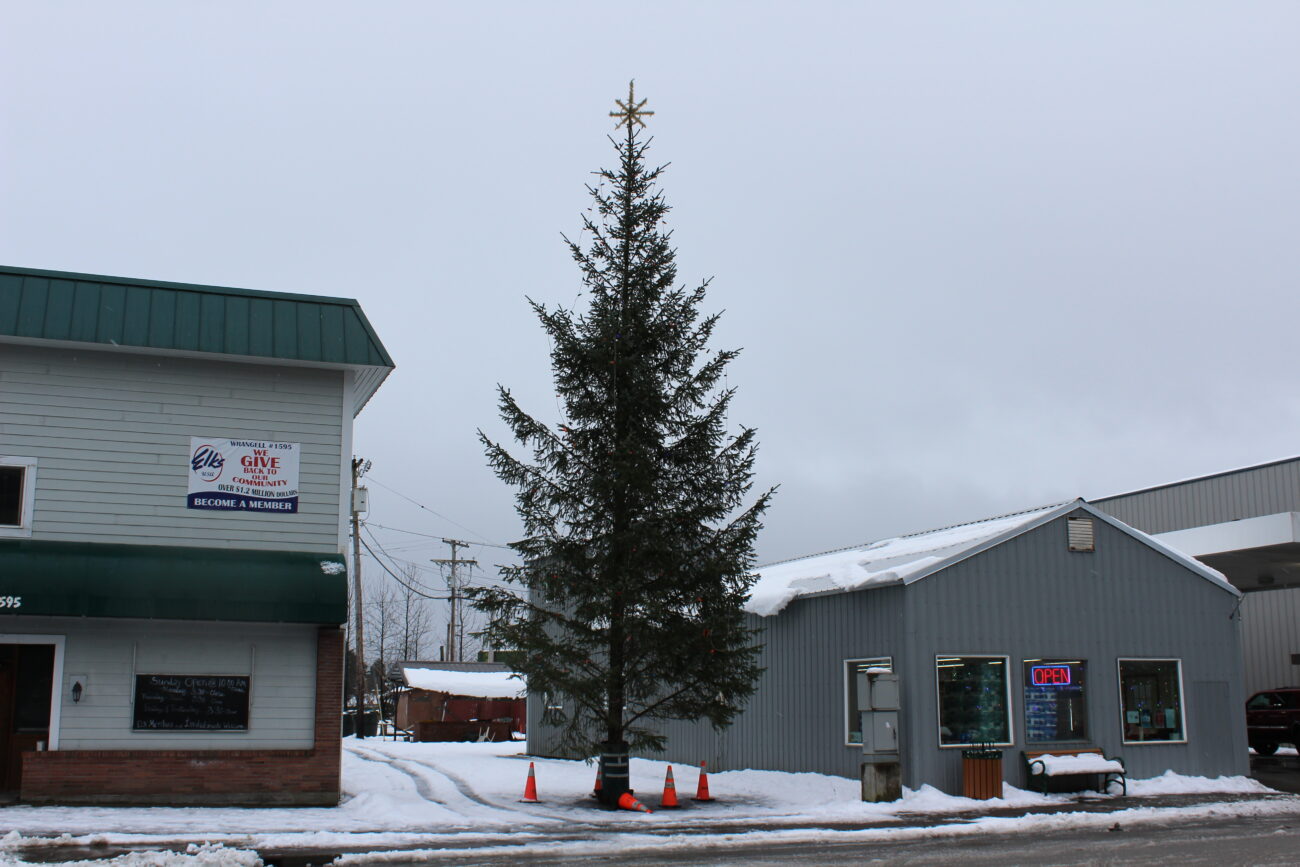 This year, Wrangell's "Midnight Madness" holiday celebration – scheduled for Saturday, December 11 – will have a new feature: Santa in a snowglobe.
Wrangell Chamber of Commerce director Brittani Robbins explains that the idea is to let all the kids get a chance to get a photo with St. Nick, without alienating anyone.
"In the spirit of inclusivity, we wanted to make sure that everyone could be involved with Santa and comfortable being involved with Santa," Robbins says, "So instead of having kids coming in sitting on Santa's lap, which could make some people uncomfortable with COVID, we decided to do Santa in a snowglobe."
Santa will sit under a large patio dome decorated with white lights to resemble snow at Wrangell's Nolan Center. Wrangell photographer Vince Balansag will be on hand to take photos, Robbins says.
"In addition to that," she adds, "Since the kids won't have the same interaction with Santa, we're going to have Santa's mailbox where the kids will drop off letters, and then Santa will return letters to them."
Robbins says the chamber will have letter templates at the mailbox, for any kids who didn't write a letter but want to participate.
"Midnight Madness" initially began as a local shopping event in the 90s, Robbins says, but has since moved to happen in conjunction with the city-sponsored holiday tree lighting.
The end result is a town-wide evening holiday celebration. Businesses will be open late for holiday shopping, the Nolan Center will host an evening holiday bazaar, and Robbins says the downtown pavilion will be full of local food vendors this year.
"We'll have three different vendors at the Pavilion, which typically we might see one," Robbins says.
The menu includes soups and sandwiches made by Baked for Breakfast, Tan's Thai Food, and hot drinks from the American Legion Auxiliary.
This year's Midnight Madness and tree-lighting ceremony were delayed by just over a week, after a sudden windstorm on the last day of November felled trees and damaged power lines around the island. The delay allowed municipal crews and vendors to focus on cleanup efforts after the storm.
The same Light & Power crew responding to outage emergencies around the island decorates the downtown tree with lights and ornaments, made by Evergreen Elementary School students.
It's the second year in a row that Wrangell's tree-lighting celebration has been postponed due to storm damage and power outages. Last year, storms hit before the holiday tree was set up, so an anonymous local artist put together a tree out of traffic cones and sticks – locally dubbed the "Grinch Tree".
Santa will be at the Nolan Center during the holiday bazaar from 4 to 9 p.m. Saturday (December 11) with a break between 5:45 and 6:30 p.m. The tree lighting will take place in front of the Elks Lodge at 6 p.m.
Get in touch with KSTK at news@kstk.org or (907) 874-2345.