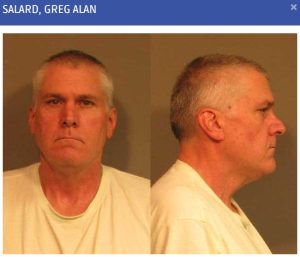 A former Wrangell doctor has been sentenced to spend the rest of his life in prison after being convicted for raping a girl in Louisiana more than 15 years ago.
Greg Salard was sentenced on Monday (December 13) to life in prison at hard labor by a judge in Caddo Parish. 
A jury convicted the 60-year-old Salard of rape last month following a trial in northwestern Louisiana.
Prosecutors say the crime occurred between 2004 and 2005. It was reported to Louisiana authorities in 2007, but charges weren't filed until 2015.
Originally from Arkansas, Salard lived and worked as a physician in Wrangell from 2009 until he was arrested in 2014 at his home on federal child pornography charges. He lost his Alaska medical license the same year.
Salard's federal conviction caused the state of Louisiana to reopen the sexual assault investigation. He was formally charged while jailed in Lemon Creek Correctional Center in Juneau in 2015. 
According to court records, Salard's sentence says he is not eligible for parole.
Get in touch with KSTK at news@kstk.org or (907) 874-2345.