A vicious windstorm that hit Wrangell in late November left some people without power for nearly two days. Some critical infrastructure including the community's water treatment plant, the airport's runway lights and a designated emergency shelter were also left in the dark.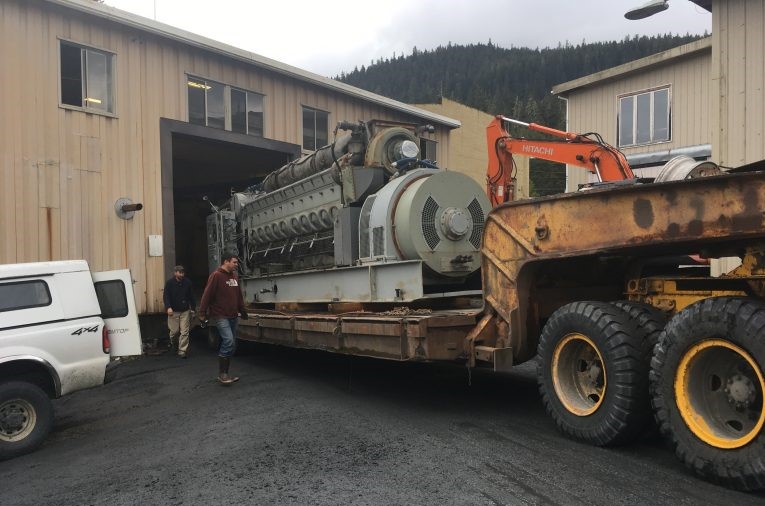 An extended power outage is always a concern. Necessary medical equipment might not work, frozen fish and meat could thaw, electric heating might be unusable. But in Wrangell, an extended power outage could cause larger, community-wide problems as well. One is drinking water.
"We do not have backup generation for the water treatment plant," explains Wrangell's Public Works director Tom Wetor. He says Wrangell's water plant stopped filtering and treating source water from the reservoirs for a few hours during the outage: "We were basically down to what we had in storage until the power came back on."
There's a battery bank at the plant that operators use to keep some things moving. But he says by and large most of the equipment is down for the count without power. And that includes monitoring the chlorine levels in the drinking water as required by law.
"And so if we're not able to maintain the chlorine, the chlorine level will drop," Wetor says, "And it did drop quite a bit during that storm during the eight, nine hours that that power was shut off."
The water plant does have about 850,000 gallons of treated water in reserve. But he says after 12-24 hours, that can run dry.
"And that's just on a normal day," Wetor says. "If we were doing high flows during the middle of the summer, or if we had a water main break in the middle of that, that time frame could be reduced to a matter of a couple hours."
Parts of Wrangell's sewer pump system also don't have electrical backups. When the power goes off, stations pumping wastewater out the road can't work.
Wetor says before power was restored down Zimovia Highway, the public works crew shut down the sewer pump stations, fearing the backed-up waste could overflow. And that's risky.
"You know, if the outage would have gone for much longer, good chance we would have seen sewage overflowing in a lot more places," he explained.
As was, Wetor says one resident of the Shoemaker Loop subdivision at 5-mile Zimovia Highway had a few gallons worth of sewage back up into their yard, which didn't happen until the power was turned back on. Even still: "It's a public health and safety issue," Wetor says.
Wrangell's municipality does have five electrical generators with capability to power the whole community. But if transmission lines are down, diesel generators can't get electricity past broken lines.
In the event of disaster, the community gym is a designated emergency shelter, as it's on high ground and thus less risky in case of a tsunami. But it doesn't have a generator. A cost estimate given to the borough assembly this month, based on a 2014 assessment, shows a generator could cost around $750,000.
Instead, Wrangell's EOC stood up a shelter in the Nolan Center after the storm. It's on lower ground, but has backup power.
Late November's storm also took out the runway lights at Wrangell's state-owned airport. That could've canceled flights. Wrangell's borough assembly has decided to allocate the remaining $80,000 of its federal pandemic relief ahead of the December 31 spending deadline to buy a 40kw, single-phase generator for the airport's runway lights. That's so that planes – including medevac flights – could get in if there's an extended community blackout.
Wrangell had already done the engineering for the project, but hadn't moved forward with a purchase.
The spending approval wasn't without frustration. Wrangell Mayor Steve Prysunka argued the Alaska Department of Transportation should be responsible for its own airport.
"Why we have to go and spend our money on state generators to keep our airport lit up is beyond me," Prysunka said at the assembly's meeting on December 14. "I think I know the answer to that. But we had the perfect storm. Exactly what we said could happen, happened, and we're out."
KSTK reached out to Pat Carroll, deputy director for DOT's regional office in Juneau. He replied by email and said the regional office is no longer installing generators at its airports. And in jet-served communities that do have them, such as Ketchikan, Petersburg, Sitka, Gustavus and Yakutat– they won't be replaced after they wear out.
He added: "This is not a formal established policy. DOT has found over time that backup power generators are rarely used and are expensive to install and maintain." Generators at Sitka and Ketchikan's airports were federally funded, he said.
Power failures in Wrangell also impact the schools. Wrangell Public Schools' maintenance director Josh Blatchley told the school board this month that a lot of systems go dark in the schools when the power's out.
"There is no heat or airflow during a power outage in the middle school," Blatchley told the school board at its December 13 meeting. "There also is no heat in the high school during a power outage because the backup generator just runs emergency lights and communications. There is heat in the elementary school with limited power supply to communications when the power is out and the backup generator is operating."
He said the district's backup power used to be more robust. But has been allowed to deteriorate.
"At some point during an upgrade, they ceased to use the middle school backup generator," Blatchley explained. "There is one, [but] I have never seen it function, and over the years it has been used for parts for the elementary school generator."
Wrangell's key emergency coordinators have told the assembly there's a lot of work to do. Fire Captain Dorianne Sprehe said at a recent borough meeting that the November storm revealed some of the community's vulnerabilities in a disaster and its plans haven't been updated in 20 years.
"There's a lot of things that we do need to work on," Sprehe told the assembly. "One of the largest items was our emergency operations plan for the city, we've kind of brought that up over and over. It was last – it was written in 2001, and has really never been looked at since. So somewhere it's holding up all the other binders that are really important. But we really need to address that."
But for electrical emergencies in the water and wastewater systems, solutions are complex, spendy or both.
For example, a backup generator for the water treatment plant would cost around $250,000. But the community is also working towards entirely replacing the water treatment plant, which could have different generator requirements.
And Wetor, the public works director, adds generators are daunting investments.
"We're a remote place that has a lot of challenges when it comes to our infrastructure, and generators are expensive. [But] we should try to have as much as we can, that's feasible and reasonable, because oftentimes, it's one of those things: you don't need it until you need it, and when you do, you need it," Wetor says. "It sounds like a lot of money, and it is, and we want to be prudent and fiscally responsible and things like that, and we also want to make sure that we are doing everything that we can to protect the life, health and safety of everybody living here."
Alaska's Division of Homeland Security & Emergency management spokesperson Jeremy Zidek says being prepared is key.
"It becomes a disaster when a community doesn't have the capabilities to respond to something," Zidek says. "Here in Alaska, we have a wide range of things that can impact us, and we really can't prepare for every contingency. That's why we have to take this all-hazards approach, because we never know what is going to happen."
That's not to say it's all darkness. In Wrangell, both the new hospital and the vacant old one have generators. The fire department has a mobile generator on a trailer it can deploy as needed. And as November's storm showed, many Wrangellites have smaller generators they can use for their own houses or to help others.
And Wrangell's capital facilities department says they're hoping to order the airport generator before the New Year.
Get in touch with KSTK at news@kstk.org or (907) 874-2345.