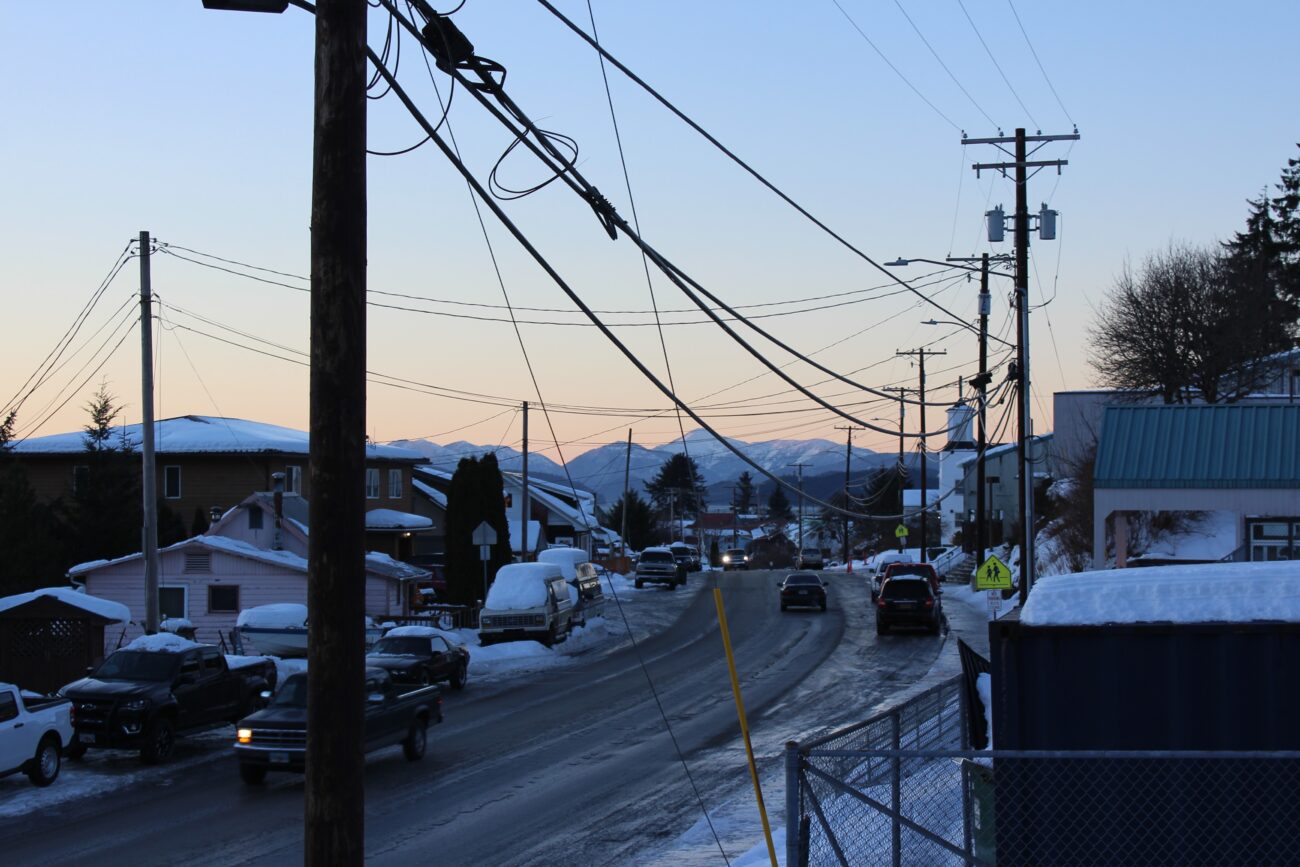 This article has been updated with new COVID case information.
Wrangell's borough has reinstated an indoor mask requirement for city facilities including City Hall, the Parks & Recreation center and the public library for the next three weeks due to a swift spike in COVID cases in the community.
Since Monday, Wrangell's known active COVID case count has jumped to 41, matching the highest active case count for the community since the start of the COVID-19 pandemic. 
There are likely more than the reported number of COVID cases in town, says Fire Captain Dorianne Sprehe, with Wrangell's Emergency Operations Center.
"When you're quote-unquote 'Playing the numbers game,' and trying to figure out how much COVID we have around the community with the new at-home test, that's going to be a lot harder to recognize," Sprehe says. "We'll be able to recognize through the economic side and what gets closed down, and the impacts to employees and employers in that fashion, I think, more than going by just a number as we were before."
The official COVID numbers reported to Wrangell's EOC come from the state's testing – administered at the SEARHC Wrangell Medical Center. But at-home COVID tests don't factor into that number unless people who test positive with an at-home test get a follow-up test at the hospital.
The EOC has distributed around 300 at-home tests to community members since mid-December, Sprehe says. She adds it's part of a larger move away from individual case reporting at the state and national levels. Without exact numbers, individuals will need to step up, she says.
"It's going to come back to just personal responsibility, doing the right thing knowing what you're supposed to do, which we have been messaging for two years now," Sprehe explains. "We're going to continue – as far as the EOC, City and Borough of Wrangell, and SEARHC – to get messaging out on how to best protect yourself and others around you, should you test positive or if you have symptoms or anything like that. But as far as keeping track of the numbers, we're going to be shifting away from that."
Sprehe says the borough has put in requests with the state for more at-home tests but hasn't received more yet: "I think everyone is having a tough time across the nation getting at-home tests. So as soon as Alaska gets another shipment, hopefully, we will be included in that."
As of Friday afternoon, the EOC had about 300 test kits stored at the Fire Hall. The borough has been delivering tests to people in the community who need them, and they're also available for pickup.
Sprehe says it's important for community members to pay attention to even mild, cold-like symptoms like a runny nose.
"We have an elderly community and I just want to make sure that we don't think that the new variant is okay because not many people are being hospitalized by it," she says, "Because there's still the impact to our healthcare system and to folks who are immunocompromised or who are elders."
The EOC says that people in Wrangell who have COVID symptoms and test positive with an at-home test should call the Wrangell Medical Center (907-874-7000) for guidance and to schedule a follow-up COVID test. Individuals can also call Wrangell's Public Health Nurse (907-772-4611) with questions about a positive result from an at-home COVID test.
According to current guidelines from the Centers for Disease Control and Prevention, anyone who tests positive from any kind of COVID test should quarantine for at least five days.
People who have been in close contact with COVID-positive individuals and have not received a booster vaccine are also directed to quarantine for five days followed by strict mask-wearing for the following five days. People who have received a booster should wear a mask for 10 days following exposure, but do not have to quarantine.
Anyone with COVID symptoms who wants to schedule a COVID test can contact the Wrangell Medical Center at 907-874-7000.
Walk-up testing for people without COVID symptoms will be available Mondays through Saturdays between 12:00 and 4:00 p.m. until the end of the month (January 31).
In addition to testing at the hospital, Wrangell also has free at-home rapid COVID test kits available at the Fire Department from 8 a.m. to 5 p.m. Monday through Friday. Contact Wrangell's Emergency Operations Center to schedule pickup at 907-874-3223 or by email at travel@wrangell.com.
Get in touch with KSTK at news@kstk.org or (907) 874-2345.