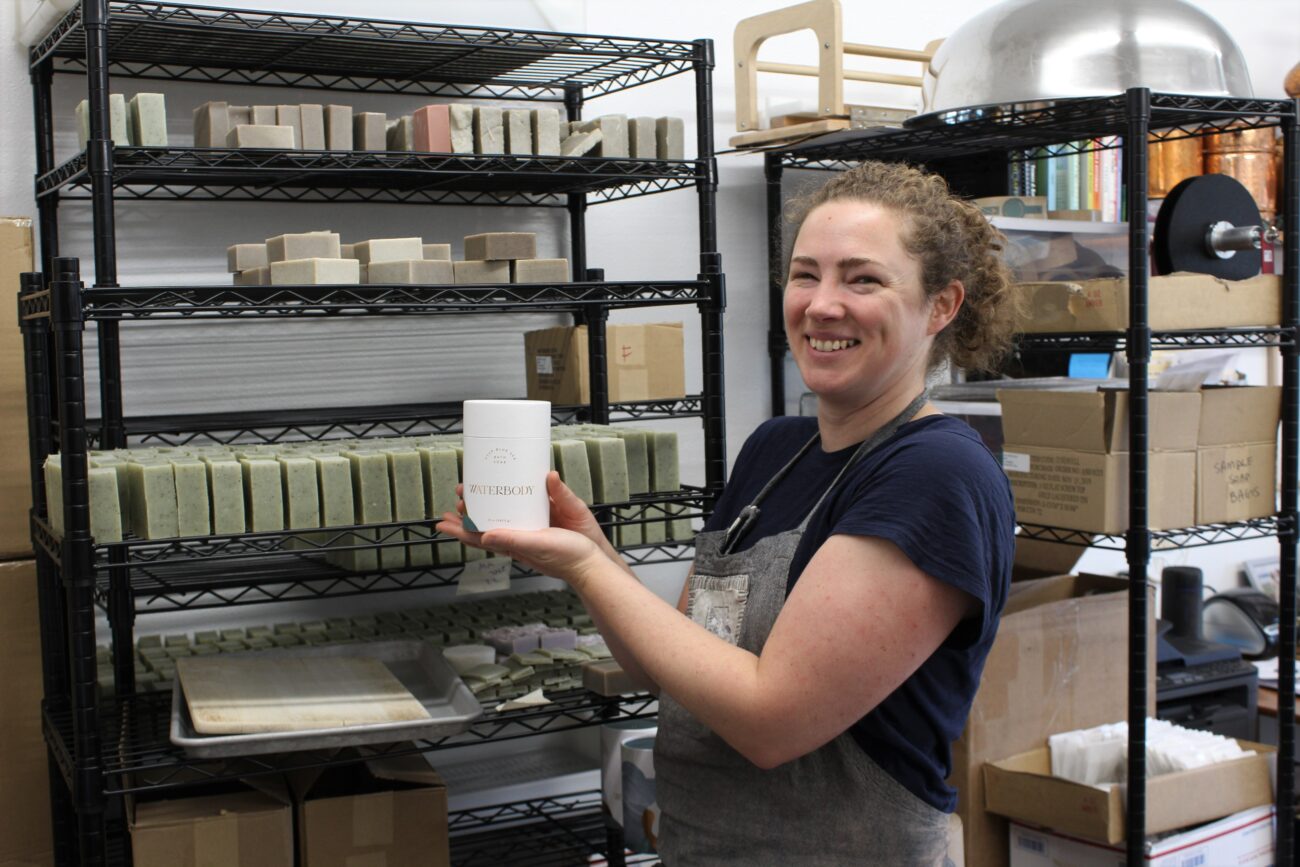 A Wrangell-based manufacturer of body care products has been recognized in a regional seafood product competition. Angie Flickinger, the owner of Waterbody, says it's an exciting win for the small company.
Walking into the 500-square-foot studio of Wrangell body care brand Waterbody, there's a wave of peppermint smell. That's because peppermint essential oil is a base ingredient of several Waterbody products, including the Deep Blue Sea Bath Soak, which beat out other top-rated products at the Alaska Symphony of Seafood to claim its 2021-2022 Grand Prize.
All of Waterbody's products are handmade in the Wrangell studio by Angie Flickinger, the founder and brand owner. And Flickinger was in Wrangell during the Juneau awards ceremony, which was put on by the Alaska Fisheries Development Foundation, a seafood industry group that sponsors the Symphony of Seafood.
"I have a friend who lives in Juneau and runs a company there," Flickinger says, "And she attended the event and told me [that Waterbody won the grand prize]."
The bath soak, which contains flakes of Alaskan Bull Kelp along with epsom salts and essential oils, had already won the seafood product competition's "Beyond the Plate" category late last year.
The Beyond the Plate category highlights innovative seafood products not meant to be eaten.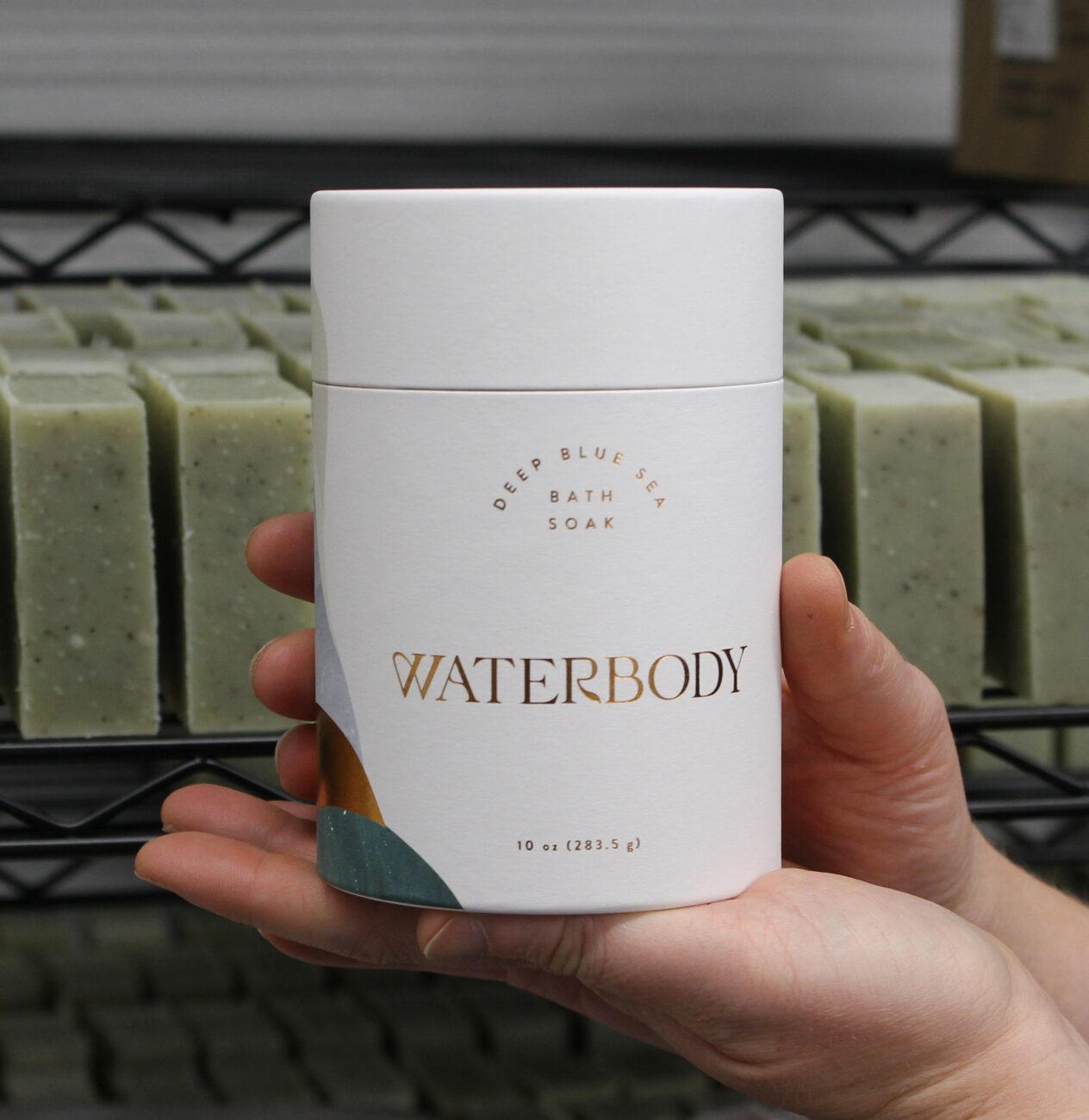 Julie Decker, the executive director of the Alaska Fisheries Development Foundation, told KSTK in an interview last September that the "Beyond the Plate" category of the Symphony of Seafood competition is meant to encourage innovation and sustainability in the seafood industry by encouraging product developers to use the whole fish, so to speak.
"It was intended to showcase some of the newer products that are being made with Alaska seafood, but it might not be traditional edible products," Decker explained, "So some of the products that have been entered are fish oil capsules, pet treats, salmon leather wallets, jewelry. I mean, really, it's like the door is wide open, you know, if it has Alaska seafood in it, it could be entered in 'Beyond the Plate.'"
The Alaska Symphony of Seafood announced category winners – including Flickinger's Waterbody – at the Pacific Marine Expo in Seattle in November. But it didn't reveal the top prize until its awards ceremony and open house in Juneau on February 25.
Flickinger says the grand prize win for a non-edible commodity was unexpected.
"It's the Symphony of Seafood," she says, "So it's very food-centric. I kind of figured my brand and my product is a little bit fringe of the overall competition. I was just happy to win 'Beyond the Plate,' and like, have that little bit of exposure and kind of tap into that market. But it was really cool to win the grand prize."
Flickinger says on a brand level, winning Grand Prize gives Waterbody broader exposure to a new sector of the seafood industry: "So you kind of access people in another realm outside of where maybe my marketing efforts or audience has reached."
Flickinger says she also sees it as an exciting endorsement of Southeast Alaska mariculture products – specifically kelp.
"I think winning with a kelp-based product is really interesting," Flickinger says, "Because there's so much momentum around kelp in the region. I've been looking at ways within the business – I already have a couple of different products that feature kelp – but leaning into that a little bit more, just because it's such a great local resource."
She continues: "The way that it's grown is really cool for the region because it's regenerative, and it's not a super extractive resource. So I want to kind of lean more into that industry and play around with some more formulations with kelp and other seaweeds, too. It's good to see a positive response for that type of product and, you know, maybe see what we can create from there."
Decker, who lives in Wrangell, said in an email that she's proud a home-grown small business secured high enough scores to win its category and the Symphony's grand prize.
Along with other first-place category winners, Waterbody wins marketing assistance, a product photoshoot, and booth space at the Seafood Expo North America in Boston this month, along with airfare to the event. The Deep Blue Sea Bath Soak will also be able to display the winner's seal of the Alaska Symphony of Seafood as a mark of excellence.
And Waterbody isn't the only Symphony of Seafood winner from the southern panhandle — Prince of Wales Island's Seagrove Kelp picked up first prize in the foodservice category for its Alaska Grown Ribbon Kelp.
Get in touch with KSTK at news@kstk.org or (907) 874-2345.