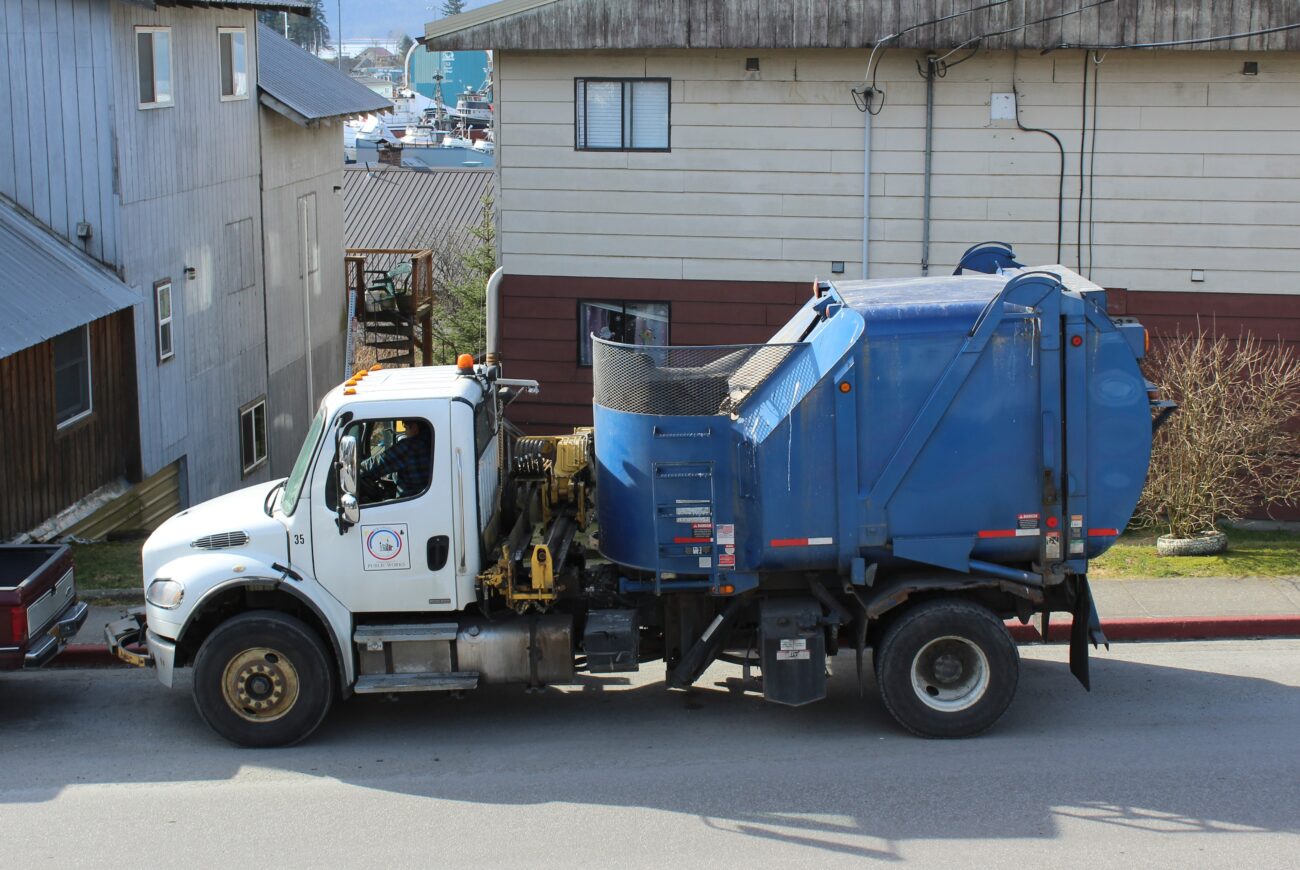 The City and Borough of Wrangell will spend around half a million dollars in state grant funds to buy a new garbage truck and fund repairs to the community's recreation center.
A new garbage truck is becoming a desperate need, borough manager Jeff Good told the borough assembly at its Tuesday (March 8) meeting – both of the community's trucks are reaching the end of their lives, and have been having issues for over a year. And the sanitation fund doesn't have the money to swing the purchase, estimated to cost around $300,000.
"Those garbage trucks are 12 to 15 years old. The recommended replacement is 10 years," Good explained. "If we lose one of the garbage trucks, it's going to make it rough, and they're in pretty bad shape. So we need to start recapping. And that's why we're also looking at what our rates are for everything, so that we can start capitalizing a lot of our equipment that needs it […] Sanitation just can't afford to do it, [but] it needs to get done."
Replacing the crumbling outdoor side paneling on the Wrangell Rec Center will use the remainder of the $469,785 the community receives from the grant program, Good says. He explained that it's a project that can fit within the financial constraints of the grant, while hopefully extending the life of one of Wrangell's many aging buildings.
"We don't want that to be in the same condition as a Public Safety Building, so we want to go and start trying to get that side and get it fixed so we don't see further deterioration for one of our buildings," Good said. "We know at least for next year, it looks like it's definitely getting pretty close. So that was a reason that was chosen, that also kind of alleviate some of the– hopefully alleviate some of the other projects and the money we have for capital improvement projects."
The $470,000 will help check a couple of projects off of Wrangell's infrastructure list, but it's not as much as the local administration was hoping for.
Wrangell had applied late last year for $1.8 million – the amount of revenue the community lost during the pandemic, according to a formula provided by the state.
But the borough finance director wrote in his report to the assembly that the state received four times more in applications for lost revenue than expected, all vying for a pot of $50 million.
Wrangell's seven-member assembly unanimously approved the borough manager's project proposals at its Tuesday (March 8) meeting, allocating around $170,000 to the pool siding replacement project and just under $300,000 to purchase a new garbage truck.
Borough manager Good said Wednesday that the process of getting a new garbage truck could take around six months. He added the borough hopes to re-side the pool building this summer.
3/9: This article has been updated with more details about project timelines.
Get in touch with KSTK at news@kstk.org or (907) 874-2345.