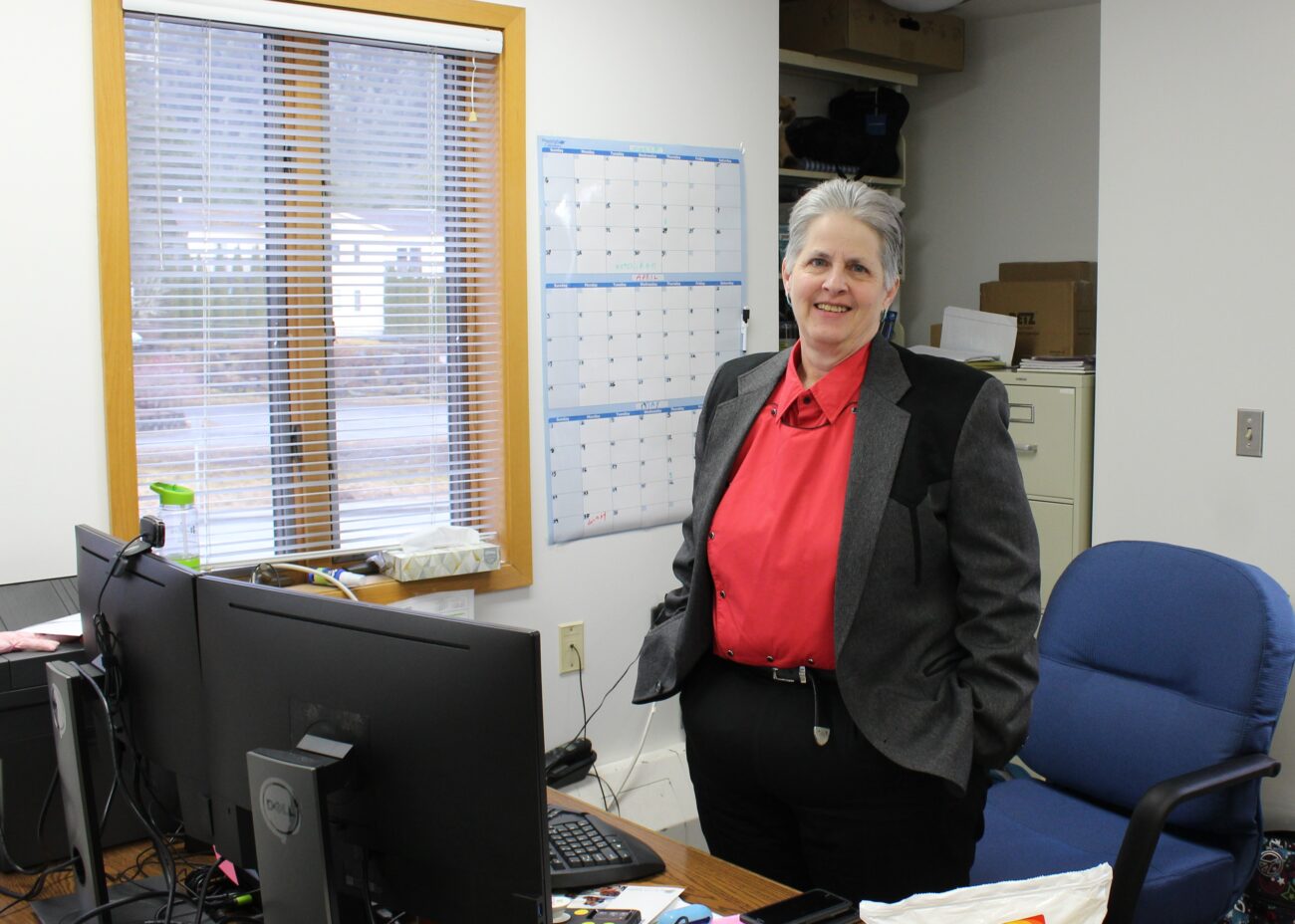 For the first time in almost 15 years, Wrangell has a local caseworker from the state Office of Children's Services. It's the result of a community effort – and commitment – to bring an agency staffer back to the island. And OCS says the partnership could be the model to bring services to other small communities.
The state Office of Children's Services, or OCS, is tasked with protecting minors from dangerous and abusive living situations. It's short on staff — a problem that's compounded during the COVID-19 pandemic — and underfunded, although Governor Mike Dunleavy has promised increased funding to child welfare services in the state.
Wrangell lost its local OCS worker more than a decade ago, in 2008. But a few years ago, the small Southeast community began a campaign to get a local worker from the Office of Children's Services back to the island. Office of Children's Services Director Kim Guay says the department heard the call.
"Wrangell started popping up as wanting to advocate for themselves [asking] 'How can we do things differently in regards to serving our families that need child protective services?'" Guay explains.
And the effort paid off. Last year, the community succeeded in getting partial funding for a local OCS position through the Legislature and across the governor's desk, with the help of Ketchikan independent Rep. Dan Ortiz. Now, for the first time since 2008, there's an OCS worker based in Wrangell, tucked in a corner office in the community's Public Safety Building.
Guay says it's a unique setup.
"Around OCS, we have never partnered with a city in jointly financing a position," she says.
As part of the agreement to bring an OCS worker to Wrangell, the local government has donated office space for the caseworker. The community has also promised to pitch in about $70,000 a year to cover half of the staffer's salary and benefits.
"This is new," Guay adds, "[So] there's definitely hiccups of trying to figure out, you know, how do we get office supplies? What internet [do we use], all those things that you don't normally think about – this is all new for us and the city of Wrangell."
The new OCS staffer in town is Jennifer Ridgeway. She's a longtime family mediator and former employee of the wilderness behavioral health program Alaska Crossings, which closed down earlier this year. She started work as Wrangell's OCS caseworker in February. She told KSTK by email that she's thrilled to be back in Wrangell and hopes to be able to help strengthen local families during difficult times.
Ridgeway won't just cover cases in Wrangell — she'll also serve nearby communities like Petersburg and Kake, in line with an agreement approved last month by local authorities.
But having an OCS worker with Wrangell as a home base will be huge, says Wrangell's middle and high schools' top administrator, Bob Davis. He's spoken to the local school board repeatedly about the need for a local caseworker.
"OCS is immensely overworked," Davis explains, "And like anybody who's overworked, people are going to grab and deal with what's in front of them. So by not having anybody in Wrangell, we kind of got pushed to the back of the line. That can be pretty traumatizing to our kids. We've had situations where OCS couldn't be here for three or four days, [and] our local police don't have the authority, and so we're having to send kids back to some pretty awful situations. By having somebody that's local, hopefully that won't happen [any more]."
In fact, in the weeks since Ridgeway has been on the job, it's already been an improvement, Davis says.
"It's already having an impact. I get phone calls from her, which is something that's unheard of in the past. She's easy to reach. She seems to be on top of things," Davis says. He's cautiously optimistic: "Now… It's early on. But I am hopeful."
Though Gov. Mike Dunleavy has unilaterally nixed funding for a Wrangell OCS office in the past, agency officials are confident that because funding for the position was added to the base OCS budget, the new job will be immune to line-item vetoes.
But that's only half the battle, says OCS's Pam Halloran: "The big question would be for the City of Wrangell, because they committed 50% of the cost as well, if they can maintain that funding for years to come too," she says.
Of course, there's always re-evaluation of where services are needed, Halloran says. Offices can and do move in and out of communities, depending on the need for local OCS workers. But Halloran says that given the community's years of advocacy, she doesn't see OCS moving out of Wrangell in the near future.
Wrangell's borough manager Jeff Good says having an OCS office in town is a boon.
"Some of the cases that we do have here locally, having someone that is local and understands everyone here, I think it's a good thing for the community," Good says.
From the borough's perspective, now that an OCS worker is back in town, the job shifts to keeping the position here, he says: "And, and I think for us, it's just making sure we document the cases we do have so that we can then build support for that position moving forward."
OCS Director Guay says that if the partnership proves successful, the agency could consider replicating the local-state partnership to fund caseworkers in other communities.
To report unsafe or abusive conditions, please call 1-800-478-4444, or 9-1-1. Reports can also be made by emailing ReportChildAbuse@alaska.gov or by fax: 907-269-3939.
For non-urgent calls, Wrangell's Office of Children's Services protective services specialist Jennifer Ridgeway can be reached by calling 907-874-3789 during business hours.
3/17: This article has updated contact information for reporting child abuse.
Get in touch with KSTK at news@kstk.org or (907) 874-2345.