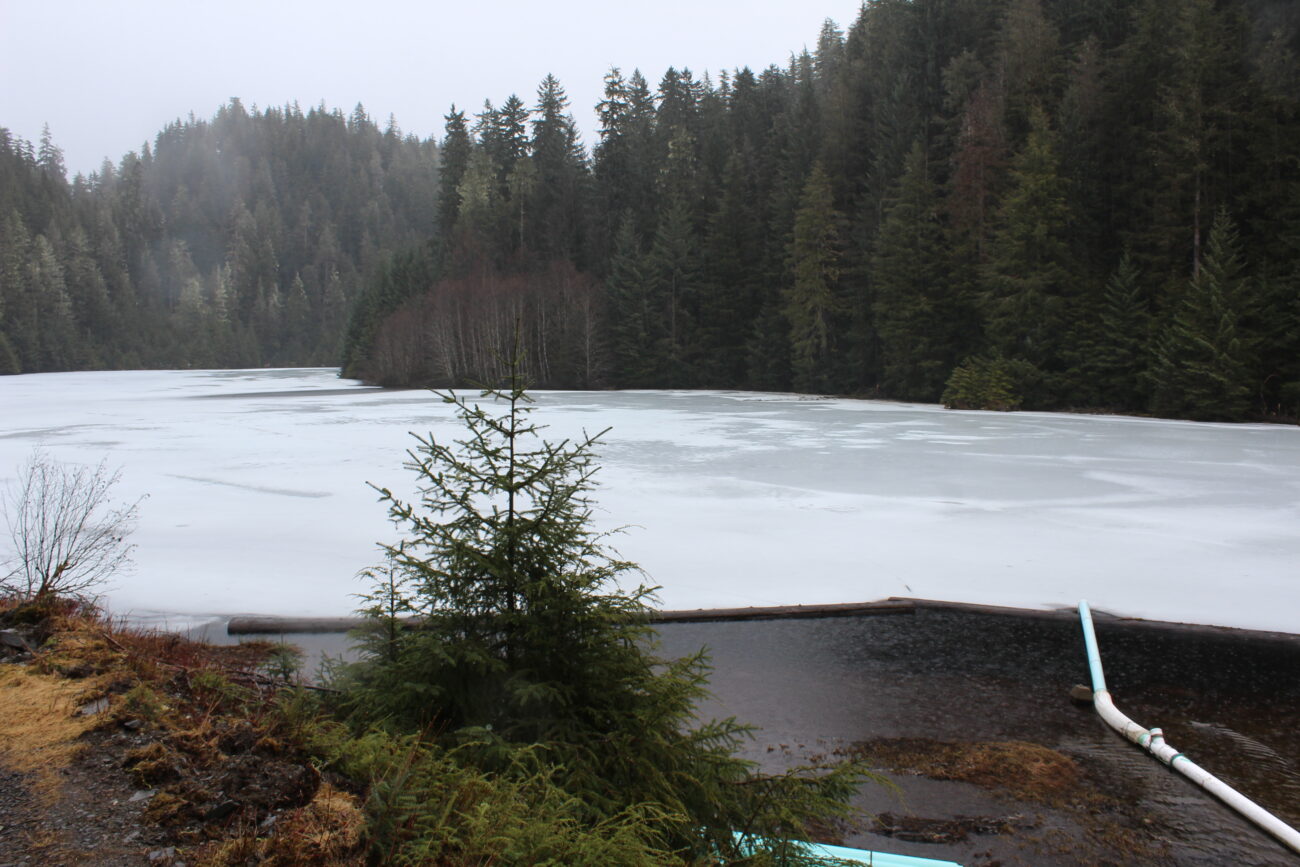 This week, the president signed a $1.5 trillion federal spending bill into law. The bipartisan bill keeps the federal government running, and includes billions of dollars in aid to Ukraine. The spending package also includes hundreds of millions for lawmakers' pet projects. A little over $2 million from the bill will go towards funding a pipe on Wrangell Island.
Wrangell's drinking water comes from two artificial lakes perched on a hill south of town. But the water plant can't draw directly from the upper reservoir, so plant operators can't clean or do maintenance on the smaller, lower reservoir without muddying Wrangell's drinking water supply. There also isn't a backup if the lower reservoir is somehow contaminated or blocked.
Borough Manager Jeff Good says a direct line from the upper reservoir to the water plant would go a long way towards fixing the issue.
"Basically, if the upper reservoir starts overfilling," Good explains, "We can pull directly from it, and pull straight down to the plant from there. So just kind of release some of that pressure off of the lower dam."
Earlier this month, Sen. Lisa Murkowski announced she'd inserted a large chunk of funding for the upper reservoir bypass project into a massive federal spending bill.
It's a pricey project, and the senator's $2.08 million earmark doesn't quite cover the whole $2.8 million estimated price tag. But along with around $615,000 that the state gave Wrangell in 2014 to get the project going, Good says the new water line will be mostly paid for.
"There will be some amount of gap, but it's pretty close," Good says. "There will probably be a little bit we'll have to dip into our reserves for – to pay the remaining amount."
Good says he's grateful to Murkowski for getting the funding for Wrangell's reservoir bypass into the federal spending bill. He says Wrangell has a lot of infrastructure needs.
"Any help we can get with more projects definitely helps," he says.
A number of other Southeast communities will also receive money from the federal spending bill. There's $540,000 for an emergency backup generator in Metlakatla, $1.2 million for landfill projects for Klawock, Coffman Cove and Craig, $2.5 million in infrastructure for Ketchikan — two more pipes, actually — plus about a half million for Ketchikan shelters for domestic violence survivors and people experiencing homelessness, and $8 million towards a new hospital in Petersburg.
Good says the borough hasn't received a timeline for when the funding might arrive in local government accounts, and thus isn't sure exactly when work on the new pipe will get underway.
But the upper reservoir bypass project is only the beginning of the upgrades Wrangell's drinking water system needs. The earthen dams holding back Wrangell's drinking water supply were found to be some of the least stable in the state, according to a 2015 study. Engineers say the sometimes-leaky, century-old dams could fail in an earthquake and flood homes.
Wrangell's Borough Assembly commissioned a new $100,000 study late last year aimed at figuring out the best way to stabilize the aging dams. Good says Seattle-based engineering firm Shannon & Wilson is scheduled to get going later this spring, in April or May. There's some specialized equipment that will need to be brought in.
"We have to wait for the weather to clear to get that truck down there to be able to do the work," Good says.
While improvements to Wrangell's drinking water reservoirs are underway, the community is also in the process of designing a new water filtration plant. Last month, the borough assembly approved $1.1 million to design a plant that will address some of the community's other issues with drinking water production and decontamination.
Get in touch with KSTK at news@kstk.org or (907) 874-2345.