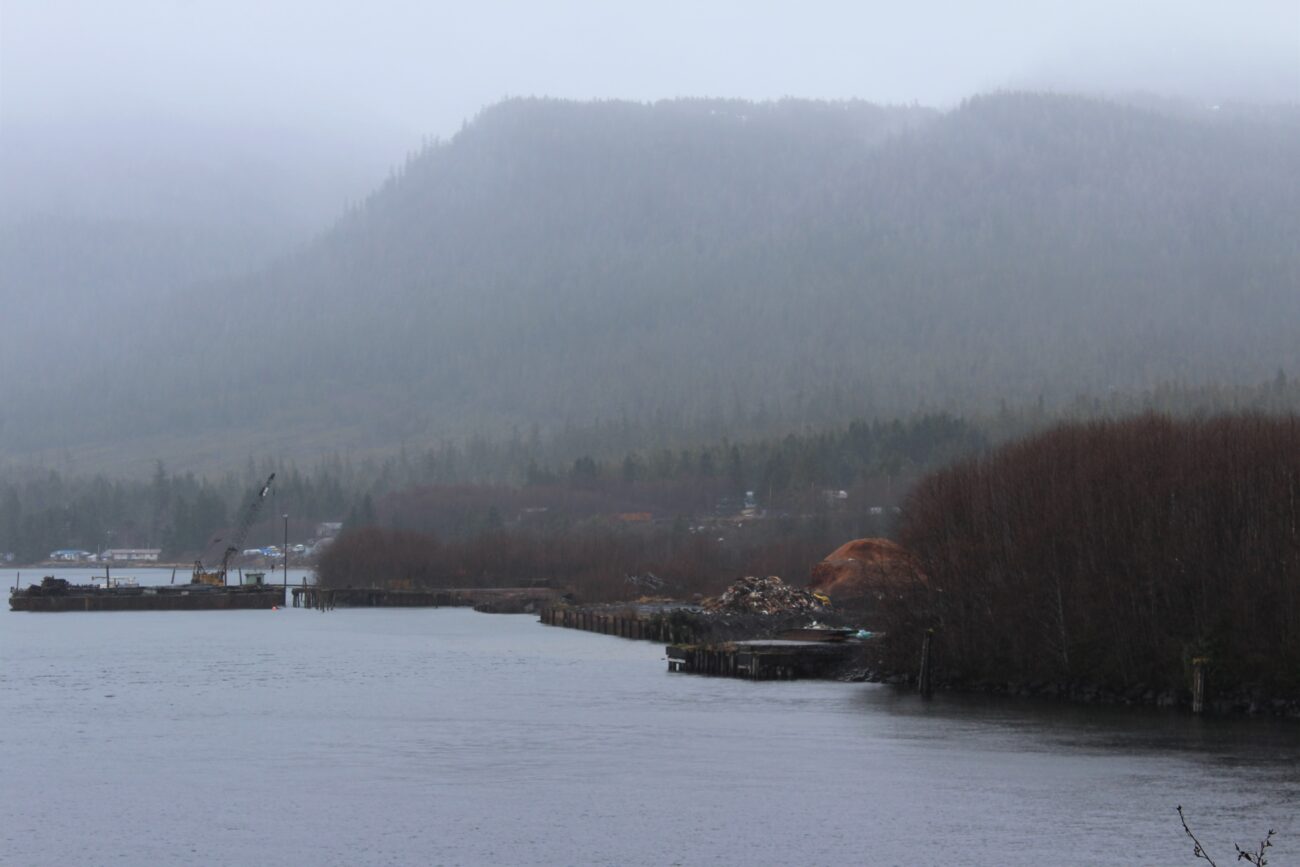 When Wrangell's sawmill shut down in the 1990s, it devastated the community – the island lost a quarter of its jobs, and around a third of its income in one fell swoop. Now, the local government is taking steps to close a $2.5 million deal to buy the nearly 40-acre waterfront industrial property in an effort to reinvigorate the local economy.
The music soars, and the camera flies over thousands of trees, rafts of timbers being pulled by tugs through the straits of Southeast Alaska.
"As old as history itself, this craft of harvesting trees for the benefit of man," the narrator intones. "The first shelters man built were made of wood. The first words man wrote were written on wood paper produced by the Chinese, 5,000 years ago."
This is the introduction to a video produced in the late 1990s by Dick and Betty Buhler to highlight their company, Silver Bay Logging. The Buhlers had just bought the former Wrangell Lumber Company mill site in Wrangell, which had – like many other Southeast lumber mills – closed in the mid-1990s, devastating the local economy. At its peak, the Wrangell mill employed almost 250 people and brought in well over $10 million per year. Silver Bay's revival wasn't at the same scale: the Silver Bay Logging video shows that at the time, the mill employed 42 people to export lumber and wood chips.
Silver Bay had an impressive footprint, using industrial helicopters and heavy equipment to build roads and helicopter log in treacherous terrain from Washington state out to Kodiak Island. But it couldn't fight the same economic headwinds that had felled other large-scale mills in the region. Silver Bay Logging filed for bankruptcy in 2003 and ceased operations in Wrangell in the late 2000s.
Now, the 38.59-acre old Wrangell mill site, six miles out Zimovia Highway, sits mostly empty, with three warehouse-type buildings and an old mechanic shop. Parts are paved or graveled. Real estate agent Bennett McGrath says the property owner, widowed Betty Buhler, was ready to let the property go.
"She said she felt like she was saddled with a dead horse with the mill site because she had been through so much financial expenditure with regards to remediation and cleaning up and closing it up," McGrath says.
It had been on the market since 2019 – 854 days, according to McGrath. Now, there's a "Pending" sign under the logo of Petersburg-based Anchor Properties.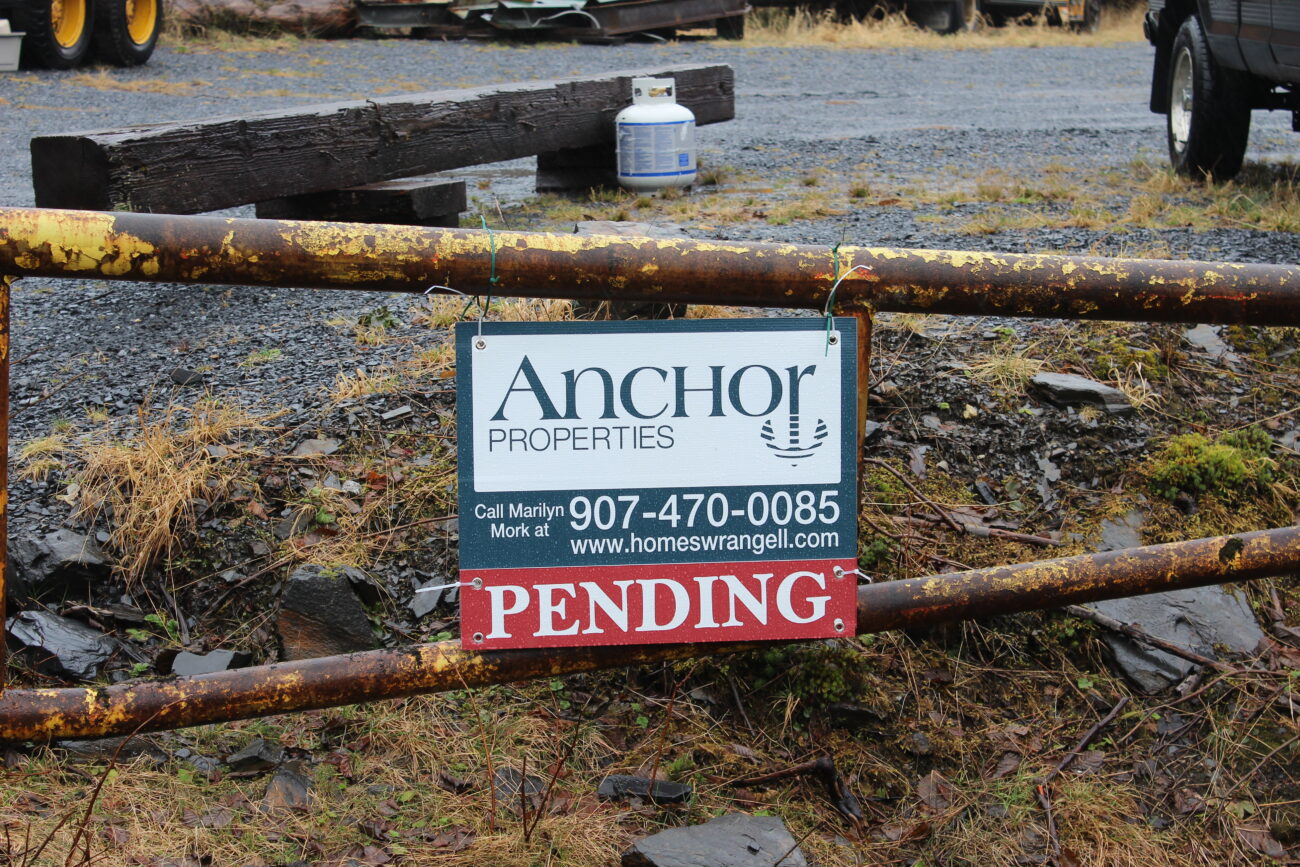 For a while, she and fellow real estate agent – the late Terry Wenger, who McGrath says masterminded the listing of the old mill – worked to fulfill the borough's specifications to turn the area into a waterfront industrial subdivision. McGrath said there was plenty of interest in the lots, but little came of the larger sale: "Because how many people out there have $2.7 million to finance or acquire in cash?" McGrath asks.
A few months ago, McGrath received a call from Wrangell's new borough manager, Jeff Good, asking whether the mill property was still on the market. The borough assembly met in closed sessions late last year (December 14) and early this year ( January 11) to "Discuss the possible acquisition of land." Then, the old mill property was named on the February 22 assembly agenda as the property of interest.
"And then the next morning Jeff called me," McGrath says, "And said, 'Did you hear?' and I'm like, 'I couldn't hear what happened in the executive session because you were behind closed doors' […] Anyways, he said 'We'd like to make an offer.'"
The borough, McGrath and property owner Betty Buhler settled on a $2.5 million price tag. Wrangell finance director Mason Villarma says he thinks that's a pretty good deal.
"It's 40 acres at $2.5 million. And if you look at the housing market, and just the land available in Wrangell, $2.5 million makes a lot of sense for 40 acres," Villarma says. "It's hard for somebody like me to even find a house and property."
Villarma says that if the purchase goes through, roughly half of the money – about $1.3 million – will come from the borough's economic recovery fund. The money was originally budgeted to kick off development at the former Bureau of Indian Affairs boarding school site near Shoemaker Bay, but the process stalled last year after Canadian officials found unmarked graves on the site of a residential school in British Columbia. The other half would come from the borough's reserves.
The site needs some work. For one, there aren't utility hookups at the old mill – water, sewer and underground electric lines would have to be brought in from where city lines terminate, a few hundred feet away.
Villarma says that could mean the property needs thousands of dollars worth of work, "But the hope is to work with some larger organizations that may come and establish roots here in Wrangell, to have those costs shared with businesses, you know, hopeful that some of these businesses are gonna be able to accommodate us and work as partners towards that goal," he continues.
It's not the first time the borough expressed interest in the property, but it's the first time it's made an offer. A property assessment completed in 2016 recommended the City and Borough of Wrangell work towards buying the site, but three years later, shortly after the old mill site was put on the market, the assembly backed out of talks to take over the mill property, saying it was too much for the community to take on.
Asked what's changed now, borough manager Jeff Good says the interest didn't wane in the first place.
"I think the borough was always interested in the property," Good says. "I think there's a lot of potential there for the community, especially for the long-term development of Wrangell looking out in the future, so I think the interest was always there."
If the sale goes through, then, what will Wrangell do with the property? Borough officials have a range of ideas.
For Wrangell Mayor Steve Prysunka, the property has promise because of its features. The site is a deepwater port, opening up the possibility of larger commercial vessels. In Ketchikan, for example, the former pulp mill site pivoted from timber to tourism, and is now a cruise ship dock. Sitka's former mill site became a deepwater port and industrial park.
"What we didn't really want to see it used for [was to see it] sort of parceled out into small lots, and lose that ability for a larger application," Prysunka explains. "We've had people approach the city over the years with ideas. But because we didn't control it, it wasn't ours, we couldn't pursue things with folks."
He says, for example, former Gov. Frank Murkowski recently introduced borough officials to an unnamed member of the tourism industry who had some ideas for the former mill site. But without the mill in public hands, Prysunka says there's not much the borough can do to spur investment.
"We can't negotiate or talk to that person, or get excited or generate ideas because we don't have site control. Now if that person wants to come back after we own it, and wanted to talk about that, that could be a possibility," Prysunka says.
Borough finance director Villarma floats a few other ideas — maybe a processing facility for a mine, or something mariculture-related.
"Obviously, all these ideas are preliminary," Villarma notes, "But I think it's a vital step in Wrangell because economic expansion in Wrangell is tough with our geography. This is a key step in being able to move forward."
Villarma says the borough is also looking into partnerships with a wide variety of organizations – everyone from the local tribal government to Alaska Marine Lines and Sealaska.
And he's optimistic.
"I have no doubt that $2.5 million will be returned 10 times over in the borough's future," Villarma says.
Prysunka says all paths are open, in terms of what the site could become. 
"We're not blocking anybody out," he says. "We're not saying 'No' to anybody that has an idea for some type of purpose for that property."
In fact, Prysunka says he hopes the borough won't be the long-term owner of the mill property.
"My dream would be that we're able to turn around and sell that mill property to somebody that wants to build something out there and invest in the community," Prysunka says, "And we recoup all of our funds in a short period of time."
The property has already been extensively cleaned up to state and federal environmental standards, but there are still areas that need to be cleared of junk and machinery. Before a purchase is finalized, broker McGrath says there are a few boxes to check. One is the appraisal, which Wrangell's borough assembly approved spending $22,500 for at its March 8 meeting.
"It's going to be a pretty significant undertaking," McGrath says. "What do you comp a giant mill with?"
If the appraisal and title report search come back at the offer price, and some cleanup activities are squared away, McGrath says the borough could close on the property in June.
Get in touch with KSTK at news@kstk.org or (907) 874-2345.