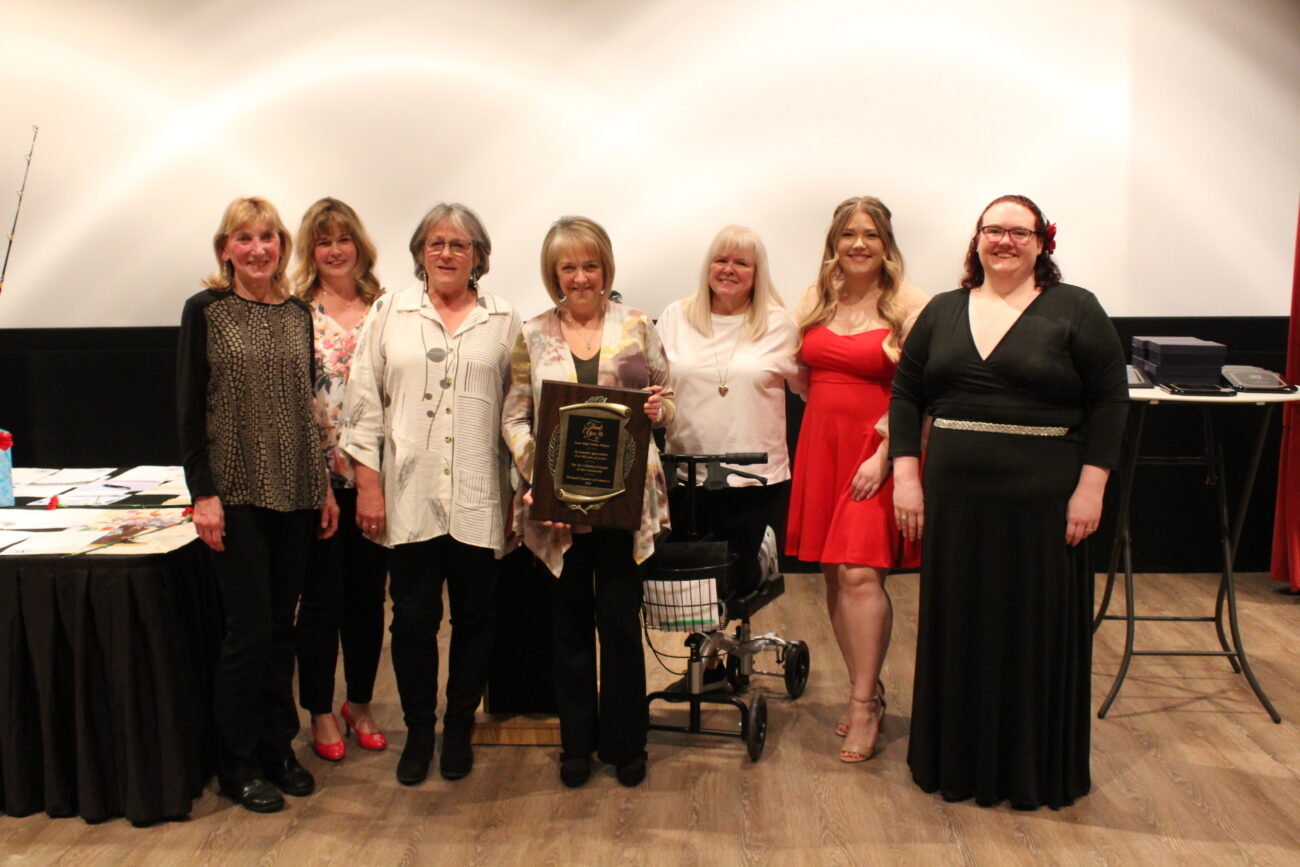 Wrangell's Chamber of Commerce has named the director of the community's legislative information office and election official, Sarah Merritt, Wrangell's Citizen of the Year.
Chamber Director Brittani Robbins announced the award at the chamber's April 9 dinner. At the dinner, she read from a nomination letter submitted by Wrangell mayor Steve Prysunka who described Merritt as an everyday superhero to the community.
"Our hero never wears a cape or a mask She openly wanders amongst us. Usually walking the bike path with Margaret Villarama. She is Sarah Merritt and she is truly an outstanding citizen and represents what we should all strive to be. Understated, kind, solution-focused, and devoted to the democratic process. She is a super citizen and truly deserves to be citizen of the year," Prysunka's letter concluded.
The Friends of the Wrangell Library, of which Merritt is a member, were the Chamber's honored guests at the event. Wrangell Chamber director Robbins told KSTK after the event that Merritt was also nominated by Ketchikan independent Rep. Dan Ortiz.
Wrangell high school sophomore Mia Wiederspohn was presented with the chamber's "Young Leader of the Year" award for her work in preserving and promoting the Tlingit language.
Special education teacher Barb Neyman won the chamber's "Educator of the Year" award. And the Wrangell Sentinel won "Business of the Year," which came under new ownership last year.
It was the first Wrangell Chamber dinner since before the start of the pandemic. Robbins says the chamber will add two new awards to next year's chamber dinner: "Nonprofit of the Year," and "Volunteer of the Year."
At the event, the Chamber also announced the theme for this year's community Fourth of July celebration: "A River Runs Through Us." The chamber will hold a contest to determine this year's Independence Day logo, and the winning design will win $1,000. Entries are due by May 6.
4/13: This article has been updated to show that Mia Wiederspohn is a sophomore in high school, not a junior.
Get in touch with KSTK at news@kstk.org or (907) 874-2345.