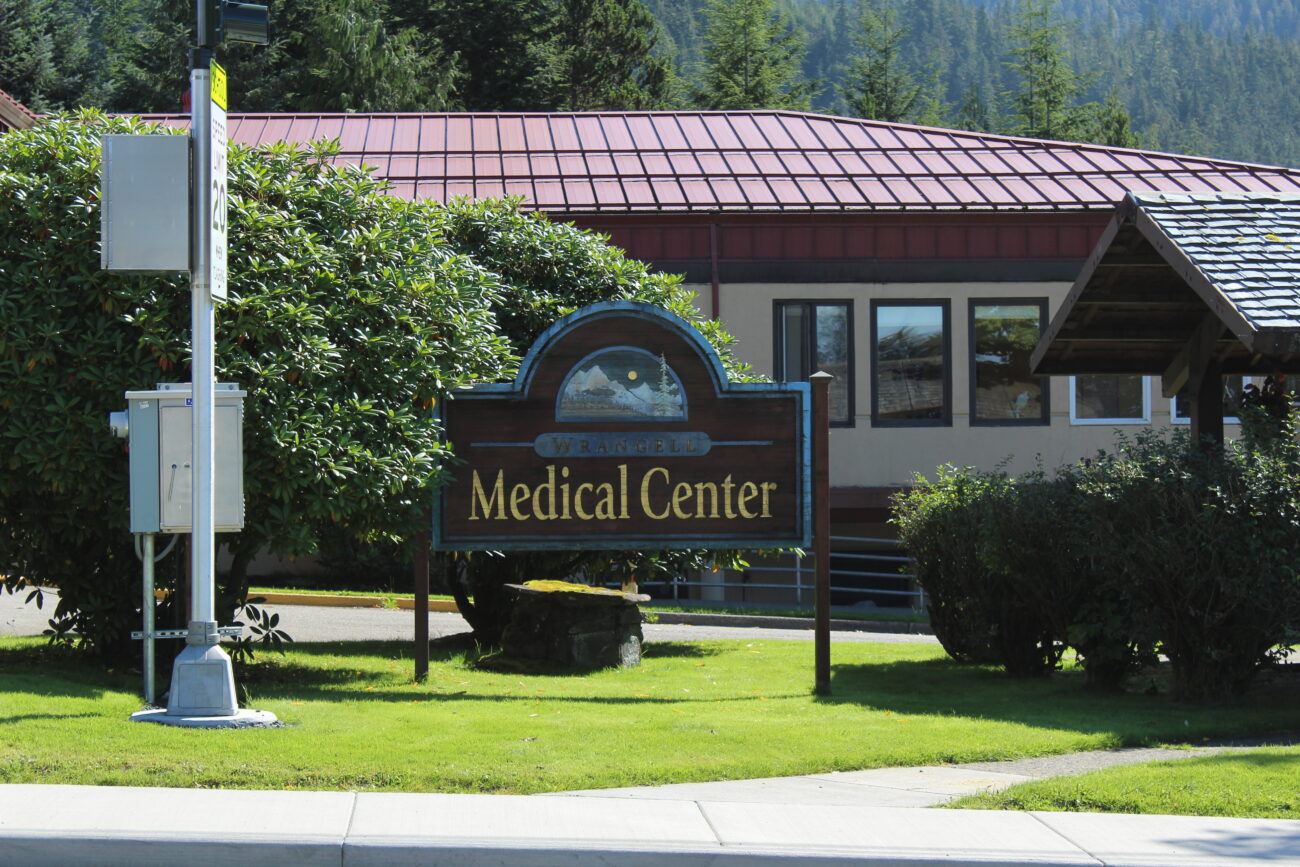 Wrangell's elected leaders are considering putting the former community hospital building and surrounding property up for auction. But some worry about giving up control of the land, and there are also possible legal concerns.
Wrangell Island's first hospital, Bishop Rowe Hospital, was built in the 1920s and decommissioned in the late 1960s. After it was replaced by the red-roofed Wrangell Medical Center just down the road, Bishop Rowe became apartments.
Now, the 54-year-old Wrangell Medical Center facility has been replaced by a new hospital a mile away, run by the Southeast Alaska Regional Health Consortium (SEARHC).
Wrangell's borough assembly is trying to figure out what will become of the old Wrangell hospital, but apartments aren't on the table.
Late last year, the borough received a letter of interest in the property from a Florida-based addiction recovery treatment company, which is looking to expand to Southeast Alaska. Looking further into that possibility required some leg work, including an appraisal. Earlier this year, Wrangell's assembly spent $30,000 on an appraisal of the 1960s-era hospital and surrounding land. Altogether, the property was found to be worth $830,000. 
Borough staff suggested the site be put up for auction on a public surplus site, which has successfully been used to auction off public properties in Wrangell before.
But the thought of putting the old hospital and land up for auction gave assembly member Jim DeBord pause at the assembly's April 26 meeting.
"You're giving up your site control for basically $300,000 over what the value of land is," DeBord explained. "I worked there [at the old Wrangell Medical Center, and] we looked at remediating that facility versus building new back when it was under the city's jurisdiction, and it was like a $20-some-million dollar estimate to bring it up to code. I don't see somebody coming in with an extra $20 million laying around bringing it up to where it should be. I think there's a very good potential that somebody's buying it for the price and getting in well over their head and then we've got another significant issue and [the control is] out of our hands."
DeBord also brought up another concern – the old hospital site had been discussed as a possible short-term solution for housing police officers and firefighters while the community works to repair or replace its aging public safety building.
"To me, it's way too much risk for $800-some-thousand dollars when the majority of that is the land value," DeBord continued.
Assembly member Dave Powell said he felt those concerns were overblown.
"When you sell something, you don't get to say what's going on with it. I mean, someone buys it, it's theirs," Powell said. "And whether we have a problem and later on down the road is beside the point. I am 100% for getting rid of properties that we have, we have no reason to have them."
However, Powell agreed he felt the hospital could be important in the process of re-doing Wrangell's Public Safety facility.
"But," Powell said, "I'm not going to wait three to five years, and we sit on [the old hospital] property that we could be getting taxes on. That's ridiculous."
Borough manager Jeff Good told assembly members that if the borough had the millions of dollars in funding required to demolish the old hospital and prep the site, it would make an ideal location for a new Public Safety Building. But the money isn't there.
"There are a ton of issues with [the old hospital]. We start talking about remediating the Public Safety Building – I'd much rather do that than start trying to remediate the Medical Center because it's got way more issues than [the] Public Safety [building]," Good told the assembly. "I definitely don't want to start remediating the Wrangell Medical Center."
Good said the borough is looking at a number of potential options for remediating or replacing Wrangell's Public Safety Building. Good also pointed out that the borough is spending just under $100,000 a year to keep the old hospital from going further into disrepair – another reason to potentially sell the site.
"We still provide heat to it, we still provide electrical power to it. And then we also still do the maintenance to that building. Because if we don't, then it'll fall apart, it'd be a public safety hazard," Good said.
Beyond potential uses to the borough during the Public Safety Building replacement project, assembly member Patty Gilbert also brought up a potential legal issue with putting the old Wrangell Medical Center up for auction.
Borough code states that a sale of borough property over $1 million has to go before the voters of Wrangell, but it's not clear whether an auction of property that could, but might not, net over the million-dollar mark would fall under that law.
"When we're going out to bid, […] are we in financial and legal jeopardy if we offer a property, and it does go up past a million [dollars]?" Gilbert asked at the end of the discussion.
Wrangell's assembly postponed moving towards a public auction of the property until its May 10 meeting, so officials can consult with the borough attorney about whether a million-dollar bid could pose problems. Borough staff say that the earliest the former hospital could be up for auction would be mid-May.
Get in touch with KSTK at news@kstk.org or (907) 874-2345.