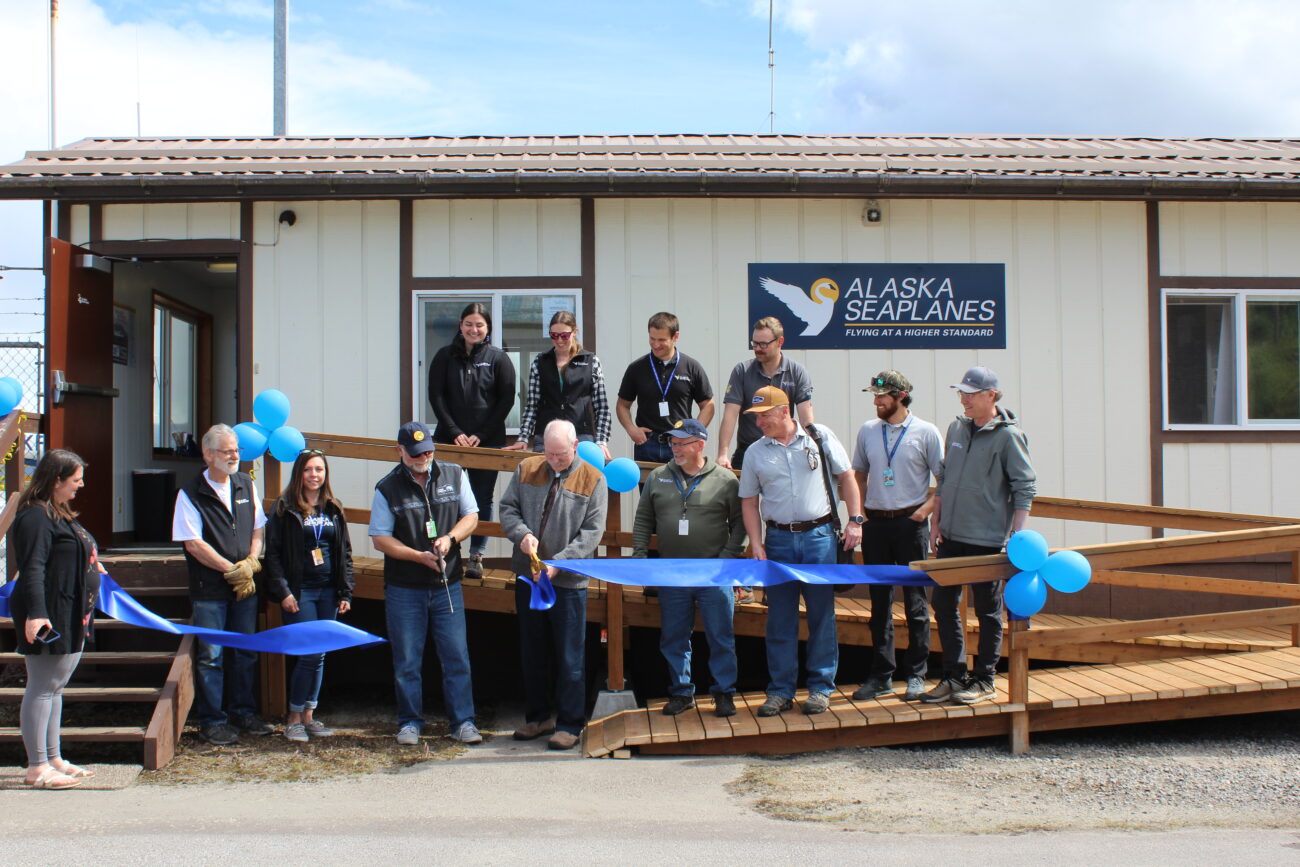 A new commuter air service has landed in Wrangell, offering a daily loop connecting the community to Sitka and Petersburg. 
Gate Three at the Wrangell Airport hasn't seen a lot of action in recent years, but that's going to change.
Alaska Seaplanes kicked off its new route May 26. It's a daily loop between Sitka, Petersburg and Wrangell. Sitka and Petersburg already have service from the Juneau-based airline, but Wrangell is the latest addition.
To celebrate, the company opened the Wrangell office with a party, which included blue balloons – one of the company's colors – and local catering from Sweet Tides, with a cake in the shape of a Pilatus PC-12, one of the nine-seat planes that will fly the route.
For some event attendees, like Seaplanes CFO Max Mertz, Wrangell isn't a new stop, personally. 
"I've been here many, many times," Mertz said. "It's been a few years since I've been to Wrangell, but used to come here a lot for work, and so it's fun to see us starting to provide service to connect Wrangell and Sitka in a way that it's not right now."
Pilot Jordan Allen, who flew the inaugural flight, hadn't been to Wrangell before. But, he said, the flight was a breeze.
"It was great, great weather coming over here. A little bit more clouds than expected but no problem at all," Allen said. "Looking forward to having the whole summer to come down here."
Sitka Republican state senator Bert Stedman was one of the passengers on the first Wrangell flight. He said he especially enjoyed the views of Baranof Island and the water between Sitka and Wrangell.
Stedman said he sees the new commuter service as an important connection for the Wrangell community.
"This is gonna be a great service getting to Sitka and back," Stedman said. "East to west has been very difficult for years and years, and then we'll have more opportunities here in Wrangell to get in and out, so that'll be good."
Alaska Seaplanes – which operates both floatplanes and wheeled planes – announced the new route last month.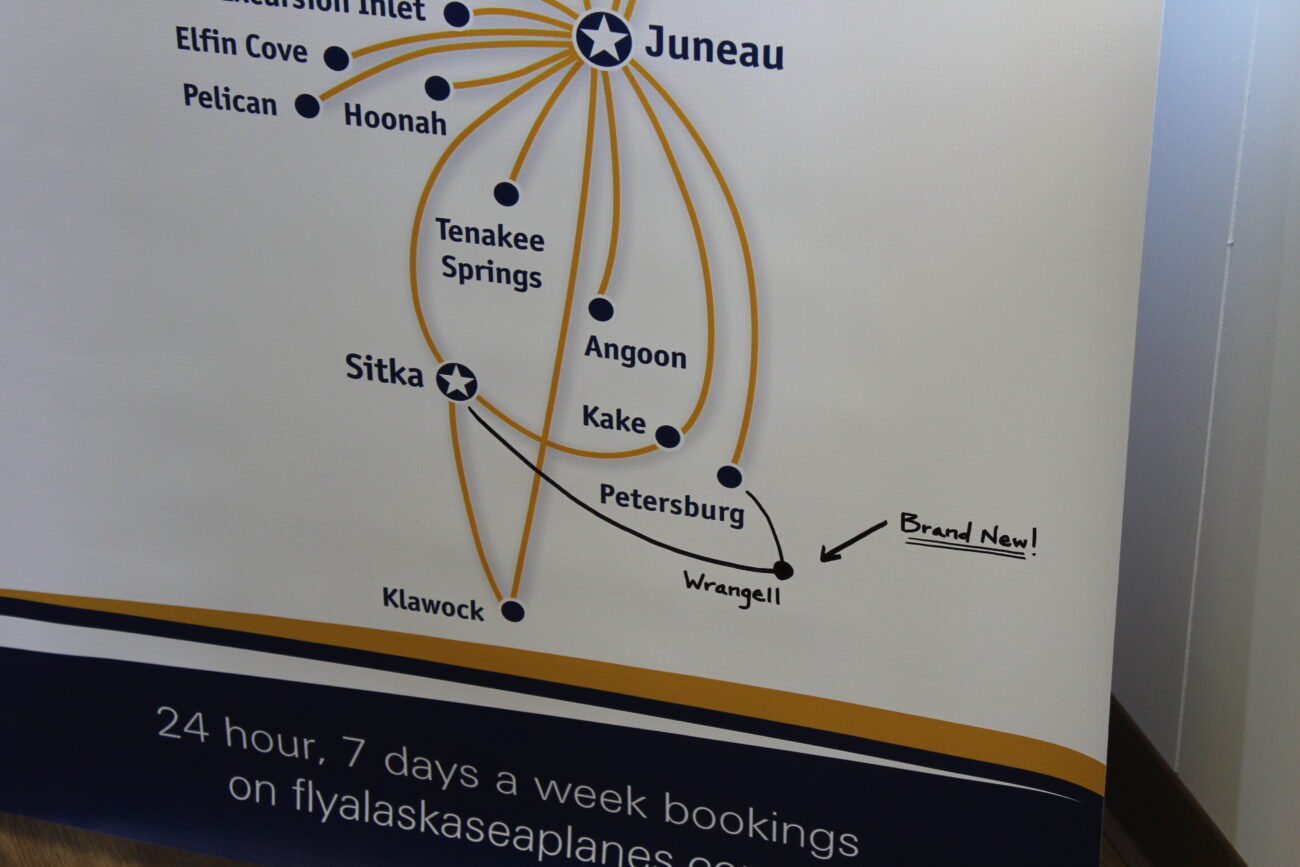 A lot of the work to set the route up involved making the tiny brown and cream trailer that serves as Alaska Seaplanes' Wrangell office serviceable. Trisha Dawson, the director of outstations for Alaska Seaplanes, said the building sat dormant for a while.
"This has been a really fun adventure getting this place up and running and resurrecting this building – customs was based out of here a few years ago," Dawson explained, "So here we are: first day, first flight, we're pretty excited about it."
Dawson said Alaska Seaplanes hired local plumbers and contractors to help out: "Did a little bit of sprucing up, to the place that needed a little TLC, but it was in pretty good shape other than that," she said.
Alaska Seaplanes has also hired two local office staff to assist with bookings, check-in customers, and move freight. 
Seaplanes General Manager Carl Ramseth was another newcomer brought to Wrangell by Alaska Seaplanes, but came in on an earlier chartered flight.
Ramseth said that connecting an ever-expanding number of Southeast communities has been a fundamental part of the company's business plan for years. Since 2014, Alaska Seaplanes has added routes crisscrossing central and southern Southeast.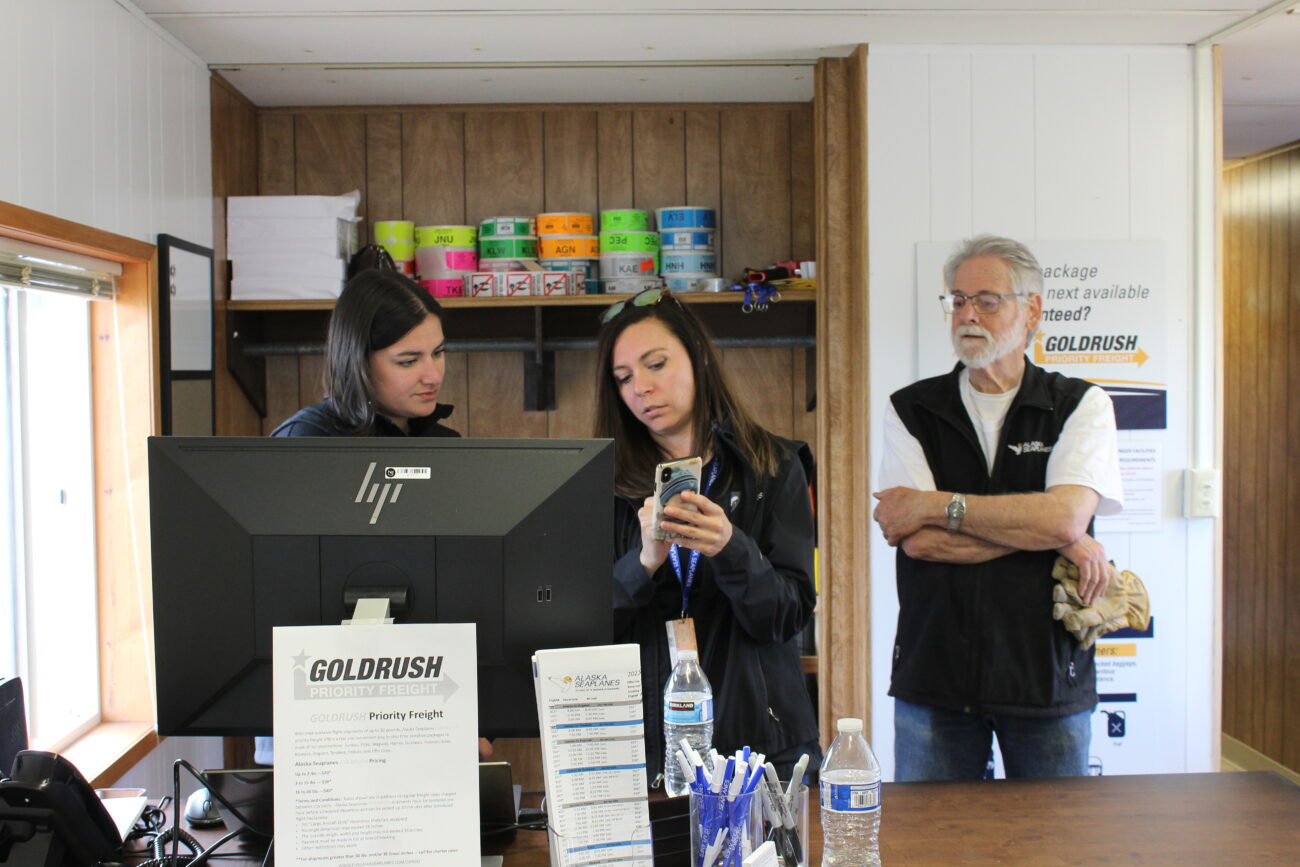 He said one piece of that expansion has been a partnership with the Southeast Alaska Regional Health Consortium (SEARHC), which owns and operates hospitals and clinics around the region.
"It's nice to have that as a passenger base," Ramseth said, "And then we also learned over time that [with] a lot of other businesses and just personal travel, there's a need for quicker connections."
It's not just medical staff, but patients who can benefit from a direct flight from Wrangell to Sitka, where SEARHC is headquartered. Wrangell Chamber of Commerce director Brittani Robbins explained she has to travel multiple times a year for medical appointments.
"This would be super helpful to get you into one of the bigger islands where it's a lot less expensive to go on Alaska Airlines to get to the lower 48," Robbins said, "So I'm excited for that. My husband flew Alaska Seaplanes from Juneau to Klawock to do work for SEARHC, and he said it was really cool."
As a part of the first flight celebration, Robbins brought ceremonial scissors for a ribbon-cutting ceremony. Someone walked by with a large golden pair.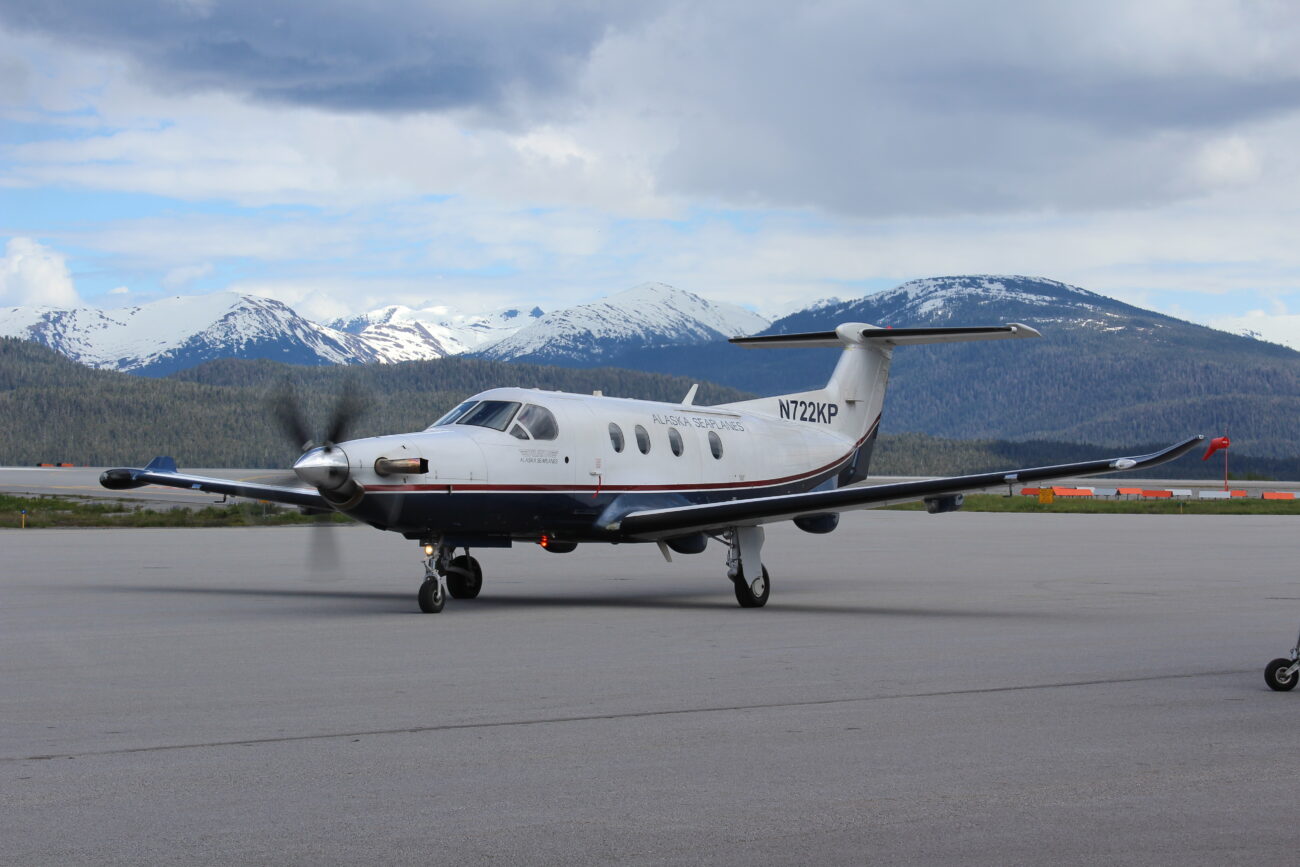 "Those are from Juneau's Chamber [of Commerce]," Robbins said, joking: "I can't wait to tell them I have bigger scissors than they do."
Sen. Stedman, using the smaller, golden pair of scissors, stood next to his cousin and Alaska Seaplanes owner Mike Stedman, behind a roll of royal-blue ribbon.
"It's a great day to be in Wrangell for the opening day of Seaplanes' east-west traffic," Stedman said. "I'm proud to be here as your senator to help out this glorious day, and to make sure my cousin Mike does it properly when he cuts the ribbon." 
With laughter and applause, Wrangell's new airline office opened for business.
Flights on the new Wrangell Alaska Seaplanes route are booking for about $340 one way. The Sitka, Petersburg, and Wrangell loop will take about two hours each afternoon, leaving Sitka at 1 p.m. and arriving back at around 3 p.m. Find more information at FlyAlaskaSeaplanes.com.
Get in touch with KSTK at news@kstk.org or (907) 874-2345.