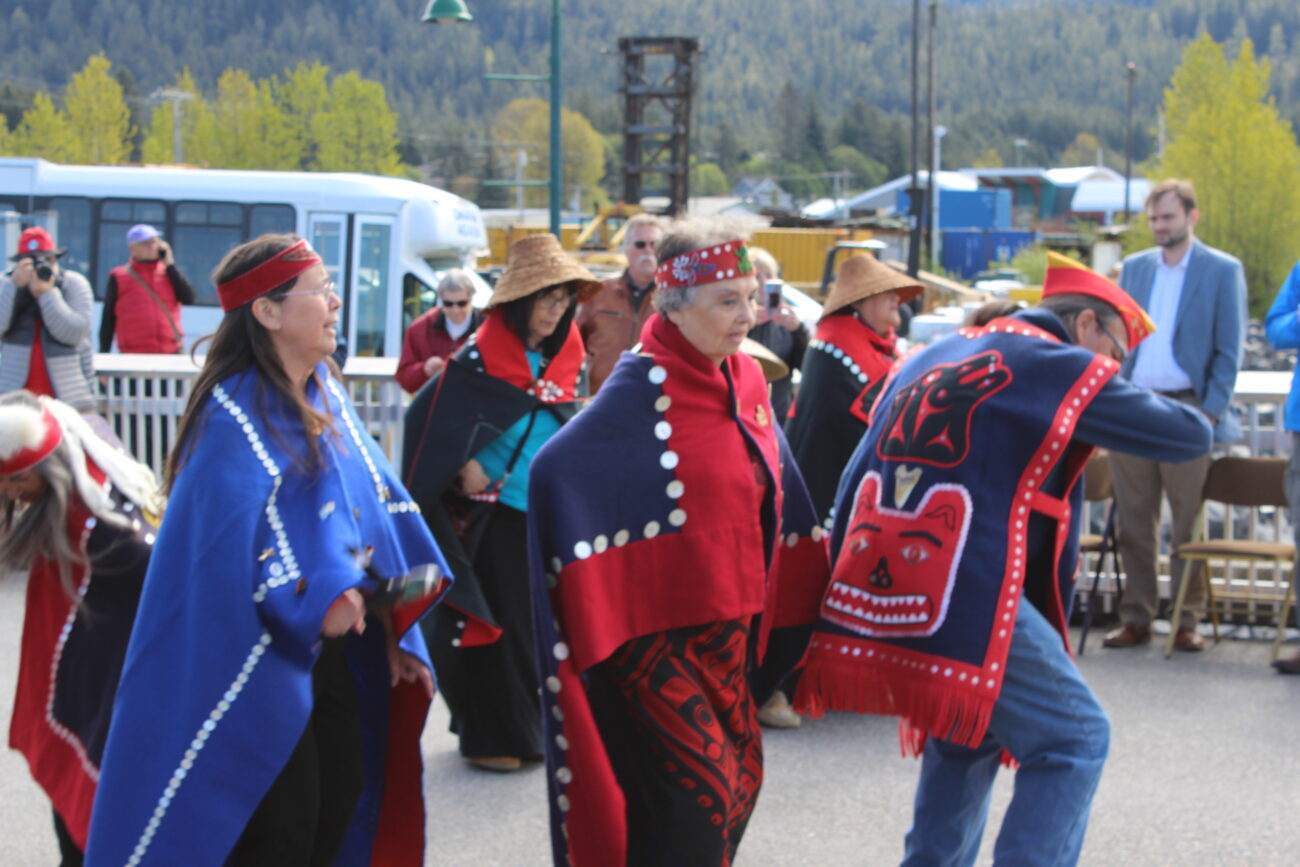 This week, two Tlingit dance groups from Wrangell are the co-leads at Celebration – the once-every-two-years festival honoring the Tlingit, Haida and Tsimshian people of Southeast Alaska. Wrangell dancers are excited to share stories of the community.
A few days before the start of Celebration 2022, past the green and red-painted totem laid on its side for restoration, folding tables in the back room of Wrangell's Tribal Cultural Center were covered in beads, fur, felt and paperwork.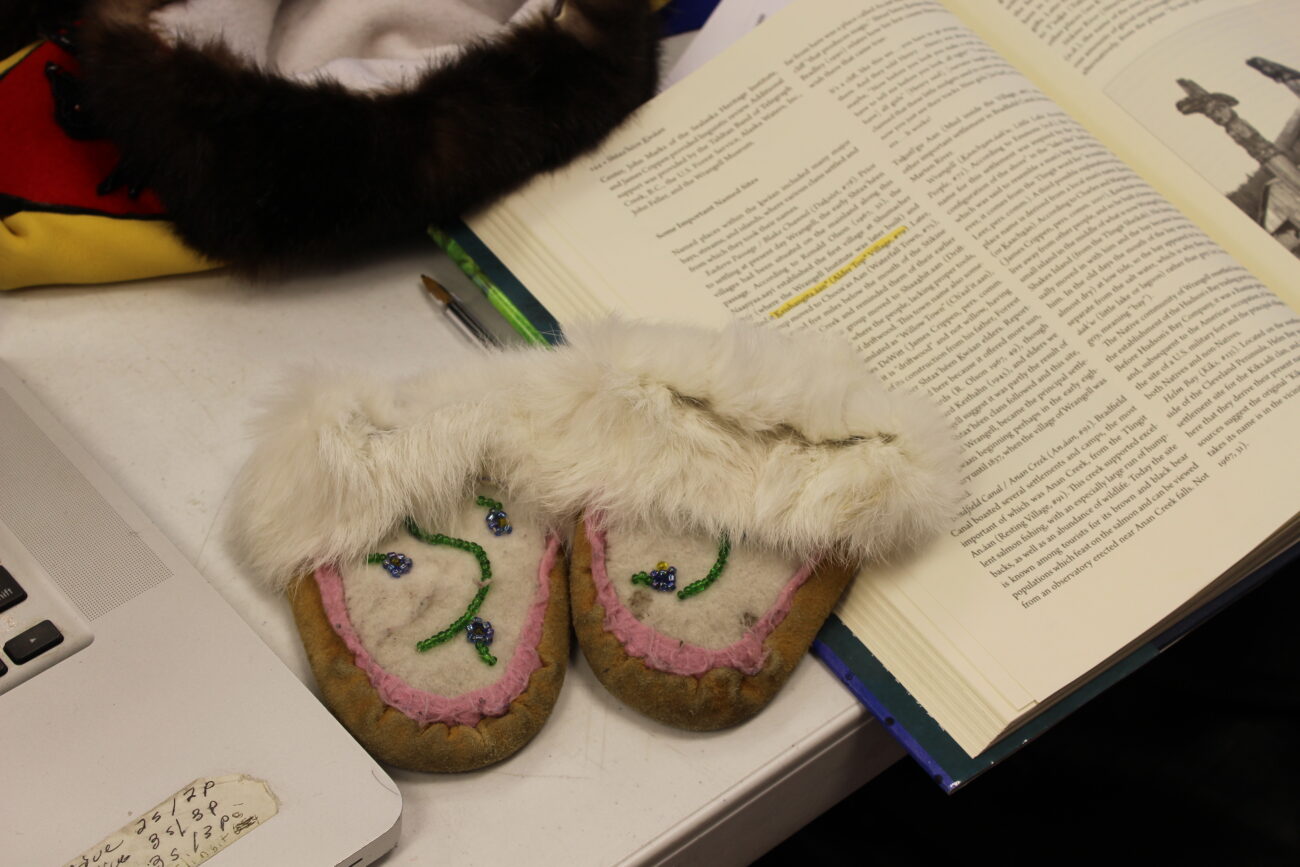 "The regalia is too short for some of the kids, and some of our buttons have fallen off," explained Xwaanlein Virginia Oliver ("The frost on the beach when the glacier passes over"). She's Wrangell's Johnson-O'Malley coordinator. She's spearheading the logistical effort of getting Wrangell kids to Juneau for Celebration. "We're just repairing, steaming, cleaning and redoing things, so it's been quite a chore to do that."
Oliver picked up a tiny pair of beaded moccasins with white fur – her granddaughter's.
"Look at how little they are, it's been since 2018 – 4 years ago, she was three," she said. "So here are her moccasins. And she comes in [today] and she goes, 'They don't fit.'"
Oliver said it's been a massive feat to get everyone ready – making and repairing regalia, booking ferry tickets, plane tickets, finding places to stay, event wristbands… She said she expected they'd even be sewing on the ferry on the way to Juneau.
Preparations have been a community effort, Oliver said. Even some from outside the community: visitors from the Sitka Conservation Society helped sew moccasins and put appliques on shirts and vests.
"I'll have to tell you," she said with a laugh, "My secret is iron-on! I've been ironing-on things like a madwoman."
Wrangell's dancers haven't been all together at Celebration since 2018. The biennial event went virtual in 2020, because of the COVID-19 pandemic.
The local JOM group, known as the Kaasitlaan Dancers, are named for the old Wrangell village site, Old Willow Town, about 20 miles south of modern Wrangell. Together with a backing group of elders called the Wolf Troupe, they make up one of the two Wrangell dance troupes leading Celebration festivities this week in Juneau. The other is the Shx'at Ḵwáan (People Near the Mainland), founded by Shaa.wat Shoogu, Marge Byrd.
"We know that the older dance group is going to hold it in place for us," Oliver said, "And we'll come and do what we do with the children. They'll stand behind us, with us, as the backbone of Wrangell. We'll all be there. So it'll all fall into place."
In total, Oliver estimated that between the two groups, around 130 dancers from Wrangell will lead Celebration this year.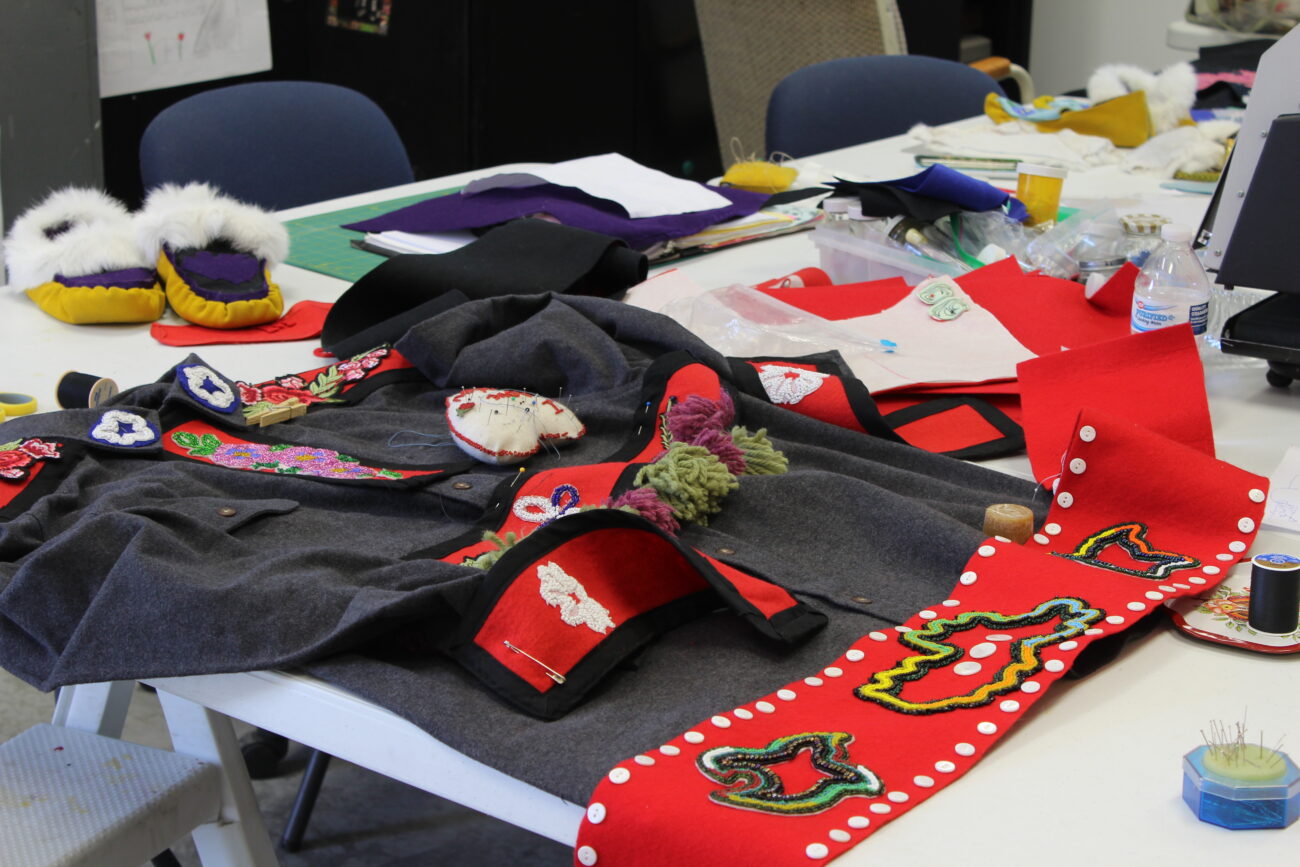 "It's going to be a real feat to speak and sing in Tlingit, speak our language and do the Wrangell histories, the history of how Johnson-O'Malley started, the history of how Shx'at Kwáan started, the history of the people here and the clans that are here," Oliver said. "It's going to really be something."
Some of the Kaasitlaan JOM dancers – 17 of them according to Oliver – aren't able to attend this year's Celebration because of COVID vaccination requirements, which left the mostly-student group a bit thin. The school's Indian Education Program stepped up to bring a small cohort to help fill out the group.
One of those students is Yeíl Dlaak' Mia Wiederspohn ("Raven's Sister"). She's made moccasins beaded with Forget-Me-Nots, and has a vest with a raven. Her brother, Yées Yeíl Rowan Wiederspohn ("Young Raven") will also be at Celebration, and has a mirrored raven on his vest.
Wiederspohn said she's most excited to speak Tlingit during Wrangell's performances.
"I know I said I was scared, but it's really just anticipation," Wiederspohn said. "I'm excited to learn and talk to so many different sorts of people. I'm just going to try and shut my mouth and just listen to everyone, because I like to talk and talk, but I think it'll be a huge learning experience for me and an eye-opener on what I can do within the culture."
In addition to being the lead dance groups, Oliver said Wrangell's Kaasitlaan and Shx'at Kwáan dancers will speak about Wrangell history.
"We're just imitating our ancestors," Oliver said.
They'll also do performances throughout the weekend.
"It's a storyline of fish camp, done through song and dance with kids," Oliver explained. "It's a whole new group of kids, so we're a little anxious, but it will be good."
The story starts at Kaasitlaan, Old Willow Town: "We're paddling in and when we see where we're going to be, then we start singing the welcome song to welcome the spring, and to welcome the elders that came to Celebration. Then when we get there, we're going to start working and we're going to do a working song; Let's just get busy and work together and you see the children 'working on nets' while they're dancing."
Then, the performance will tell of a trip up the Stikine River, with songs and dances for fishing and bird hunting. Larders full, the Wrangell dancers will "head back to Kaasitlaan" to celebrate with soapberries.
Oliver said Yeíl Dlaak' Mia Wiederspohn will have a special role in the celebration song for whipping soapberries.
"She's going to whip the soapberries because when we're done, we have to party," Oliver explained. "You'll see the kids with a cup and spoon, waiting for the berries. She's gonna be out there whipping them with her hand, and they'll keep tapping, because you have to sing a song when you're gonna get soapberries, xákwl'i. And so we'll sing and then when her hand goes up, that means the berries are whipped, then the kids will run up and dish out the berries."
Leading Celebration has been a long time coming for the Wrangell dancers, who were supposed to lead at the 2020 Celebration that was moved online. Oliver said it felt a bit "Will they, won't they" until the last few weeks: "Is it going to happen or isn't going to happen? Is it going to or isn't it and finally, in the last two weeks: I think it's really going to happen. It's going to happen. And then we're just racing around and it is happening and everyone is so excited."
Oliver said almost every event at Celebration is a highlight – seeing people; going to markets to get seal grease, dry fish, salves or supplies for regalia – but that listening and reconnecting at language circles are one of the most important parts for her.
Oliver has taught Tlingit in Wrangell schools since 2016, but said she began learning in 1993 with a class in Sitka.
"I took it and I walked in, and I went (sighs), because I hadn't hadn't heard it in such a long time," Oliver said. "My grandparents were fluent. My mother was fluent. My aunts, my uncles, but they didn't speak it because they came up in the era where they didn't let them and they spoke to each other, but they didn't speak to us. But we heard it all the time or growing up. I understand Tlingit more than I speak. I understand it. But learning, still learning. You know, it's a full-time job. If you want to learn to speak you have to get busy. You've got to do it every day."
While she's one of Wrangell's most fluent Tlingit speakers, Oliver still considers herself a student.
"I'll talk Tling-ish, Tlingit and English," she said with a laugh.
Members of Wrangell's Native community recently participated in a paddle-making workshop led by master carver Doug Chilton of Juneau. In addition to personal paddles, Tribal citizens made 10 paddles for the 10 Wrangell clans, which they'll display during the grand processional and throughout the weekend.
"We've never been the lead dance group," Oliver said, "But we've all been to Celebration, and it's just such an honor. So pleased to be part of it."
As the lead dancers, Celebration's Grand Entrance and Grand Exit will begin and end with the Wrangell Coming-In song. Listen to the song here.
Get in touch with KSTK at news@kstk.org or (907) 874-2345.