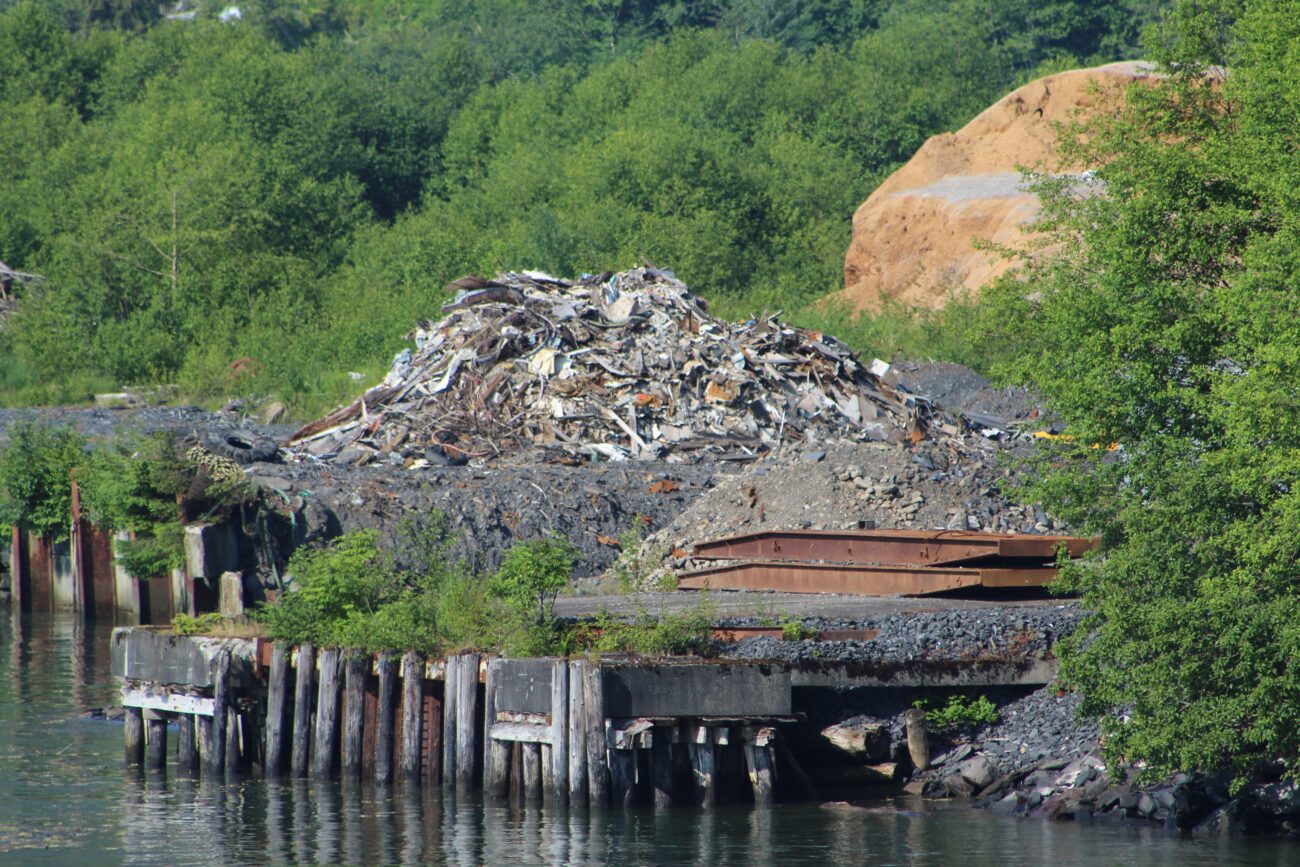 Wrangell's local government has signed off on the purchase of the community's former mill site – a deepwater industrial site out the highway. Local officials say they see the purchase as an opportunity to build Wrangell's economy by encouraging investment.
Six miles down Wrangell's winding coastal highway, the former center of the local economy sits mostly empty, save for a few buildings, scrap metal, and a growth of alders. But Wrangell's officials believe the 39-acre former Wrangell mill site has economic potential.
On June 14, Wrangell's assembly unanimously approved spending $2.5 million to purchase the property.
Wrangell's local government has floated several ideas for what might be done with the site, ranging from a second community marine haulout, to a possible site for larger-ship tourism, to a mariculture center. Other former mill sites around Southeast have been redeveloped in a number of ways. Ketchikan's former pulp mill site pivoted from timber to tourism, and is now a cruise ship dock. Sitka's former mill site became a deepwater port and industrial park. 
Local paper the Wrangell Sentinel reports the initial timeline of approving the mill property purchase was delayed by a lien on the property. There was a contract dispute between the property owner and a contractor conducting scrap metal recycling at the site.
At the meeting when the assembly approved the purchase, Borough Manager Jeff Good explained that a deal had been worked out where part of the money from the purchase will go into a trust which will be disputed between the contractor and former property owner.
Mayor Steve Prysunka clarified: "So basically, the lien amount will be put in the trust, separate from the sale, we will get full title to the property, clear of any liens. And, then they'll battle over that trust and we won't have any involvement in that at all."
"Correct," Good said.
The mill property purchase has faced some opposition from residents. Wayne Kaer said he disagreed with taking the mill property off city tax rolls, and said he'd rather the local government give the purchase money back to Wrangell residents.
"On this mill property, why don't you take that money instead of buying that mill – Nobody knows what's going on with it yet, except it's probably full transmission fluid and stuff, maybe dead bodies under it – take that money and dole it out to people like me?" Kaer asked. "You know, I wouldn't mind getting a check for $2,000 every couple of months."
Prysunka explained that the borough's intention isn't to hold onto the property. He said they want "[…] to help private enterprise access and utilize [the] property to generate commerce out there and to use it in a way that brings economic benefit and to the community."
"It's one of the last remaining deepwater ports in Southeast Alaska," Prysunka continued, "It's highly valuable, and it's been underutilized. So there's a huge benefit to us being able to have some site control and help determine what happens there and get this thing cooking along and get some stuff happening."
Wrangell's local government made previous attempts to purchase the former mill site, starting in the mid-2010s.
Borough Manager Good says if all goes according to plan, the borough will close on the property on June 20.
Get in touch with KSTK at news@kstk.org or (907) 874-2345.