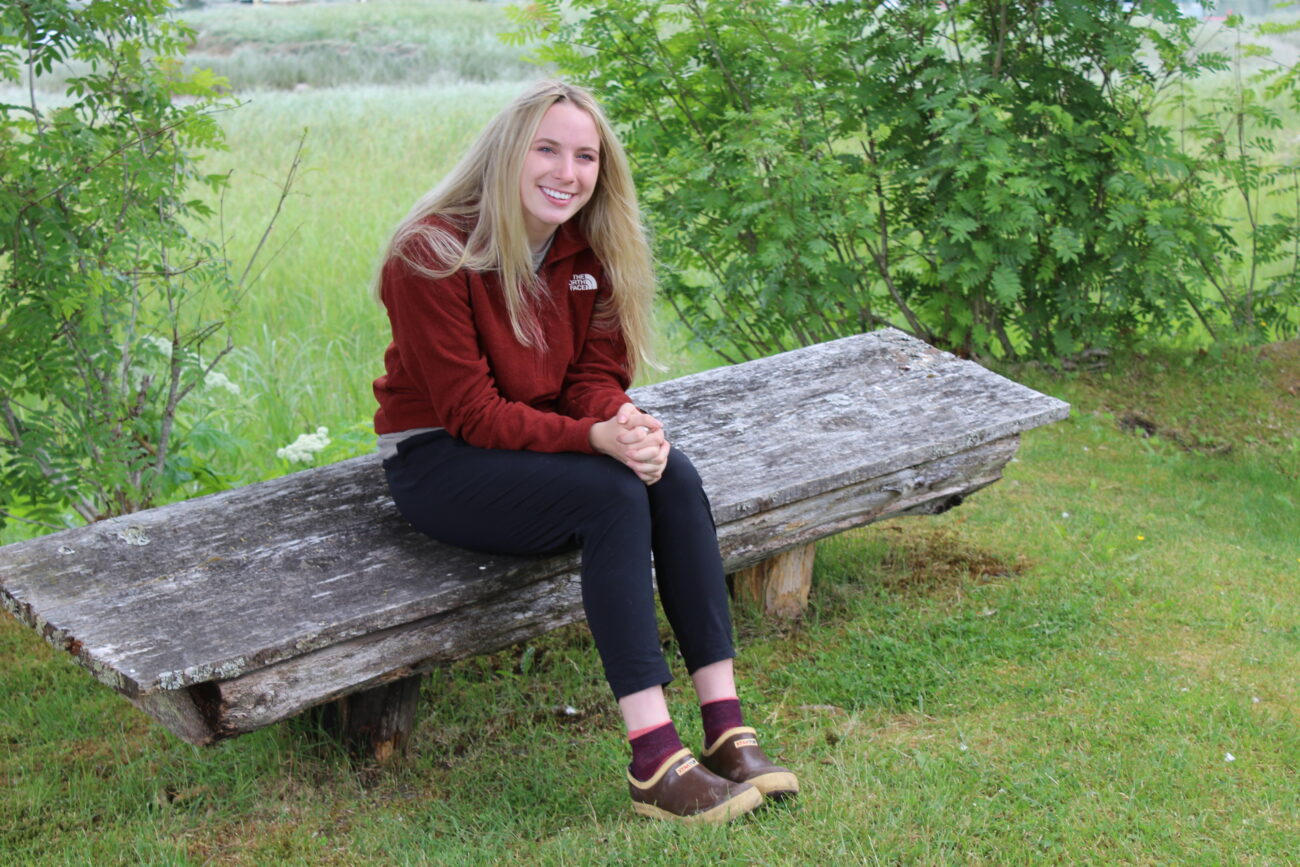 Lingít, the language of Southeast Alaska's Lingít people, is critically endangered. Recently, the University of Alaska Southeast announced the college will offer some Alaska Native language classes for free, beginning this fall. Other language revitalization efforts are smaller-scale; one Wrangell student has been working hard to produce a podcast of Lingít language and storytelling.
Sixteen-year-old Yeíl Dlaak' Mia Wiederspohn ("Raven's Sister") has studied Lingít for about two years.
"The reason I chose that name [Raven's Sister] is because my grandpa who just passed away would always call me sister," Wiederspohn explains. "And my dad, since my grandpa started that, my dad calls me sister too. My older brother calls me that as well. So I just wanted to kind of reflect on that in my name."
She didn't necessarily set out to make her own podcast when she began studying Lingít. Her experience putting the language on the airwaves started with another show, called "Applications of Learning Tlingit Language," which started as a program to help teach Wrangell elementary students beginning Lingít.
"Then we turned it into our little radio show because it's the same material," Wiederspohn says. "It doesn't matter how old you are, it's the same beginning Lingít. […] And then I learned history through teaching history, like telling stories on my podcasts and that sort of thing."
Wiederspohn says she was inspired by the way her Lingít teacher – Xwaanlein Virginia Oliver ("The frost on the beach when the glacier passes over") – structured her classes.
"History, stories and language," Wiederspohn says. "She would do that, every day off, hit those three things every day, and I was just like, 'Okay, I really like how that works. It sounds good. It's fun to hear. And I think I can make a podcast out of it.'"
Wiederspohn says her favorite part of the podcast project was including her classmates, speaking with them in both Lingít and English. It was a "thrill," she says: "I'd go on the radio and ask them, you know, what's your favorite color? What's your favorite animal? That sort of thing? What's your introduction?"
Wiederspohn says when it came to naming the podcast, she had been thinking about something basic like "Beginning Lingít Language Podcast." But when she asked her teacher what she thought, Oliver had a better idea.
"She sat there and thought and thought for like 15 minutes straight, which doesn't sound that long, but she seriously was just sitting there thinking for 15 minutes and then finally she's like […] she comes to tears when she thinks of Mia's Gift," Wiederspohn relates. "She goes: 'It's your contribution to the culture and the community,' and that brought her to tears. And now that I'm thinking about it, it's kind of making me sentimental."
Wiederspohn says she had some apprehension about approaching a podcast focused on Lingít language and culture. But Oliver gave her some important advice before she started recording: "She's like, 'Hey, just a warning. You're gonna be being watched by elders, by college professors. Just be careful on everything you say. Make sure you do it right. And make sure you pay your respects,'" Wiederspohn says, "And I did all those things, tried to do all those things […] and I haven't had any problems yet."
Wiederspohn has already received accolades for the podcast. Earlier this year, she was named the Wrangell Chamber of Commerce's Young Leader of the Year. She also won a $1,500 scholarship from Spirit of Youth, an Anchorage-based youth organization, for winning their "Dreamer" award this year.
Wiederspohn will be a junior in high school in the fall. She says she will try to finish high school requirements early so she can take college courses during her senior year. That's going to make it difficult to put together more episodes of "Mia's Gift." But she wants to try.
"I'm not going to have my Lingít class next year [because of my full schedule]. And I'm not going to have an OJT [On the Job Training period], so it's going to be really hard for me to continue," Wiederspohn says, "But I still think I'll end up doing something [with the podcast] either way because I really love it."
One topic Wiederspohn wants to pursue is diving deeper into the history of the former Bureau of Indian Education boarding school in Wrangell – the Wrangell Institute.
In addition to thinking about the future of "Mia's Gift," Wiederspohn is also planning for her broader future. She's interested in sonography – working with ultrasounds – or outdoor recreation.
"I definitely don't want to spend my whole life doing just one thing, and throughout those jobs, throughout learning how to do those sorts of things, I want to still be a part of my culture, and continue learning," she says. "It's going to be hard because Virginia is not going to be around forever, and she's seriously the best teacher I could ever ask for when it comes to Lingít. But there are always ways you can involve yourself in the community and just continue to help teach and learn."
Listen to "Mia's Gift" here.
Get in touch with KSTK at news@kstk.org or (907) 874-2345.