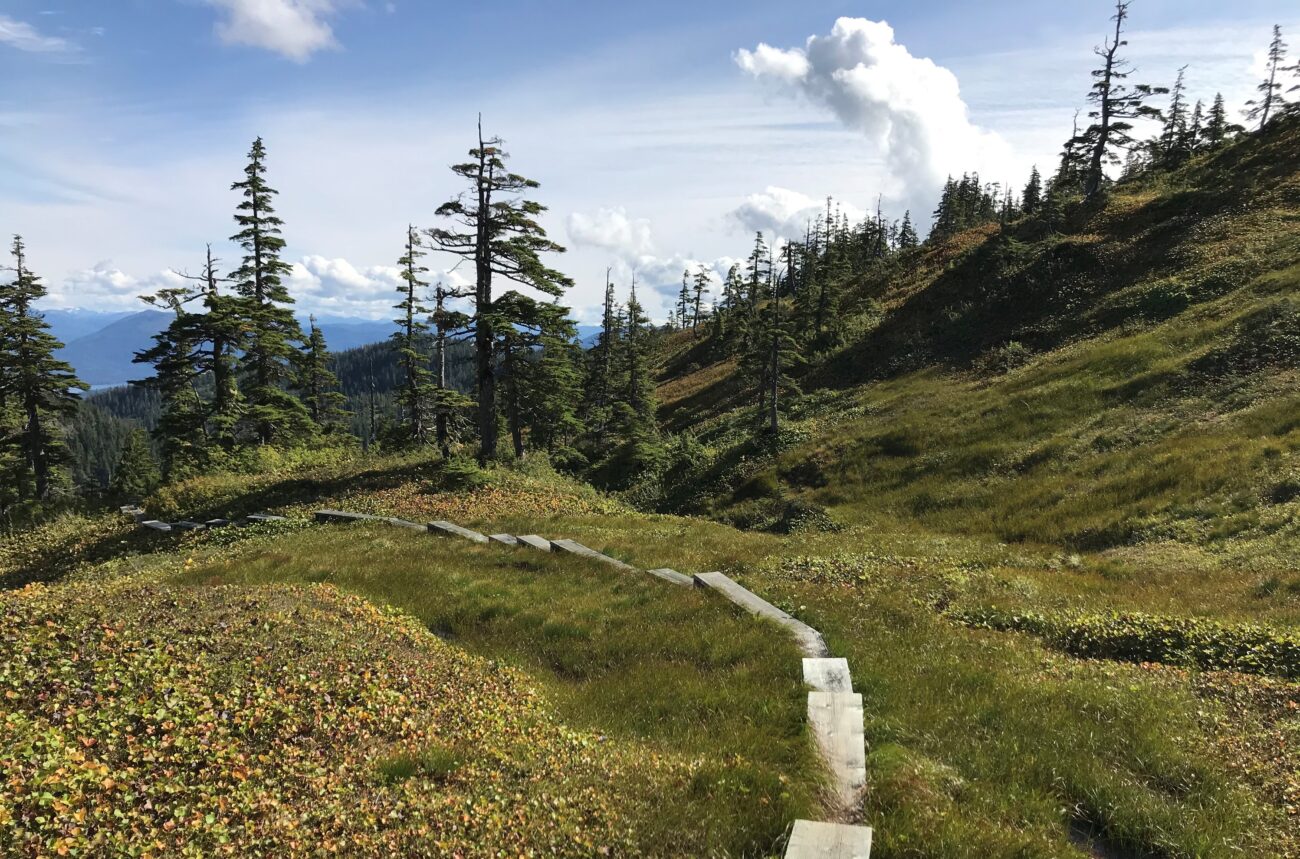 The U.S. Forest Service in Wrangell is looking for feedback on four proposed sites for new recreational cabins on the island. All of the sites already have some Forest Service infrastructure, like trails, tables, or camping shelters, and all are accessible by road.
The sites are: Highbush Lake on the eastern part of Wrangell Island, Long Lake in the central part of the island, Turn Island near the Nemo Saltwater Trailhead, and Upper Salamander.
Recreation planner Victoria Houser says that because all of those are recreation sites already, the Forest Service wants to know how adding a cabin could impact the community – or if community members would even want a cabin there.
"If someone is like, 'Oh my gosh, if you build a cabin here, it's prone to landslides,' or something like that, and for whatever reason, we didn't think about that – that'd be really important information for us to know," Houser explains, "Or: 'It's a really buggy place, and I would never go there.' Like, 'Oh, gosh, we'd better consider that.' Or: 'This is a unique subsistence area, and you would be affecting my family's ability to gather food if you make this a public area.' All those kinds of things where it's possible that we would have an effect, either positive or negative, to a population or to the environment, those are the kinds of things we want to make sure that we hear from the public about."
These aren't the only possible new cabin sites on Wrangell Island, or even in the Wrangell Ranger District. But because the four proposed sites are at existing recreation areas, there's a slightly different approval process.
The Forest Service is constantly updating and renovating cabins throughout the Wrangell and Petersburg Ranger Districts. But the agency has been moving in earnest towards a slew of brand new cabins in the regions since earlier this year, spurred on by federal infrastructure funding. Public engagement sessions have helped narrow down possible sites in and around Wrangell and Petersburg. Currently, the Forest Service maintains more than 40 cabins across the two districts (23 in the Wrangell District and 19 in the Petersburg District).
It's unknown how many of the new cabins would be funded. Houser says the Forest Service doesn't know yet what the local cabin budget might be.
"We're looking at the bipartisan infrastructure bill and in that there's money set aside for new cabins in the Alaska region," Houser says. "So on July 18, we're supposed to put in proposals for new cabins. We're submitting proposals for several different cabins, including some of our priority ones on the already existing recreation sites and on new sites. So if any of those get picked up with funding, they're certainly going to be prioritized in our assessment process."
Cabin site proposals in areas that aren't already developed recreation sites will most likely be introduced to the public in the fall, Houser says. But the Forest Service is still accepting input on any possible cabin site, whether or not it's on the list – the more specific the feedback about possible cabin locations, the better.
Houser says public feedback and some guiding questions help recreation managers narrow down possible sites for cabins throughout the two Ranger Districts: "Do these sites provide recreation opportunities? Are there other things to do there? Are they accessible – can they be [easily] reached? Are they places that we would be able to maintain in the future? – those sort of things. Do we think they're going to be successful cabin locations?"
The deadline to submit comments about the four proposed cabins is early August. Questions or comments can be submitted to victoria.houser@usda.gov.
Get in touch with KSTK at news@kstk.org or (907) 874-2345.