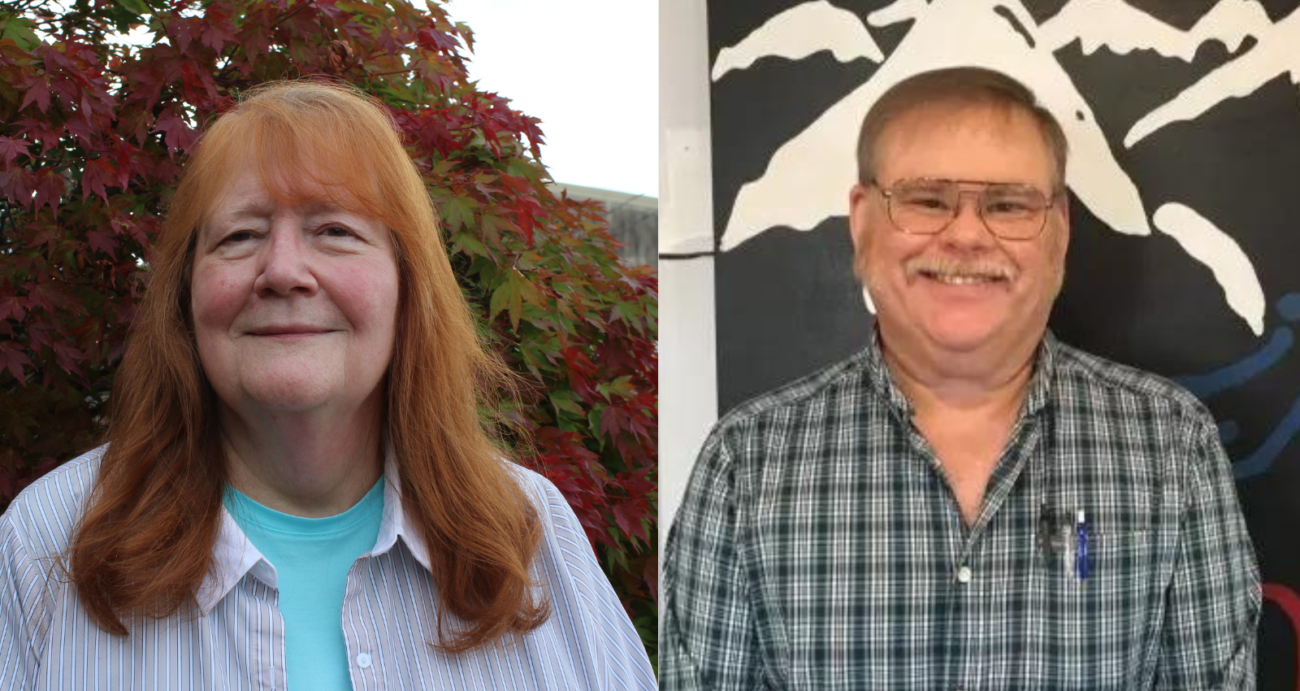 The race for the Wrangell Mayor's seat on the borough assembly is one of the contested races in this year's municipal election.
Both candidates are current or former members of the borough assembly.
Retired police officer Terry Courson served on the Wrangell Assembly between 2020 and 2021. He declined to participate in KSTK's mayoral candidate forum or to be interviewed about his candidacy. Courson submitted a written statement to KSTK identifying himself as a "fiscal conservative." He wrote his priorities are selling borough-owned lands and using local resources to address failing infrastructure, as well as fostering relationships within Wrangell's tourism and fishing industries.
Courson's opponent in the Wrangell mayoral race, retired teacher Patty Gilbert, currently sits on Wrangell's borough assembly.
KSTK's Sage Smiley sat down with Gilbert to speak about her motivation in running for borough mayor.
KSTK (Sage Smiley): Thank you very much for joining me for an interview today. If you could please first of all just introduce yourself a little bit to the community.
PATTY GILBERT: All right, I'm Patty Gilbert, Patricia Gilbert. I'm currently on the assembly, I've been on the assembly for six years. And while I was on the assembly, I was also on the school board, and I served two years in that capacity, and just a member of the community since 1995. I'm a retired school teacher – I taught at the high school for 23 years, taught math, the higher level math and the physical sciences: chemistry and physics. So I have a lot of my former students still in town. In fact, I am extremely pleased that I'm running on the same ballot as three of my former students. So it's almost a guarantee that if I'm elected mayor, I can serve on the assembly with at least one, maybe two of my former students. So the circle is complete, and we're getting new interest, young people involved in serving the community. And that's a very good thing.
KSTK: So what makes you want to switch from just serving on the assembly to serving in the mayoral seat?
GILBERT: Well, it's a good question, because they both have their pros and cons. If you're an assembly member, you can make motions, and you can help drive the issues, and you can make amendments to motions. So that's a powerful position, serving on the assembly and trying to get your fellow six assembly members to go along with your ideas. Whereas serving as mayor, you do not have that ability to make amendments and make motions, but you do have the ability to drive the issues, to set the agenda, to set the pace that you want the city to move forward in. I have some very strong ideas, and I think that position would suit me the best.
KSTK: So tell me a bit about those [strong ideas]. What are the motivating issues that make you want to run for borough mayor?
GILBERT: Well, the main motivating issue is infrastructure. We have got to not only rehab our infrastructure and repair it, but we also need to maintain it. And there are so many examples of infrastructure that we need to address. Some of the simplest infrastructure ideas are: our city park pavilion needs to be repaired. And we've got streets and roads that need to be systematically addressed and maintained. One of my ideas is: I know that our department heads have meetings every week with our borough manager, Jeff Good, and they have scheduled everything outlined. And I want that to be available to the public. What is the time schedule for your road to be repaired or your sidewalk to be repaired? As a property owner and taxpayer, you need that information, you need to be assured that those basic services that the city should provide are available to you in a timely fashion. We've got major structures that need to be addressed. One of them is the Public Safety Building that we have a bond issue on. The idea behind that is to try to repair the exterior envelope, if you will, of that building, and that's a high budget dollar amount that we can't just keep chiseling away at it. Well, maybe chisel is a bad word to use for the Public Safety Building – but to try to address one little issue at a time. In the Public Safety Building we also have failing mechanical systems, the elevators are no longer supported by the manufacturer, so those controls need to be addressed. We've got good news: we will start with our water treatment plant this spring, and that will address that issue. But we've got other issues. We've got a powerhouse – the facility that holds our diesel generators – we've got a wall failing in that, that needs to be addressed, and the city shop has some rehab that needs to be done. Ports and Harbors security, we need to address that. There's just – I can go on and on! The high school elevator needs to be replaced because again, that control system is no longer supported by the manufacturer, the fire alarm system at the high school, all of these have been put on our priority list and to try to get money to address these issues, but there's just a plethora of rehab, repair and maintenance that needs to be done. That will be my driving force and the public, if they so choose to elect me as mayor, will hear about it at every assembly meeting and be updated on progress.
KSTK: So you've addressed this a bit already. My next question was going to be about the main issue facing the community of Wrangell, which it sounds like at least one of the major ones in your mind is infrastructure. So how does the borough assembly or specifically borough Mayor help with that? I mean, you've sort of spoken about that already, but could you address that?
GILBERT: Well, we simply have to be the driving force. Those need to be goals that can be achievable, attainable, measurable, and be reported on and accomplished in a systematic, logical manner. We've got we're blessed with an administration that is very capable of taking that goal and running forward with it. We have a very knowledgeable borough manager, he's got a background in civil engineering, and he can see the issues very clearly, and we'll be able to address them. One of the problems with roads – and I've talked with our manager at length about it – is to do it right, it means that we go all the way down to the water and the sewer lines, replace those, we address the drainage problems that are causing the road problems in the first place. And that takes a great deal of money. We have identified two major funding sources, one that will address roads, and one will address trails, and sidewalks. Those are the basic, I call it the bones of the community. Those are things that should be addressed. And if they're not addressed, we need to find out what's the problem, and how do we breach those roadblocks that are preventing us from doing that?
KSTK: So in your time on the borough assembly so far, what do you feel – this is sort of a two-part question – What do you feel the borough assembly has done well? And what do you think it can improve on?
GILBERT: I think we have a strong assembly. I think we really agonize over decisions. We've had, for instance, several workshops on the Public Safety Building. What do we do? Do we try to resurrect the hospital? The hospital is 30,500 square feet that could house the entities currently in the Public Safety Building. With our court system and our DMV, we've talked about that and analyzed that. But the hospital building was – the major portion – was built in 1966-1967. It's even older than the Public Safety Building, and probably in worse shape. It's only appraised, the building itself, which may shock the public, is only appraised at a little over $400,000. And the land is appraised at about $400,000. So the assembly has considered that, we've considered tearing down the Public Safety Building and rebuilding but the price is prohibitive. I think the assembly does a really good job of analyzing things. But now we need to do a better job of directing: 'This is what needs to be accomplished. Tell us what's impeding that accomplishment. And let's address it head-on.' I think we do a pretty good job studying things. One of the disappointing things about being on the assembly is that everything requires an engineer's report or a survey, and you spend a tremendous amount of money and all you get his paper, you don't see anything physical. And to me, that's extremely frustrating. I understand why we have to do it, because if you put something out for bid, the contractors and subcontractors need to know exactly what they're bidding on and exactly what we're demanding. So I understand that, but it's just a terrible amount of time that's involved and money spent. And I would rather – I want to see something resulting from all that money spent. And it's lack of funding. The public, I think, would be extremely surprised to know how many grants our administration gathers in to make some of this happen. For instance, our water treatment plant is a good example. It's about a $15.5 million project, maybe $15.3. And much of it is granting and loans. It took a great deal of effort to get that through, and I give our past borough manager credit for that and our administration, because they actually got two federal agencies, the USDA and the EDA to sort of coordinate together, which is a feat and in itself, to make this accomplished.
KSTK: And it sounds like one of your goals as a borough mayor candidate is to try and clarify some of those things for the public.
GILBERT: Yes, the public needs to be better informed. You always hear people say, 'Well, they can listen to Assembly meetings,' but many of them are working a second job, getting dinner on the table, doing homework with their children. We need to do a better job of posting what we have been doing. A lot of the infrastructure work that we're doing, much of it is not visible to the public. We have about 40 pumps for sewage and wastewater treatment processes, and I don't think we have a single pump within the city that has its original parts, they have been rebuilt, restructured, re-altered so many times, and the public doesn't hear about that. That's just one example of the work that our very talented and hardworking workforce accomplishes.
KSTK: Definitely. So what do you think the most important function of the borough mayor and borough assembly maybe more broadly is?
GILBERT: Well, I think we need to identify problems, we need to listen to the public. I have – I call them touchstones – within the public, the businesses and the fishermen and all the different industries, representatives from the different industries that I talk to on a regular basis to find out: 'What can government do to help them?' The other goal that I have other than infrastructure is: 'How do we support the existing businesses?' We can't afford to lose any businesses, and then how do we promote new businesses? What can city government do to facilitate businesses remaining in existence and helping new businesses develop? Do we need more housing? Yes, we do. What can the city do to help that? Well, we can put the city-owned lands on the market for sale. If they need to have utilities developed to them, let's do that. If they need easements developed, let's do that. And one of the first things, if I'm elected mayor, is to put that on the list of things to be accomplished. If we keep things in front of us, constantly in front of the assembly, and give clear direction to our borough manager, and we get input from the citizens, I think we're out of luck crossroads where we can move forward and putting land out for sale is one of those accomplishments. When we became a borough in 2008. Eventually, the state allowed us to choose what they call entitlement lands, parcels of land. So we were granted 9,006 acres of entitlement lands. Only one parcel to my knowledge has been surveyed. And once a parcel of land is surveyed, then the state remits to the borough what they call a land patent. And then the borough has the ability to sell it, develop it, develop the resources from it, do all kinds of things. So we need to get the other parcels surveyed. And we need to get the land patents and see what opportunities that allows us to engage in.
KSTK: Definitely. So to wrap things up, is there anything else you'd want to add issues you find important, or just more generally, why a voter should vote for you for borough mayor?
GILBERT: Well, I believe that I will alert the public to a greater degree on what we're doing, what we're planning, I will try to gather additional community input. I want to strengthen or even form partnerships. We've got entities within the community, for instance, WCA, the school district, SEARHC, the fishing community, the charter boat operators, the Forest Service, those are all private or public entities that are working on their own with their own objectives, why don't we pull together form partnerships, and what grants you may have available to you, or grants that may be available to the City and Borough? Let's work together for a common goal. And I just see a lot of very hopeful things in the future, and I'm excited. I would ask the public for if they have confidence in me, I will swear an oath that I will try to the best of my ability to accomplish these things.
KSTK: Thank you very much for your time.
GILBERT: Thank you.
Get in touch with KSTK at news@kstk.org or (907) 874-2345.