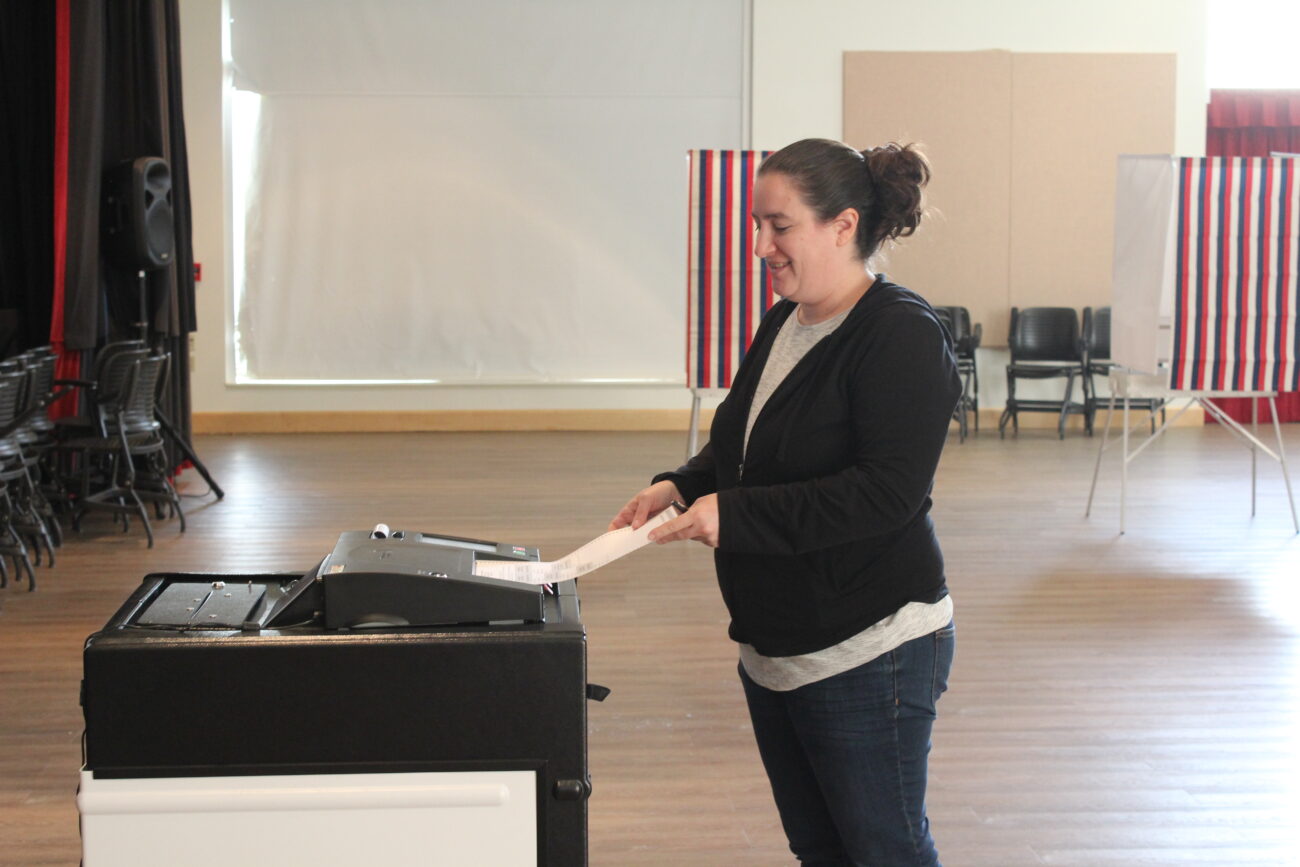 Early results from Wrangell's municipal election are in. But with more than 100 early and questioned ballots still to be counted, the race for borough mayor and the outcome of one ballot proposition are still too close to call.
In the borough mayoral race, incumbent Vice-Mayor Patty Gilbert leads challenger Terry Courson by 56 votes. Gilbert has 275 votes, Courson trails with 219. Gilbert has sat on Wrangell's assembly since 2016. Courson served on the assembly between 2020 and 2021.
The "No" votes lead for Proposition 2, an $8.5 million bond to fund critical renovations to Wrangell's Public Safety Building, but the measure is also too close to call. Prop. 2 has 207 votes for, and 275 against.
Other races have wide enough margins to call or were uncontested to begin with.
Unofficial results show incumbent borough assembly member Dave Powell is set to win re-election, with 345 votes. Chamber of Commerce Director Brittani Robbins is in second with 320, and is poised to gain an assembly seat as well. Tribal CARES Act Coordinator Alex Angerman trails with 176 votes, too far behind to catch up. 
Proposition 1, a $3.5 million bond for a major maintenance project in the public schools, is set to pass, with 141 more "Yes" votes than "No" votes. That's 311 "Yes" to 170 "No."
Proposition 3, which gives the City and Borough of Wrangell permission to sell or lease the 6-Mile mill property, is also on track to pass, with 393 "Yes" votes and 90 votes in opposition.
Races for school board and port commission seats were uncontested.
Current school board president David Wilson will be re-elected, with 387 votes. Newcomer Elizabeth Rountree will also gain a three-year term on the school board, after securing 357 votes.
And Tribal Administrator Esther Ashton will fill a one-year term on Wrangell's school board as well, receiving 405 votes.
In the Port Commission race, incumbent Port Commissioner John Yeager is set for re-election with 422 votes. Teacher and fisherman Winston Davies will also sit on the commission, receiving 388 votes so far.
A total of 497 ballots were cast in-person Tuesday (October 4), about a 24% increase in election day ballots cast compared to last year.
These election results are unofficial, and will be certified after the canvass board and borough assembly meet on Thursday (October 6). The canvass board will count the more than 100 early and questioned ballots beginning at 1 p.m. Thursday. 
Eighty-eight (88) Wrangellites voted early in this year's municipal election. Twenty (20) had requested mail-in ballots by the deadline. As of Monday evening, 15 of the mail-in ballots had been received. That means the canvass board will process at least 103 ballots, between the early and mail-in ballots. 
That's an uptick from last year, when the combined number of early, mail-in and faxed ballots was just over 90.
View the preliminary election results below: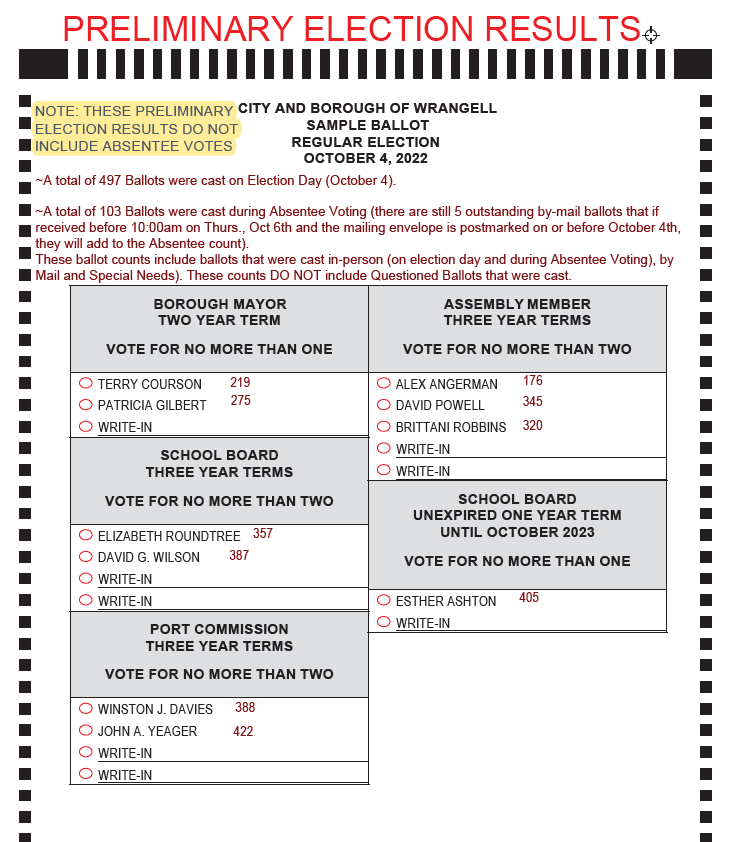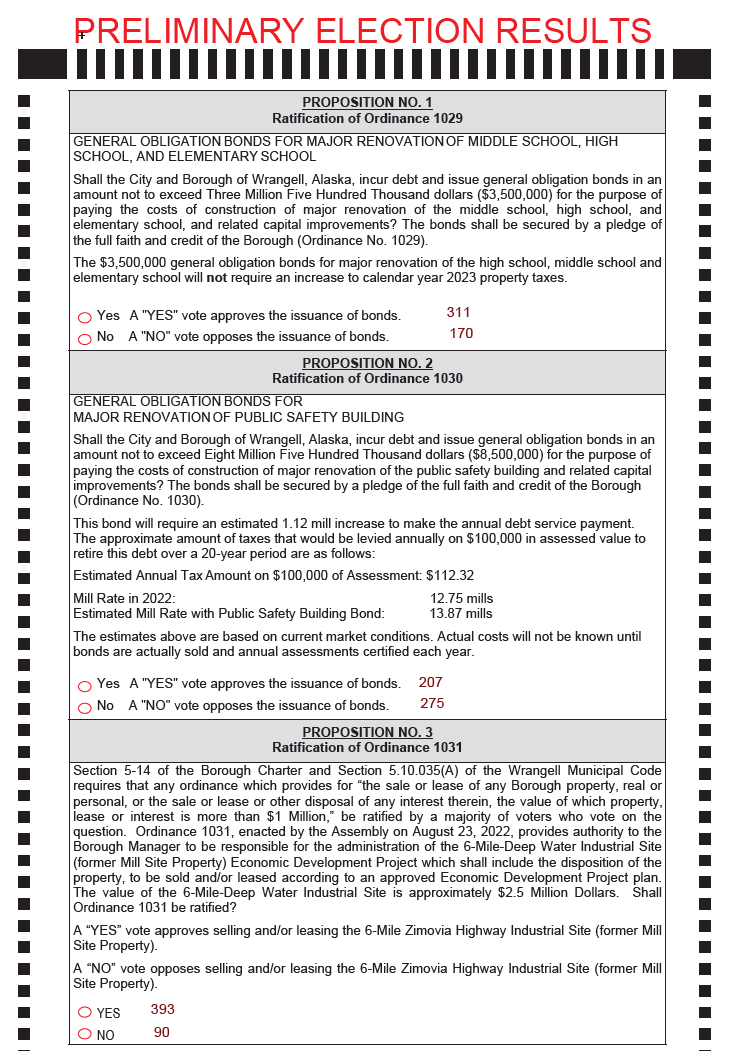 10/4: This article has been updated to clarify language and add images of the preliminary election results.
Get in touch with KSTK at news@kstk.org or (907) 874-2345.