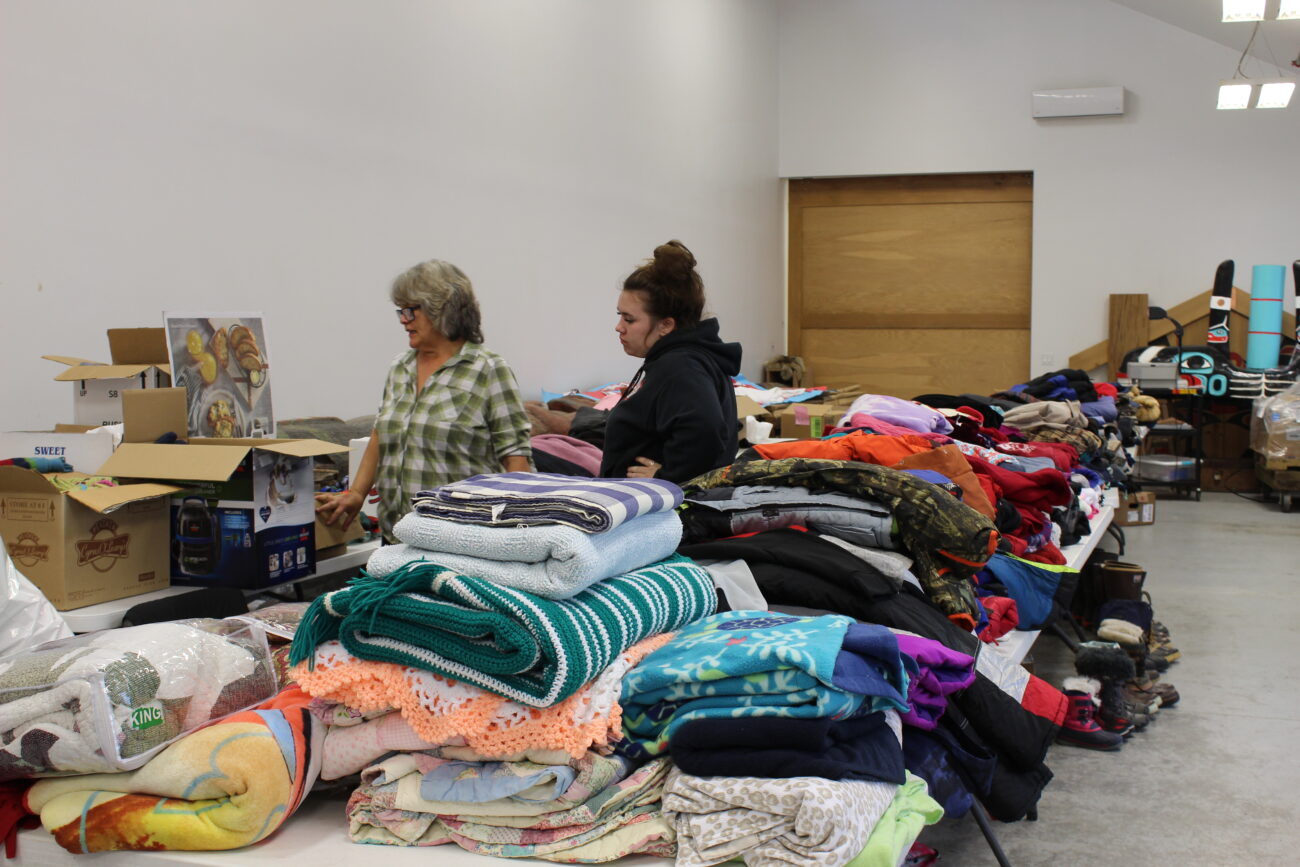 In the wake of the typhoon which devastated areas of Western Alaska, communities across the state are organizing to provide support and supplies to those affected. Wrangell's local tribal government held a one-day clothing drive that drew a large response.
"It's been way far past our expectations from the community," says Alex Angerman, standing behind a slew of folding tables stretched across the full length of the Wrangell Cooperative Association's Tribal Cultural Center. She's the CARES Act Coordinator for the local tribe. The tables are piled high with winter clothes and blankets. Boots of all sizes and colors are lined up on the floor.
Angerman and the tribe's receptionist, Jana Wright, are blown away by the support from local individuals and businesses.
Asked how much clothing they think sits on the tables, Angerman laughs and turns to Wright.
"What do you think?" she asks.
Wright looks around.
"Boxes and boxes," she says, gesturing to the packed tables. "Probably… Oh, I'm guessing at least 500 pounds of clothes, easily."
Angerman says the WCA planned the one-day drive as part of a broader regional effort by the Central Council of Tlingit & Haida Indian Tribes of Alaska to provide support to people and communities in Western Alaska devastated by the fall storm.
"They're funding the shipping," Angerman explains, "But it's going directly to Western Alaska. So they're sending us the packing slips that they're going to pre-pay for, and we're going to box it up. It's going directly to Western Alaska, so we're dividing it into trying to divide it into men's, women's, girls', blankets, so that it's easy for them to get through and pick through. They were saying that that wasn't the case for a lot of stuff they're getting right now, so we're gonna try to categorize it so it's easier for them."
Wright says it's emblematic of how Wrangell shows up to help: "Wrangell is amazing when it comes in times of crisis and helping out. They did a wonderful job."
Angerman adds that there's just one more bit of help the tribe might need from the community…
"If anyone has box boxes right now, we really need boxes," she says, laughing. "But I'm sure we'll eventually find enough, muster enough up from the community, to box it all up."
Angerman and Wright say they're aiming to have all the donations sorted and boxed up before Tlingit & Haida's main winter clothing drive wraps up in Juneau on October 11.
Get in touch with KSTK at news@kstk.org or (907) 874-2345.