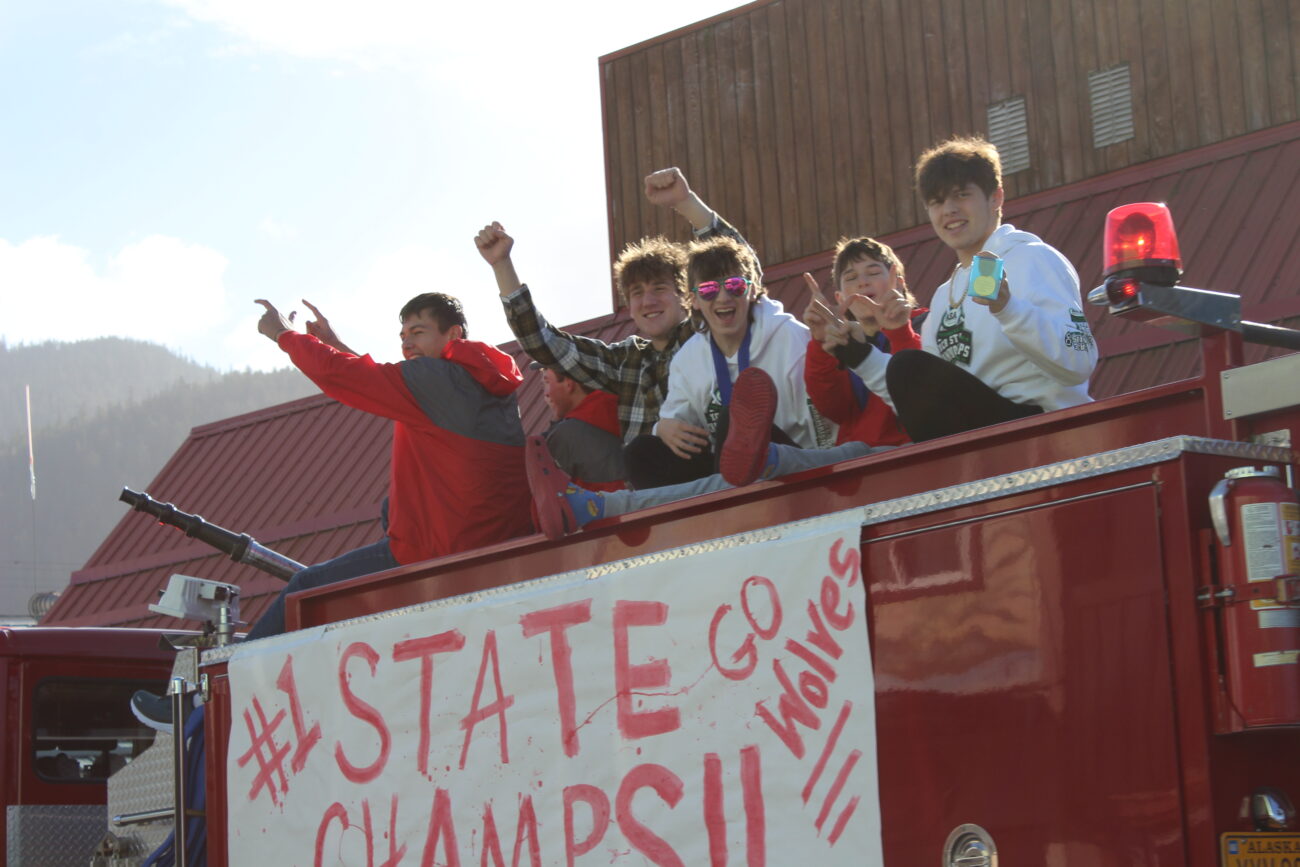 Wrangell's boys' cross-country team won its first state title on October 8. The island community is celebrating – the last time any Wrangell team won a state championship was before any of the runners, or their assistant coach, were born.
For the second time in a week, Wrangell's boys' cross-country team sat atop the Wrangell Volunteer Fire Department's Engine No. 6 on a victory ride through town. In between wails of the siren, parent Mikki Angerman spiritedly made announcements: "Boomchain is the fastest freshman in the state!" "First state title since 1995!" A train of honking cars followed the truck, which had painted banners celebrating the state champions hanging down the sides.
The first fire truck ride came after the boys' decisive regionals win in Sitka on October 1.
At the ASAA Cross-Country State Championships in Anchorage on October 8, Wrangell sophomore Daniel Harrison won the state title in 17:29.1, but the rest of the team wasn't far behind. Five of the team members placed in the Top Eight: senior captain Devlyn Campbell in 4th, senior Ethan Blatchley finished in 6th place, freshman Boomchain Loucks in 7th, and senior Elias Decker in 8th.
And out of 82 competitors in the Boys' Division III race, all seven of Wrangell's runners placed in the Top 25 – freshman Ian Nelson finished 14th, and senior Randy Churchill finished 23rd.
Actually, it's the first time a Wrangell team, for any sport, has won a state championship since 1995, when the boys' basketball team beat Haines in the state finals.
The fire truck ride kicked off a week of town celebrations. After a public celebration in the school gym Friday morning, most of the team gathered around a table in the high school commons, wearing their red and gray windbreakers and holding commemorative "State Champs" teddy bears wearing little red hoodies. Senior Elias Decker wasn't able to make the celebratory meeting.
Senior team captain Devlyn Campbell glanced around the table.
"It just felt glorious," Campbell said, "It felt glorious to win state."
It was also somewhat surreal, says senior Ethan Blatchley, who placed sixth at the state championships (and third out of Wrangell's runners).
"It didn't hit as soon as I thought it would that we won," Blatchley explains. "I watched everyone go through besides Daniel and Devlyn because they were ahead of me. But it just felt good."
Asked when it did sink in that the team had won, Blatchley shrugs: "Probably about eight minutes after?"
There's nothing special about eight minutes, he adds with a laugh. It's just a ballpark.
Team captain Campbell said the team's training was what he called a "big grinder." Their new assistant coach, Mason Villarma, put them through college-level workouts, and Campbell says they had to trust the new process and their new coach to pay big dividends.
"Nobody else in this region is doing anything that we did," Campbell says, "So I didn't know how big of an improvement it would actually make for us. But it really did. It worked. All of us PR'ed insanely, especially Elias. Big for the program."
The boys laugh. "Big for the program" seems to have been a team catchphrase throughout the season.
Villarma, for his part, says he was a bit worried before the final race of the season. The weather was rainy, the course was muddy, and the runners weren't looking stellar either.
"They looked really nervous. Like really nervous," Villarma relates. "I'm like, 'Oh my gosh, they're gonna blow it.' … They just had these blank stares. Like I remember looking at Daniel like, 'Oh, this might not go good.' … And then they got it together before the race, which was pretty cool."
Harrison, who won the individual state title, confirms he was anxious, too: "I was very nervous before the race. But we just did what we did before every race. We just tried to be calm, and I mean, show up and do what we needed to do."
And the team came through. Harrison credits their single-minded focus – he says the state championship has been on the runners' minds all season.
"It was awesome to win individually," Harrison says, "And then to see all my teammates come through right after each other just back to back, I was like: 'Dang, we did it. We really did it.' It was crazy because I mean, we've been – this has been our goal the whole season, and we've just been hammering it out. So that feeling seeing them all finish right after each other all in the Top 10 was incredible. It was pretty sweet."
Harrison says he thinks winning regionals gave the runners a boost of confidence before the state championships – it was the first regional win for a Wrangell boys' cross-country team since 2004.
Freshman Boomchain Loucks placed seventh overall in the race, the fastest Division III freshman in the state. He's looking ahead to the spring, and says the state cross-country title gives a boost.
"It's good to have, going into track season coming from cross-country," Loucks says, "So hopefully we can get another banner for [track]."
Villarma confirms that he and the boys are hoping to help revive Wrangell's track program, which has been dormant for a while, and hasn't ever made it to state, according to ASAA records.
"I know that we had [a track team] a long time ago," Villarma says, "And we're making a pretty big push to get the middle school cross-country team and the high school track team back in life. We haven't had a baseball team or softball team for a lot of years, so we want to be able to provide a spring sport there's some interest in and track is just about a perfect scenario. After rolling through this cross country season, there'll be a lot of interest for it.
"Of course, we don't have a track," Villarma concedes, "But Petersburg doesn't either. So we'll be alright, I think."
But track doesn't start for a few months. In the meantime, Villarma will be ordering a banner to commemorate the school's first team state title in almost 30 years, and many of the boys will transition into winter wrestling. Seniors Ethan Blatchley and Randy Churchill placed second and third in their respective weight classes at state last year, and Churchill says he hopes he can secure a win for Wrangell on the mat in addition to the team's win on the trails.
It would certainly be big for the program.
This article has been updated to correct a quote attribution.
Get in touch with KSTK at news@kstk.org or (907) 874-2345.