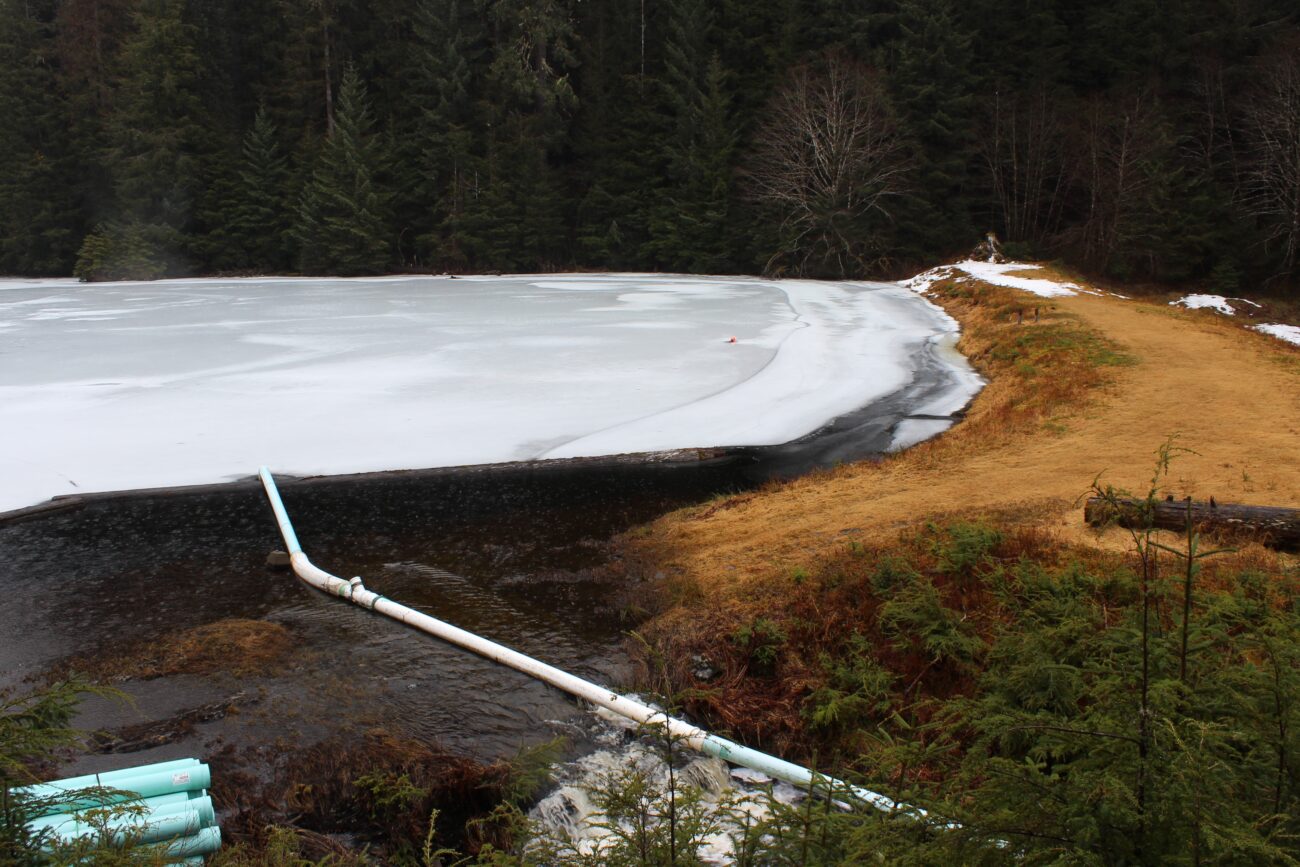 Wrangell officials have estimated the community has around a quarter of a billion dollars of infrastructure needs – so leveraging funding is an important part of community upkeep. And they're looking for feedback from the public on what they think are priorities.
Wrangell borough officials held a town hall meeting Tuesday to go over infrastructure priorities. There are pages-worth of options.
Capital Facilities Director Amber Al-Haddad says that in the 12 years she's been with the borough, it's the first meeting of its kind the local government has held.
"What we'd like to ask is that the public provide input on a priority list, as well as just taking a look at our master list overall," Al-Haddad says. She adds the community's Capital Improvement Projects (CIP) priority list encompasses the most pressing infrastructure needs in the community – either repairs or new builds – valued at or over $25,000.
"If we missed something – is there a need that the community has that we don't have listed on this list, or ideas for modifying or looking at things from a different approach – we would love to have the community's input in all of those regards," Al-Haddad says.
She explains the borough uses the priority list to go after outside funding – a variety of private, state and federal grants and loans. Tens of millions of dollars in outside funding are currently being used for projects from the harbors to recreational trails and water treatment.
At the top of the draft priority list for the coming fiscal year is a bypass project that would connect Wrangell's water treatment plant to one of the open-air reservoirs above town. It's a project that's critical for the community to be able to do repairs on dams or have alternate water flow during a drought period.
Wrangell received a federal appropriation of just over $2 million toward that project earlier this year, but funding is still about $1.5 million short.
The number two priority on the draft list is structural repairs to Wrangell's Public Safety Building, a project estimated to cost over $16 million. Voters recently rejected an $8.5 million bond measure aimed at beginning that repair process, and Borough Manager Jeff Good says the community could be in danger of losing its courthouse, jail facility and other public services if repairs are put off much longer.
"There are services that we provide in that building that we still need to provide," Good says, "And we can't really do that anywhere else."
Other priorities include initial development of Alder Top Village (Keishangita.'aan) Subdivision, a planned residential housing area at the site of former Bureau of Indian Education boarding school The Wrangell Institute. Borough officials say that could help ease the housing crush in town.
There are also upgrades to the wastewater treatment and water treatment plants and systems on the list, as well as work on harbors in Wrangell and Meyers Chuck, roads and sidewalks projects, stabilizing the town's drinking water dams and connecting Spur Road to Zimovia Highway via Pat's Lake. In total, there are 20 projects on the priority list.
Al-Haddad says there are a number of factors the borough uses to determine what goes on the CIP priority list, and what ranking a project receives.
"We look at first: the risk to health, safety and environment of our community when identifying projects as priority," she relates. "We also look at the asset condition – longevity of that asset. We look at community investment and economic prosperity as well, what the driving force is for the community."
She says a good example of community economic investment is a needed replacement for the community's downtown barge ramp. Almost all of Wrangell's goods and food come across that ramp, so it's a vital lifeline for the town.
Al-Haddad continues: "Another [factor] is sustainability and conservation – does it improve the health of our community and the natural environment? We look at project readiness – what phase of the project are we in, have we done some planning already or have the design done for a project, is it ready for construction? […] And then we look at the funding availability, what funds are out there to meet the needs of our projects, and also have an area within the objectives of those grant programs."
For some projects, ranking on the list matters. But for others, Al-Haddad says what matters is that the project is on the list at all.
While there wasn't a huge turnout at the Tuesday meeting – attendance was almost exclusively borough department heads, assembly members and local media – borough officials say they hope community members will review the list of projects and provide feedback.
Mayor Patty Gilbert, elected last month, has stated that transparency about capital projects and progress is one of her priorities for the borough. At her urging, reports from Borough Manager Good to the assembly are republished on a new page on Wrangell's website. The reports include biweekly updates to capital projects in the borough.
Wrangell's Assembly will hear and discuss the proposed priority projects at their scheduled meeting November 8.
Al-Haddad says with feedback from the assembly and community, her department will bring a final FY24 CIP priorities list to the borough for approval in early December.
Find the full proposed CIP list and a community feedback survey at wrangell.com on the "Capital Facilities" page. Al-Haddad says the community survey will also be published on the borough's homepage for a couple of weeks. 
Get in touch with KSTK at news@kstk.org or (907) 874-2345.